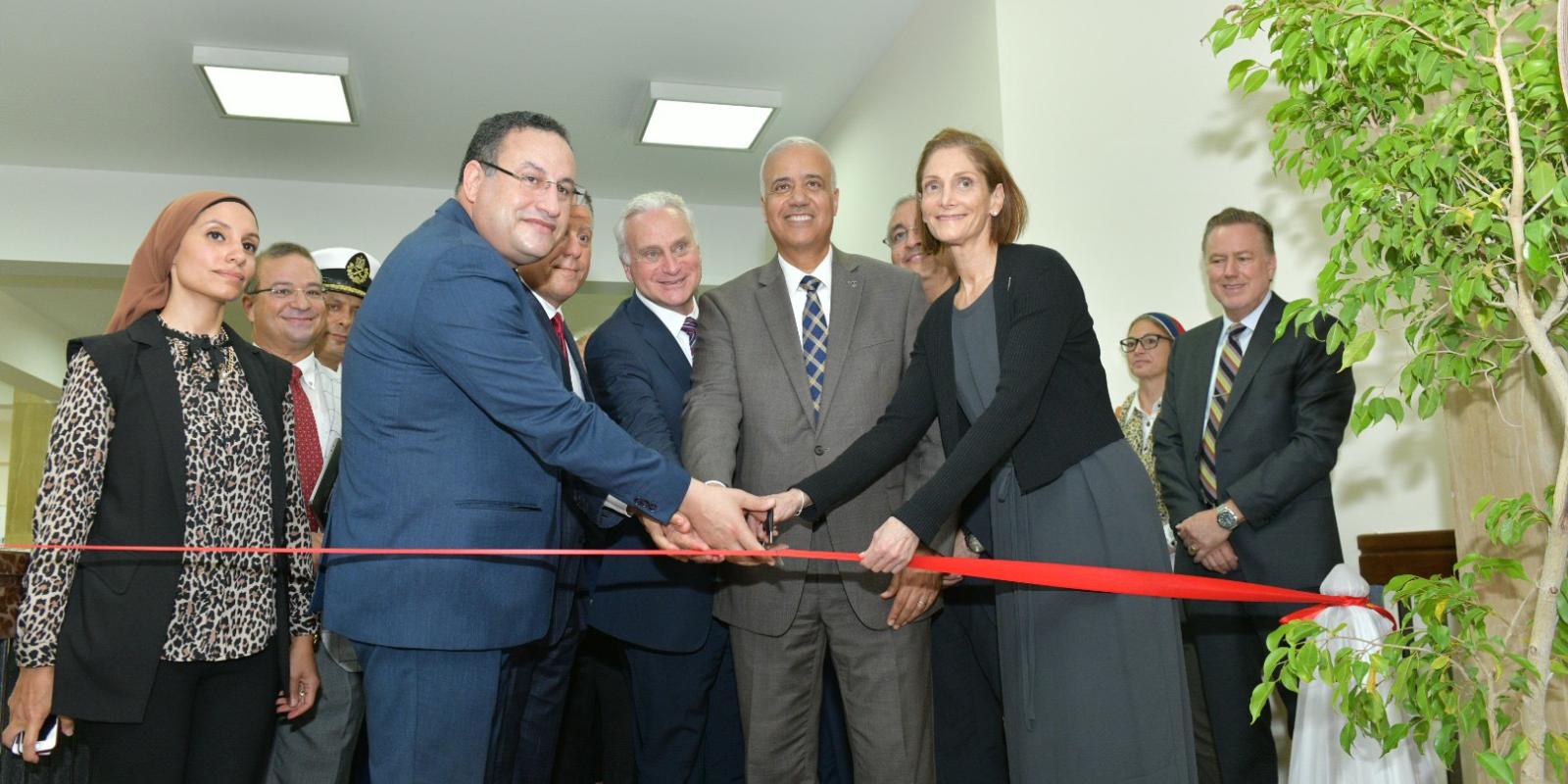 AUC, Alexandria University Establish Center of Excellence for Water
AUC, Alexandria University Establish Center of Excellence for Water
AUC and Alexandria University have recently inaugurated a USAID-funded Center of Excellence for Water at Alexandria University. The initiative aims to catalyze long-term sustainable change in the sector and support the Egyptian government in its Vision 2030 to achieve sustainable development and improve the quality of life.
"It is a pleasure to be here today at the inauguration of the Center of Excellence for Water, one of the three Centers of Excellence funded by USAID in close collaboration with the Ministry of Higher Education and Scientific Research in Egypt," said AUC President Francis Ricciardone. "At AUC, we are very proud of the opportunity to collaborate with esteemed Egyptian and American universities, research centers, private sectors and ministries to create this Center of Excellence for Water, which shows once again the impact that AUC is having on the Egyptian higher education and scientific research's landscape."
AUC, Cornell University and MIT are the American universities selected to launch three Centers of Excellence in Egypt, fostering research, scholarships and education innovation in water, agriculture and energy. The three centers, worth a total of $90 million, are funded by USAID and conducted in collaboration with Egypt's Ministry of Higher Education and Scientific Research.
The Center of Excellence in Water is established within a consortium of four other American universities: Washington State, Utah State, Temple and California, Santa Cruz; four other Egyptian Universities: Aswan, Beni Suef, Zagazig and Ain Shams; a number of U.S. and Egyptian companies; and several public entities in Egypt, including the National Water Research Center, National Research Center, Desert Research Center, and Central Metallurgical Research and Development Institute. The projects' main stakeholders in Egypt are the Ministry of Water Resources and Irrigation and the Ministry of Higher Education and Scientific Research.
"It is very important for AUC to lead this initiative," explained Yasser Elshayeb, professor in AUC's Department of Petroleum and Energy Engineering and chief-of-party of the Center of Excellence in Water. "It is a golden opportunity to enhance higher education and research on this very important area in Egypt."
The center focuses on three main components: education, research and exchange. This includes graduate and undergraduate courses, workshops and training programs, research grants and scholarship funding for applied research on water, and exchange programs between the U.S. universities and AUC, with more than 350 student participants.
"USAID is proud to support the Center of Excellence to benefit a generation of Egyptian students who will be able to apply critical thinking skills and knowledge to their research and work in water-related fields. These students will be equipped to create solutions to Egypt's future water challenges," affirmed Sherry Carlin, USAID mission director in Egypt.
Essam El-Kordy, president of Alexandria University, stated that this project, worth $30 million, is the largest funded project in the history of Alexandria University. He added that the goal behind establishing the center is to conduct joint scientific research, train researchers and consultancy centers, which is in line with the national strategy of Egypt's sustainable development plan (Vision 2030), stressing water scarcity is one of the most important topics in Egypt.
Echoing the same sentiment, Abdel Aziz Qanswa, governor of Alexandria, noted, "The water issue is one of the most serious issues facing Egypt. This center was established to conduct scientific and systematic research and studies to help in solving this issue."