AUC Leaps in QS World Rankings, Among Top 1.5% Worldwide
AUC Leaps in QS World Rankings, Among Top 1.5% Worldwide
AUC has moved up 25 places compared to last year in the 2020 QS World University Rankings, placing 395th globally — making it among the top 1.5% of universities worldwide.
AUC also ranks among the top 1% worldwide in terms of specific indicators such as international faculty, employer reputation and academic reputation. The University is ranked second in Africa after the University of Cape Town.

According to QS, there are more than 26,000 universities worldwide, and QS ranks only the top 1,000 — approximately 4 percent of the world's universities. Universities ranked in the 300 range like AUC — such as The George Washington University and the University of London's School of Oriental and African Studies — are, therefore, in the top 1.5% of universities worldwide. AUC is in the top 37% of universities ranked by QS.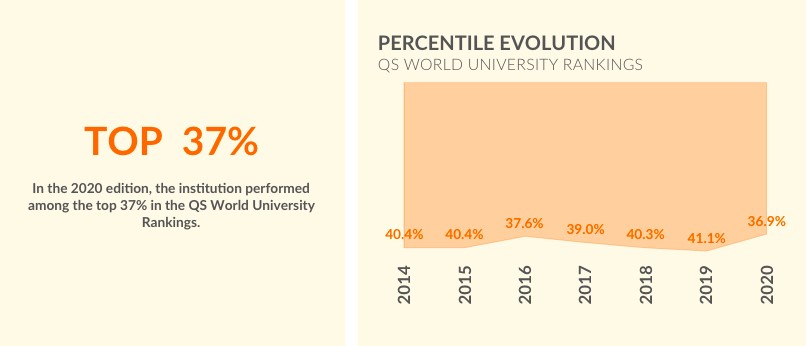 "This jump in our rankings is a reflection of our continued focus on providing a high-quality academic program at the heart of the uniquely student-centered AUC experience," said AUC President Francis Ricciardone. "I commend our faculty and staff who continue to strive for the highest levels of achievement in all fields across the University.  Their world-class talent and commitment ensure that our solid reputation will grow from strength to strength as we build on AUC's first century's legacy, here at the threshold of our second century."
The acclaimed QS rankings rate the world's top universities based on six indicators: academic reputation, employer reputation, faculty-to-student ratio, citations per faculty, international faculty ratio and international student ratio. AUC's strongest indicators are international faculty (141st worldwide), employer reputation (253th worldwide) and academic reputation (344th worldwide). This makes AUC in the top 1% worldwide for these three indicators.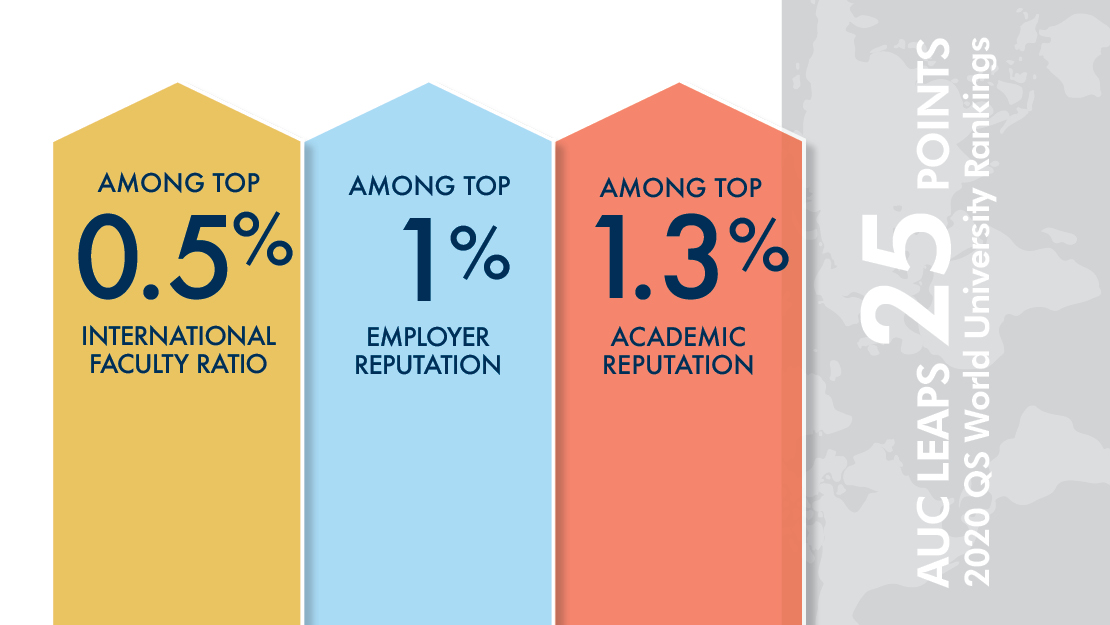 With international faculty, an indicator of a "strong international brand" as QS puts it, AUC surpasses the global median of 11.1, with 37.3% international faculty.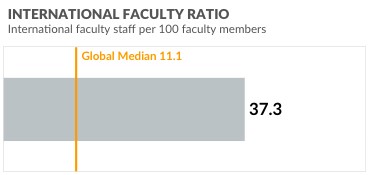 Overall, AUC ranks in the same range as other prestigious U.S. universities, including the University of California, Santa Cruz; University of Connecticut and University of Colorado, Denver. It also ranks ahead of other private, mid-size, four-year liberal arts institutions delivering a curriculum comparable to AUC, such as Wake Forest University, Lehigh University, Brandeis University and the College of William & Mary.
These rankings are an effective way for prospective students to compare schools and decide which universities to enroll in. "Ranking is not a goal. However, the QS rankings are an acknowledgment of the strength of AUC's liberal arts education and the quality of our institution. Being in the top 1% of universities worldwide is an indicator of AUC's quality of education," said AUC Provost Ehab Abdel-Rahman. "A university should be selective and participate in the ranking(s) that reflect its mission and vision. The indicators QS uses reflect AUC's mission to provide a global, reputable education and holistic experience for our students." 
Click here to view AUC's QS profile.