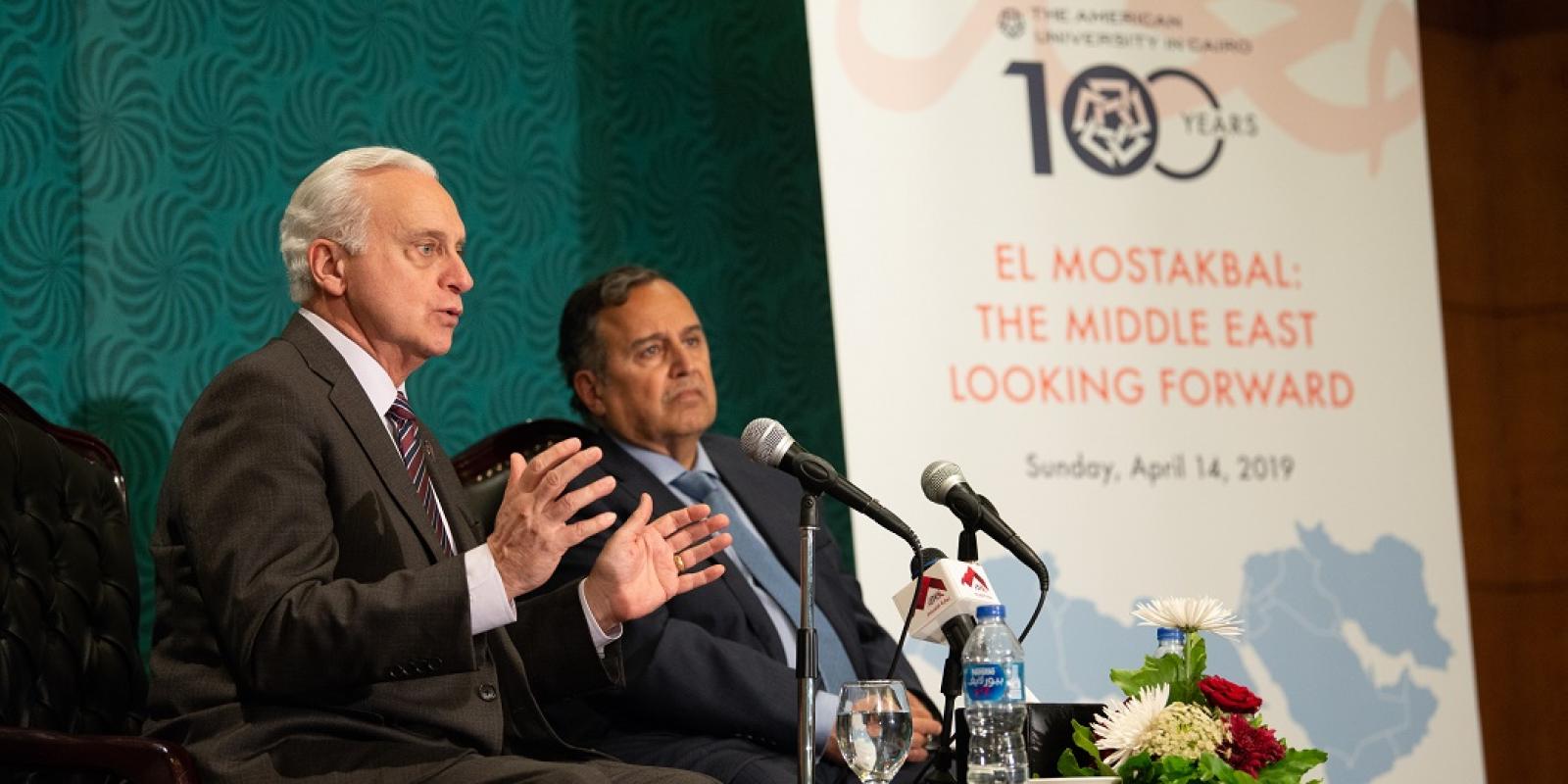 AUC Launches El Mostakbal: The Middle East Looking Forward
AUC Launches El Mostakbal: The Middle East Looking Forward
This week as part of AUC's Centennial Campaign, the University launched "El Mostakbal: The Middle East Looking Forward," an initiative aimed at jumpstarting a global conversation about regional issues and local challenges, providing a high-level platform for a dialogue on significant political developments and security issues.
"In the 21st century, the international community is in a transformative stage, and it is challenged to create a more equitable global order," stated Nabil Fahmy, founding dean of AUC's School of Global Affairs and Public Policy, Egypt's former foreign minister and conference chairman. "The Middle East over the last decade has seen unprecedented change, both good and bad. Today, it stands at a crossroads."
Indeed, the participants in the event are here to discuss where the Middle East can go from this juncture.
"Last February, AUC started its yearlong centennial campaign celebrations, welcoming a new century of impact based on our five main pillars; global experience, centennial scholarships, creative incubator, the power of giving and a vision for MENA; which El Mostakbal initiative is a part of," said AUC President Francis J. Ricciardone at the press conference launch. "For many years, AUC has assumed a leadership role in exploring and practically addressing both local and regional challenges and applying its intellectual and creative capabilities to find potential solutions."
"'El Mostakbal: The Middle East Looking Forward Initiative,' which is led and hosted by AUC, is an ambitious research and policy program that charts a way forward for the Middle East and North Africa," said Ricciardone.
Participants include distinguished academics, former government officials and senior experts with a stake in the region's future. The El Mostakbal initiative will be an opportunity for these contributors to formulate policy suggestions focused on building a better future in the Middle East.
Panel speakers at the launch were Mohamed Benaissa, former minister of foreign affairs and cooperation of Morocco; Nasser El Kidwa, former minister of foreign affairs of Palestine, chairman of the Board of Directors of the Yasser Arafat Foundation and member of the Central Committee of Fatah; Amr Moussa, former secretary general of the League of Arab States and former minister of foreign affairs of Egypt; Haifa Shaker Abu Ghazaleh, assistant secretary general, head of social sector, League of Arab States and Karim Shafei, chairman, Al Ismaelia For Real Estate Investments and idea generator of the Downtown Rehabilitation Project. The panel was moderated by Ibrahim Awad, director of the Center for Migration and Refugee Studies at AUC.
The Regional Conflicts and Security Working Group (RCSWG) of El-Mostakbal is convening to discuss the scope of work participants face in the coming year. The main questions the working group will address are where the Arab region is going with respect to overall regional security and conflict environment, and what corrective policies would be beneficial toward the initiative's goals.
The RCSWG is mandated with assessing the trajectory of the regional security situation as it affects the Arab world — especially with respect to the region's escalating conflicts — and formulating policy suggestions that can chart an alternative future for the region. The RCSWG brings a distinguished group of Arab statesmen, intellectuals and academics together to thoroughly assess these challenges and offer concrete policy solutions.
The RCSWG is co-chaired by Paul Salem, president of the Middle East Institute in Washington, D.C.; Ambassador Karim Haggag, professor of practice in the Department of Public Policy and Administration; Randa Slim, director of Conflict Resolution and Track II Dialogues at the Middle East Institute in Washington, D.C.; and Robert Mason, director of the Middle East Studies Center at AUC.
The launch and panel was just the beginning of this three-year project that will examine significance socioeconomic, political and security issues in the region through a multi-track series of workshops, conferences and publications.
The final outcome of the conference will be a blue-ribbon policy publication assessing upcoming challenges and opportunities for the Middle East and providing concrete policy recommendations toward the future.