This website provides the latest information about AUC's actions to respond to the spread of COVID-19, also called novel Coronavirus. The University is actively monitoring the local and global health situation and is taking precautionary measures in an effort to help limit the spread of infection.
Free COVID-19 antigen rapid test program
Free COVID-19 antigen rapid test program is available for about 200 volunteers each week, Monday through Thursday on the New Cairo campus, and Tuesday only on Tahrir Square campus, for all faculty, students, and staff who come to campus. For more details, refer to March 17, 2021 announcement (Coronavirus updates).
Only those who have registered online may participate in the voluntary program and receive the test for free. Registration opens Sunday for each week. Click here to register.
Mandatory Online Health Self-Check (For Those Who Are Coming to Campus)
Effective September 1, all members of the community must perform a health self-check and answer a 30-second questionnaire on each day they plan to come to campus (New Cairo and Tahrir Square). You will not be admitted from the gate unless you present the results of the self-check to the security at the gates.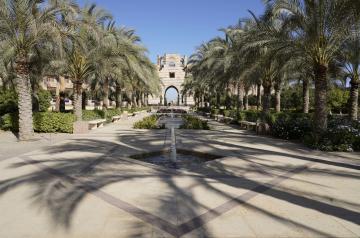 Messages to the Community
June 10, 2021, Fall 2021 Registration Dates
We are currently in the process of adjusting the Fall 2021 schedule of classes to ensure we can accommodate all classes while allowing for appropriate social distancing. Next week, we will be announcing a second round of AUC-allocated vaccination slots in collaboration with the Ministry of Health. 
June 1, 2021, Fall 2021 Plans and Vaccinations
I am pleased to share that we are planning to return to face-to-face instruction for Fall 2021. In our continued commitment to safeguarding the health and safety of our community, we will require COVID vaccinations for all students, faculty and staff who will access our campuses and University housing. More details will be shared with you in the coming weeks.