This website provides the latest information about AUC's actions to respond to the spread of COVID-19, also called novel Coronavirus. The University is actively monitoring the local and global health situation and is taking precautionary measures in an effort to help limit the spread of infection.
Mandatory Online Health Self-Check (For Those Who Are Coming to Campus)
Effective September 1, all members of the community must perform a health self-check and answer a 30-second questionnaire on each day they plan to come to campus (New Cairo and Tahrir Square). You will not be admitted from the gate unless you present the results of the self-check to the security at the gates.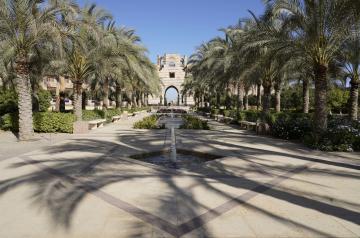 Messages to the Community
February 16, 2021, Spring 2021 Campus Guidelines
As the University prepares to resume the previously planned hybrid model for the spring semester on March 1, 2021, I am pleased to share our updated COVID-19 Campus Guidelines booklet for Spring 2021. While we prepare for an increased level of campus presence, we continue to focus on ensuring the health and safety of our community throughout the pandemic.
February 15, 2021, Return to Partial Face-to-Face Classes
I am pleased to announce that as of March 1, 2021 we will resume our previously-planned hybrid model of partially face-to-face classes.