This website provides the latest information about AUC's actions to respond to the spread of COVID-19, also called novel Coronavirus. The University is actively monitoring the local and global health situation and is taking precautionary measures in an effort to help limit the spread of infection.
Mandatory Online Health Self-Check (For Those Who Are Coming to Campus)
Effective September 1, all members of the community must perform a health self-check and answer a 30-second questionnaire on each day they plan to come to campus (New Cairo and Tahrir Square). You will not be admitted from the gate unless you present the results of the self-check to the security at the gates.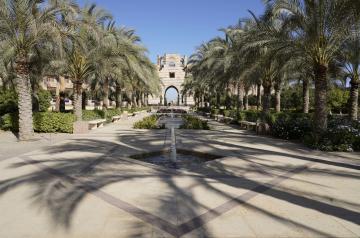 Messages to the Community
April 29, 2021, Remainder of Spring 2021 and Planning for Summer Term and Fall 2021 Semester
We have been closely monitoring the health situation in Egypt and within the AUC Community, and have determined that we will continue with online learning for the remainder of the Spring 2021 Semester. 
April 22, 2021, COVID-19 Vaccination Update
As announced earlier today in the Campus Conversation, AUC in collaboration with the Ministry of Health will be able to arrange for faculty, staff and students who have signed up on the government registry to receive COVID-19 vaccinations at a new mass vaccination site that will open in New Cairo next month.