A Fair Like No Other: 10 Egyptian Public Universities, 45 Employers, 3800 Students Come Together in the First Virtual Career Fair UCCD
The University Centers for Career Development UCCDs in ten public universities Ain Shams, Alexandria, Aswan, Beni-Suef, Mansoura, Menia, Menoufia, Sadat City, Sohag, and Zagazig were supposed to hold their first employment fairs this year, but then covid-19 hit. The centers had already moved their career services and training workshops online for thousands of students during the lockdown but employment fairs were a different story. Employment fairs are so complex and highly interactive. How can you get thousands of students all over the country from different universities to apply for jobs, hold interviews and attend information seminars with diverse employers in different governorates at the same time? That was the challenge!
UCCD Chief of Party Maha Fakhry had a vision that through technology this can be made possible.
Most could not envision the virtual fair as they had no reference point. Yet, the first step was traversed when the farseeing Minister of Higher Education and Scientific Research Dr. Khaled Abdel Ghafar endorsed the fair under his auspices. He verified this step in his opening speech asserting, "Organizing the virtual career fair is a great opportunity to advance efforts to raise the capabilities of Egyptian university students and qualify them to compete after graduation, especially in new sectors and specializations."
The next step was choosing the best platform, "VFair" a dynamic platform that mimics the feel of a physical event in which employers and university students meet in a virtual environment, using chat rooms, teleconferencing, webcasts, webinars or email to exchange information about career openings.
University presidents were contacted and all joined in, it was time to start the marathon towards making the unprecedented fair happen.
The National Bank of Egypt became the main sponsor of the UCCD-2020 Virtual Career Fair leading other sponsors in confidence and trust. National Bank of Egypt (NBE) Chairman Hisham Okasha argued, "Today, by supporting the public universities' Virtual Career Fair, we are enhancing a new virtual job search experience for thousands of university students to help them become productive citizens in society."
A vigorous publicity campaign was launched on social media and the press to reach both employers and students. Universities launched their press releases to announce their participation.
"At the beginning, it was difficult to capture the idea and believe that we can make it to the virtual career fair, especially with the challenges of covid-19 on the job market and student capacities. It seemed like mission impossible" Amir Roshdy, project manager for the Zagazig University centers said.
UCCD Deputy Chief of Party Dina Gohary had a different outlook on the matter, "We believe that new opportunities that technology offers can serve students much better than traditional methods. Digitization and technology will continue with us even after COVID-19 as it helps in many ways including crossing geographical boundaries in an efficient way."
For months, University Centers for Career Development have been working hard in collaboration to prepare students as well as to attract the attention of employers for the first Virtual Career Fair in the history of public Egyptian universities.
Over 80 UCCD staff members held hundreds of resume writing and interview techniques workshops as well as individual resume critique meetings with students to prepare the students for the Virtual Career Fair. They also held tens of meetings to orient the students to the platform and familiarized them with the new experience.
On the other hand, the staff centers have been in contact with different employers pitching them the idea of the virtual career fair during the hard time when there wasn't much recruitment and hiring taking place.
"No one was able to visualize the event, we had to work hard to convince employers that they will be meeting top talents and that the platform we will be using is different." Recruitment Specialist at the Minia University Nora Galal said. Yet, a few days before the event, 45 of the biggest employers in Egypt had their virtual booths set up and had their dry run rehearsals for the day.
"The day was a unique experience, all UCCDs across Egypt were multitasking at the same time. It started at 9:30 am with the opening ceremony with the Minister of Higher Education, participating Egyptian Universities presidents along with USAID Egypt Mission Director and AUC President," Taghrid El-Sayed, Deputy Chief of Party said.
The opening remarks of all speakers showed great pride in all the work of UCCDs to be able to organize such a platform with this number of students all singing at once. The United States Agency for International Development (USAID) Egypt Director Leslie Reed said in her speech, "All along, USAID's Career Centers have introduced innovations and a new model that bridges higher education and employment in Egypt's dynamic economy. Training in the skills demanded by employers, proactive outreach such as this career fair, and dialogues between businesses and universities combine to ensure that graduates have the skills they need for employment and that they can put those skills to work. The Career Centers are the ultimate win-win for students seeking job opportunities and private sector companies looking to hire Egypt's best and brightest."
For employers, the experience was different and organized as many of them were impressed with the platform, the capability of chatting with students all across Egypt without moving from their offices in Cairo. "We have participated in many virtual employment fairs, but UCCD's platform is different and all staff have been cooperating with us to accommodate our needs; we are so glad we were part of this great employment fair and we have got hundreds of job applications," Nardeen Waguih, Edita Talent Acquisition Manager said.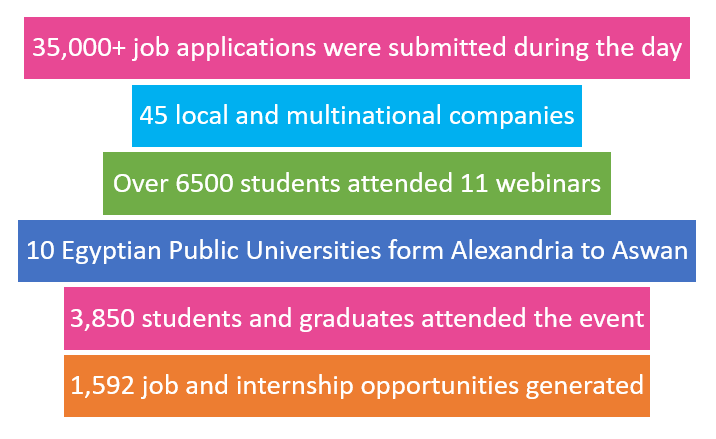 For other employers in different governorates the experience was totally new and yet they enjoyed the experience of being able to chat with students and fill their vacant positions in an easy manner that crosses geographical boundaries.
"The motive behind the success of this hectic day was to serve our students at most, as well as the employers and give them best quality so that they can come back to UCCD whenever they need to hire," said El-Sayed.
"I thought this would not be a possibility, I knew we were many students all logging in at the same time, yet with all the advice from the UCCD center I was able to get the interview," says Pola Adel, Ain Shams University fresh graduate who landed an interview with El-Sewedy Electric company.
In Upper Egypt's Sohag University, graduating senior Faculty of Commerce Omneia Hassan said "I am so lucky to get to be involved in the UCCD Virtual Career Fair before I graduate, I was able to get in touch with many employers near Sohag as well as in Cairo; thanks to the UCCD centers this couldn't have been possible without them."
According to reports coming out of the Virtual Fair platform over 35,000 job applications have been submitted during the day and the days after as well.
Employers and student participants alike regard the event as a unique and impressive experience like no other, which is much needed in light of the current digital transformation. It is the way to go for future career events.