Welcoming New Student Scholars, Honoring Achievers
Welcoming New Student Scholars, Honoring Achievers
Recognizing its distinguished scholars, AUC held a ceremony welcoming its 120 newest scholarship students, who hail from 26 Egyptian governorates and multiple countries, including Somalia, Yemen and the West Bank. The event also honored returning scholarship students who demonstrate an excellent academic record and was an opportunity for new students to network with scholarship alumni and learn from their experiences.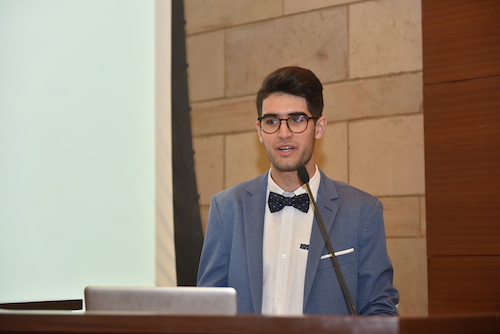 Chadi Ben Ghanem, Master of Ceremonies and Tomorrow's Leaders Scholarship student from Tunisia, majoring in management of information and communication technology
"We are gathered here today to recognize, celebrate and award those who work hard, those who stand out and those who inspire. We are here to celebrate those who have not only worked hard to get here, but who continue to prove themselves through academic and leadership achievement."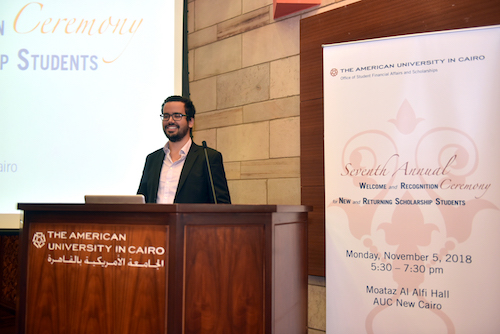 Iyed Hamadi, Tomorrow's Leaders Scholarship student from Tunisia, majoring in business administration and minoring in economics
"When you go through a transformative journey like the one I had at AUC, you start looking at the world differently," explained Hamadi. "No other university would have allowed me to experience the cultural exposure and connection to the MENA region as much as AUC."
"I want to express the level of development that my academic and professional journey at AUC allowed me. Since joining this special institution, I got to study in four countries, including China, South Africa, the United States and Egypt, I got to participate in six competitions, join three clubs, work as a research assistant, work at the Career Center and lead an event as big as the employment fair –– all while fulfilling my academic duties. I was always stimulated by the AUC community to do more."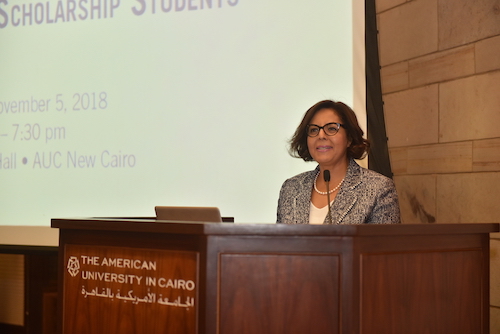 Sohair Saad, executive director, Office of Student Financial Affairs and Scholarships
"You have demonstrated that when given the opportunity and support, you can make significant contributions to your communities, both local and global."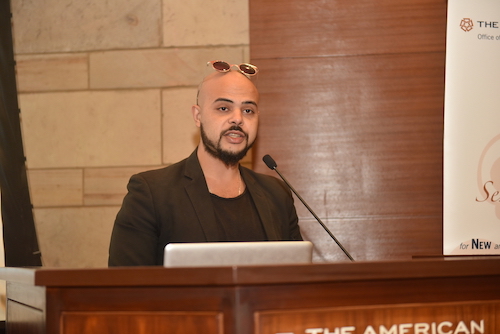 Ibrahim Abougendy '14, Leadership for Education and Development (LEAD) alumnus from Port Said, who graduated from AUC with a bachelor's in architectural engineering and studied abroad at the University of Massachusetts, Amherst
"Let no one stop you from sticking to one thing and disrupting it."
"Back in 2008 ,I was so different. I felt I wanted to achieve -- but achieve what? I didn't know much about my goals. It was fine at that time not to have a certain passion. That's why we are here at AUC, and this is what AUC is really good at: giving students the chance to explore."