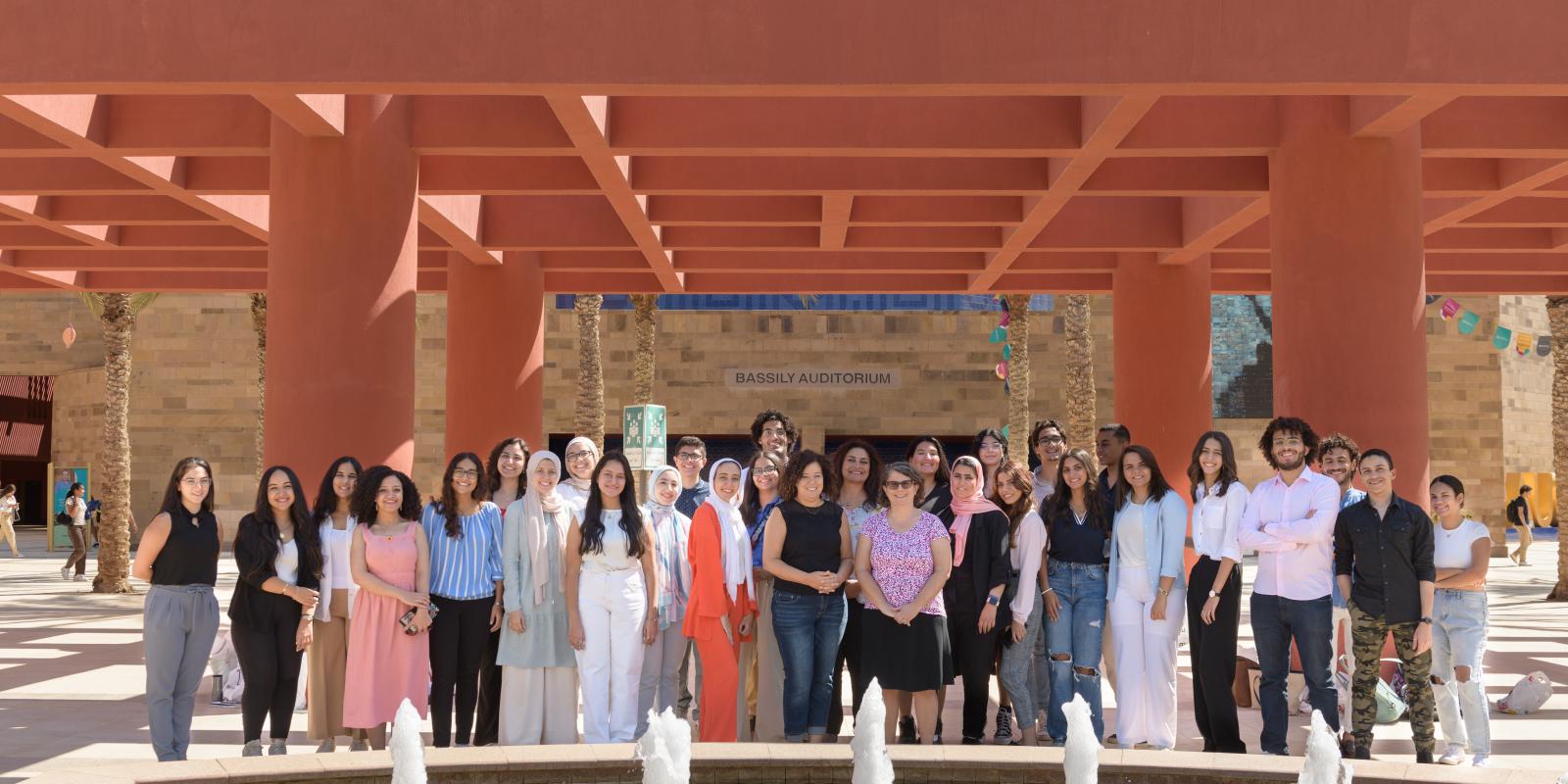 Tomorrow's Leaders Gender Scholars Program Welcomes Second Cohort
Tomorrow's Leaders Gender Scholars Program Welcomes Second Cohort
After a successful launch last year, the Tomorrow's Leaders Gender Scholars (TLS) program has more than doubled in size this fall, with 28 students joining the program's second cohort.
Coming from a variety of majors, the new recruits are excited to expand their knowledge and understanding of gender as it relates to their areas of study, to society and to their future leadership, civic engagement and professional potential.
Having always wanted to join Tomorrow's Leaders at AUC, Omar Basyouny, mechanical engineering sophomore, was thrilled to learn of his acceptance into this year's cohort.
"As someone who is very interested in learning about gender and promoting gender equality, I found the TLS Program an ideal fit for me," he said.. "I am proud and honored to be a part of this extraordinary and exceptional community."
TLS, a joint effort between the U.S. Department of State, the Bureau of Near Eastern Affairs and AUC, grants a one-year scholarship to current AUC students who have leadership potential and are interested in studying and incorporating gender across academia and the public and private sectors.
This year, the cohort will undertake projects in civic engagement and mentored research, attend a series of specialized workshops covering various aspects related to gender, leadership and wellness, and organize TLS and Tomorrow's Leaders events on campus.
For the new cohort, gender equality is more than a goal in itself.
"To me, gender equality is equal opportunity, equal pay and equal respect," reflected Zeina Lasheen, Integrated Marketing Communication junior. "It's not having to fight for women to be trusted to make their own decisions. It's normalizing that men cry and struggle. It's accepting that we're all human and we're all essentially the same."
Moustafa Sherif, a junior studying biology, is eager to explore how he can integrate gender equality into his career as a biologist with TLS.
"I dream about making a community that is self-reliant and transformative, a community resembling a spring of knowledge, and, in parallel, a community of peace and tranquility. Therefore, it is easy to see how I, a scientist in the making, would put such value on gender equality; it is, in my opinion, laced within the fabric of my dream about my community ... there is simply no dream without the ideals of gender equality," he said.
In addition to exploring gender themes, the program also connects students to different networking opportunities, such as attending international and national conferences, where they can engage with a wider community of specialists. It also gives them the chance to learn about and interact with civil society organizations working in the field of social development with a gendered lens. On campus, the program links students with offices and departments (such as the Title IX Office) that can assist their engagement and impact within AUC.
The program is also hosting Gender Wednesdays, a public lecture series open to the AUC community that features experts, activists and public figures discussing current issues and their relation to gender. The first talk of the series, which took place in September, explored online sexual harassment in Arabic and the impact of gender on social media trends. Moving forward, the lectures will take place every third Wednesday of each month.
Basyouny is confident that his involvement in TLS this year will pave the way for opportunities for him to make the world a better place. "I believe this program will prepare me to be a capable leader of tomorrow and enable me to make a strong positive impact in my community and the world in large," he said.