Summer@AUC: Islamic Studies in the Heart of Cairo
Summer@AUC: Islamic Studies in the Heart of Cairo
This summer, 15 students from prominent U.S. universities — including Columbia, Princeton and Emory — stepped onto AUC Tahrir Square as the first cohort of the newly launched Summer@AUC Islamic Studies Institute, a four-week program taught by world-class faculty in the heart of Cairo.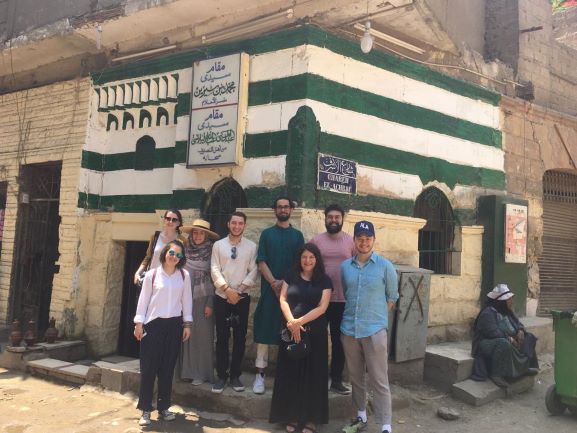 Two institutes are being offered this summer. The General Islamic Studies Institute takes students on a weekly exploration of each of the areas of  Qur'an tafsir, hadith, Islamic law and Sufism. The Islamic Law Institute bridges the divide between theory and practice,  and examines the question of modernity and the role of Islamic law in today's world. Participants also attend daily Arabic classes to supplement their studies and go on cultural visits during evenings and weekends.
"The Islamic Studies Institute has started beautifully. Fifteen international students arrived on the Tahrir campus in mid-June 2019. They have engaged in intensive study of various Islamic studies topics and taken part in cultural immersion activities relevant to the program. Visits included typical must-see sites in Cairo and Alexandria, as well as visits to Mashyakhet Al Azhar, Dar Al Iftaa, various historical mosques and the Coptic Cultural Center. Students also attended various guest lectures with leading scholars in the field and received daily Arabic language instruction to support their reading and appreciation of their study."

-- Ghada Elshimi, interim dean of undergraduate studies and the Academy of Liberal Arts, AUC
"The program has a really good reputation, and many of the professors have recommended it to me. I am in the General Islamic Studies Program. I chose it mainly because of the lecturers who are renowned scholars in their fields."

— Mohan Chen, graduate student, Georgetown University

"I chose to apply to the Islamic Studies Summer Institute because I wanted to be in an immersive environment where I can enhance my Arabic language proficiency while also putting it to use at the same time with intensive text study. I wanted to do all of this in Cairo — the preeminent historic center of the Arab and Islamic world for centuries.

— Asad Dandia, graduate student, Columbia University 
For Mohan Chen, a graduate student from Georgetown University, the program provides a unique opportunity to prepare herself for further studies in this area and to become more fluent in Arabic. "And spending a month in Cairo offers me deeper insights into the local culture and politics," she said, adding that the program structure is an asset. "I really like the layout of the program, which allows us to spend a week on each subfield. In addition, we have the rare opportunity to study and to read the hadith and tafsir in Arabic, and it really helped me understand these texts in a more comprehensive way."
Chen also enjoys the cultural aspect of the program. "It is my first time in Egypt and it has been wonderful. I am enjoying all the delicious Egyptian meals and the weekend trips to the Pyramids and Islamic area are really fun. I like hanging out with people who I met in this program and watching the Africa Cup at local cafes!"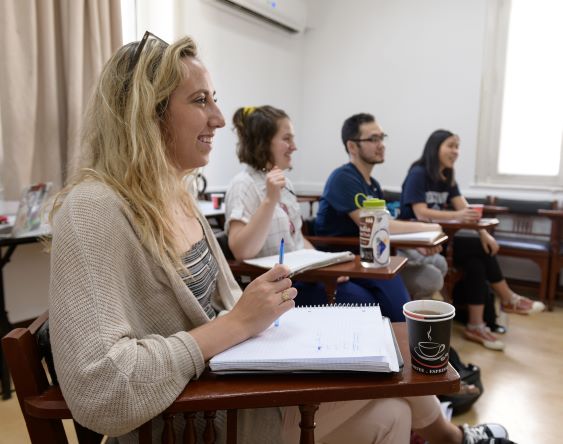 Asad Dandia echoed similar sentiments. "I find that this program is unique from other programs because it combines Arabic language study with practical text study and demonstrates for us how our studies are practical and relevant to the real world -- both from an academic standpoint and a general standpoint. I am in both the General Islamic Studies and the Islamic Law program. I chose both because I am seeking to be well-rounded in the study of Islam as an aspiring scholar of Islamic studies."
This is also Dandia's first in Egypt. "It has been an incredibly enriching and transformative experience. I am extremely grateful for the opportunity to be here and to learn extensively about Egyptian, Arab and Islamic history, culture, religion, law and society, and I am very honored to have the opportunity to meet the people who are at the forefront of teaching and engaging with these subjects."
Instructors are renowned scholars in the field, hailing from different universities around the world, University of Toronto, UC Santa Barbara, McGill University and The Evergreen State College.
"The Summer Institute for Islamic Studies at AUC is an excellent choice for anyone seeking a rigorous in-depth introduction to Islamic sacred texts and the commentaries that have emerged around them," said Carrie Rosefsky Wickham, professor in the Department of Middle Eastern and South Asian Studies at Emory University. "Morning classes on topics in Quran, hadith, fiqh (Islamic Jurisprudence) and Sufism are led by world-class scholars, with lectures supplemented by discussion of assigned readings. Afternoon Arabic-language classes enable students to engage directly with primary sources related to each week's core theme. Daily classes are supplemented by guest lectures and guided visits to Islamic sites of interest. Further, program faculty and staff help participants tailor the program to their individual needs and interests, i.e. by arranging private Arabic-language tutorials and/or identifying legal, philosophical and religious texts of value to their research."
Wickham also commended the unique and practical learning opportunities participants are exposed to. 
"Particularly well-suited for master's and PhD-level students, the program is flexible enough to accommodate early, mid-career and senior scholars seeking to deepen their understanding of Islamic sacred texts and traditions in direct interface with major experts in the field. A truly exceptional learning opportunity for the serious student who wants to 'go beyond the headlines' and engage the textual foundations of Islam in all their beauty, richness, and complexity."

-- Carrie Rosefsky Wickham, professor, Department of Middle Eastern and South Asian Studies, Emory University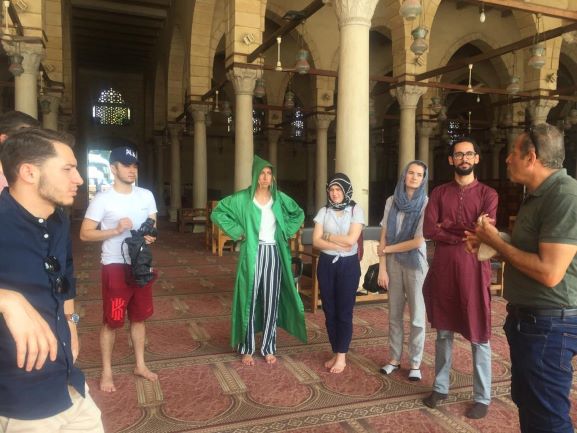 Summer@AUC, which includes various other summer bootcamps and an academic program for high school students (College Bound: AUC)  aims to revitalize AUC as an educational and cultural hub for the public and become Egypt's leading summer destination for people looking to gain personal and professional advancement through a variety of learning programs. The Islamic Studies Institute is the first of the many summer classes to start this summer.