Student Finalists in AUC-TAMEER Competition Present Designs for Egypt's First Beautified Water Tower
Student Finalists in AUC-TAMEER Competition Present Designs for Egypt's First Beautified Water Tower
Three student teams were recently selected as finalists for the AUC-TAMEER Water Tower Competition. These included "Colors of Life," with team members Haidy Helmy, Mostafa Ahmed and Merhan Amer; "Ciel," with team members Ghenwa Yehia ElMougy, Farah Habib, Nehal Ezz and Mariam Ismail; and "HRSH Architects," with team members Rana Abdelkhalek, Hana Elshiaty, Hady Eissa and Sana Soliman.
The design that is ultimately selected in the final round of presentations will be used to transform the water tower outside of AUC's New Cairo campus into a work of urban design, making it the first beautified water tower in Egypt. The competition is being run by AUC in partnership with TAMEER, a real estate development company that will work with the University to make the students' designs a reality.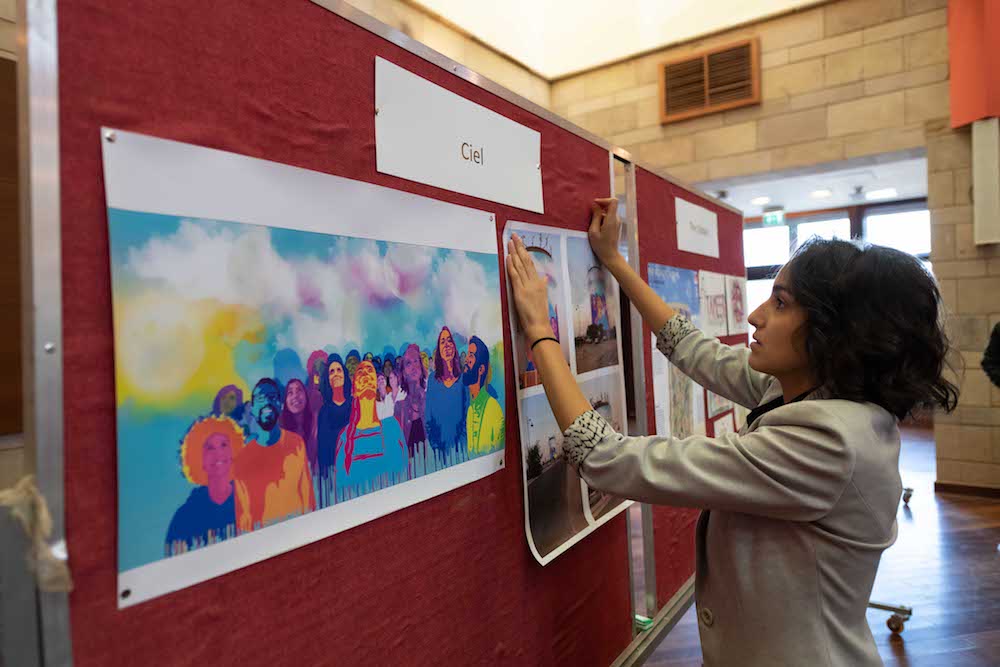 The Challenge
Seven teams presented their original designs at the final exhibition. Twenty-five students participated, with backgrounds in disciplines ranging from business to graphic design. After their presentations, teams were then asked questions and evaluated by a jury panel.
The challenge gave students the opportunity to work in a cross-disciplinary setting, applying their knowledge of design, marketing and architecture to a real-world situation. The students had six weeks to finish their first design proposals, working within academically diverse teams and taking part in guided workshops led by volunteer faculty members. The contestants had to grapple with creating a realistic, affordable and engaging design that reflected the values of the New Cairo community in a short-time frame.
"I've been at the majority of the workshops we've been running over the past month, so we've been seeing the progression of the designs. They really put a lot of work into the final stretch," explained John Hoey, associate professor of practice in the Department of the Arts and non-voting jury member on the competition panel. "We hadn't really talked about their planning for the budget or for the timeline of their designs. And no matter how great the idea is, if you can't put it into place, it's kind of pointless."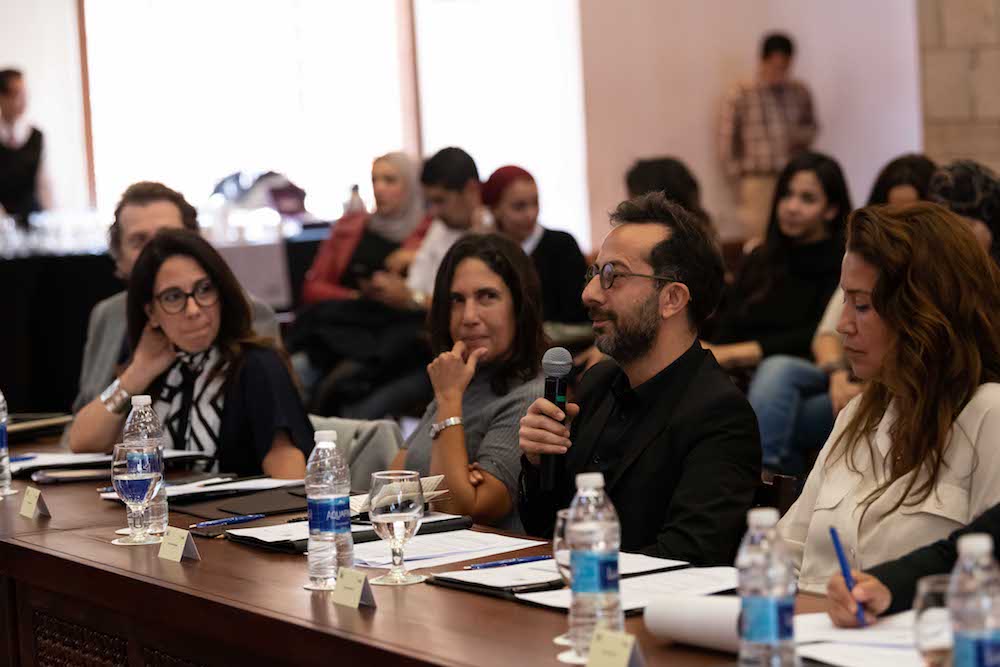 The rest of the jury included voting members Magda Mostafa, associate professor and associate chair of the Department of Architecture; Nagla Samir, associate professor of practice in the Department of Arts; Arch. Bachir Moujaes, architect, urban designer and head of design at Solidere; Engineer Mahmoud Hussein, vice president of New Cairo Municipality for Development; Engineer Gamal Taalat, vice minister of the new Urban Community Authority; and Mona Hussein '83, designer and owner of Mahally furniture store. Non-voting jury members included Hoey; Engineer Ghada Oteifa, construction engineer and project management professional; Engineer Sally Hussein, director of the Beautification Division of the New Cairo Municipality.
Jury members were looking for designs that were both realistic and artistic -- something that would inspire the New Cairo community. "I'm hoping that the ideas that will come will be beyond what we thought of," Hussein stated before the competition. The judges acted as a sounding boarding for the designs, asking questions about how the models would be seen from multiple angels and at different times of day, and making sure that the materials utilized in the designs were easily maintained. They explained that they were taking creativity, durability, feasibility and environmental impact into account.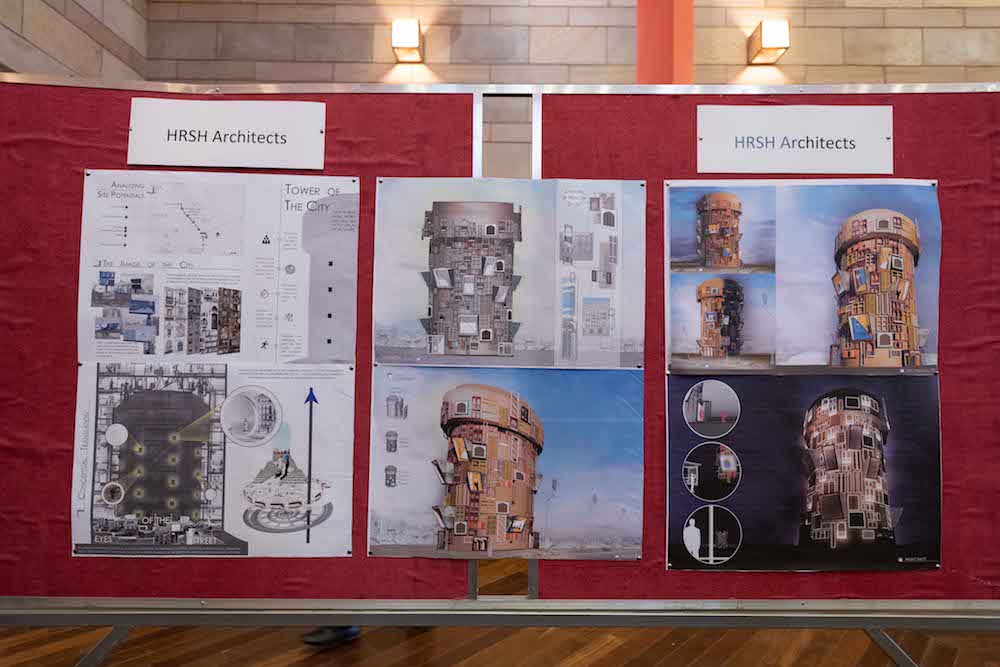 The Drawing Board
The student designs ranged from chromatic to organic, incorporating dazzling hues, 3D overlays and inventive technical effects. All the designs aimed to take Egyptian culture and the New Cairo community into account, attempting to be simultaneously inspirational and representative of the city. While the presentations were all expressive and stirring, they differed in vision. The team "Ciel" explained that they "avoided the abstract so that we could reach a wider audience." Meanwhile, "Gavel and Gravel" believed that "a good design should arouse curiosity, asking for another look. You should feel something but you don't know what."
"We wanted to create something everyone feels at home looking at," the "The Globals" team members said as they presented their design: a brilliant vision of tiles and solar panels streaming down the side of the water tower like colored rain. The student visions also included a pink tree sprouting out of a jet-black background, a speckling of multidimensional cells in earthy green and shocking magenta, and a vivid patterned ribbon snaking its way around the structure.
The Finalists
The team "Colors of Life," one of the competition finalists, presented this last design. As team members explained in their presentation, the inspiration for their project came from the "calling of the birds," an event that takes place in Cairo at sunrise and sunset. "These birds represent the community, since they always fly together in a pack," Merhan Amer, one of the students on the team, explained. They also focused on color, using vibrant greens and light blues to stand out against the sandy background of New Cairo. "Cairo is such a lively city, and we as people were never rigid and stiff. We were always dreamy and colorful, so we thought, 'Let's have flowing, dreamy artwork,'" the team explained.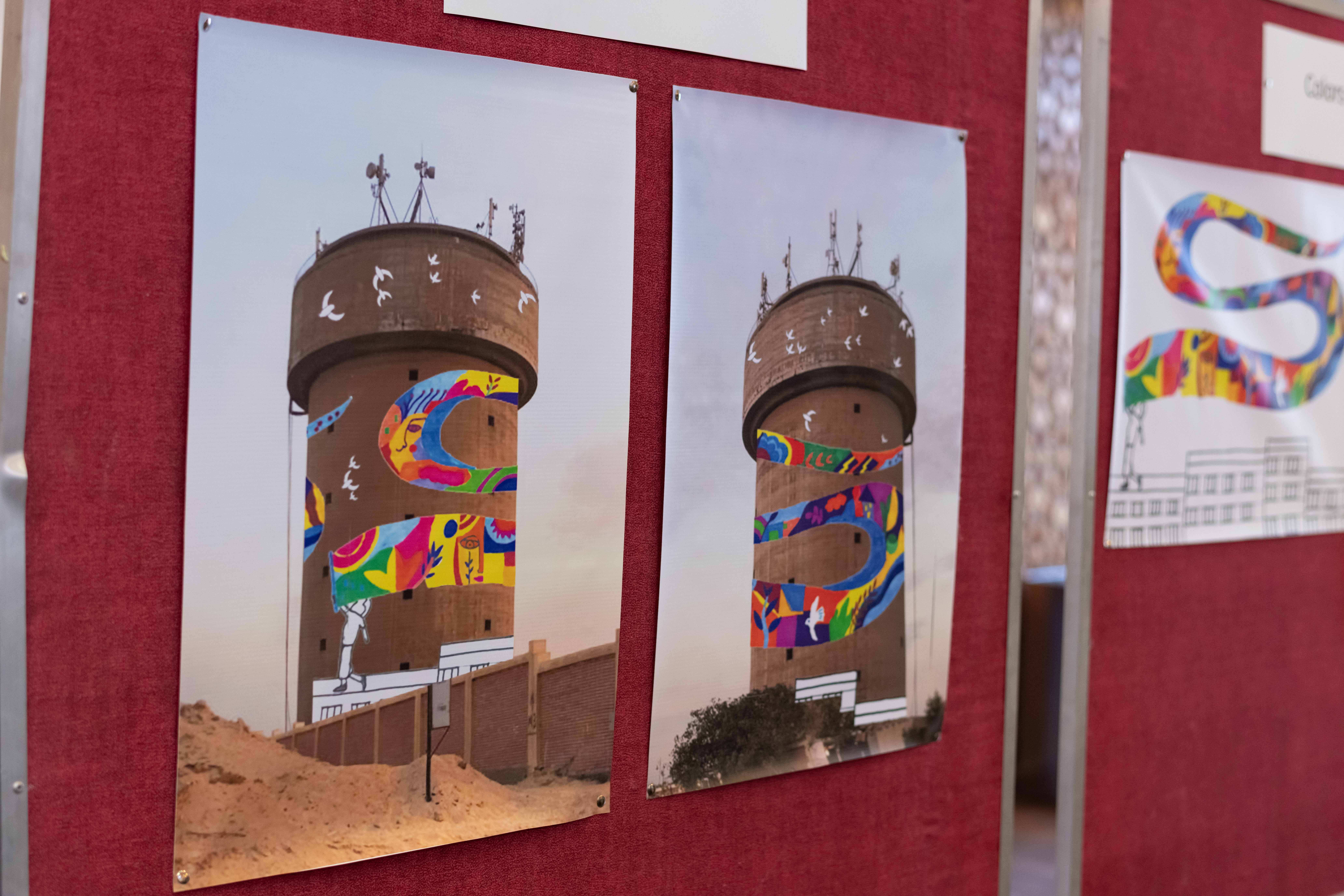 While the other finalists' designs were also impressive, they varied widely in appearance. The team "HRSH Architects" imagined a patchwork of windows opening into different pictures and scenes from everyday life. "Behind every window, there is a story. New Cairo is a community of people who are searching for new beginnings, and this becomes the story of the tower," explained the team of architecture majors. The team's design combined 2D and 3D objects, using window frames to illuminate scenes that represent different milestones. These images would be illuminated at night by a panel of LED lights.
"I love the kinetic vision of that instillation," Hussein expressed.
"Don't be afraid of keeping it flat." Mostafa suggested, giving us a hint of what their design might look like at the final exposition. "You could do a 3D-effect with a subtle play of depth in each window."
The last finalist, "Ciel," tackled the project differently, creating a blended composition of the sky at different times of day, with phases of the moon being exposed by black light at night. Their submission also includes a crowd of people at the bottom looking up at the sky above them. "We wanted to have the chance to show Egypt different, but familiar faces -- the type of faces you feel like you could meet while walking down the street, inspired by the sight of the sky at different times," the team explained.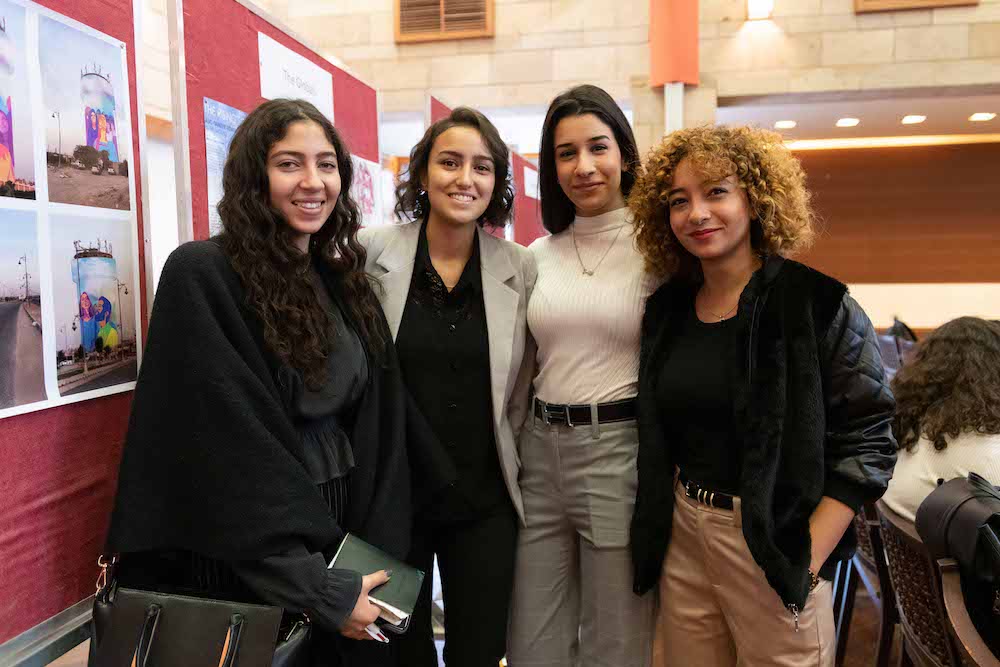 A Global Initiative
All the judges were incredibly impressed with what the teams put forward. "They have achieved something that is exceptional," stated Moujaes. "This started as a humble initiative, and it will end up having global impact."
Antoine El Khoury, managing director of TAMEER, was also moved. "We are impressed –– impressed with your talent; impressed with your dedication, all the efforts, creativity, emotions and research that you have invested in this work; impressed with your courage in standing before a jury of this caliber and before your very demanding professors. We now understand why AUC is a leading University," he said.
"A lot of my friends ask me when I'm exhausted and running around why I do it, and the answer is getting to work with students," expressed Mostafa. "I think this is a great example of how lucky we are."
"Moments like this are what make me proud to be part of AUC -- this amazing energy," affirmed Samir.
The jury members believe that the competition is an incredible opportunity to create a piece of community art while enriching the participating students' education in the process. "Being able to do something on this scale while they're still in school starts to seal the future for them. It has that credibility -- something that is intangible, and that goes beyond any sort of financial compensation," said Hoey.
"Competitions like this expose us to different experiences outside of the University and coursework," agreed Amer from the team "Colors of Life."
"We're happy, but we have a challenge ahead. We want to go to the next level, but it will be a challenge to change and modify the work for it to happen," added the team members from "HRSH Architects."
If the project goes well, jury-members hope it could be replicated in other neighborhoods throughout Cairo. As many of them expressed, it is an opportunity to interact with the community and encourage people to care more about the spaces they inhabit.
"Before this competition, I saw the tower every day and I never noticed it," said a team member of "Wonderland." While this might once have been the case, after its beautification, the water tower will certainly be noticeable. In whatever form it takes, it will be visible on a skyline, an enticing sight and monument for New Cairo.
As El Khoury said in his thank you speech, "Thank you for the beautiful stories you told us today. You are talented storytellers. You made us dream. Now, let's together make these dreams come true."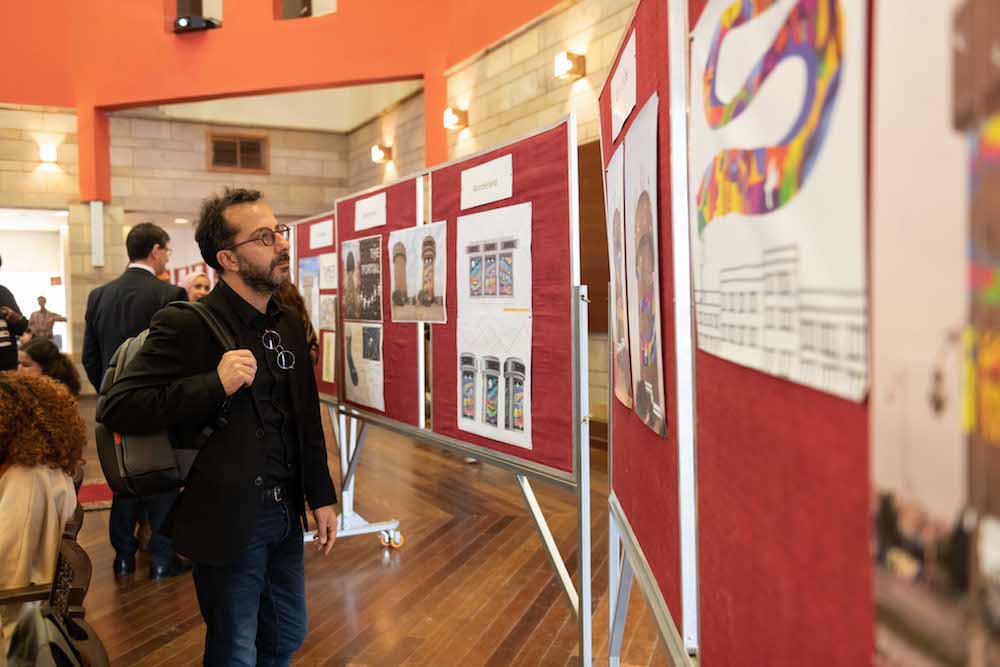 Click here for more information on the competition.