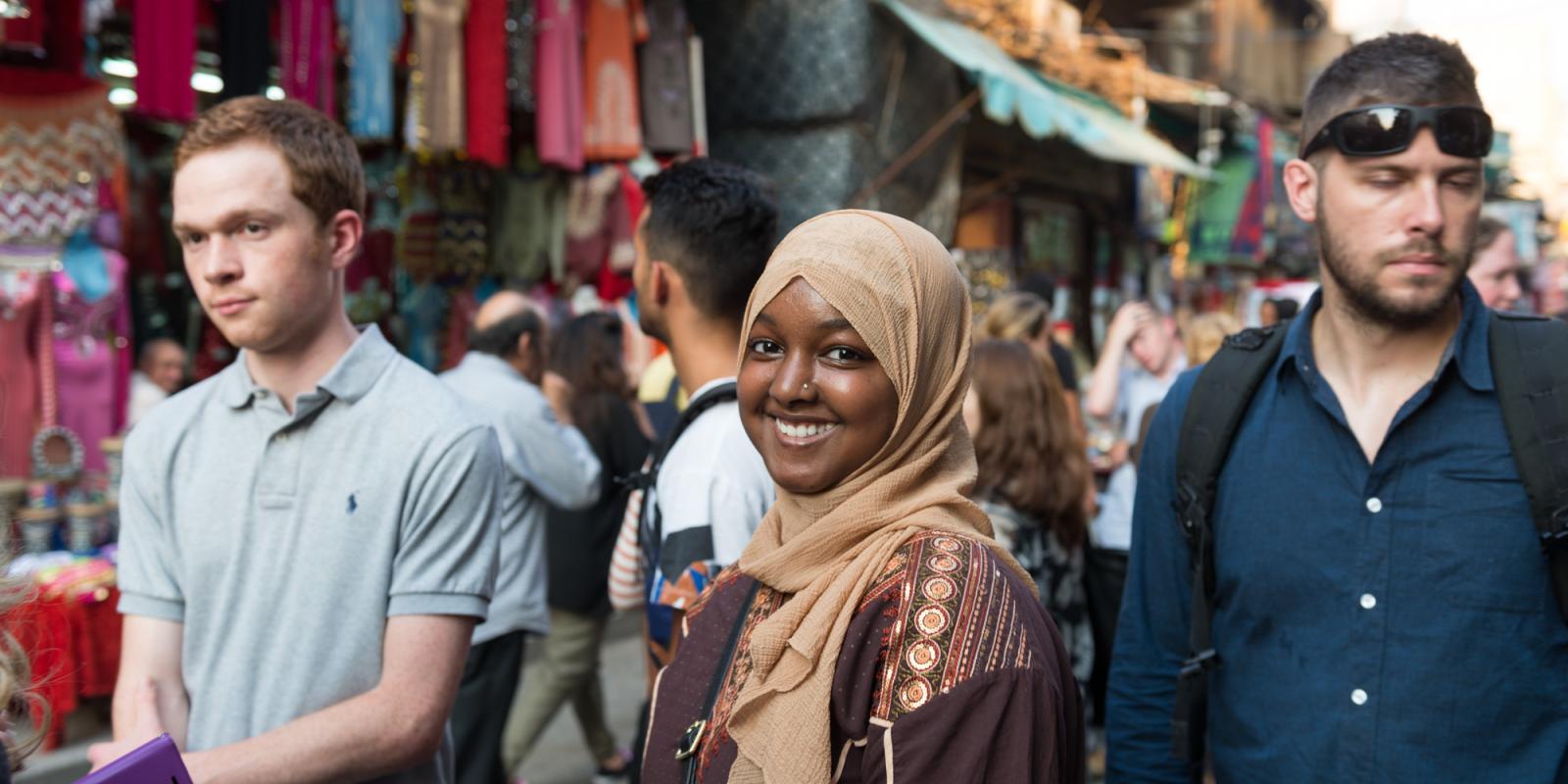 Why International Students Choose AUC
Why International Students Choose AUC
Following a steep decrease in 2011, the number of international nondegree students at AUC (those who are studying abroad or enrolled in the Arabic Language Intensive Program or the Center for Arabic Study Abroad) has seen a steady increase over the past three years (see graph). From 48 students in 2013 to 74 in 2015, this number is slowl­y, but surely, climbing back to its peak in previous years.
­­Although the reasons why international students choose to study at AUC vary, Amal Salah, director of the Office of International Students and Study Abroad (ISSA), notes many commonalities. "Students come for the culture, history, experience and to study the language," she says.
Ricardo Jorge Martins Carlos — who is studying abroad at AUC from his home university, the Nova School of Business and Economics in Lisbon — decided to come to Egypt for similar reasons. "It is a new experience, an opportunity to know a different culture, and it is very challenging."
Despite the challenges that come with living in a new culture, Carlos feels integrated into the AUC community and Egypt as a whole. "I met a lot of Egyptians on the ISSA (Office of International Students and Study Abroad) trips, and it was amazing," he said. "They are all very kind. I do feel part of the AUC community and part of AUC's international community." One of the primary roles of ISSA is to facilitate the transition of international students to life in Egypt.
Of course, studying in Egypt is not without its challenges. "Outside the University, a lot of people do not speak English, and sometimes it is very difficult to communicate," says Carlos.
That linguistic challenge, however, is why so many international students decide to come to AUC. For Melis Karakuş, a political science major studying abroad from Sciences Po, the opportunity to enhance her Arabic skills was a key component in her decision to study abroad at AUC.
Originally from Turkey, Karakuş says she "feels at home at AUC and in Egypt in general because it is very close to Turkish culture." Before beginning her study-abroad experience, she was worried that studying at AUC might not let her experience the entirety of the country, but she quickly realized that is not the case. "I was worried it would be a bubble, and I wouldn't get to discover the Egyptian culture, but we always meet other people who are inviting us to other places around Cairo," she said.
When asked what they would say to someone considering studying abroad at AUC, both Carlos and Karakuş responded enthusiastically. "They should definitely come," said Carlos. "It is a unique experience, a big adventure and an opportunity to know a lot about a different culture."
Growing the International Community at AUC
For many international students, their time at AUC is much more permanent. In 2015, for example, there were 308 enrolled international students working toward a full degree at AUC. While those numbers have not been increasing as dramatically as those of study-abroad, nondegree international students, Salah notes that "the numbers are picking up slowly, but they are picking up."
Building on this slow growth, Provost Sherif Shedky has highlighted international student recruitment as one of the University's top priorities. As he announced at the Re-imagining the AUC Experience forum recently, the goal is to have 15 percent of the student body be international by the University's centennial.
According to Randa Kamel, executive director of the Office of Enrollment and Student Services, international student recruitment efforts are focused on global outreach. Specifically, the University "participates in educational fairs in various regions; visits schools; runs an advertising campaign in major Arab media; and sends out an annual information package to schools, embassies, alumni and other institutions with updated requirements and admission procedures."
According to Salah, one of the greatest challenges of attracting foreign full-degree students is the continuously decreasing cost of many European universities. Those considering AUC might instead choose a different European university due to monetary concerns.
However for Rashid Abdullah, a graduate fellow studying applied linguistics and teaching English to speakers of other languages, the monetary support he received from his fellowship was a large part of why he chose AUC. Besides that, and the weather, the Chicago native has long been interested in the Middle East and welcomed the opportunity to build on his past experiences by teaching English and learning Arabic in Cairo.
Reflecting on his time at AUC thus far, Abdullah emphasizes the high quality of his professors. When asked what he might say to an international student considering coming to AUC, he again highlighted the university's academic excellence. "The level of education you'll get is very high," he affirmed. "Your professors will be distinguished, and the research that you could do or assist in doing will be of a high caliber."
In terms of integrating international students into the larger AUC community, Abdullah says that he has felt welcomed and made many Egyptian friends. Yet, he also recognizes that sometimes "there is a divide between the foreign students here on campus and the Egyptian students."
While challenges remain for recruiting and integrating international students at AUC, the steady increase in study-abroad students indicates an exciting new era in AUC's enrollment efforts. The memorable experiences that current and past international students have, both academically and extracurricular, exemplify the many benefits of joining the AUC community from abroad.