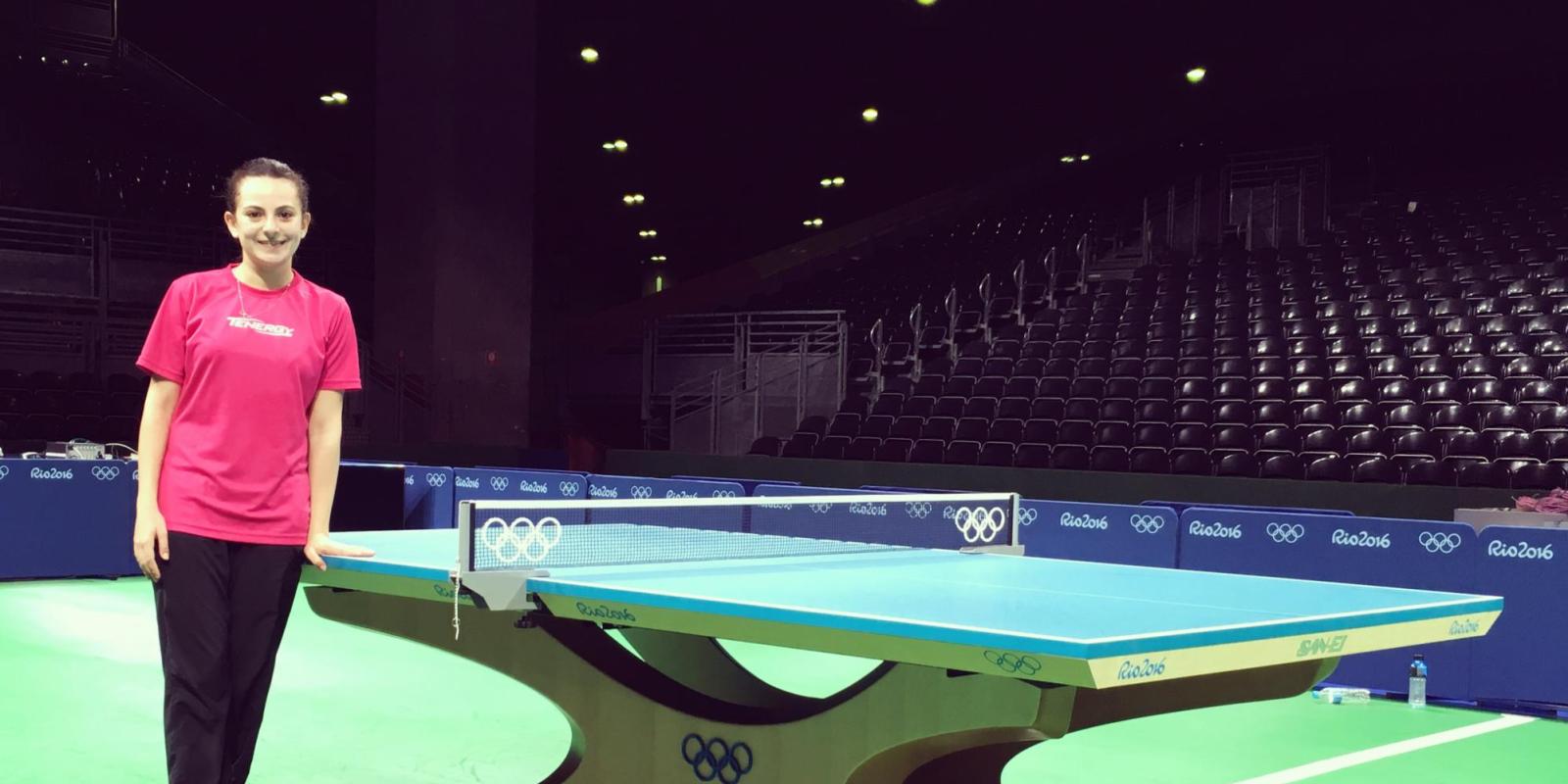 For Two AUC Olympians, Table Tennis is a Family Tradition
For Two AUC Olympians, Table Tennis is a Family Tradition
Dina Meshref, business administration senior, and Yossra Ashraf, accounting junior, both competed in the Rio 2016 Summer Olympics as two out of four members of the Egyptian women's table tennis team. Long before they were Olympians, however, cousins Meshref and Ashraf developed their shared passion for table tennis.
"Growing up, our parents all played table tennis together," said Ashraf. "It's always been a family game for us." Ashraf's parents, Nihal Meshref '93 and Ashraf Helmy, were even Olympians themselves; both were members of the Egyptian table tennis team at the Olympics in Seoul in 1988 and Barcelona in 1992, with Ashraf's father also competing at the 2000 Summer Games in Sydney.
Since first discovering their love of the sport, Meshref and Ashraf have demonstrated an impressive dedication, training long and hard hours to reach the highest levels of competition.
Although it was Ashraf's first time at the Olympics, Meshref also competed in the 2012 Summer Games in London. "The Olympics is the most prestigious sports event, so it's very honorable to go and participate," said Meshref. "Of course it's also a lot of fun. You get to meet athletes from all over the world. You're all living together in the village, so you feel that it's a community, a gathering –– and that you're one family."
Reflecting on the most memorable moments of an unforgettable experience, Ashraf noted, "It was my first time, so I think the best moment was being able to be with athletes from all the other sports and taking pictures with them. I met [swimmer] Michael Phelps, [tennis players] Rafael Nadal and Novak Djokovic. I also watched [sprinter] Usain Bolt compete."
For Meshref, her most distinct memory from the competition was proudly representing her country. "The most memorable part of Rio was the day we raised the Egyptian flag," she said. "We all went to the Olympic village for a gathering in the plaza. It was really nice and also fun."
However, competing in the Olympics, and the endless hours of training leading up to the games, is not without its challenges and lessons. "In the Olympic village, there are many distractions," stated Meshref. "There is the entertainment center, hanging out with other Egyptians from different sports and making lots of friends from all over the world. But I learned that athletes should enjoy these moments only after they finish their games or matches. We need to concentrate on the game first and foremost. We need to have the same style of life at the Olympics that we would have in any other competitions, despite the distractions."
Although the 2016 Olympics were held during AUC's summer break, the two cousins still had to train intensively all year round, often facing the difficult task of balancing their athletic and academic ambitions. "The hardest challenge is balancing our studies and grades on the one hand and going to table tennis practice daily and concentrating in the tournaments on the other," agreed both Ashraf and Meshref. "Sometimes we're in a table tennis tournament, and we also have to be studying or catching up on things we missed in school."
"We try to avoid any sources of entertainment," added Meshref. "We miss a lot of outings and gatherings with friends. We just have to divide our time between studying and training."
Their impressive dedication has undoubtedly paid off, and made them an impressive example of how to balance the full load of being an AUC student with an extracurricular passion.
When asked what they wish more people knew about table tennis, they describe an under-appreciation of the athletic rigor that the sport requires. "Table tennis is not an easy game," emphasized Meshref. "It is tough. We do intense physical fitness, in addition to practicing the sport."
"Some people just think that it's easy and just related to the beach games," added Ashraf. "It could be played like that, but that's not the actual sport. On a professional level, it's really very difficult."
To read more about other AUC Olympians, click here.