Tobacco Use at AUC Survey Results
Tobacco Use at AUC Survey Results
One of the most astonishing results of the AUC Tobacco Use Survey is a paradox in responses, said Jaime Mendoza, associate professor of practice in the Department of Psychology, and Mervat Abou Oaf, professor of practice in the Department of Journalism and Mass Communication.
Despite the fact that a large majority of the campus community knows that secondhand smoke causes health problems, more than 50 percent responded to the survey saying that it isn't a problem. "It shows the extent of their denial," said Abou Oaf, who is a member of the Committee for a Tobacco-free AUC.
In an effort to better understand tobacco use and perceptions on campus, the Committee for a Tobacco-free AUC sent the survey out in February 2018, then collected and compiled the feedback for the rest of the semester. The recently finalized results include data from 1,931 students, faculty and staff at AUC -- a representative sample of the population. Along with the responses about secondhand smoke, the feedback details how many people on campus smoke, how often, for what reason and how they feel about the new Tobacco-Free Campus Policy.
Of the respondents, 71 percent were undergraduate students.
Reactions to Smoking  
Mendoza added that "many non-smokers believe they cannot ask someone to put out their cigarette, which is a misperception." For smokers, almost 50 percent said they would gladly put out their cigarette if asked. 
If friends are smoking around them, respondents said they would either do nothing because it doesn't really bother them (38.6 percent), move away from the smokers (35.6 percent) or ask the smokers to move away or to put out the cigarette (30 percent). With strangers, half of the respondents (51.4 percent) would move away from the smokers , whereas more than a third (36.5 percent) would do nothing because it doesn't really bother them.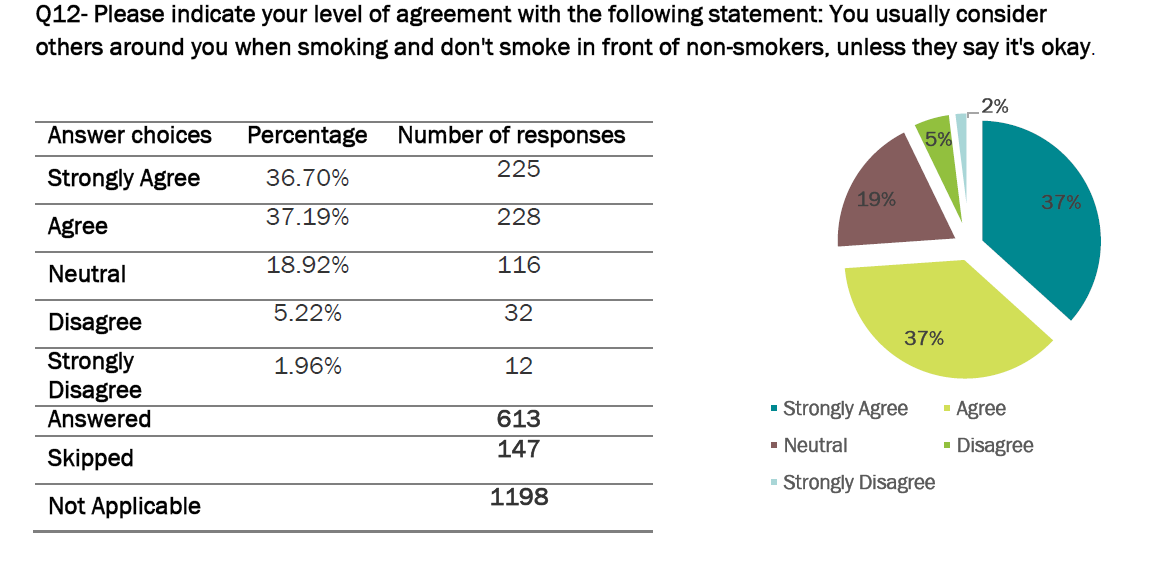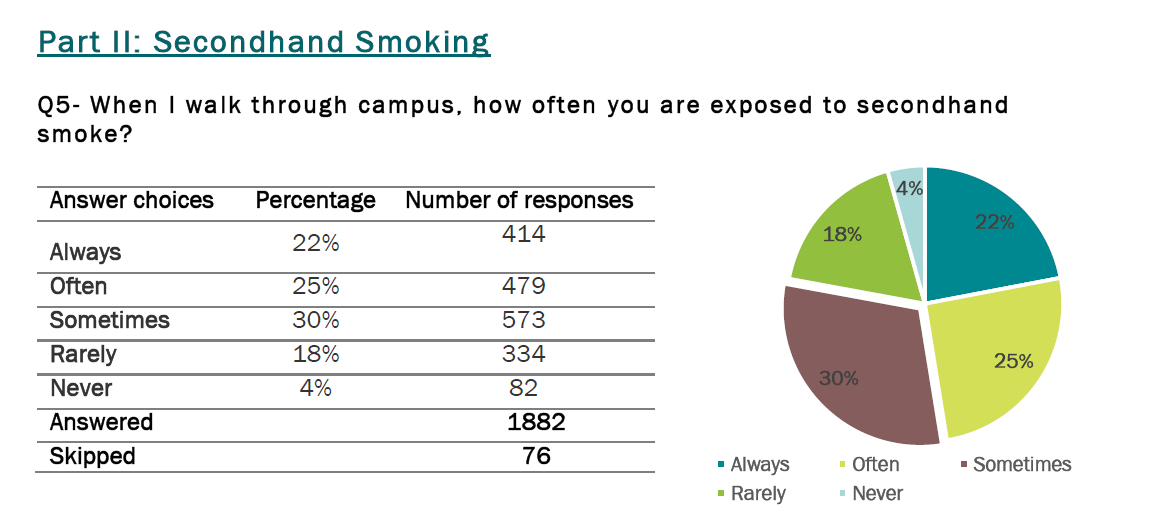 Smoking Habits
More than 60 percent of the respondents do not currently smoke. Those who do cited that they smoke when they are alone and having some quiet time, hanging out with friends, are on a break from class or work, or are under stress. The committee has tried to focus on targeting psychological reasons for addiction.
"From a psychology perspective, we know that some people smoke because they feel lonely," Mendoza said. "While others may report that they are trying to reduce stress, [this] is an incorrect assumption of what smoking does. There is a temporary reduction in stress because of the nicotine's 'high,' but it is quickly diminished. As a result, we in the committee are trying to approach the impact of the policy from a more holistic perspective."
David Folsom, a presidential intern in the Office of the Executive Vice President for Administration and Finance and a member of the committee, said the most surprising statistic to him was that nearly half of the survey respondents start smoking between ages 18-21. "This suggests that a significant number of students begin smoking after they get to university," Folsom said.
AUC's Tobacco-Free Campus Policy
The survey found that most respondents have a good understanding of AUC's Tobacco-Free Campus Policy, with almost 67 percent highlighting "designated smoking areas" as the places where people are allowed to smoke on campus. More than 40 percent actually support the designated smoking areas, saying that AUC should not allow smoking everywhere on campus. One third of respondents said they wish AUC would enforce its smoking policy more strongly and that there were more places on campus where people aren't allowed to smoke.
The committee –– with the help of students in the Marketing and Branding course, taught by Nagla Samir, associate professor of practice in the Department of the Arts –– plans to turn the current smoking zones into stress-free zones, where community members can go to relieve stress during the day. Additionally, Mendoza said, the AUC Cessation Clinic is open to everyone for free. 
"Just to be clear, the policy is not meant for people to quit smoking," Mendoza added. "However, if someone does want help, AUC is willing to assist anyone."
Respondents who quit smoking cited "health reasons," "healthier lifestyle" and "personal preference" as reasons for breaking the habit.
The full survey results can be found here.