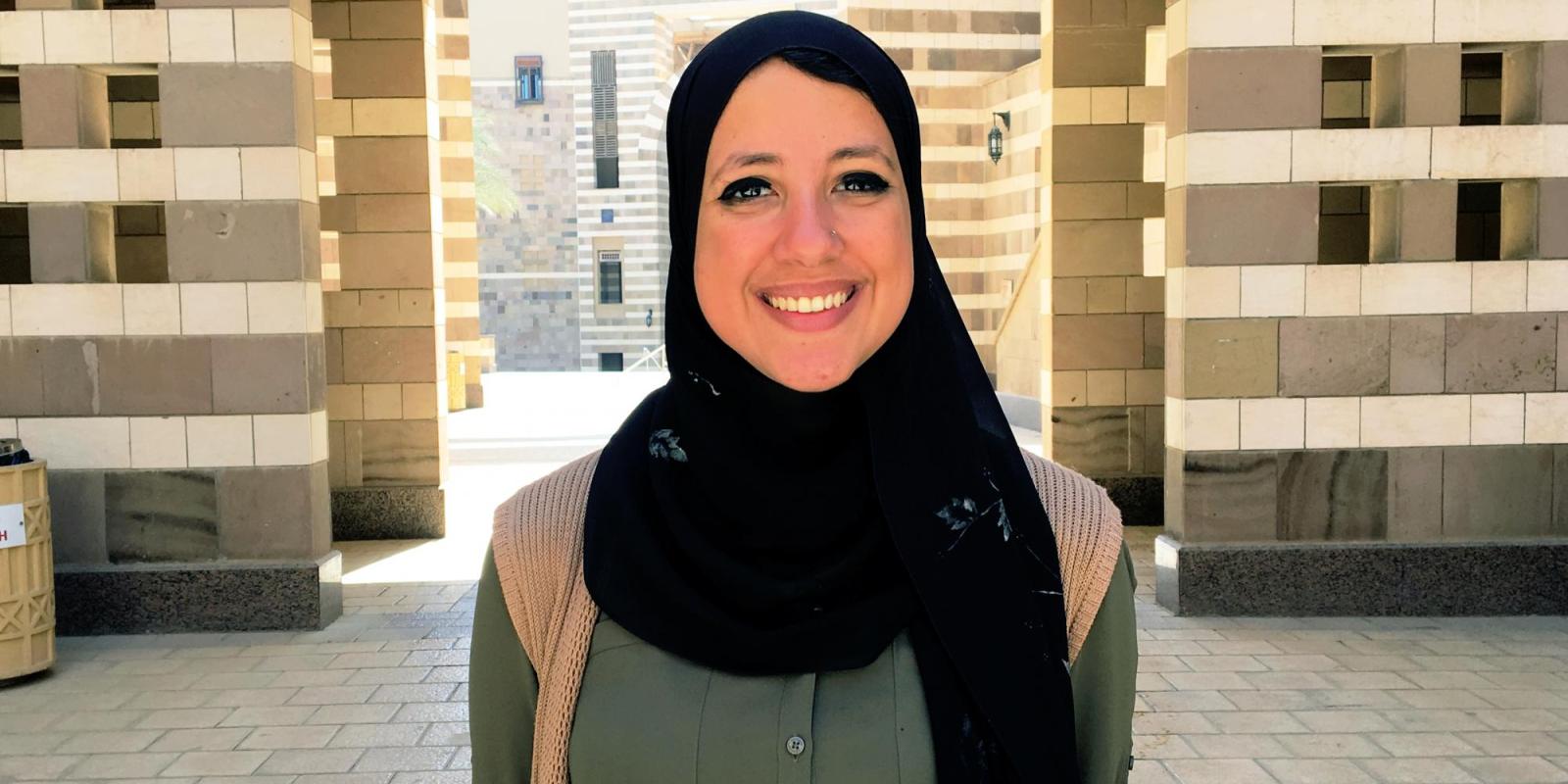 Alumna Wins First Place at International Hackathon for App Empowering Refugees
Alumna Wins First Place at International Hackathon for App Empowering Refugees
Radwa Hamed '16, who recently graduated last winter with a double major in computer engineering and electronics and communications engineering, and her team won first place at the NYU Abu Dhabi (NYUAD) International Hackathon for Social Good in the Arab World for developing an application, Hiat (حياة), a job portal platform and digital wallet that allows refugees to access job opportunities as well as manage their salaries and finances.
"Refugees don't have any legal documentation when it comes to dealing with banks and financial institutions," said Hamed. "This app allows refugees to receive their salaries through the digital wallet and then use the app to shop at local stores and establish a credit history." Since refugees are able to attain their work permits in Turkey, Hamed's team decided to concentrate on Turkey as the target market.
Ideation and Proposal
At the three-day event, students from around the world gathered to brainstorm innovative solutions to social issues through the creation of mobile and web applications. Students were asked to consider challenges related to the topics of education, art and culture, refugees and underprivileged populations, and the Arabic language. Hamed's team was made up of students from Argentina, the United States, United Arab Emirates and Switzerland. Hamed was the only team member from AUC.
"The first phase is the ideation phase, where students are individually asked to propose ideas for applications," Hamed explained. Having previously participated in the Global Hult Prize Challenge with her fellow AUC students, she already had an idea in mind for a job portal platform for refugees built as a mobile application.
Hamed's idea was voted as one of the top 12 ideas, and she was paired with a team and mentor, Islam El Ashi, a software engineer at Twitter. "The chance to present this idea from a business perspective at the Hult competition and then be able to see it come to life at the NYUAD Hackathon from a technical perspective was amazing," she reflected.
Challenges and Implementation
Hamed and her team were able to overcome a number of obstacles while working to technically implement the application. "Data collection was difficult because the refugee population is not well-documented when it comes to market research," she said. "We also faced a challenge because of the language barrier and the fact that many refugees do not have access to the 3G network. We developed the entire framework in SMS and had to make sure to add machine translation to translate between Turkish and Arabic."
Even with these difficulties, the team was successful in building a model and pitching it to the judges, earning them first place in the competition.
Engaging with a Global Network
"I am personally fond of getting to network with people and loved this experience," said Hamed, reflecting on the wide range of individuals she encountered at the competition. "Even within the field of computer engineering, students can come from such diverse backgrounds," she observed.
These diverse academic profiles contributed to the success of the idea pitch at the competition. "All of the unique insights from my team members and the research we had conducted for the Hult competition helped to make the app a reality," Hamed said.
Having seen two successes, Hamed now foresees a real future for the business model and innovative application. "My Hackathon team members and I hope to continue developing the idea for this app to better fit Egypt and target its slum populations," she said. "We believe this idea has a huge potential of not only helping refugees, but also any other vulnerable population to sustain a respectful form of living."
Hamed and her team are now in the process of meeting with investors to discuss future possibilities. "With rising misfortune in the world," Hamed said, "there is a need for social entrepreneurial ideas that incite social development, micro-finance and innovative ideation in order to give back to the community. Being part of this movement provides me with a sense of self-fulfillment because I'm able to personally develop and make an impact."