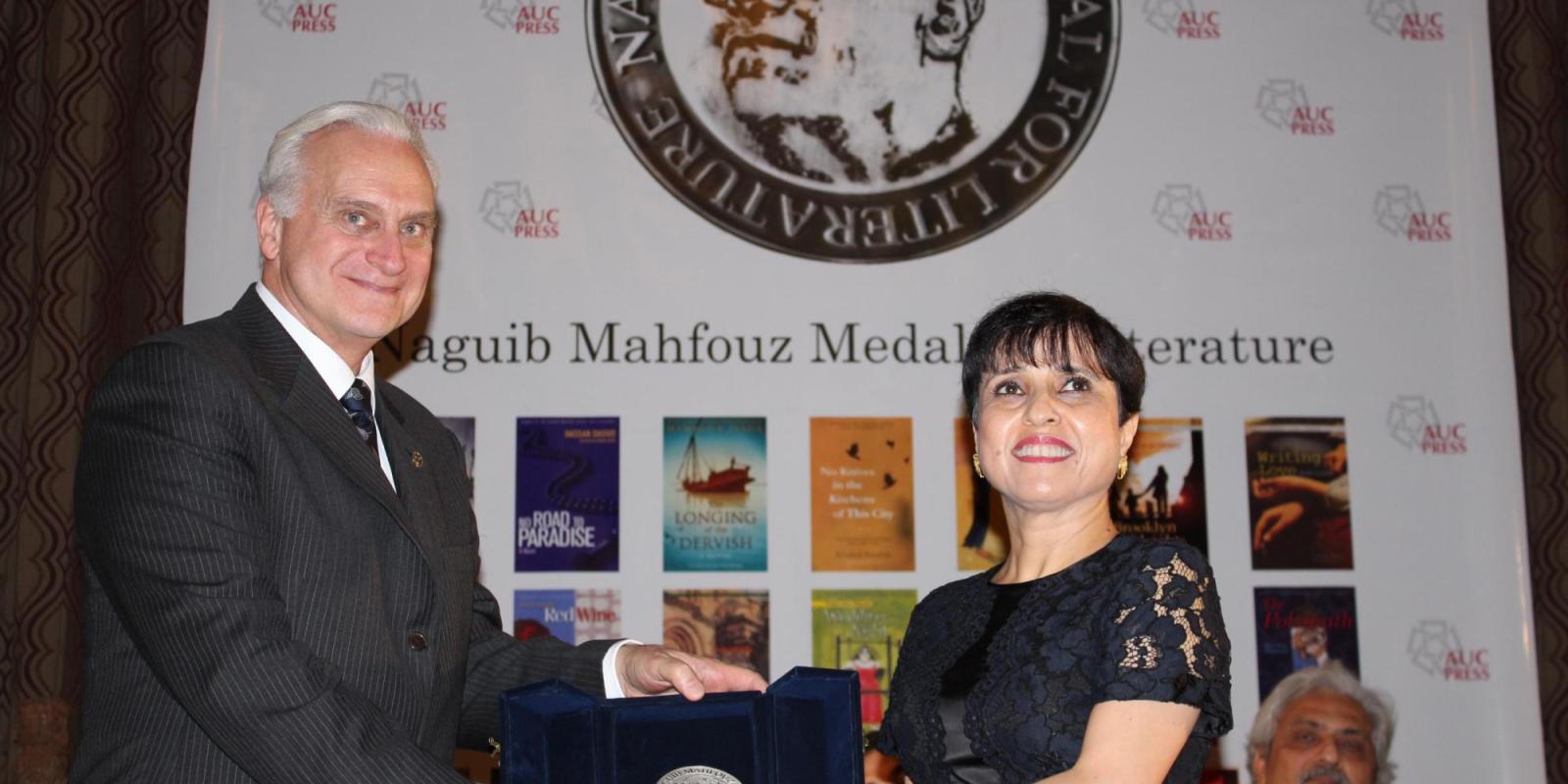 Palestinian Novelist Huzama Habayeb Awarded 2017 Naguib Mahfouz Medal for Literature
Palestinian Novelist Huzama Habayeb Awarded 2017 Naguib Mahfouz Medal for Literature
Palestinian author Huzama Habayeb was awarded the 2017 Naguib Mahfrouz Medal for Literature, presented by AUC Press, for her novel Mukhmal, or Velvet.
Accepting her speech from President Francis Ricciardone, Habayeb said that, while the prize is awarded for a particular novel, to her, it "extends to encompass a continuous journey of writing as a need that is felt most when writing stops or is interrupted in moments of despair, boredom, powerlessness, laziness, or depression."
She referenced Mahfouz's novels as sources of inspiration in these moments. "In these cases, the return to Mahfouz's novels seems persistent in order for me to remember that writing is no longer a choice."
Set against the backdrop of a al-Baq'a refugee camp in Amman, Jordan in the 1970s, Habayeb's novel centers around the lives of Palestinian women and presents an almost-never-seen narrative of the Palestinian struggle in the post-Naqba generation. "The women of Velvet are able to capture joy in the midst of oppression, and they desire food and sumptuous fabrics and wait for only one man, even within a wide space of misery, violation and repression called 'the camp,'" said Habayeb as she accepted her award.
The recipient is selected by members of the Award Committee, including Tahia Abdel Nasser, assistant professor of English and comparative literature of AUC; Shereen Abouelnaga, professor of English literature at Cairo University; Mona Tolba, associate professor of Arabic literature in Ain Shams University; Humphrey Davies, renowned translator of Arabic fiction, historical and classical texts at AUC; and Rasheed El Enany, emeritus professor of modern Arabic literature from the University of Exeter.
The judges recognized the significance of the novel's new portrayal of the everyday lives of Palestinians that is often masked by politics. "Huzama Habayeb writes about the human condition through her portrayal of women and Palestinian camp life in all its dehumanizing harshness with distinctive originality, empathy and craft," El Enany noted. "It is not about the political cause, the resistance, the dream of return. It is rather about ordinary Palestinians, whose lives goes on meanwhile, unnoticed and unrecorded, in the background, while the high dramas of politics occupy center-stage.".
The novel's title in Arabic, Mukhmal, which translates to velvet, serves as a central motif in the novel's representation of the struggle of its characters and Arab women. Abdel Nasser addressed the main character, Hawwa, as she escapes the confined life of a camp to work at a seamstress shop, walking through alleys of Amman. "Velvet takes on meanings through descriptions of all its varieties and the variety of fabrics on Hawwa's tours of the shops and market in the camp where she inspects the rolls of fabric, plain, printed, and embroidered," said Abdel Nasser.
The novel was a way for Habayeb to reflect and inform her own identity as a Palestinian woman and daughter of a refugee. "My story rises up on a lofty tower of losses and derives its legitimacy from a staggering legacy of loss, and more loss," she said. "Velvet came to me in the form of a sudden assault on my senses."
The novel deviates away from the often explicitly portrayed Palestinian struggle, but does not ignore its existence or that of conflict and crisis. Rather, it conveys this alternatively, revealing the truth of how events unfolded and how they have affected gender relations. "I carried the nation as an idea, the imagined nation, and went about life on a long and exhausting road," Habayeb reflected. "On the way, I stumbled and got up. On the way, I lost many houses, each one of which I tried to make into a nation or something similar. Only one thing in the journey of successive loss that I kept from loss: the story! The story was proof that I existed once."
Habayeb started writing short stories, poetry and news and magazine articles as a student during her years at Kuwait University, where she studied English literature. After the Gulf War in 1990, Habayeb relocated to Jordan, where she published her first collection, al-Rajul alladhi yatakarrar (The Man Who Is Repeated) in 1992, for which she was awarded the Short Story Prize for Young Writers in 1993.
Velvet is Habayeb's third published novel, after Asl al-hawa (Root of Passion) in 2007, and Qabla an Tanama al-Malika (Before The Queen Falls Asleep). In 1994, her second collection, al-Tuffahat al-ba'ida (The Distant Apples), was published and received critical praise. In the same year, she was awarded the Short Story Prize in Amman, the highest recognition prize from the Jordanian Writers Society. In 1997, her third collection, Shaklun li-l-ghiyab (Form of Absence), was published, further cementing her status as a prominent short-story titer in the 1990s Palestine/Jordan literary scene. Her fourth collection, Laylun ahla (A More Beautiful Night), was published in 2001. In addition to her novels and short stories, she published a poetry collection, Istijda' (Begging) in 2009.
Since 1996, AUC Press has annually presented the Naguib Mahfouz Medal for Literature on December 11 -- Naguib Mahfouz's birthday -- to the best contemporary novel published in Arabic. The award-winning book is translated and published by AUC Press in an English-language edition in Cairo, New York and London.