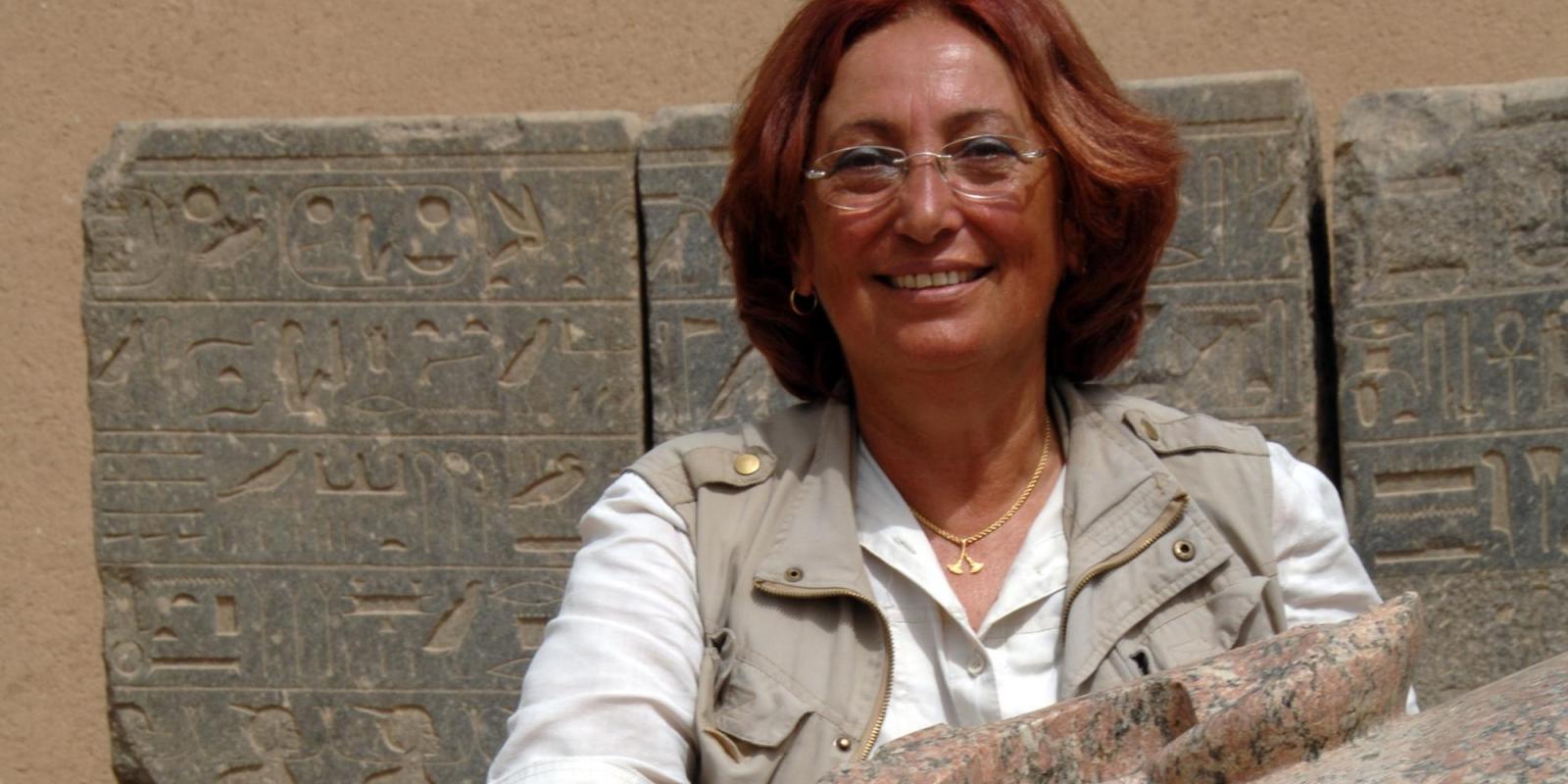 Hourig Sourouzian Works to Unearth Egypt's 'Extraordinary Legacy'
Hourig Sourouzian Works to Unearth Egypt's 'Extraordinary Legacy'
As a child, she was intrigued by riddles and approached hieroglyphic images and letters as intellectual exercises. Today, she is AUC's William K. Simpson and Marilyn M. Simpson Professor of Egyptology and has been described as one of "the best Egyptian art historian[s] of our time," in an article by the prestigious Smithsonian Institute.
This is not Sourouzian's first time at AUC. She previously taught in the Department of Sociology, Egyptology and Anthropology in 1999, and was granted the William K. Simpson and Marilyn M. Simpson Professorship of Egyptology in 2003. She believes that "AUC gives a privileged opportunity to students to study Egyptian Art in Egypt."
Sourouzian started her journey 40 years ago, studying the history of art and monuments of ancient civilizations at the École du Louvre. She is now exploring the ancient necropolis of Thebes, where she has been leading excavations for the past 20 years. "With every new discovery, a new chapter is unlocked in the history of Egypt and in the world's art history," she declared. "Egyptology is enriched each day by new glimpses on the past and better knowledge for the future."
The renowned Egyptologist recognizes several problems in Egyptology and archaeology in Egypt today, such as issues with preservation, salt crystallization and vandalism. Challenging these obstacles has been central to her work, and she believes firmly in the long-term conservation of Egypt's ancient heritage, which she refers to as "an extraordinary legacy." "To me, of all the known ancient civilizations, Egyptian is the greatest," she asserted. "The cultural and artistic heritage of Egypt is so rich and so vast, that wherever or whenever you make archaeological investigations, you may discover a new aspect."
Salvaging Sites and Statues
Over the years, Sourouzian's main interest has been in royal statuary, which she examined extensively in her doctorate research at the Paris-Sorbonne University. This was shortly followed by her current excavation project, The Colossi of Memnon and Amenhotep III Temple Conservation Project, in a temple known to ancient Egyptians as the House for Millions of Years. In cooperation with the Ministry of Antiquities, Sourouzian and colleagues embarked on a mission to save the site. "The aim of this project is to preserve the last remains of a once prestigious temple of Amenhotep III, which was toppled by an earthquake in 1200 BC," she said.
Salvaging the site was under discussion from the early 1990s, but a natural fire in 1996 called for urgent and immediate action –– leading to new discoveries and offering the public insight into yet another episode of Egypt's history. "So far, we have unearthed extraordinary statues, royal and divine, among them more than 200 statues of the lioness goddess, Sekhmet," she explained. "We have also re-erected no less than eight colossal statues of Amenhotep III and a monumental stele. We uncovered and protected remains of two pylons in mud-brick and started a site management and site protection action."
These findings leave Egyptologists pondering over a few mysteries. Sourouzian still has questions on the logistics of ancient Egypt. "If I had a time machine, I would go back to the reign of Amenhotep III in the first half of the 14th century BC, to see how the colossal statues of 800 tons each were brought from quarries of quartzite in Al Jabal Al Ahmar, situated near ancient Heliopolis (Cairo) to Luxor in the West Bank," she said. "Seeing that moment would be my dream come true. It would be paying homage to the magnificent builders and sculptors of Egypt."
On possible theories, Sourouzian –– who is of Armenian heritage and has dedicated a studies to ancient Armenian civilizations –– shared that in her current excavation, she is conjecturing some possible links between Egypt and Armenia. "Armenia is more linked to its immediate neighbors in Mesopotamia, Persia and the Hittite Empire," she explained. "We found personifications of foreign lands represented on royal statue bases. One land is named Isiyw, which may have been the Ishuwa, in Hittite sources, an earlier term name designating the Armenian plateau to the east the Hittite Empire. All of these are hypotheses, and I wish they are, one day, definitively proven."
Coming Back to AUC
Since her last posts at the University, Sourouzian noticed that AUC's program has taken a more practical hands-on approach, which she praised. "The program is now beyond theoretical knowledge of Egyptian art," she said. "With the latest experiences acquired during my work in Egypt, I proposed an approach to art through the monuments. I was delighted by the enthusiasm of students who were extremely excited to have visits in museums and major sites of Upper Egypt and Lower Egypt."
She believes that AUC students in this field are "attentive, interested and eager to learn." She recalls examples of her students who graduated and went on to succeed in diverse subfields of Egyptology, earning doctorates in archaea-botany, launching artistic exhibitions or becoming connoisseurs of ancient Egypt. "I acknowledge their great merit, and this is certainly due to the high standard of teaching these disciplines at AUC," she said.
Sourouzian's CV highlights more than 40 years of extensive work in the field of ancient civilizations. She is not limited to teaching or excavating. In fact, she is currently an adviser of cultural affairs for the Armenian Embassy in Cairo and holds board memberships and several posts in councils and associations pertaining to cultural heritage and antiquities. She mastered ancient Armenian and Arabic at the National Institute for Oriental Languages and Civilizations, and also speaks German, French, Arabic and English. She has given numerous lectures, written for publications and participated in conferences. She received two Egyptology awards from Luxor Times Magazine in 2016 and 2017.