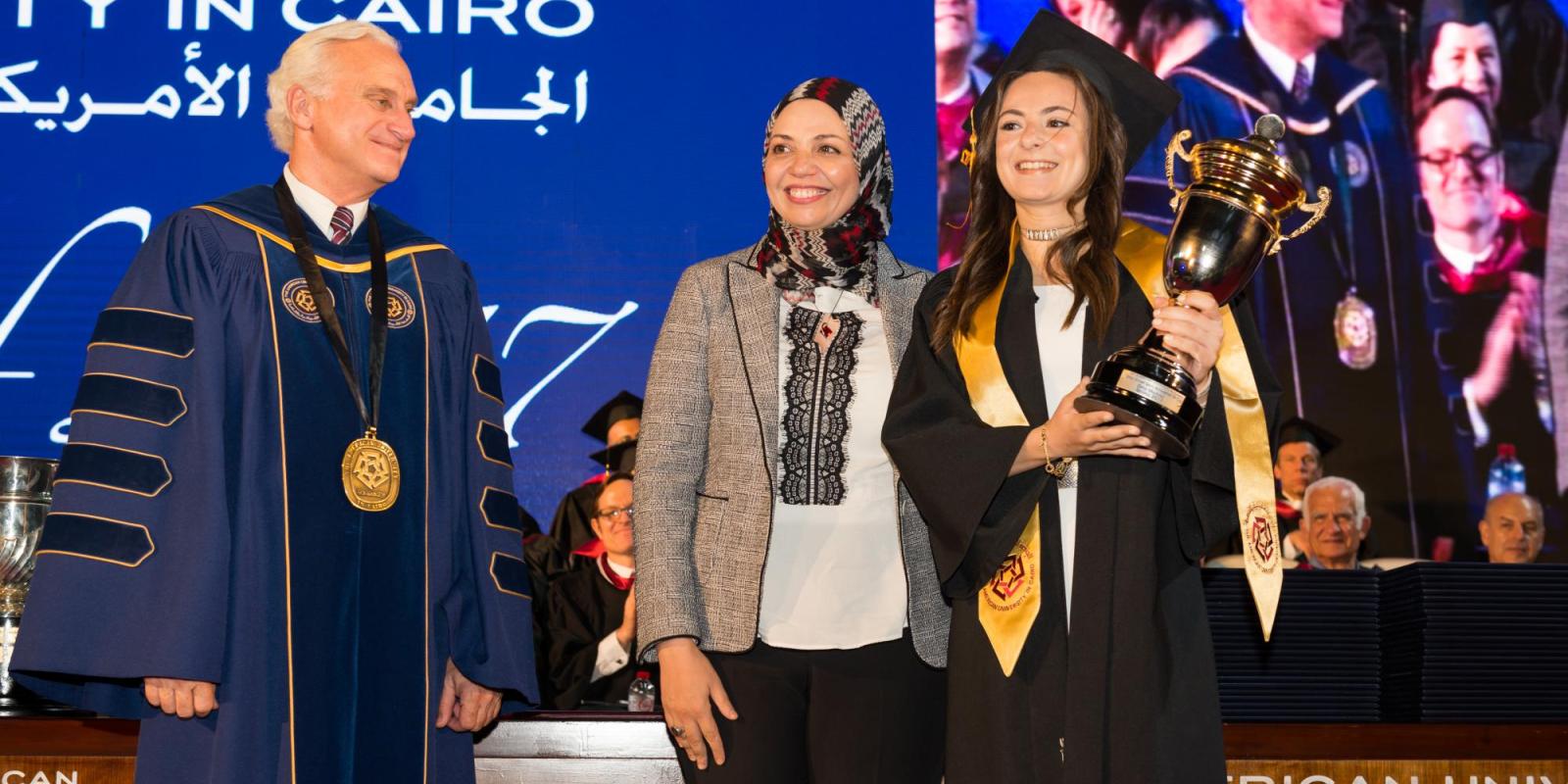 Fresh Grad Dina Meshref to Represent Africa at Table Tennis Women's World Cup
Fresh Grad Dina Meshref to Represent Africa at Table Tennis Women's World Cup
For the fourth time, Dina Meshref '17 has become the African Table Tennis Champion, enabling her to move on to the Table Tennis Women's World Cup, scheduled to take place in Canada this October.
"It was very important for me to win this title in order to qualify for the World Cup, " Meshref said. "It was a huge challenge because of the many good competitors, particularly my teammates from Egypt and the Nigerian players."
Meshref recently graduated this spring with a bachelor's in business administration and earned the Omar Mohsen Athletic Achievement Cup for successfully representing AUC in national and international tournaments. She participated in the women's singles tournament at the International Table Tennis Federation Africa Cup, held in Agadir, Morocco this June.
The Table Tennis Women's World Cup, among the world's most prestigious events, invites the top 16 players according to global rankings to compete, in addition to four continental champions. Meshref will be representing Africa at the event as one of the continental champions who qualify to participate. "If I'm able to win any match there, it will help improve my international ranking, since I'll be competing against players who are ranked much higher than me," said Meshref. "One of my dreams is to win a medal at the World Cup. It's difficult, but it's possible, so I set this as my target each time I qualify."
As the daughter of two table tennis champions, Meshref was naturally drawn to the sport. She would often accompany her father to the table tennis hall at El Ahly Club when he served as head of the table tennis team. Prompted by coaches to try table tennis herself, she eventually discovered a passion for it and began playing at a young age.
In addition to earning titles as an internationally known professional table tennis player, Meshref maintained a good academic standing at AUC. "It was tough to manage my time, moving between academics and playing professionally. I had to balance class with long practice hours," she reflected.
In the past, Meshref made it to the top 16 slots at the world cup. She hopes that this year she can make it to the top eight. As a professional competitor, she has the opportunity to travel to many countries. "It is fun to be able to travel," she said. "It definitely adds to my experience and helps me learn many things."