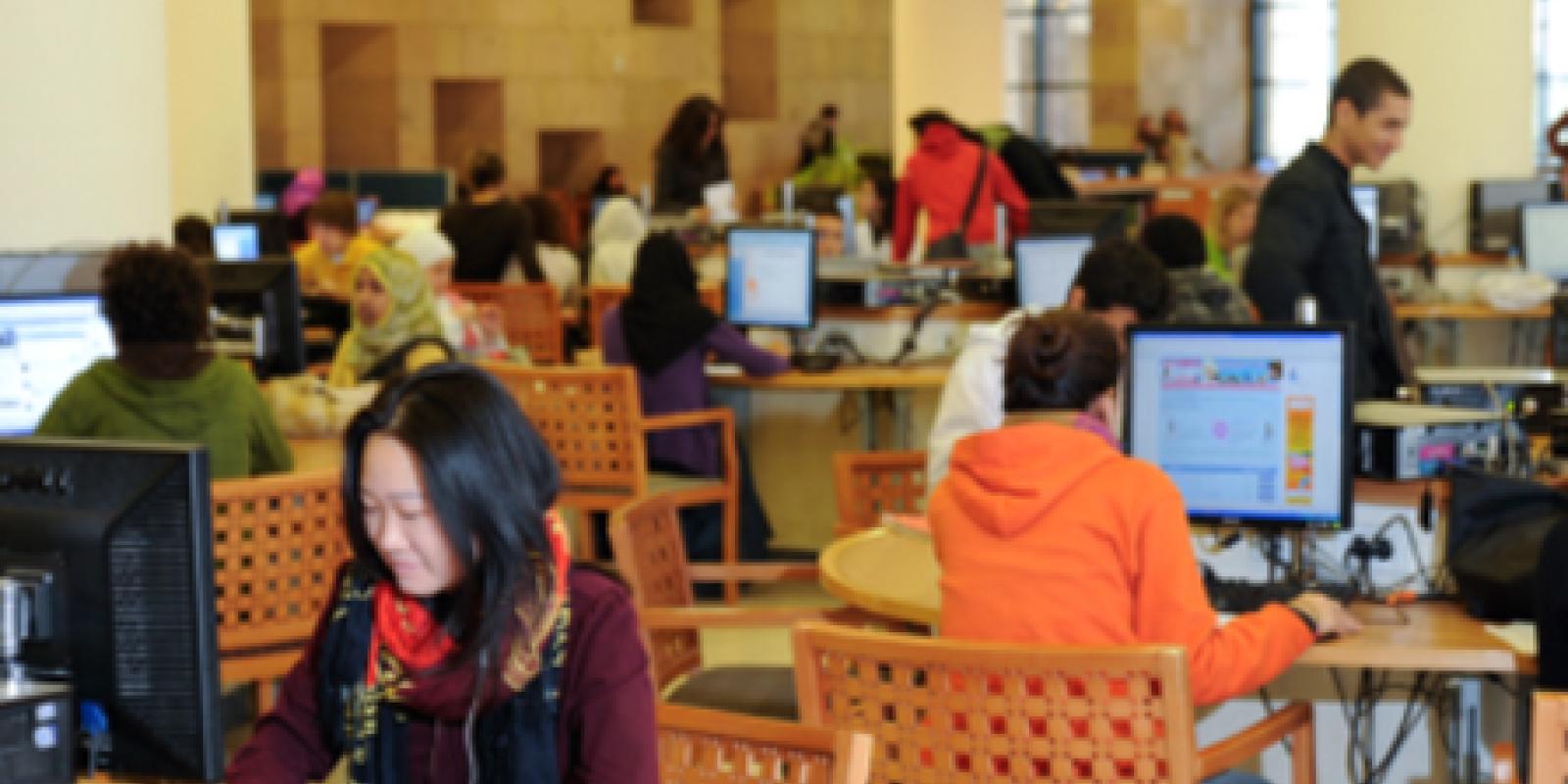 Blended Learning: New Approaches Enhance Classroom Instruction
Blended Learning: New Approaches Enhance Classroom Instruction
With the ongoing state of political unrest, the University is undertaking a number of flexible instruction techniques to keep up with any interruptions to the teaching process. These blended learning measures include the integration of Panopto (lecture-capture technology), the use of Web 2.0 applications such as wikis and blogs, as well as utilizing Blackboard and Blackboard Collaborate, which enhance online learning and communication.
"The above technologies have been proven to work well in times of crises and closure, and were used extensively in the recent two-week shutdown of AUC," said Pandeli Glavanis, associate director of the Center for Learning and Teaching (CLT). "We are confident that they can provide an alternative to face-to-face teaching and learning, and deliver a quality education. We evaluated previous use and generally found a very positive response from both students and faculty. We urge faculty members to come to Libraries and Learning Technologies and get the necessary training and help."
AUC has had a long-standing commitment to interactive teaching technologies and web-enhanced and computer-assisted learning. "The University has dedicated significant resources to a solid infrastructure, to substantial computing and educational technologies, as well as to faculty development programs, as captured by the efforts of the Center for Learning and Teaching," said Aziza Ellozy, founding director of CLT. "Most of the efforts were directed at enhancing and enriching face-to-face teaching with technology."
With times of uncertainty, CLT is ensuring that faculty members remain abreast of the use of blended learning techniques on and off campus. "We dedicated a two-day workshop to such flexible and blended learning strategies and learning technologies to all new faculty members in August," said Glavanis. "We expect a considerable number of faculty members to be trained and be able to deliver flexible and blended learning if the circumstances arise. CLT will, of course, continue to provide one-on-one training and support to all faculty members throughout the semester. All they have to do is visit our premises during working hours."
An institutional direction aims at preparing faculty members and students for any disruptions to regular classes at AUC. "The Office of the Provost has been encouraging faculty members to incorporate blended learning in their course preparation," said Ellozy. "They are being asked to start early and to plan their classes accordingly so that they and their students can adjust to the experience and can learn to adapt to the modality. The aim is to evade another crisis-management situation."
A good example is that of the Scientific Thinking course, which enrolls anywhere from 600 to 800 students a semester. An online repository, created by the instructors of the course over the last few years, comprises a large number of e-resources, online lectures by AUC instructors and digital assignments. When a disruption to classes occurs like that of this past summer, students and faculty members were able to continue with no major effort.
In addition, blended learning techniques offer the advantage of providing quality education to students despite being forced to close the campus. Additional advantages of using pre-recorded lectures contribute to more interactive learning, even in normal face-to-face teaching. "Pre-recorded lectures enable faculty to use class time to do exercises and deal with problem areas rather than focus on lecturing," said Glavanis. "This is a teaching strategy that is gaining popularity at universities in the United States and is already being used here at AUC very successfully. It uses Panopto software and is commonly known as the 'flipped classroom.' Of course, face-to-face teaching has several other advantages, and this is particularly so in laboratory-based courses where the online teaching is unable to reproduce the environment needed with the technology currently available at AUC. In due course, the University plans on gaining access to virtual labs to be used for blended and flexible learning."
Historically speaking, the University has had to resort to blended learning technologies as part of its campus-shutdown contingency plan. These measures were especially beneficial to students and faculty members during the campus's forced closure due to the flu virus, the student strike and recent political events in the early summer. Starting with the first major crisis, CLT collaborated with University Academic Computing Technologies to offer numerous trainings and full support to faculty during suspension of classes.
Even though AUC so far has no institutional plan to implement a blended learning program, the wide-scale benefits of adopting such a program are being considered. "For AUC, blended learning would offer students the opportunity to participate in global classrooms and intercultural learning," said Ellozy. "It also would allow AUC to reach populations that have limited access to its offerings due to geographical and social challenges."