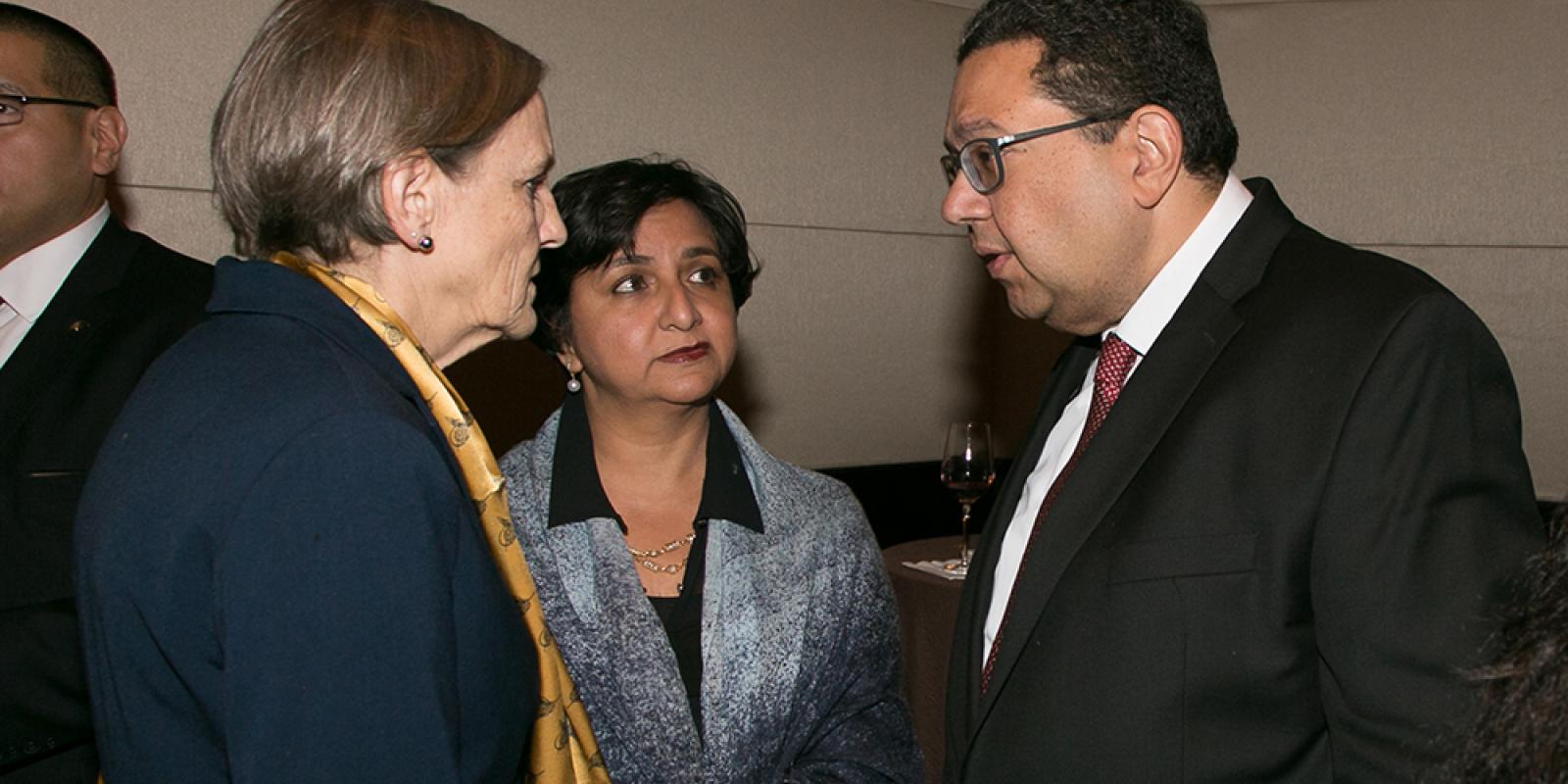 Benefit Dinner Raises Scholarship Funds, Honors Alumni Social Entrepreneurs
Benefit Dinner Raises Scholarship Funds, Honors Alumni Social Entrepreneurs
At the fifth annual benefit dinner held in New York City under the theme Trailblazers in Global Business: Responsible Leadership and Social Impact, the University raised nearly $700,000, with net proceeds being used to support student scholarships. To watch the benefit dinner, click here.
The event also honored alumni who are working to bring about social change in their communities. Abdallah Jum'ah '65, former president and CEO of Saudi Aramco, the world's largest oil-producing company, received the Global Impact Award for his innovative approach to business and interest in developing leaders. Distinguished Alumni Awards were presented to Ahmed Zahran '02, chief executive officer of KarmSolar solar technology and integration company, and Yumna Madi '04, the company's chief strategy officer, in addition to Heba Bahgat, co-founder of Madad, an AUC Venture Lab startup that serves as an online funding platform to financially support sustainable projects in Egypt.
Abdallah Jum'ah '65
Growing up in the midst of turmoil in the Middle East during the 1960s, Jum'ah chose to study political science. At AUC, the most important benefit of the liberal arts education he received was the ability to think freely and creatively, he noted. "My introduction to the unlimited power of thought, the immense impact of fresh ideas, and the tangible and intangible benefits of 'connecting the dots' between seemingly unrelated topics came from AUC," he said.
The first non-engineer to run Saudi Aramco, Jum'ah played a key role in refocusing the company's strategic objectives. "The whole point of leadership is to go beyond the status quo details of today and to guide an organization and its people into more prosperous and more promising areas of endeavor and activity," he said. "Leadership in a company carries with it not only a responsibility to the enterprise and its shareholders, or to the customers which it serves. Instead, leaders also have a responsibility to their staff, to the communities in which they operate and to the natural environment that sustains us all."
After leaving Saudi Aramco in 2009, Jum'ah became a member of the Saudi Investment Bank's board of directors and was appointed board chair in 2013. He currently serves as co-chair of the U.S.-Saudi Arabian Business Council. He also served as a member of AUC's Board of Trustees from 1998 to 2013.
Ahmed Zahran '02 and Yumna Madi '04
Social entrepreneurs Zahran and Madi were honored for their commitment to research, development and innovation in Egypt's communities. Founded in 2011, their company, KarmSolar, provides communities with solar energy to pump underground water. It is currently Egypt's largest private off-grid solar energy integrator and has been awarded a contract for a $2.5-million solar power station. The company also concluded a cooperation agreement to fund a 1.5 million-acre irrigation project.
For Madi, her interactions with strong female role models at AUC helped shape her approach to being a woman in the workplace. "AUC enriched me professionally and academically," she said. "The University is an elite academic institution, so we must also exert effort to give back to Egypt and the broader Egyptian community."
For Zahran, being recognized is a reminder of the "wonderful ecosystem" that AUC creates for alumni beyond graduation. "AUC somehow manages to keep us coming back to campus for various reasons," he explained. "I believe it is the power of AUC's community that enabled it to remember and recognize me 14 years after graduation."
Heba Bahgat
A native-born Egyptian raised in Canada and the United States, Bahgat returned to her home country to create a better future for poverty-stricken communities. Attending AUC provided her the opportunity to establish her startup company Madad, which supports sustainable projects in Egypt relating to education, poverty, women, children, health and the environment. Since the startup launched in 2014, Madad has raised more than LE 200,000 for development projects in Egypt. "Having Madad recognized at AUC's benefit dinner is an honor," she said. "The award is a reassuring nod and vote of confidence that we need to continue moving forward even when times are difficult."
Ambassadors of Change
Given the complex challenges the region is facing, Jum'ah noted how AUC plays an important role in the Arab world. "AUC is a role model for organizations in the Arab world, and graduates of this University are going to be ambassadors of change," he said. "They are the ones who will tackle the challenges facing the Middle East."
He added, "...Responsibility and social impact ... mandate that we have well-rounded leaders, not just those with technocratic skills or business acumen. For me, this is where the social sciences and liberal arts come to the fore, and where the value of my own AUC education manifested itself."