AUC's Centennial Logo: And the Winner Is...
AUC's Centennial Logo: And the Winner Is...
The results of AUC's 100-Year Logo Competition are in. The logo designed by Raghda Barakat, graphic designer and video editor in Engineering and Science Services, will be the face of AUC's centennial celebration.
Winning Logo

After working with AUC for over a year, Barakat feels at home in the University community. "AUC is like a family to me," she said. "I spend more time here than at home actually. I have many friends at AUC, and I feel connected to the University. It's important for me to be a part of the centennial. It's a turning point in the life of AUC, and it's a remarkable thing to create the logo that will be used for this significant celebration."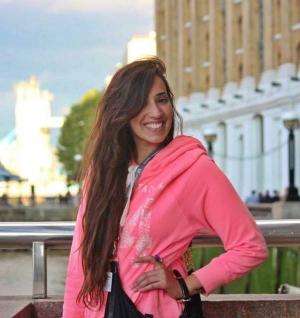 When designing her centennial logo, Barakat wanted to stay true to the pentagonal logo originally created by illustrator Naim Fahmi and then AUC President Christopher Thoron in the 1970s. "The main purpose why they created the intersecting pentagons in the first place was to signify motion, and that's why it was important for me to add it in the heart of the 100-year logo to signify the motion that goes beyond the first 100 years of AUC history," she said. "This is a significant symbol of AUC's history, and, of course, I had to have the number 100. I wanted the logo to be clear and to the point."
Barakat graduated as an honors student from Misr International University in 2015, with a major in radio and television and a minor in multimedia communications. After graduation, she headed to Qatar for a graphic design internship with QNB. She then joined the startup Urban Point as a graphic designer and editor, where she designed their mobile application. Urban Point was selected as one of the top startups in the MENA region by the World Economic Forum, and Barakat's application was named the Mobile App of the Year at the third annual Qatar Enterprise Agility Awards in 2016.
With a year of experience designing for Urban Point, Barakat then decided to return to Cairo to join AUC. She was particularly impressed with the University's graphic design program and the exhibition put on by graduates every year. "This is the number one University in Egypt," said Barakat. "It is a pleasure to work here at AUC."
In her position at AUC, Barakat created the first catalog for Engineering and Science Services, highlighting the unit's vision, the professional courses offered and the training services available for companies as well as individuals. She has had the chance to work on a range of materials, from promotional and educational videos to printed content, including brochures and schedules. "Right now, I'm working on a new idea and project, creating covers and brochures for every department and major with its own color scheme," she said. "We'll also be shooting real people talking about the advantages of the courses in Engineering and Science Services."
Competition Finalists
Although only one symbol was ultimately selected to for AUC's upcoming centennial celebration, the competition itself highlighted AUCians' pride in their community, drawing out a host of creative ideas from all those associated with the University. All finalists struck the centennial committee with their imaginative ideas for the 100-year logo and brought to light some of AUC's most recognizable and admired elements.
Arch Appreciation

About to enter her fourth year in the University, Rowan Mostafa is a double major in graphic design and integrating marketing communications. She has previously volunteered time with Mashrou3 Kheir, Entrepreneurs' Society and the Cairo International Model United Nations.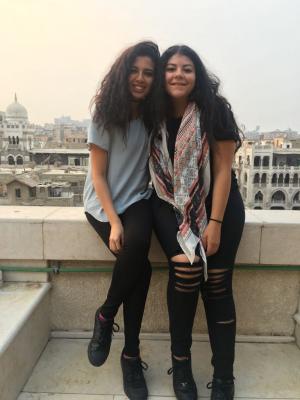 For her logo design, Mostafa felt inspired by AUC's unique architecture and motto of excellence. "My logo simply encompasses the main identity of the AUC campus, basically derived from the feel of the campus architecture," said Mostafa. "I used the most recognized aspect of the architecture [that is] within all buildings: the arches."
Mostafa will be graduating in 2019, as soon as the centennial celebrations kick off. "It's very cool because we get to see that AUC has been around for 100 years and that I get to graduate when AUC turns 100."
Famous Façade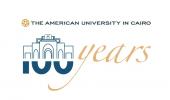 A double major in graphic design and integrated marketing communications, Hana ElKhawanky was also interested in playing on AUC's architecture in her logo design, but wanted to focus more on the entire façade of the University's main entrance.
ElKhawanky previously served as the multimedia head of AUC's Entrepreneurs' Society and the Make a Wish head of Mashrou3 Kheir, in addition to participating in a number of other cocurricular activities.
"My logo is inspired by the architectural design of AUC," ElKhawanky said. "I wanted to focus on the entrance because that's the first thing people see when they walk in. I think anyone can understand the mission and vision of what AUC stands for just by looking at the design of the entrance once they walk in."
Rowan Mostafa (left); Hana ElKhawanky (right)
Timeline Across Cairo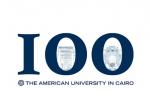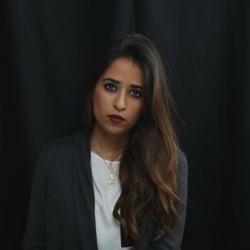 Ingy El Messary '16 designed the logo she submitted for the competition back in 2015 as a student in AUC's graphic design program.
In addition to studying graphic design, El Messary double minored in entrepreneurship and Arab and Islamic civilizations.
Her logo similarly paid tribute to the University's recognizable architectural design, but with a unique focus on both the downtown and New Cairo campuses. Each zero in the number "100" encircles an image of the main facades of either campus.
El Messary is currently working in Digital Republic by Isobar as a senior graphic designer. "At the age of 7, I showed an extreme appreciation and curiosity for painting and drawing," said El Messary of her long-held artistic inclinations. "I also had a love for fashion, but later realized my passion for the arts and design."
Arabic: A Window into AUC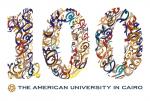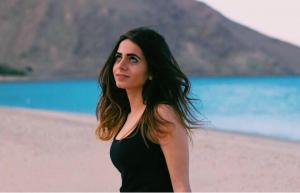 Nada El Tanbouly '17 chose to reflect the University's strong ties to Egyptian culture and the Arabic language, spurred by much of the New Cairo campus interior designs featuring Arabic calligraphy. "I was inspired by the calligraphy designed in AUC's admissions office," said El Tanbouly. "This logo reflects AUC's 100 years of excellence and 100 years of success. Arabic calligraphy is a powerful art direction, very fitting of this milestone. The Arabic letters in the logo symbolize the endless knowledge and words. The colors used to add spirit are AUC's corporate colors."
A recent graduate of AUC's graphic design program, El Tanbouly now works at an advertising firm called Momentum Egypt. She first worked on her logo design, which pays homage to the centennial celebration with 100 glyphs, in her first branding project for a class at AUC. "I love branding very much," she explained. "My graduation project was about rebranding the Egyptian government and ministry logos."
Her passion for design was sparked at AUC when she first decided to join the graphic design program. "I was one of the first students in the program," she remembered. "It was extremely life-changing, to be honest. My passion for design grows bigger every year, every day, with every project. I could not have chosen a better major. I'm always working now, and it's my hobby."