AUC Among Top World Universities in QS Rankings
AUC Among Top World Universities in QS Rankings
The 2016 QS World University Rankings has placed AUC as the 365th best university globally, directly following The George Washington University, Northeastern University and Virginia Tech, three prestigious U.S. universities.
"There are a lot of universities in the world; to be in the 300 band is extraordinary," said Ted Purinton, dean of the Graduate School of Education and an expert in international education.
The annual QS rankings rates the world's top universities using six different indicators: academic reputation, employer reputation, student-to-faculty ratio, citations per faculty, international faculty ratio and international student ratio.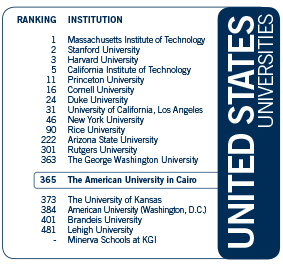 The Big Picture
Established in 2004, the QS World University Rankings evaluates only about 900 universities globally. In other words, only the top 3 to 5 percent of higher education institutions worldwide are included in these rankings. The top 400 universities rated by QS acquire individual ranking positions, and the rest are ranked in groups, beginning from 401-410 up to 701+.  
Purinton explained that AUC's ranking is a source of pride. "Instead of worrying about being in a higher band, consider who is in the 300s with us," he said. "Ranked lower than us are the University of Milan, the American University in Washington, D.C., Stellenbosch University, Brandeis, Wake Forest University, Florida State — just to name a few — and these are all top universities, all of which are widely known and very prestigious. Thus, I would say we should feel exceedingly proud of where we are now."
While AUC's ranking has risen and fallen over the years, Purinton noted that there should be little concern over slight changes in a university's rankings. "Universities float around within bands of rankings for very minor issues," he said. "Some universities will even pump tons of money to increase their score 10, 20, 30 or 40 points, and nobody at the university would even know because many of the factors that would yield such ranking changes will be barely noticeable to most students or faculty members. For instance, if we have a slight change in the number of international students or faculty members, most of the AUC community will not feel the impact, yet our ranking score will noticeably change."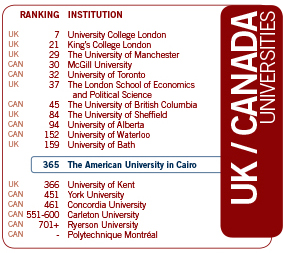 Ranking and Tuition
In addition to simply taking rankings at face value, it is important to compare rankings and tuition when deciding which university to attend. When comparing these two factors, AUC provides students with an exceptional educational experience, according to the rankings, in relation to the amount of money spent on tuition, fees and living expenses.
A significant number of AUC students consider traveling abroad for university study. Concordia University in Canada, for example, is a school that many AUC students consider attending when calculating their college tuition. While Concordia's tuition at first seems comparable to that of AUC, this does not take into account the significantly higher costs of living abroad, such as housing and travel. Moreover, Concordia's ranking falls significantly below AUC: it is in the 461- 470 range. These factors are crucial to compare and consider when deciding which school to attend, Purinton noted.
Conversely, many potential AUC students consider other university options within Egypt. While such universities might have lower tuition fees, AUC is ranked significantly higher than any other university in Egypt.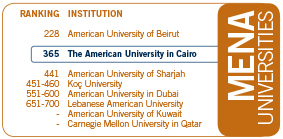 Teaching-Focused vs. Research-Focused
Purinton also pointed to the fact that ranking schemes often only account for specific factors and can have less relevance to the quality of education that a university provides its students. "I personally am grateful that despite frequent criticism, QS uses measures that look beyond mere research output," he said. "QS considers data from surveys they send to peer institutions and employers. It considers student-to-faculty ratios, ratios of international students and faculty members, and many other indicators that show the extent to which a university invests in quality teaching."
QS, Purinton added, is unfairly criticized by other rankers for using data points that the other rankers deem to be unreliable. "What do these other rankers use to make their judgments? For the most part, they only look at research output," explained Purinton. "While research is important in a university on many levels, rankers other than QS ignore many of the factors that have historically made AUC strong, such as teaching quality, internationalization and employer reputation."
Ranking is an ongoing process of improvement and enhancement, noted Iman Megahed, executive director of the Office of Data Analytics and Institutional Research. "AUC's ranking reflects its institutional strength, which the University constantly aims to further improve through continuous assessment and creating evidence-based change," she said.