Applications Rise, More Need-Based Financial Aid
Applications Rise, More Need-Based Financial Aid
The University recently issued early admissions to top-performing students seeking to join AUC in September. According to the admissions office, applications to AUC have risen by more than 11 percent for Fall 2015, when compared to the same time last year. In addition, the admission scores for those receiving early acceptance were on average 10 points higher for the American diploma and IGCSE high school certificates, signaling both an increase in the demand for an AUC education and greater competition among students seeking those slots.  
"This year, we are expecting all open slots to be filled up just by those who have applied for early admission," said Ghada Hazem, executive director of admissions. "The demand is getting higher, and the University is becoming more and more selective." Applications have been on the rise for the past few years, jumping from approximately 2,800 in 2011 to more than 3,300 in 2014. 
In addition, so far, 112 international students have applied to study at AUC next year. The return of the prestigious Center for Arabic Study Abroad (CASA) program to AUC in the 2015 - 2016 academic year, after a temporary two-year relocation to Jordan, is also a positive sign in the return of international students to the University. 
Also starting in the fall for new incoming students, the University is moving away from achievement awards, which are currently given to almost a quarter of the incoming class, regardless of financial need. Instead, the University is working to focus on need-based financial awards that will be given to top-performing students, who would not have been able to attend AUC otherwise. The honor scholarship will continue to be given to the top student from each high school certificate. 
The rise in applications and increasing admission scores are a positive indication that the removal of achievement awards has not had a negative impact on the number or quality of applications. Instead, the policy shift will help ensure that an AUC education is available to the brightest students who could not otherwise attend. "The idea is to make AUC education accessible to top-performing students who can't afford it, which also increases the diversity of students on campus," said Khaled Dahawy, vice president for student affairs. 
This change only affects newly admitted students; current students who receive an achievement award will continue to do so, as long as they continue to meet the needed academic requirements. "The University focuses on keeping its promises to its current students; therefore, it is not changing policies that will impact the status of any current student," explained Dahawy. "This change is for incoming students only, who are fully informed before they enroll at AUC."
The money that was used for the achievement awards will now be used for financial aid, which is determined based on need. "Every time a current student who was receiving the achievement award graduates from AUC, the money that was used to fund his or her education will be added to the need-based pool," said Dahawy.
A shift in funding to need-based criteria is the norm in U.S. institutions. At Harvard, for example, "scholarships are based entirely on need, not merit." In the American University of Washington, merit-based aid has been declining heavily in favor of need-based aid, with an almost 50 percent increase in need-based funding in the past five years, as illustrated below.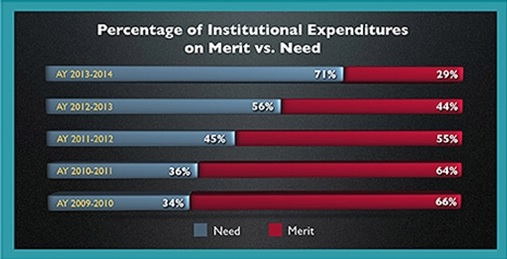 Currently at AUC, more than 60 percent of students receive financial assistance from the University. Last year, AUC awarded approximately $28 million to undergraduate students in the form of scholarships and financial aid, and 48 percent received need-based aid. In Fall 2014, more than 270 undergraduate students received a full-tuition scholarship from AUC. This is above average compared to peer universities in the region, including the American University of Beirut, which awards full-tuition, merit-based scholarships each year to 10 new undergraduate students with outstanding academic records, in addition to three students in each of the four sections of the Lebanese Baccalaureate.
"In top universities, acceptance and financial aid are two separate things," explained Dahawy. "The fact that you're accepted to a prominent institution means that you're recognized to be top-caliber because you've met the competitive admission criteria set by that institution. Then comes the question: Do you need money or not? That's where you have to apply for financial aid at AUC, which will be determined every year based on your need. The reason you have to apply for financial aid every year is because your financial situation might change: You might need less, or even more, money as time goes by." 
AUC's achievement award is part of a larger group of merit-based scholarships, which continue to be offered at the University, pointed out Sohair Saad, executive director of the Office of Student Financial Affairs and Scholarships. "There are still merit scholarships targeting students who excel academically and in other areas, like athletic achievement, artistic talent, cultural activities or community engagement," she said. "Public school scholarships will also continue, recognizing top students from different public schools across the country, and the Empower scholarship helps students coming from governorates in Upper Egypt. In addition, top-performers will continue to be recognized through non-monetary means, such as the dean's honor roll."  
Affirmed Dahawy, "AUC remains committed to honoring academic excellence, while at the same time, ensuring that deserving students from diverse backgrounds are able to receive a high-quality education."