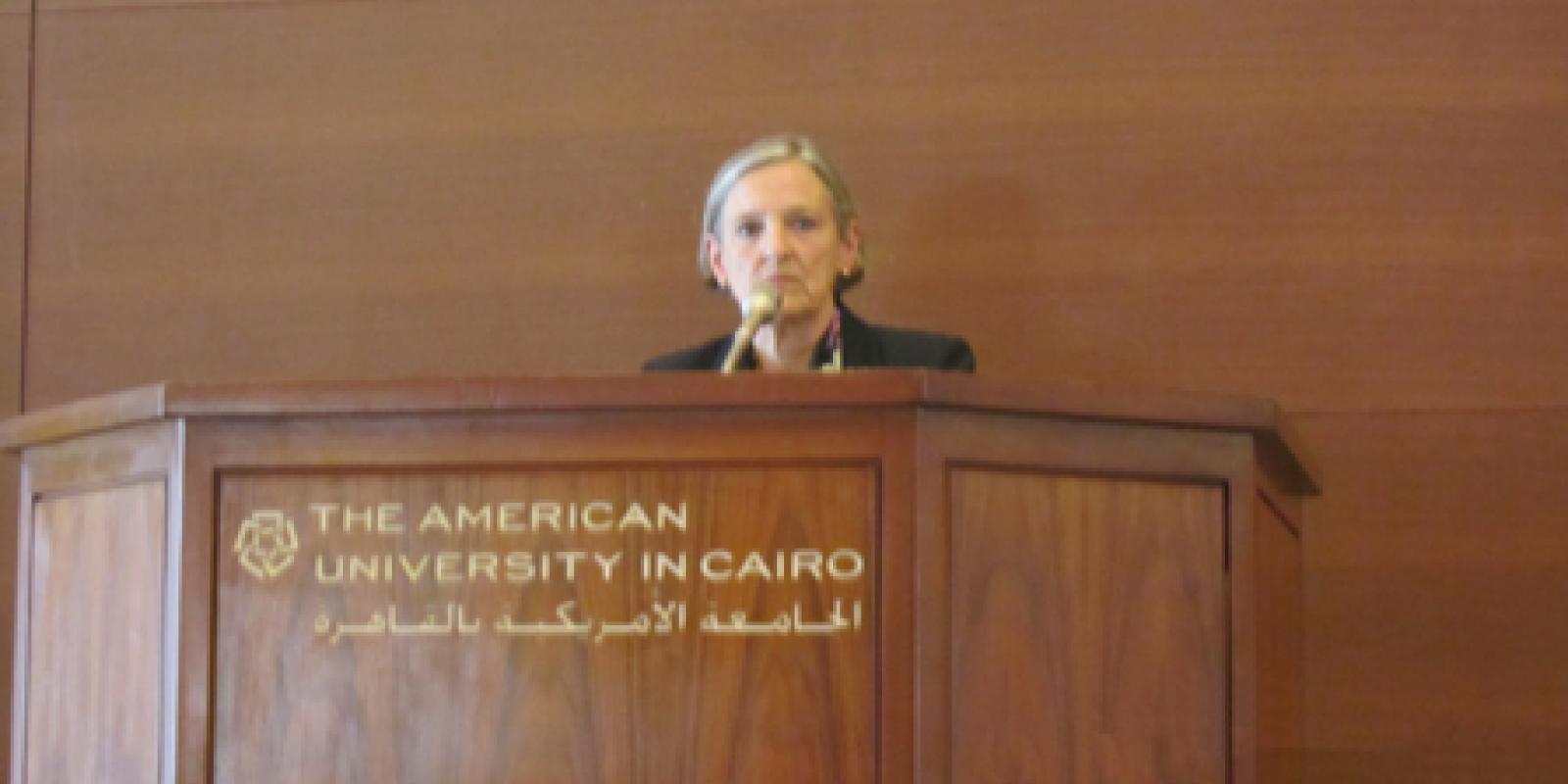 Anderson Emphasizes Openness, Optimism in Community Forum
Anderson Emphasizes Openness, Optimism in Community Forum
In a room filled with faculty, staff and students, President Lisa Anderson led a community forum on September 3, which addressed the University's adaptation to Egypt's political climate and the importance of maintaining a welcoming atmosphere at AUC.
"It is a huge tribute to the University that we are open," President Anderson said, commenting on the fact that AUC is the only University in Egypt that is open and fully functioning. Anderson acknowledged the efforts of the First-Year Experience program and the Emergency Management Team, which worked to ensure that the semester would begin smoothly. "These efforts have been done in good humor and pride in what the University represents," she said.
Anderson also emphasized the importance of maintaining an open environment at AUC. "We must recognize that debate is an important part of our campus," she affirmed.
Seham Sultan, a freshman from Yemen who attended the forum in order to learn more about AUC, said that she finds the community here very "open-minded." Anderson hopes that AUC will remain that way despite political tension.
Although Anderson was optimistic about AUC's ability to start the semester and operate fully, she also recognized that the University faced some challenges. Bahgat Korany, a professor in the Department of Political Science and director of AUC Forum, raised concerns about the lack of international students on campus.
The University did lose a significant number of international students because several universities have been forced to temporarily cancel their study-abroad programs with AUC due to the political situation in Egypt, Anderson explained. In previous years, more than 500 American students chose to study at AUC, but this year only 30 American students are attending AUC. The decrease in international students, Anderson noted, impacted University funding and its Arabic programs; however, she remains confident that AUC will continue to operate as usual.
Concluding the forum by praising the flexibility and determination of faculty and staff members during such fluid times, Anderson remained enthusiastic about the upcoming school year and expressed hope that AUC will continue to be supportive of staff and faculty because, she noted, "the strength of this institution is in its people."