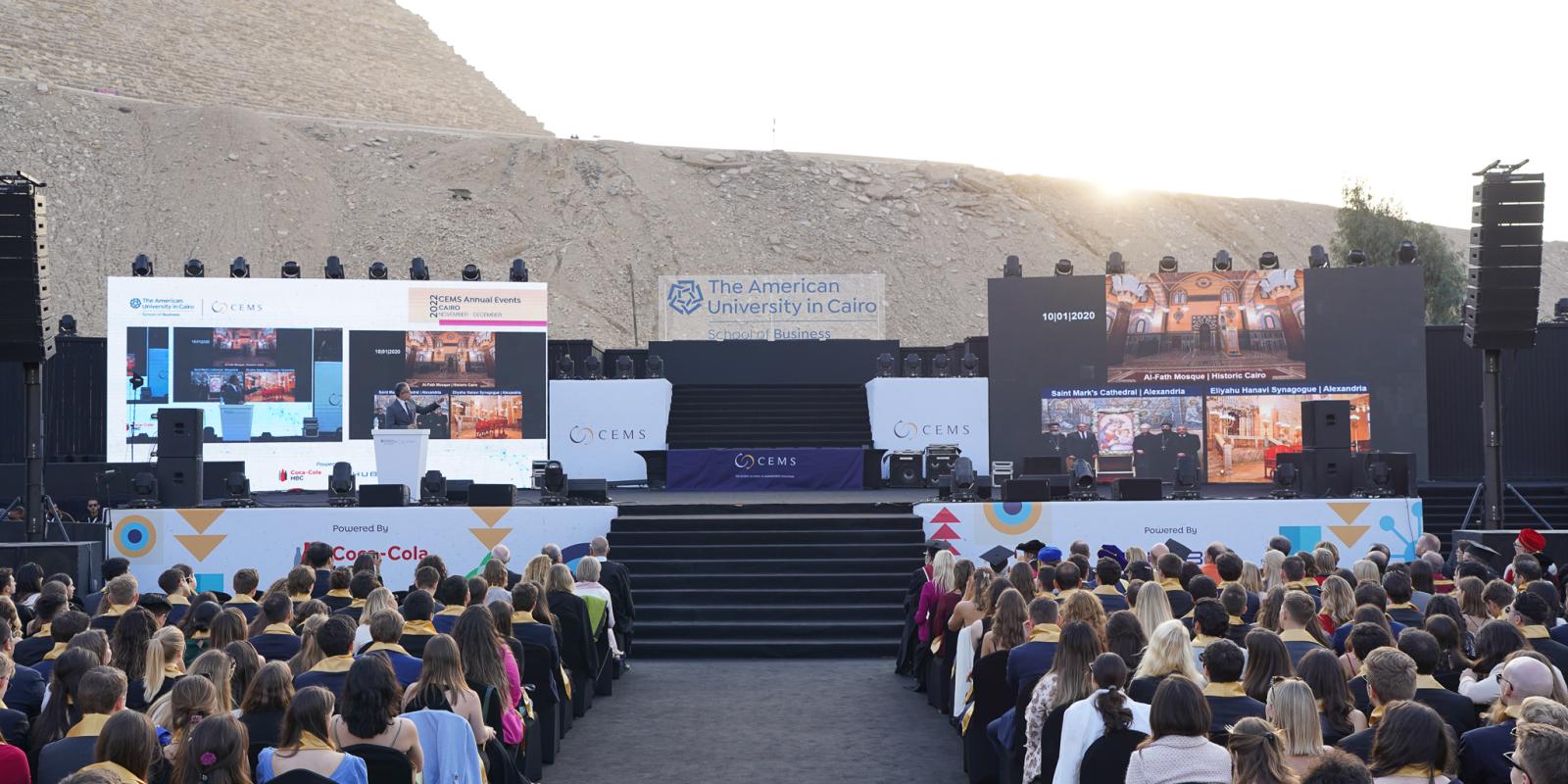 School of Business Hosts 2022 CEMS Graduation at Giza Pyramids
School of Business Hosts 2022 CEMS Graduation at Giza Pyramids
For the first time, AUC's School of Business hosted the 2022 CEMS Annual Events and Master of International Management (MIM) graduation ceremony at the Pyramids of Giza, celebrating the graduation of more than 1,200 CEMS graduates representing 78 nationalities from 34 business schools around the world.
"We are honored to host such a great event for the first time in Africa and the Middle East," said Hakim Meshreki (MA '05), assistant professor and CEMS MIM academic director at the School of Business. "This event brings together all the CEMS family once again after two years off due to COVID-19."
CEMS Global Alliance in Management Education is an international network comprising 34 of the world's top business schools, 70 multinational companies and eight NGOs that together offer the CEMS Master in International Management.
AUC joined CEMS in 2017, becoming the first business school from the Middle East and Africa to join the alliance. The University welcomed its first CEMS MIM cohort two years later. Today, 16 students have graduated from the first two cohorts, with the third cohort graduating this year.
"We are proud to be the first business school from the Arab region and the African continent to join the CEMS network," said Sherif Kamel '88, '90, '13, dean of the School of Business. "The CEMS program, with its unique mix of global exposure, rigorous syllabus and powerful combination of theoretical knowledge and experiential learning, is a perfect fit with the school's goals and aspirations in developing truly global responsible citizens."
The CEMS Annual Events featured a series of plenary sessions, networking and corporate meetings for the CEMS global network and social events, which took place on and off AUC's New Cairo campus.
Learn more about the CEMS network at AUC.