Research with Impact: Science Alumnae Nationally Recognized for Best Theses
Research with Impact: Science Alumnae Nationally Recognized for Best Theses
Two AUC alumnae Dina Fouad '12, '19 and Yasmine Abdel Maksoud (MSc '09, PhD '18) were nationally recognized by Egypt's Engineering Education Sector Committee of the Supreme Council of Universities for "best theses," developing - respectively - materials with enhanced mechanical properties that have promising potential applications in the dental and biomedical fields as well as a water treatment unit to help solve Egypt's water scarcity challenge.
Fouad and Abdel Maksoud, along with six Master of Science and six PhD students, received awards and certificates of merit out of 52 nominated MSc theses and 42 PhD theses. The awards were presented by Minister of Higher Education and Scientific Research Khaled Abdel Ghaffar in a ceremony at the Faculty of Engineering, Ain Shams University.
A Researcher's Dream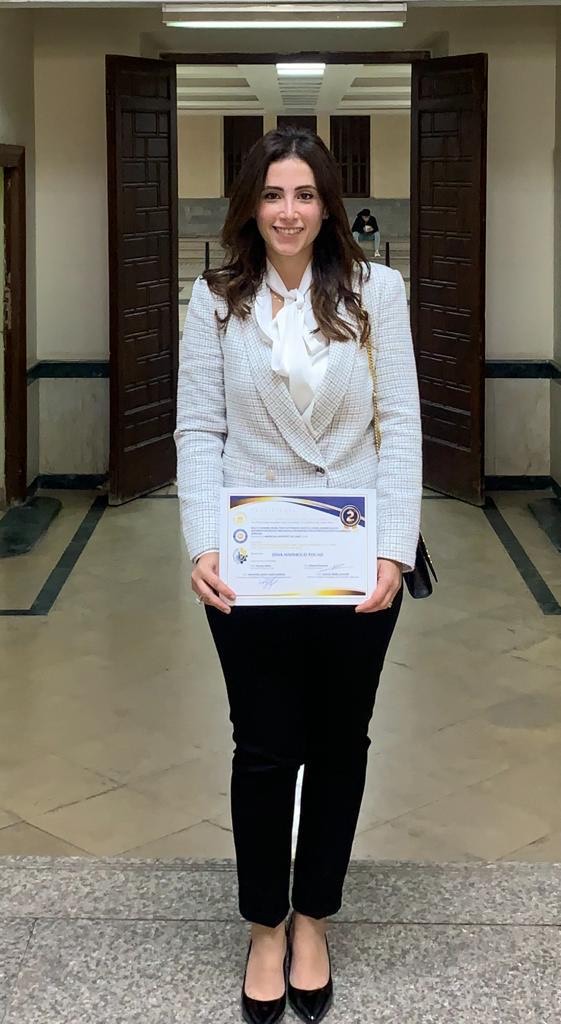 Fouad, who earned her bachelor's and master's in mechanical engineering from AUC, received a Best MSc Thesis Award for her thesis on "Multi-channel Twist Extrusion (MCSTE): A Novel Severe Plastic Deformation Design: Mechanical Properties, Structural Evolution, and Numerical Analysis," supervised by Hanadi Salem '83, 87, professor of materials and manufacturing and chair of the mechanical engineering department.
In her research, Fouad evaluated an innovative and provisionally patented novel MCSTE dye to enhance the mechanical properties of materials numerically and empirically. Earlier, she had received a research grant from AUC to support the manufacturing and evaluation of the novel technique, classified as a processing technique suitable for the production of ultrafine structured materials with promising potential for dental, biomedical applications and mechanical components with ultrahigh strength/toughness combination. 
"Being a passionate academic, researcher and proud AUCian, I've always dreamed of having a positive impact in the field. I always have this expectation of myself, and my methodology to transform such dreams and expectations into tangible successes and impact is to passionately work hard for it. And I did!"  said Fouad. "It was a highly overwhelming and honoring experience to receive such a prestigious award by the minister and to be nationally awarded. I was full of pride to have been awarded by my country for my work at AUC, which I conducted with immense passion and dedication. Now I'm extremely grateful and proud to have been both awarded by AUC, my school, and my country, as I was awarded the Medhat Haroun Scholarly Award for best MSc thesis at AUC in 2018 and now I am awarded nationally for the Best MSc Thesis. ..A researcher's dream!"
A Wonderful Surprise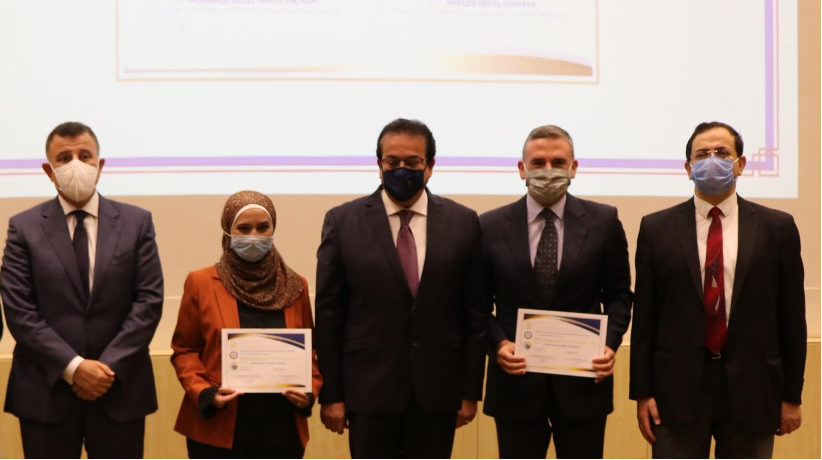 Abdel Maksoud, who earned her master's and PhD in environmental engineering from AUC, received a Certificate of Merit for Outstanding PhD Thesis for her work on "Immobilized Titanium Dioxide for Emerging Contaminant Removal in Wastewater," supervised by Emad Imam, professor of hydraulics and water resources, and Adham Ramadan '91, professor of chemistry and dean of graduate studies.
In her research, Abdel Maksoud aimed to develop a photocatalytic reactor using immobilized nano titanium dioxide to be used for the removal of emerging contaminants in treated water -- a broad range of chemicals originating from our daily activities including the use of pharmaceuticals, personal care products, food additives, pesticides, household cleaning chemicals and disinfectants that pose severe health and environmental hazards. Through her research, she was successful in designing and manufacturing a pilot photocatalytic reactor as well as a novel nano titanium dioxide sand epoxy composite. The water treatment unit is promising enough to be scaled up for commercial application, providing a sustainable water resource to aid in facing Egypt's water scarcity challenge.
"[Receiving the award] was a wonderful surprise. ..I received the best paper award at one of the most prestigious conferences in the field of photocatalysis and advanced oxidation before, but this award acknowledges outstanding research across all the fields of engineering," said Abdel Maksoud. "I did not expect the same recognition among different areas of research, and it was great. This award acknowledges research that serves to achieve the sustainability goals of Egypt 2030. I am very optimistic that this award will draw the attention of many researchers to the importance of photocatalytic water treatment. We need to remember that 'Water is Life and Every Drop Counts.'"