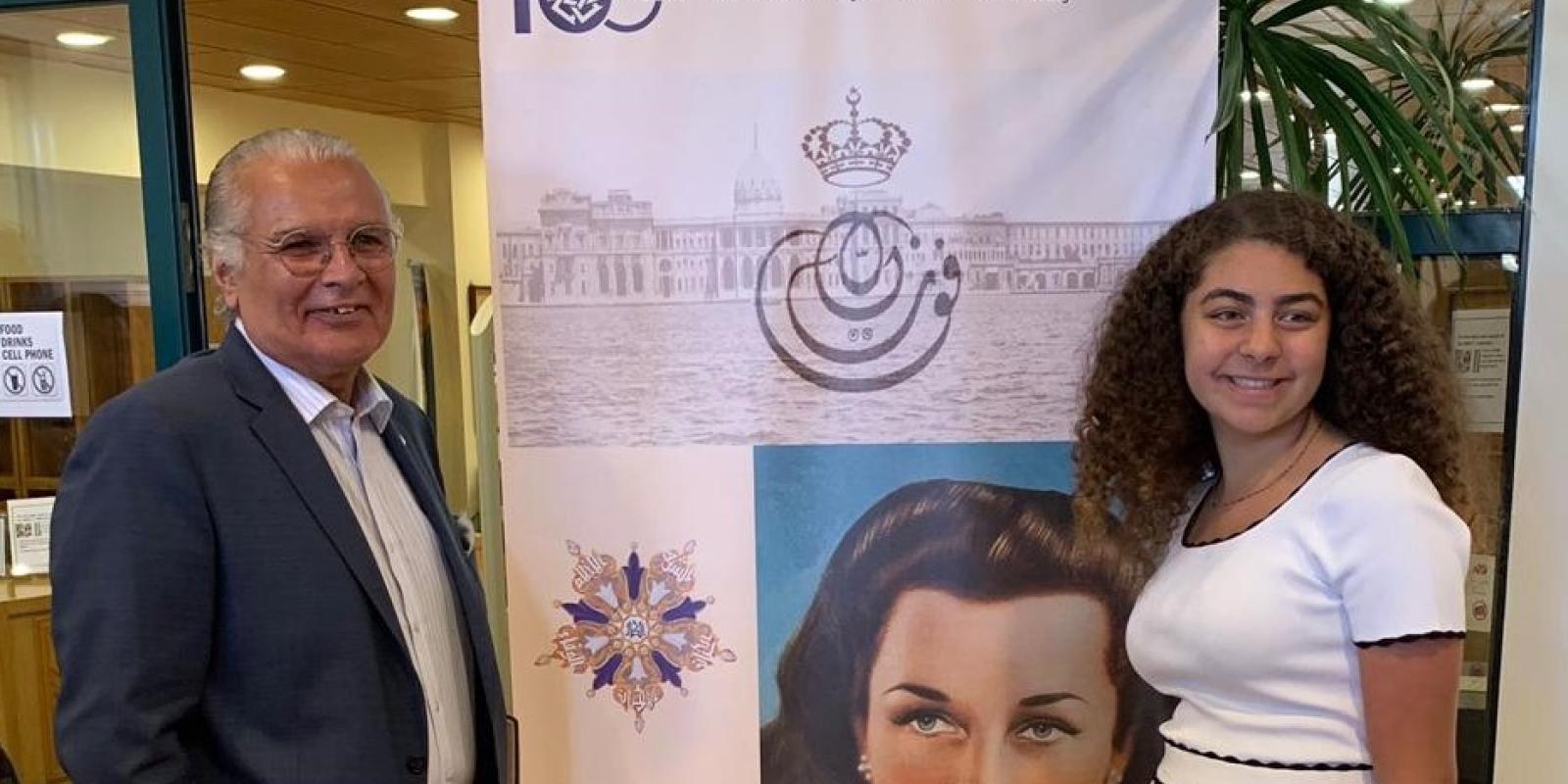 Princess Fawzia Exhibit Portrays Duality of Egyptian Womanhood Through Western and Egyptian Eyes
Princess Fawzia Exhibit Portrays Duality of Egyptian Womanhood Through Western and Egyptian Eyes
While women play a critical role in Egypt's social, political and economic development, they are often portrayed in international media as victims of oppressive laws, societal expectations and religious boundaries. AUC's Rare Books and Special Collections Library is holding an exhibition titled, Princess Fawzia: The Duality of Egyptian Womanhood Through Western and Egyptian Eyes, to showcase how Egyptian women are portrayed in the national and international media through the life of Princess Fawzia, the sister of King Farouk — the last monarch to rule Egypt — and the first wife of the Shah of Iran.
The exhibit shows how Egyptian media portrayed Princess Fawzia as a model of modern Egyptian womanhood, spearheading health initiatives and charities that improved conditions for women, while international media portrayed her as merely a political pawn. The exhibit explores this contradiction through an in-depth study of official and media portrayals of Princess Fawzia, drawing on archival research conducted at the KEW National Archive in the United Kingdom and the AUC's Rare Books and Special Collections Library.
The exhibition features Jana Amin, an Egyptian-American 10th grader at Milton Academy in Massachusetts, USA. who is passionate about international relations and Middle Eastern studies, with a special interest in gender studies and Islam.
"I am very excited about the inauguration of the Princess Fawzia exhibit at the AUC Rare Books and Special Collections Library, exploring the duality of Egyptian womanhood through Western and Egyptian media," said Jana Amin. "Egyptian women have always played a very prominent role in society. Unfortunately, a lot of young Egyptians are unaware of that history. My hope is that this exhibit will help inspire young Egyptian women to own their own narratives."
Amin continued, "Working on this exhibit was an eye-opening experience as there is a lot of behind-the-scenes work involved in researching and putting together an exhibit like this. To begin with, AUC's archives ae quite unique: The research team and I were able to find a lot of representation of Princess Fawzia in Egyptian media that was missing from that of International media. AUC's archives include Al-Musawer, Al-Ahram, Al-Misri, Radio Misr, Bint El Ward, Akher Sa'a, and the archives team are continuing to acquire more materials everyday. Once the materials had been compiled and organized, the conservation and the digitization lab became crucial in helping us preserve the old magazines we were using and digitize the 1939 Imperial Wedding album so that visitors were able to interact with the album digitally. Finally, I would like to thank Interim Dean Lamia Eid and Associate Dean Philip Croom for supporting this exhibit. I'm particularly grateful to Eman Morgan and her team who worked tirelessly to make this happen. "
Eman Morgan, assistant director of special projects at the Rare Books and Special Collections Library and curator of the exhibition, noted how the yearlong project delivers a strong message to youth. Princess Fawzia: The Duality of Egyptian Womanhood through Western and Egyptian Eyes exhibition is the outcome of a journey that started in August 2018, leading to extensive research, and the digging up of historic magazines, newspapers and photographs," said Morgan, who came up with the idea of creating an exhibition on Princess Fawzia's life. "A special thanks for AUC Trustee Rana El Kaliouby's donation to fill in the gaps in the Rare Books and Special Collections Library holding of primary resources as well as the collaborative efforts and swift performance of the RBSCL team."
The exhibition successfully came to light to deliver a historic message to young generations and encourage future research," said Morgan.
The exhibition celebrated the six-year anniversary of Princess Fawzia's death. Maged Farag, a renowned historian and the compiler of the 1939 imperial wedding album of Princess Fawzia to the shah of Iran, spoke at the opening.
Check out the event here.