Presidential Encounters
Presidential Encounters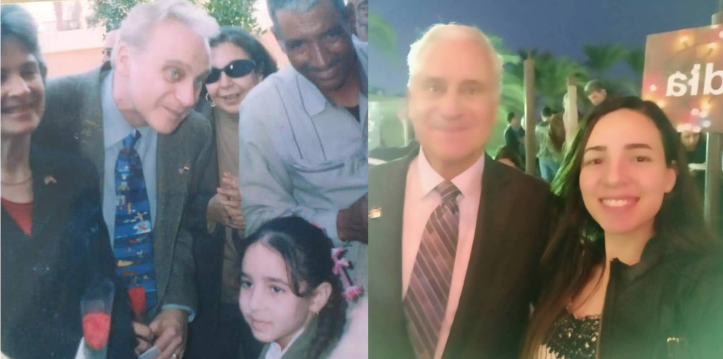 Freshman Merna Azmy Habeb Hanna first met AUC President Francis J. Ricciardone at age 7. In celebration of the opening of her school, Hanna was chosen to welcome Ricciardone, the U.S. ambassador to Egypt at the time. This year, she saw him again at AUC's Centennial International Day.
Read Merna's own words about meeting the president twice and being an AUCian:
"I am Merna Azmy Habeb Hanna, 20 years old. I am a freshman student, undeclared – intending to major in business.
I remember when I was 7 years old, the American ambassador came to the opening of my school. This is an unforgettable childhood memory because I was a top student, so my school chose me to welcome him. I told him, 'Welcome to our school.' Then I gave him and his wife flowers, and I took pictures with them. I was extremely proud of being chosen for such an event, and I was excited to see our pictures in different journals and magazines. Interestingly, later on, when I joined The American University in Cairo, I found out that its president is the same ambassador I met in the past. I was surprised and excited to meet him and tell him our story. During AUC's Centennial International Day, I showed him our pictures together 13 years ago. He was so amazed and asked me about my name, and we took pictures together. I was so glad for his reaction!
I am grateful for being an AUC student because AUC has been a big dream of mine. Through persistence, perseverance and prayers, it has become true. I feel that AUC is a big united family that has a significant impact on my personality, thinking and future. The University not only cares about our academic performance, but also our social life and future careers. In my opinion, the most interesting and important part about AUC is the liberal arts education it offers because I enjoy studying subjects other than my major. I love everytime I learn something new because I feel that I am growing. I am becoming more knowledgeable and responsible."