In Photos: AUC's Eye-Catching Senior Art Exhibition 'Liquid Gaze'
In Photos: AUC's Eye-Catching Senior Art Exhibition 'Liquid Gaze'
Towering in the middle of AUC's Tahrir Cultural Center (TCC) is a metal sculpture containing intricate shapes made of iron, accompanied by three paintings on a nearby wall. Visual arts major Nour Tawfik '22, describes the installation, "Nostalgia is a Dirty Liar…" — which took her a year's worth of research and creativity to make for her senior project:
"The sculpture represents memories, or a narrative, within space, whereas the paintings depict memories held onto the space," she said. "This depicts the distortion of memories that occur in an architectural space."
Her project visualizes the desperation and fear that propels one to hold onto false memories. "More broadly," she described, "it is a surreal, dystopian illustration of the way in which the subconscious reconstructs memories, making people cling onto false depictions of reality."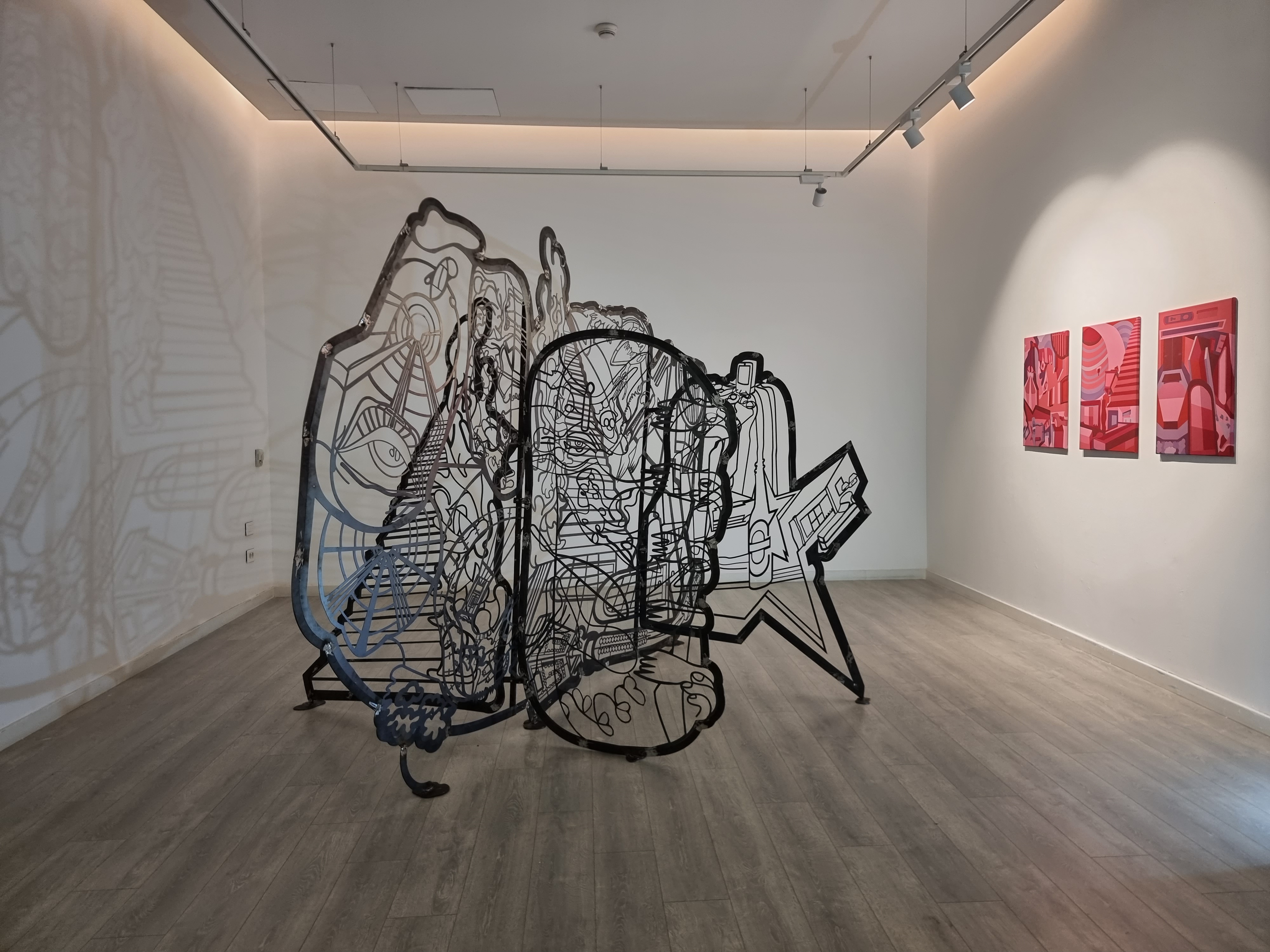 Tawfik's work is one of 11 multimedia art projects from AUC's visual arts program on display at the Margo Veillon, Legacy and Future gallery halls at TCC. The exhibition is titled "Liquid Gaze" — a multistage process of looking at or viewing an object described by Shady ElNoshokaty, director of AUC's visual arts program and curator of the exhibition, in the show's program.
"This sequence of transformation from one [modality of viewing] to another in moments is what makes the phenomenon of gazing one of the most fundamental human phenomena linked to imagination and creativity," he wrote.
Be sure to stop by the Margo Veillon, Legacy and Future gallery halls at TCC before June 25 to view all of the 2022 final projects from AUC's Visual Arts program.
The final projects are an integral part of AUC's visual arts program, which launched in 2013. Each year, a panel of independent judges evaluates the group show, and ElNoshokaty releases a printed book documenting the creative and production practices showcasing the experience.
"Liquid Gaze" is the first senior project exhibition to be open to the public since the onset of the coronavirus pandemic, with last year's show, "(K) for Cannibal" closed to outside viewers.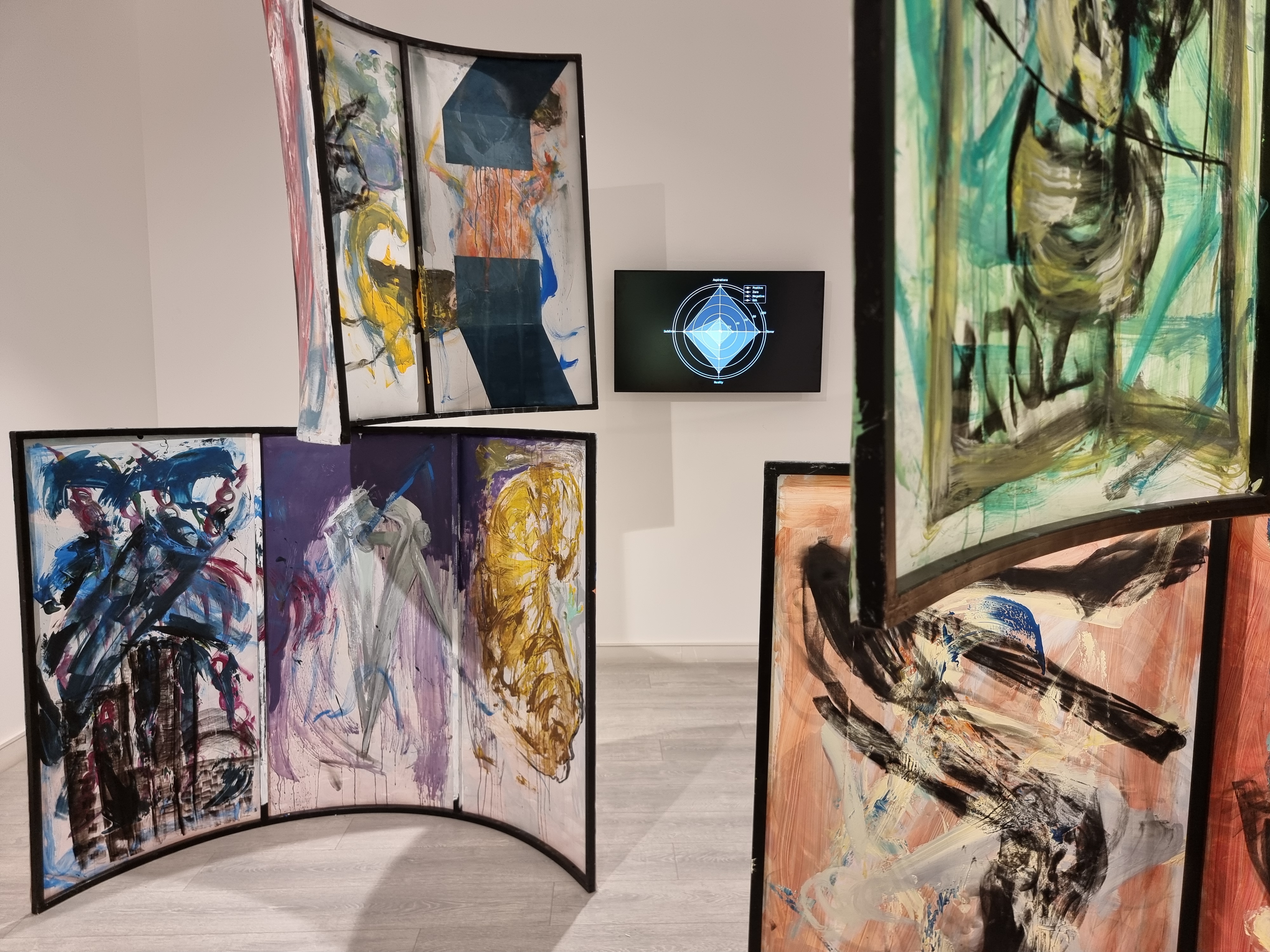 The projects are unique in that they encompass much more than a simple vision — they also follow a contemporary, experimental methodology with a philosophical reference. In order to reach this deep level of expression, ElNoshokaty has his students conduct one semester of research and another for creating the installations.
The entire process, ElNoshokaty described, is filled with long discussion sessions and ever-shifting goalposts as ideas and concepts evolved.
"The projects started in the fall of 2021, where students developed their individual ideas and conducted visual and knowledge-based research," he explained. "The latter covered all the theoretical details of the idea, in addition to many other critical and analytical practices that helped develop special creative areas and translate them into theoretical writing for the first part of the project."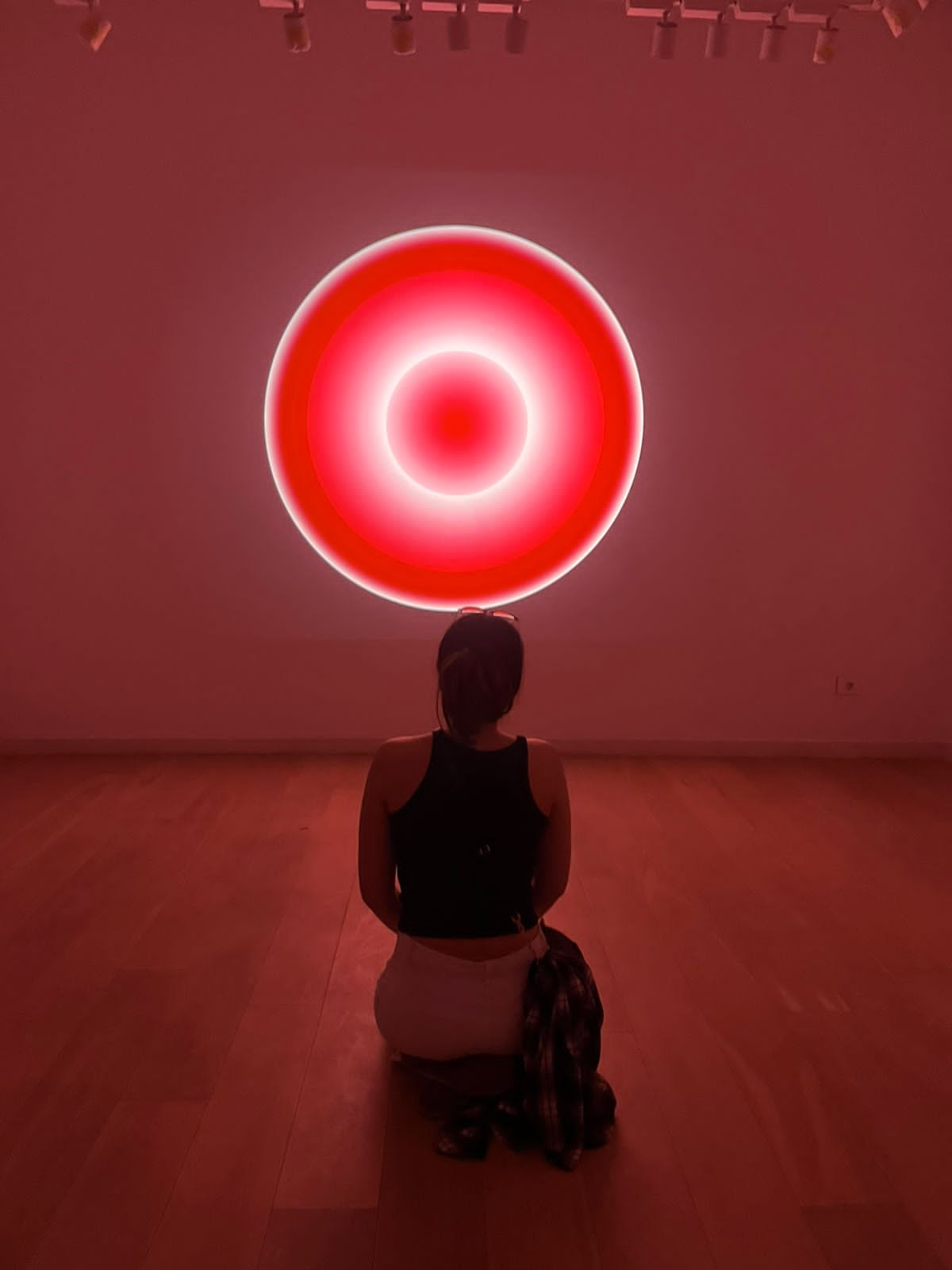 "The research process was incredibly time-consuming, multilayered and complex," noted Amira ElKouny '22, another artist who is displaying her animation work, titled "(IN)DIVIDUAL." "Every decision had to be well-thought-out before I went along with it, due to the sensitivity of later creating a professional visual arts production based on an intricate research-based project."
Moreover, ElNoshokaty added, "This group took the most important courses of their majors online due to the pandemic. This project was the first time for many of them to experiment in an actual physical space — which added another layer of pressure."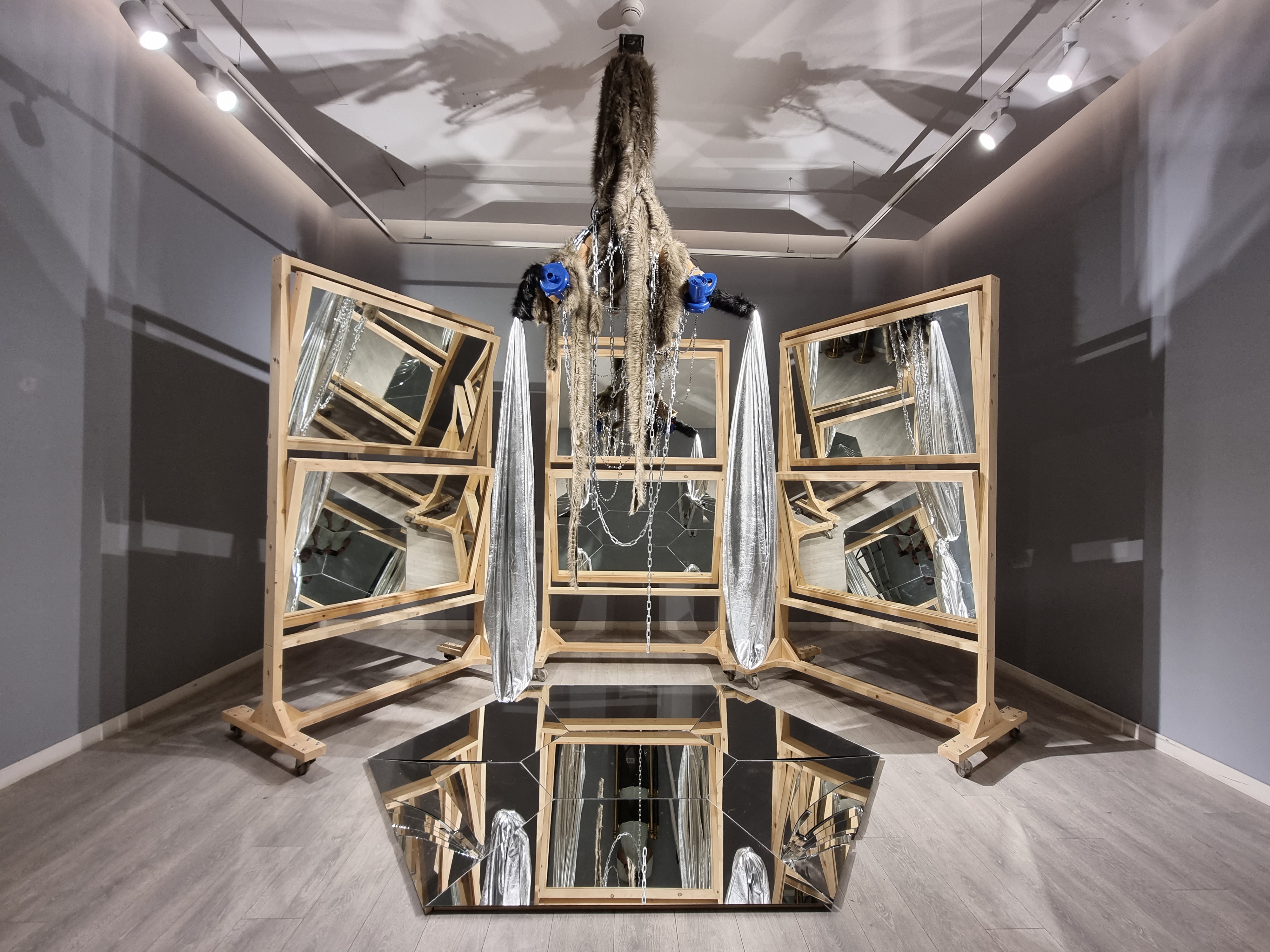 Vision from Experience
Inspiration for Tawfik's iron giant and accompanying paintings first came to her in an art gallery in Athens while viewing an installation by South Korean artist Do-Ho Suh, which allowed visitors an intimate view into the artist's home. "That sparked my interest in 'walking through' memories, which eventually led me to create the installation," she said.
After choosing her topic, Tawfik dove into studying human memory. "Memories are the foundation of an individual's identity, as they shape and build who a person is, and what they will become," she said. "They are an integral part of human existence — yet the same memory can be experienced or recalled differently from person to person, or by the same person at different points in time."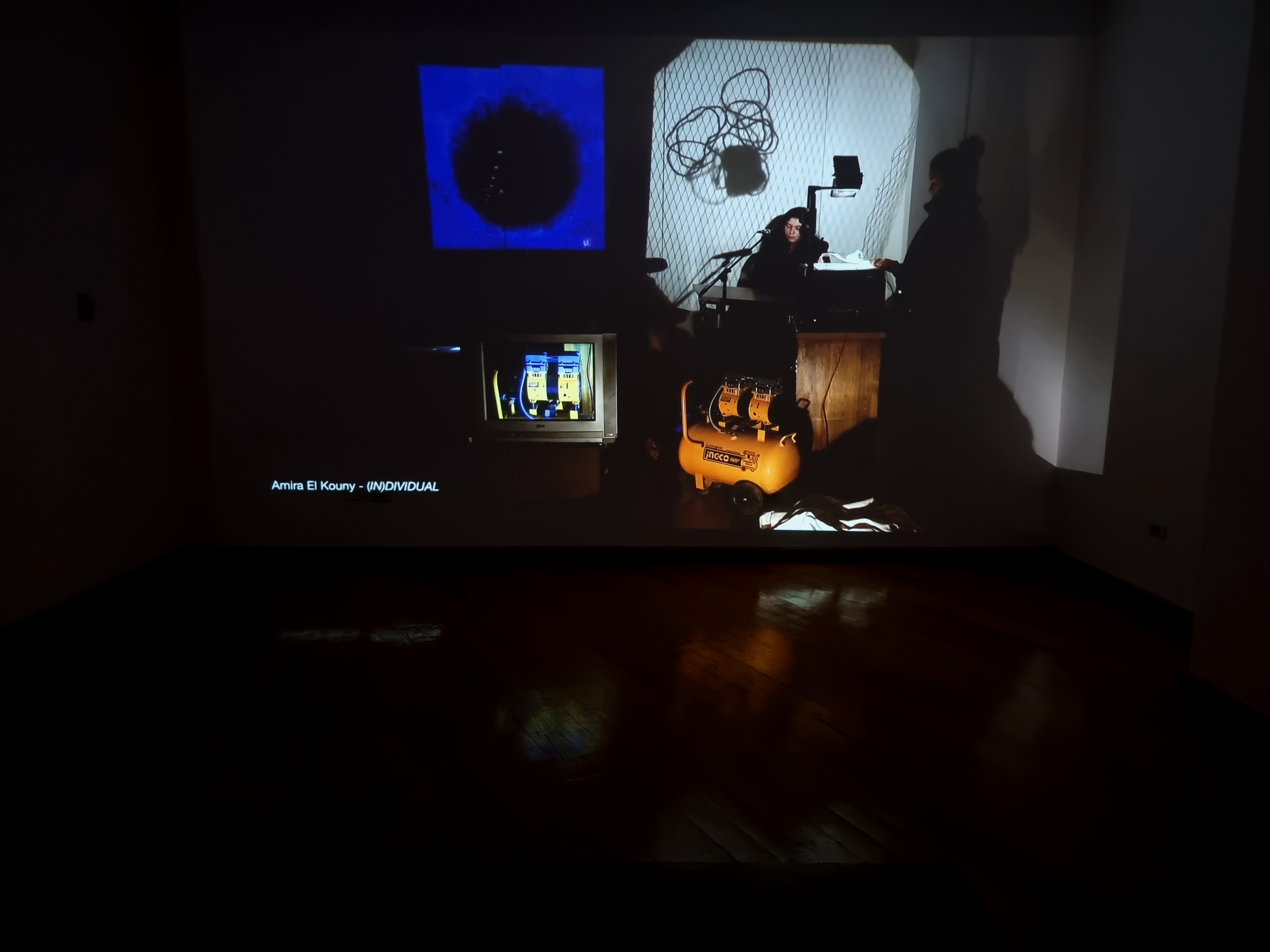 "(IN)DIVIDUAL," on the other hand, was inspired by a research link visualized in a vivid dream ElKouny had after completing around two years of research on the concept of how our bodies and minds "act and react to spaces they are in, and how the power of authoritative systems affect an individual's mind and body in moments of fear."
She describes her installation in the program as a "surreal-morphing experience of fear while trying to escape and survive under authoritarian systems of power." The work also explores the modern psychotherapeutic theory of the "inner child" and "adult self."
Lights, Camera, Exhibition
Having just under three months to translate their research into art, the students and ElNoshokaty found themselves hard-pressed for time as opening day approached.
"During the week leading up to the exhibition, I was still finalizing some of the paintings," Tawfik described. "Finishing a painting is very difficult generally — knowing when it's done is challenging, because you can always add more layers. I was working on them until the last day."
ElKouny shared a similar experience. "The week before the exhibition's opening was extremely exhausting and painful," she said. "I had to re-do a whole part of the drawings, scanning process, video and sound editing process because it did not follow the rhythm of the whole piece — it wouldn't have been as effective as it is now."
Despite the challenges, all three described the overall experience as extremely instrumental in their personal and professional development.
"Preparing for the grad show is an intense educational experience, not only for my students but also for me," ElNoshokaty said.

"It was enlightening in a way," ElKouny added. "I learned a lot about myself, my thought process, actions and creative process."
"It made me think outside the box and really find out what ideas I'm passionate about," Tawfik said. "This was also my first time creating a sculpture, so I learned that I can express myself effectively not just through paintings, but also through sculptures and installations."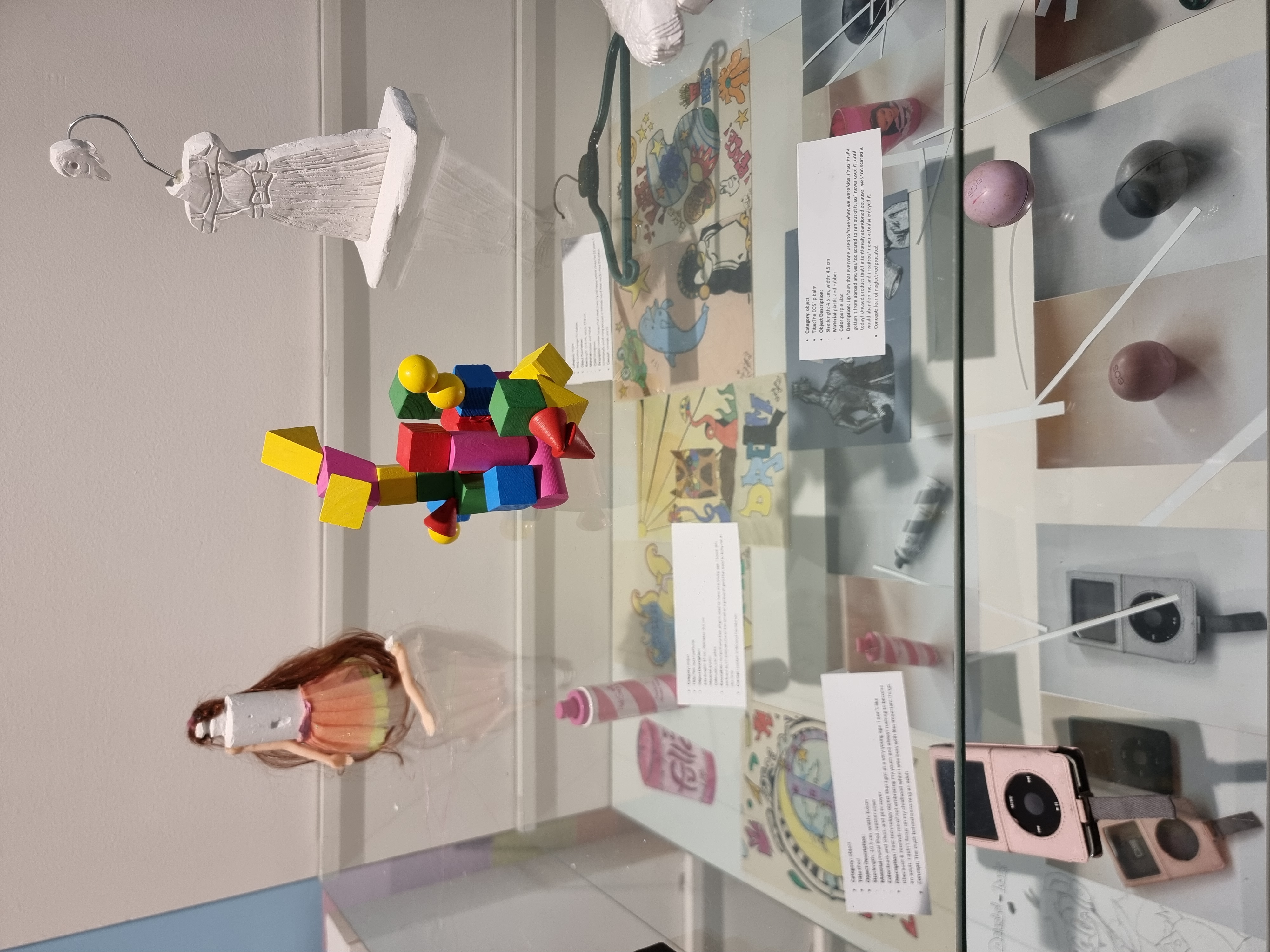 With their installations currently housed at the galleries and unalterable, Tawfik and ElKouny feel a mixture of pride and relief. "I can't believe we were able to achieve this and be part of this exhibition," ElKouny said.
"Thankfully, everything came together in the end," Tawfik said. "Now that it is out of my hands to fix anything, I like it a lot more as it stands."