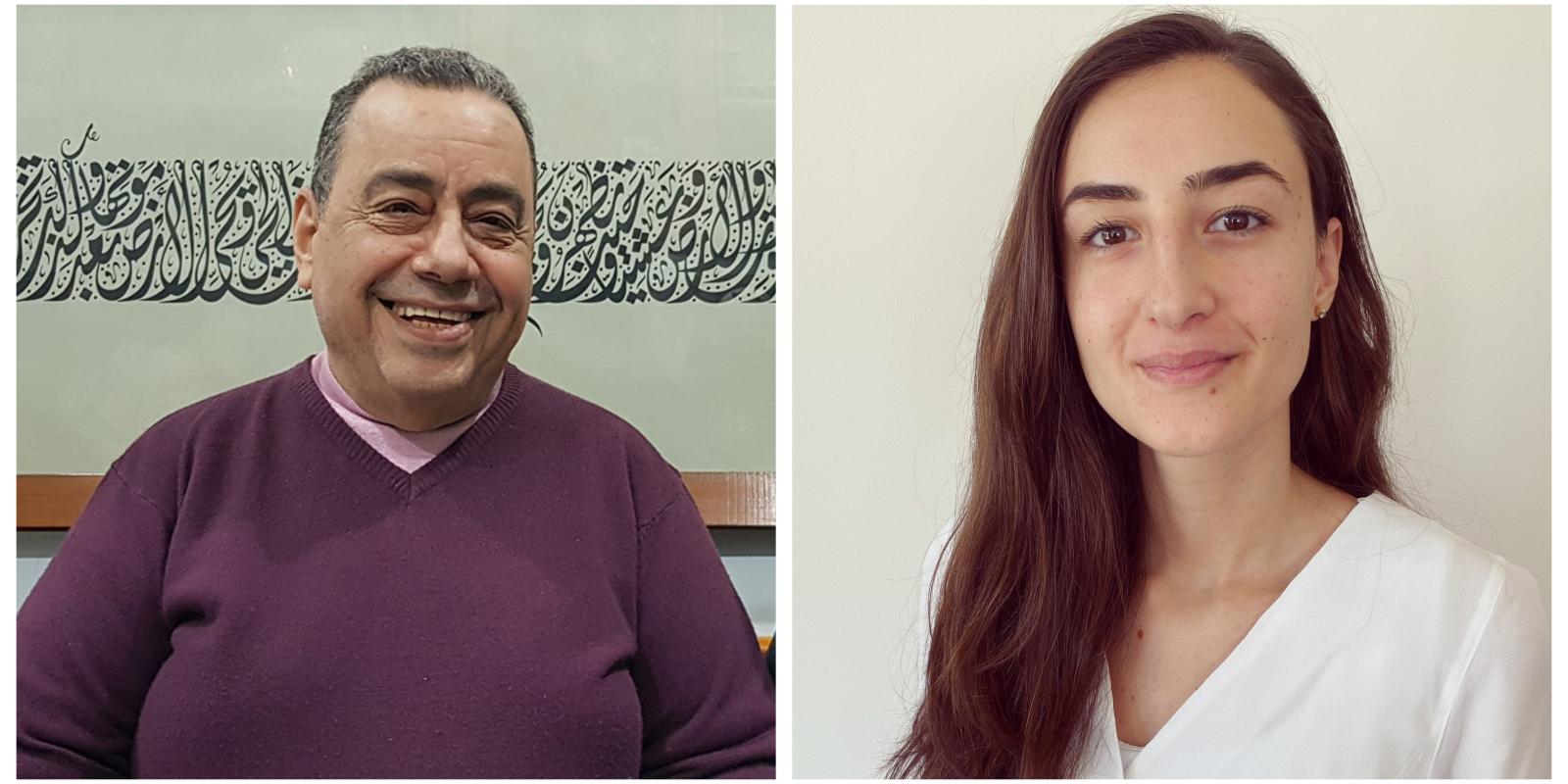 Najla Badran Two-Time Winner at Granshan Type Design Competition for Collaboration with Renowned Egyptian Calligrapher
Najla Badran Two-Time Winner at Granshan Type Design Competition for Collaboration with Renowned Egyptian Calligrapher
Najla Badran, adjunct professor in AUC's Department of the Arts, won third prize and received an honorable mention during the 12th Granshan Type Design Competition for her work in digitizing the typefaces of Egyptian calligrapher Moussad Khodeir, known as Khodeir Al-Borsaidy.
Khodeir is among the pioneers of Arabic calligraphy, with his work appearing often in the Egyptian cinema and theater scene in the 1970s and 1980s. Badran was introduced to the artist by Bahia Shehab (MA'09), professor of the practice and founder of AUC's graphic design program, during a student trip to El Moez Street in Cairo, and it was during that first meeting that she suggested the project.
Badran explained that Arabic revival typefaces from previous decades, unlike their Latin counterparts, are not widely available.
"Whenever you think of movies from past decades, there's a lot of specific typography that encompasses your mind and causes you to envision a specific style," she said. "I was really interested in trying to bring back the beauty of the past into the present."
Covering six typefaces hand-drawn by Khodeir decades ago, Badran began in 2020 to transfer the letters into Glyphs, a font editor she employed to draw the calligrapher's manual works digitally, making sure that the letters matched and adding ligatures and stylistic alternatives.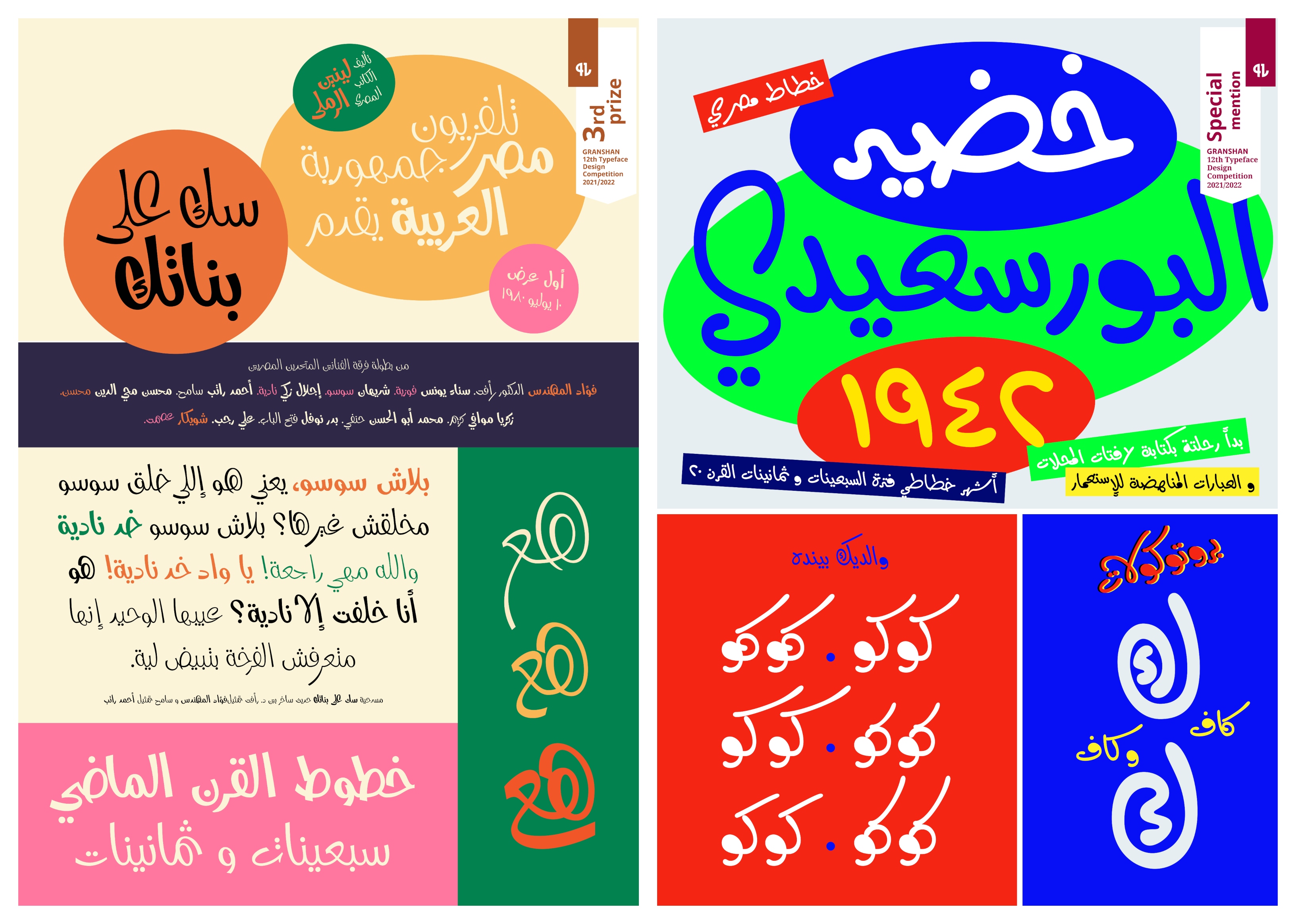 She estimates that drawing each typeface took about three months — as each letter in Arabic appears in four different forms — and that was before getting feedback from Khodeir.
"It was a lot of back-and-forth between me and Khodeir, and switching between typefaces," Badran recalled, noting that she also used credits from old movies and series that Khodeir's work appeared in to offer alternative forms for letters.
"It has been a huge project, but at the same time, I've had fun and learned a lot," she said.
Since December 2021, the duo's project has been further developed as part of the Asil project by Tarek AtrissiDesign NL in partnership with AlQalam and with the support of Creative Industries Fund NL.
So far, two typefaces have been finalized: Resheet Khodeir and Modern Belya, both of which were prize winners at the competition — with the former winning third prize and the latter receiving a special mention. Modern Belya was also awarded a shortlist at the Design and Art Direction Awards this year.
"Najla is part an the emerging scene of professional designers from Egypt," Shehab said. "In these competitions, she was competing against masters of Arab type design — some of whom have been practicing for 30 or 40 years. Our department is very proud of her accomplishment and cannot wait to see what else she will achieve in her career as a type designer."
Winning alongside world-class designers felt nothing short of astounding for Badran. "Not only is it great to be beside such amazing people, but it is also nice to show Khodeir that his work can continue to dominate right now."
Khodeir reported that he felt hesitant at first to embark on such a project, as he had never translated his hand-drawn letters into a digital format. "However," he said, "after seeing Najla's work, I was very impressed. Overall, I am very proud and happy about this project."
Badran studied graphic design at the German University in Cairo and the University of Reading in the United Kingdom. She has been teaching typography at AUC since 2017, where she often encourages her students to enter design competitions.
"I always try to help my students think of how they can use what they create in the class now at a later time," she said. "It's also very nice to see how they creatively deal with projects because it might inspire me to do something different."