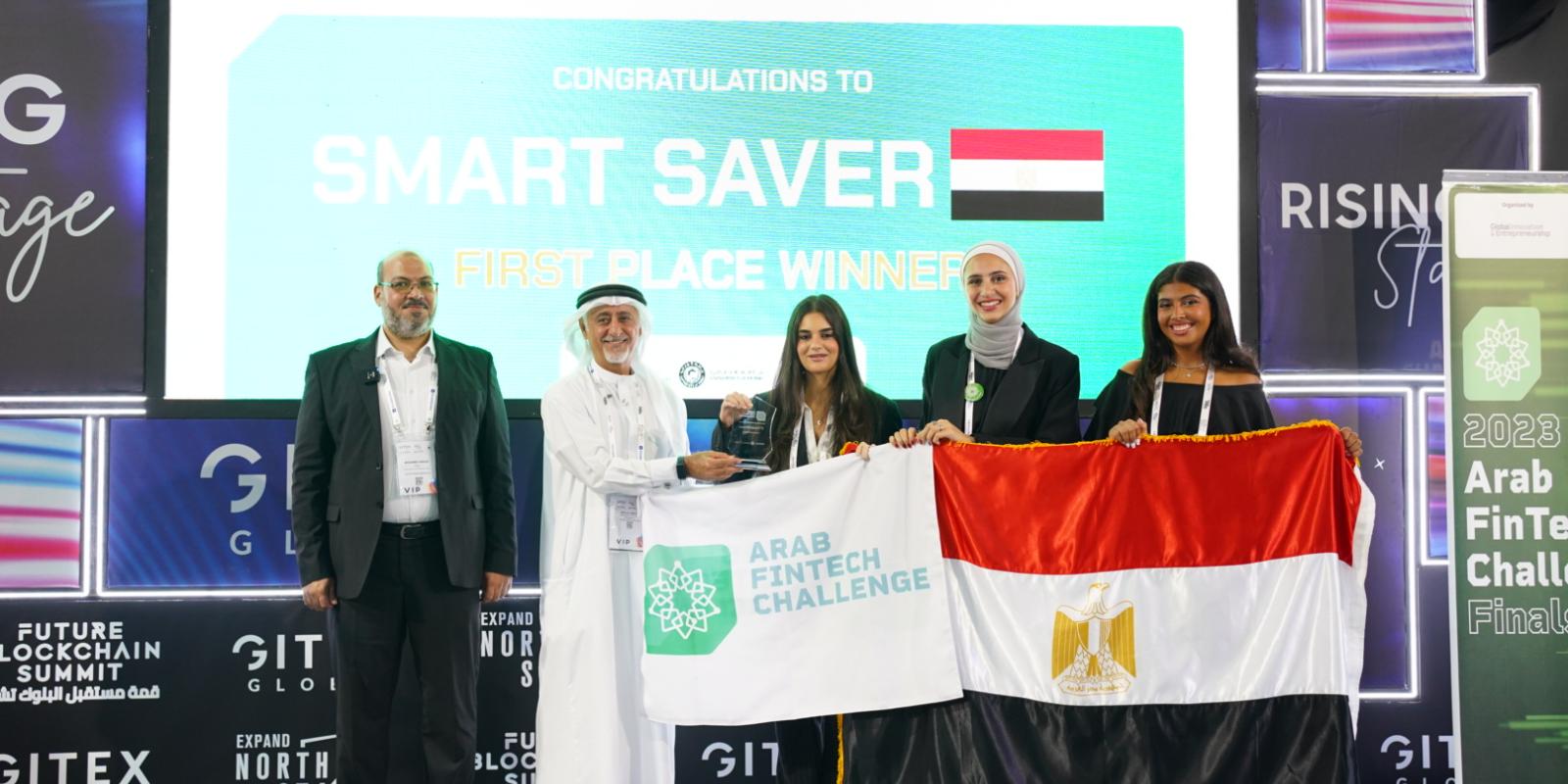 Mini Money, Big Win
Mini Money, Big Win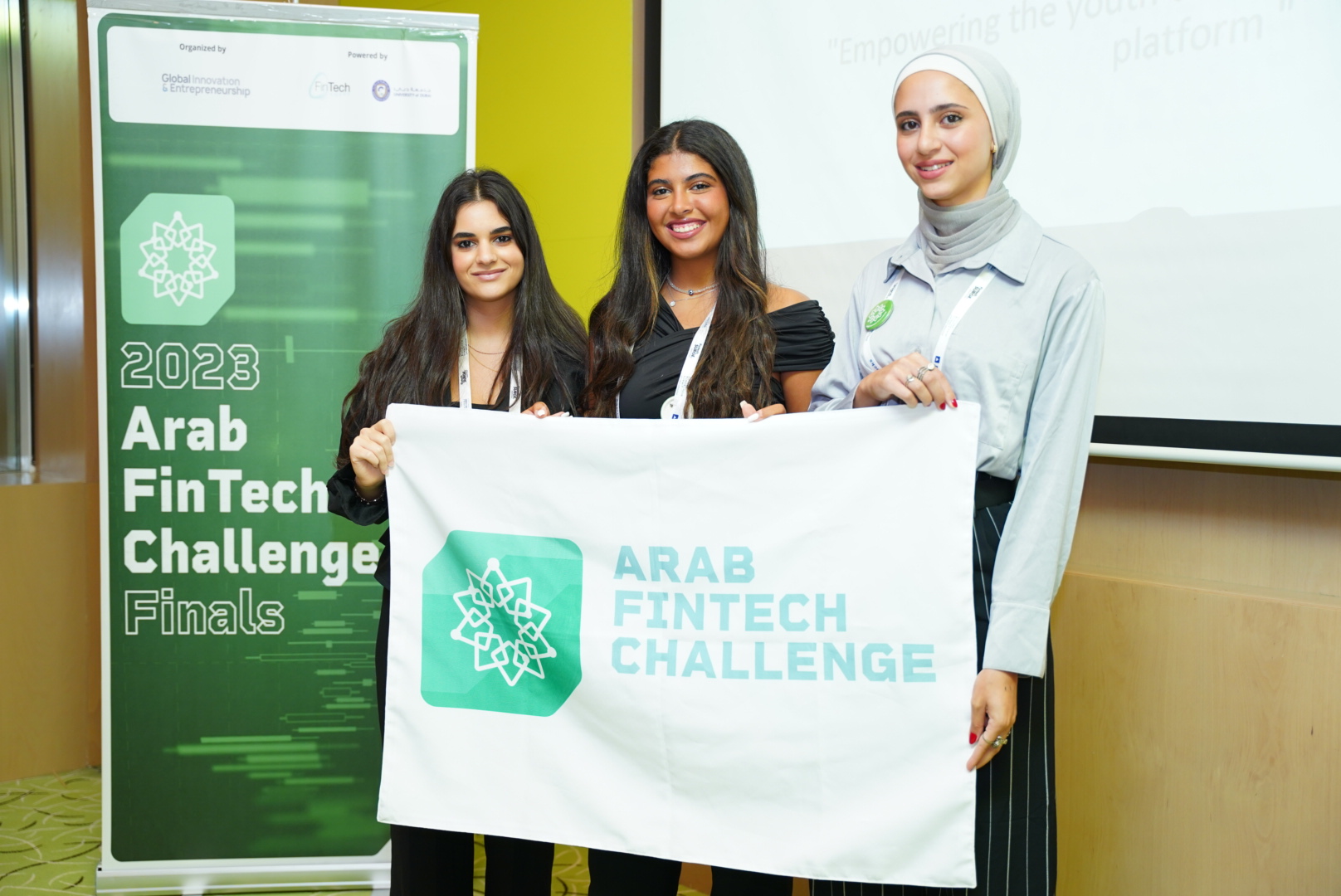 With a first-place finish, Yara Ebeltagi, finance major with a minor in economics; Malak Elshennawy, finance major with a minor in economics and mathematics; and Joudy Aly, business and entrepreneurship major, made AUC proud at the Arab Fintech Challenge held at GITEX Dubai 2023. Creating an app called 'Mini Money' that incentivizes youth financial literacy, their project was selected out of international teams from across the region for its capacity to go beyond traditional savings methods and motivate youth with a unique rewards system.
The students began this startup project as part of the Entrepreneurship and Innovation course taught last spring by Moataz Darwish '95, associate professor of practice in the Department of Management at the School of Business and team mentor.
"The entrepreneurship project is a cornerstone in this course, with a clear learning outcome of generating a world-class experiential learning experience for students and equipping them with a mix of academic rigor and relevant practical tools to help them succeed in the outside world," said Darwish. "The students were trained on all aspects of designing an entrepreneurial venture, from framing a customer problem to designing and prototyping a business model to delivering a powerful pitch. The process is very demanding and requires a variety of pedagogical techniques, including experiential workshops, case studies, guest speakers, investor assessment simulation, one-on-one coaching as well as personality and entrepreneurial tests and simulations with support from AUC's Career Center and Eonomics Behavioral Lab."
The Arab Fintech challenge is a competition powered by Fintech Egypt, initiated by the Central Bank of Egypt and sponsored by the EG Bank MINT incubator.
Hear some thoughts from the team about the project, collaborative aspects and the competition process:
Yara Elbeltagi
"Our collaborative journey in shaping our FinTech solution was enriched by the diverse personalities within our team. Dr. Moataz's endorsement of these differences proved to be a success, as they seamlessly enhanced our decision-making process.
Joudy is the most practical of us, always thinking rationally, Malak is extremely analytic and focuses on the details, always making sure our information is backed, and I felt like I brought forward the creative angle that helped bring our idea to life.
Since developing the idea initially, these distinct strengths enabled clear communication and efficient development, allowing us to develop Mini Money in synergy.
Joining the regional competition unlocked a plethora of opportunities for us. To begin with, we gained an internship at Mashreq Bank which was extremely eye-opening and offered us hands-on exposure to the job market. We also got the opportunity to join a three-month FInTech incubation program organized by MINT by EG Bank. Networking was and still remains a great benefit from our participation; we continuously meet professionals and individuals who serve as mentors and give us real advice based on their experiences as well as unlock new opportunities for us."
Malak Elshennawy
"Although the three of us were majoring in either finance or entrepreneurship, our knowledge about FinTech was limited, having been recently declared. Still, our brief moment of hesitation did not stop us from competing, because we have always been committed to succeeding in everything that we did. More importantly, our professor believed in our abilities and urged us to compete.
Our winning FinTech startup, the Mini Money gamified app with an embedded wallet, is designed to help parents track their children's spending, increase their financial literacy and give them benefits whenever they save up, such as discounts at their favorite gaming store. We were continuously changing and updating the app based on feedback from parents, bankers, venture capitalists and AUC faculty. Innovation is a continuous process, and over time, our startup has prospered and changed with help from all these mentors who have changed our perception of both the problem and the feasibility of our solution."
Moataz Darwish, faculty mentor
"The main problem the students tackled in this project was the lack of financial literacy among the youth population. Generally speaking, children don't have an efficient way to track or manage their spending, let alone savings. They possess a limited grasp of the importance of responsible financial management.
Through the team's Mini Money project, youth will be able to monitor their spending and be incentivized to save through the gamified app experience. The app helps prepare the future generations in financial prudency and efficient financial decision making. The project also serves parents by helping them monitor and mentor their children's finances. The solution also signifies the contribution that AUC aims to provide by preparing its students to tackle sizable problems in the Egyptian and emerging markets with innovative tech and business model endeavors.
This project was enabled by the tremendous support we receive from the School of Business and the entire AUC community. Nothing is more rewarding to me than to realize my life mission in mentoring and coaching my students to realize their potential and enhancing AUC's positioning in Egypt and beyond."