Marwan Wahid on World Autism Awareness Day: 'I Am Thankful and Happy with My Journey at AUC'"
Marwan Wahid on World Autism Awareness Day: 'I Am Thankful and Happy with My Journey at AUC'"
When he was only 2 years old, he was able to finish a Solitaire game on his brother's computer and actually win the game that doctors described him as "the new Einstein."
Marwan Wahid is an electronics and communications engineering freshman who joined AUC this fall after a long journey of trials, frustrations and big dreams. Although he was diagnosed with autism at the age of 2, his determination and resilience qualified him to be Egypt's top thanawiya amma student (mathematics section) in 2019 and recipient of the Sawiris Undergraduate Scholarship for Students with Disabilities.
"My journey has never been easy since I got diagnosed with autism, especially because of my very limited social communication skills. However, I excelled in my studies from primary stage to high school and was always top of my class," said Wahid.
"Marwan has always been passionate about anything related to numbers and computers that he can spend all his day solving mathematical problems at a very young age — even before he went to school," said his brother Mohamed.
After being named as Egypt's top thanawiya amma student, Wahid's family received a call from AUC informing them that he received a full scholarship to complete his undergraduate studies at the University and agreed on a date for the interview "It was a whole new world for me," Wahid reflected. |I was so scared before going to the interview, especially that I had to work more on my English language skills."
For Wahid, life at AUC is completely different compared to his life before, which was limited to his school, family and friends. His biggest challenge was being able to communicate with his new community and being capable to understand and engage in his classes held in English.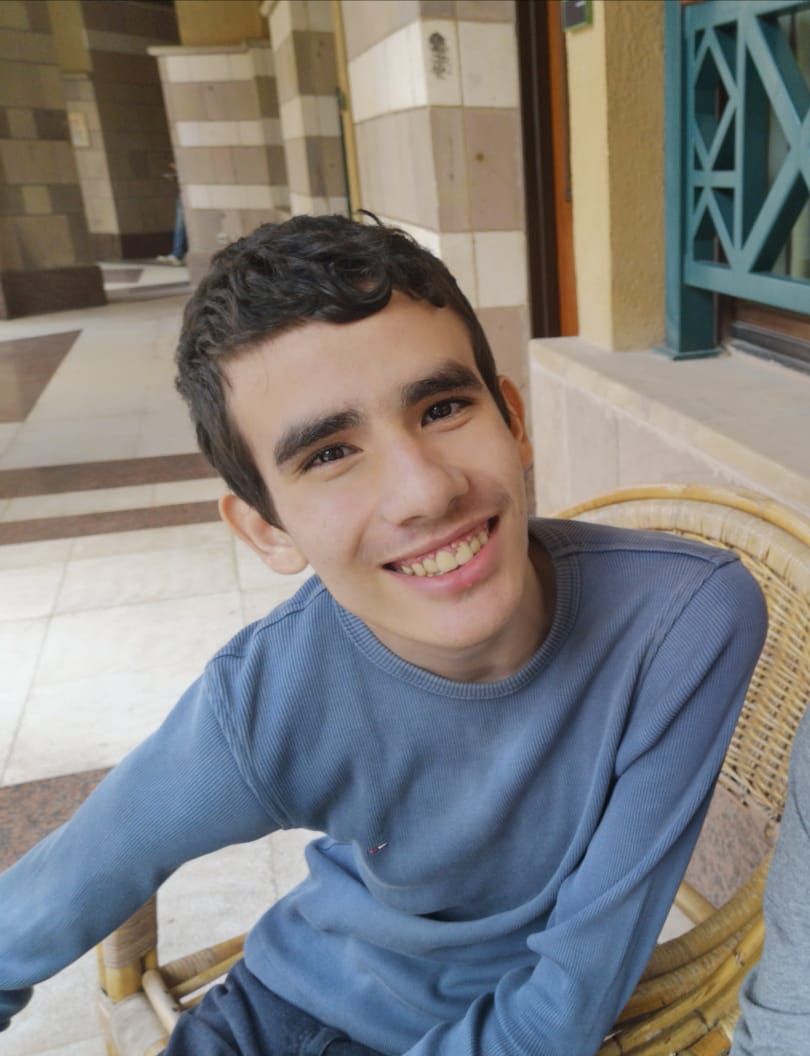 "At the beginning it was very challenging for me to communicate with everyone around me," Wahid explained. "I found it really difficult to make new friends and understand what the professors need, especially that all classes are conducted in English. Afterward, with the help of all my professors, I started to communicate well with my colleagues and understand what my professors need. I am currently completing my required rhetoric courses together with mathematics and physics courses."
Wahid's family, consisting of his parents, his brother Mohamed and his sister Magda, has played a vital role in providing him with all possible aids to overcome all the difficulties. After his diagnosis with autism, they used to travel all the way from their house in Al Sharqiyah to Cairo for his weekly conversational sessions at El-Demerdash Hospital, Ain Shams University, which helped develop his conversational skills -- making him able to carry out a full conversation.
"I wanted him to excel in whatever he does so that people wouldn't look down on him, and even if they do, he'd find [many] others protecting him," said Wahid Abdallah, Marwan's father.
Since the beginning of the semester, Wahid has been staying at the University Residences during weekdays while he goes back home to his family in Al Sharqiyah during weekends. His daily routine has been distributed among his daily assignments and course requirements, staying in his room playing on his tablet and playing billiards in his free time.
"I am thankful and happy with my journey at AUC and all the new experiences I am gaining, and will always do my best to be up to the challenge," affirmed Wahid. "Thank you, Sawiris Foundation, for your generous grant."