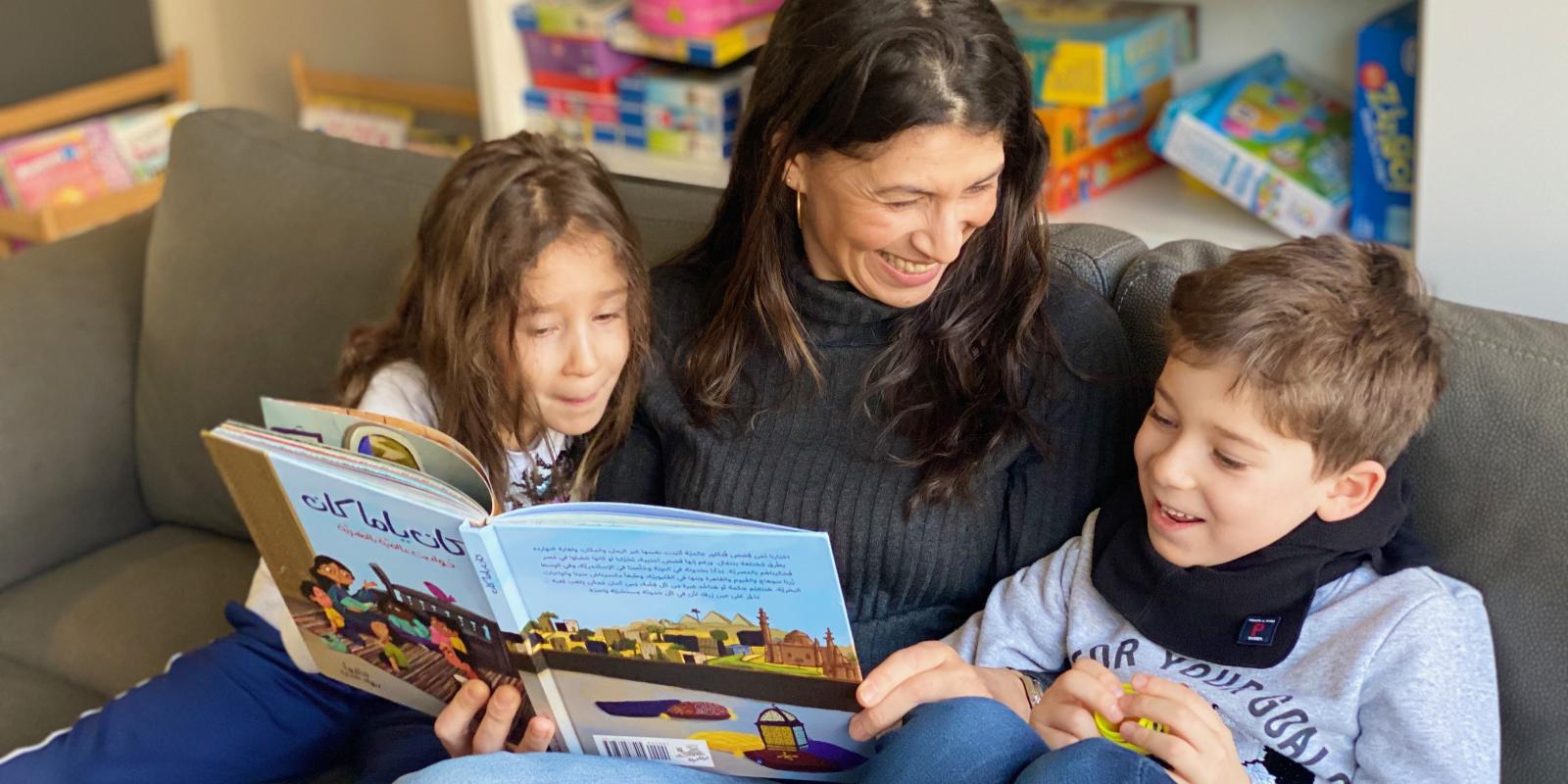 Kan Yama Kan - Riham Shendy '98 on a Mission to Enrich Children's Arabic Colloquial Library
Kan Yama Kan - Riham Shendy '98 on a Mission to Enrich Children's Arabic Colloquial Library
Riham Shendy '98, a mother of twins residing in New York, acknowledged the struggle of reading to children in Arabic and decided to piece together a solution to overcome it. This is when the best-seller Kan Yama Kan (Once Upon A Time) was born.
After graduating from AUC with a major in economics and minors in business administration and theatre, Shendy worked in the banking sector for around five years. She then received a scholarship and traveled to the United Kingdom to pursue her Master of Science in applied economics at the University of Bristol. She received another scholarship to pursue her PhD at the European University Institute in Italy and later joined the World Bank in Washington, D.C,. Shendy resigned in 2018, primarily to take care of her twins, and moved to New York.
"You hit 40 years of age, and it becomes very hard to envision a change in career. You hear stories of those who pursue a long-lost passion, but these stories never seemed relevant to who I was. I was an economist. This was what I did in my undergraduate studies, my master's, my PhD and in my first job at a commercial bank in Egypt, and later in my job at the World Bank. It was my entire professional life until I was 41," Shendy reflects.
"When I decided to leave my job to care for my twins, I accepted the fact that I was closing the door on this career. What I did not envision was that my children would open another door to a new passion. Motivated by the irrefutable importance of reading to children for pleasure and driven by my own experience of how reading stories to a child makes both parent and child happy and fulfilled, I decided to tackle the rather thin children's book market in Egypt. Luckily, my academic background helped me address this issue in a science-based manner."
How It All Started
When twins Ali and Leila were young, the language of the books Shendy read to them didn't matter. It was easy and effortless to translate simple English text into the Egyptian Arabic she spoke to them. One time, though, she pulled out an Arabic book, which was when the issue began. She found herself surprised by the language, especially with the extent of the difference between spoken Egyptian Arabic and written Modern Standard Arabic (MSA-Fusha.)
A drawback to this language reality was that she couldn't directly read Arabic children's books to her little ones. She had to translate the stories on-the-spot from MSA to spoken Egyptian, which got increasingly exhausting as the books included more and more text. She was also not able to read rhyme books as the rhymes got lost in translation. She had to skip some parts or alter details, but the children would complain as they naturally seek the story's predictability and repetitiveness. "Sometimes I'd skip or forget to say something and they're like: but you didn't say that he was sad," elaborates Shendy.
Typically, a child doesn't learn nor understand Fusha until they go to school, and it takes them several years to develop an acceptable command of it. Yet all children's books, for all ages, are exclusively written in Fusha, which can be a challenge for children when it comes to Arabic storybooks. In fact, in Egypt, where there are around 24 million children aged nine years or younger, an edition of a children's book typically ranges around 1,000 copies only, demonstrating the low demand for children's books.
Shendy wholeheartedly believed that Fusha Arabic shouldn't be an obstacle preventing the development of fun and easy-to-understand books for little children, sparing parents the constant need to translate the text they're reading, and sparing children the boredom of sitting through a text they don't comprehend. While she wasn't advocating for one type of Arabic over the other, she simply didn't see why both Aamiya (Egyptian dialect) and Fusha couldn't be alongside each other.
One night in 2016, Shendy decided to translate The Three Little Pigs into spoken Egyptian, and she stuck the translation on the pages of the English book. For the first time, she was reading the text just as it was written, and she was on cloud nine with how easy reading to her children had become. Gradually, it became a habit, and she started translating stories in rhymes. Positive that other moms like her probably exist, she created a website, Tuta Tuta, after an Egyptian phrase used to end a story, where she started providing free Egyptian Aamiya text translations of popular children's books. But because the problem was bigger than sticking printed translations on English books, she wanted to do more. Precisely, she wanted to write a book in the Egyptian dialect.
The idea of Tuta-Tuta first developed as a need for her own twins, now 6-year olds but later advanced to the greater cause of addressing the children's book market at large. "You can think of Tuta-Tuta as trying to be a little market disrupter," said Shendy.
However, her pitches were faced with dismissal multiple times by local publishers, mainly due to the misconception that reading to children in the Aamiya mother-tongue would weaken their later grasp of Fusha.
While this belief is common, the science on Mother-Tongue Based Education, supported by USAID, UNESCO and UNICEF, advocates the opposite. According to USAID research, "In Mother-Tongue Based education, instruction usually takes place exclusively in the language most familiar to children. In Mother-Tongue Based programs, students have the opportunity to learn core concepts primarily in a familiar language, and, later, they learn the labels or vocabulary for those concepts in a second or a foreign language."
A Sneak Peek of Kan Yama Kan
Consequently, Shendy had no other option but to self-publish the book to shake up the Egyptian children's book market. This year, she self-published a multi-story Aamiya children's book, Kan Yama Kan, all in her translation, to promote reading to children and help set the foundation for a lifelong love for books. Kan Yama Kan, an anthology of eight popular children's stories, caters to Arabic's complexities and the fact that Arabic is "effectively" not one language.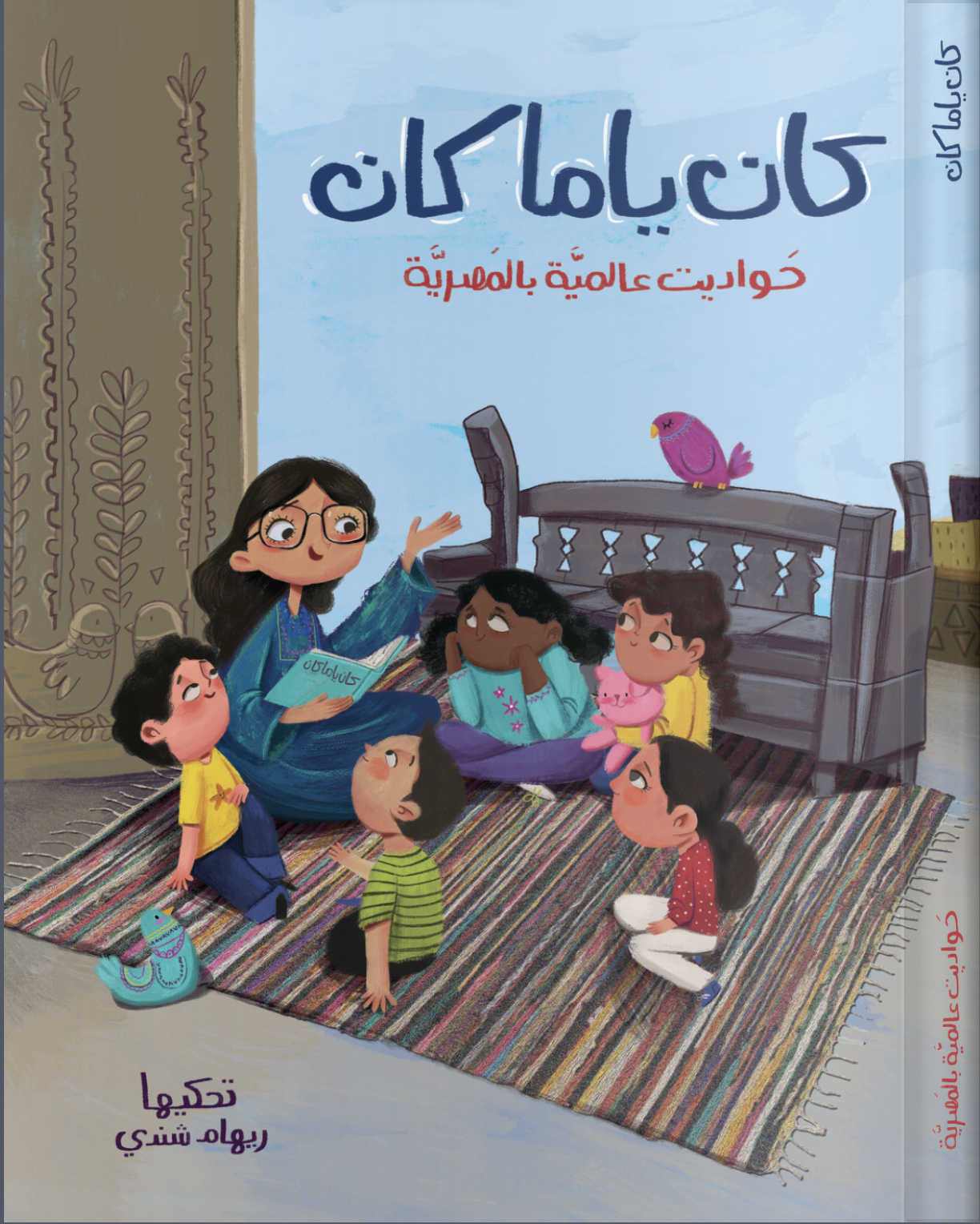 The book is a collection of eight international folktales known to be successful and have stood the test of time and place, ones that children know too. While it doesn't include a new piece of children's literature, the book is much less so about a new story but rather about writing language, being Aamiya.
"I was torn between Egyptian or international folk stories. I decided on international ones that kids may already be familiar with. I wanted to meet kids halfway. I wanted them to see characters they already know and like, but in a new way," Shendy reflects.
With that in mind, the stories are told in a colloquial language that's familiar and easy for children to understand, often taking the form of Arabic rhymes. Yet given that the book was in her mother tongue (Egyptian Arabic), she still wanted it to have an Egyptian flavor. Accordingly, she added cultural Egyptian touches to these Western stories, like Mika Al-Ahmarika and the Wolf (Little Red Riding Hood), to help acquaint children with cultural values and traditions.
For instance, in Shendy's unique narrative, Mika (Red Riding Hood) takes a fiteera (an Egyptian crepe) instead of a pie to her grandmother residing in Fayoum near Egypt's waterfall in Wadi al-Rayyan. While wolves aren't typically associated with Egypt, she set the tale in Fayoum, in particular, after the 2018 news shared by the Ministry of Environment that one has been found and released. Similarly, The Ugly Duckling takes place in Sohag, portraying ducks hiding among sugar cane plants; females in the Magic Belila Pot wear traditional Bedouin clothing and put belila (wheat cereal) in the pot instead of porridge; and in The Three Little Pigs, based in the Western Desert, the pigs happen to fall in a bowl of molokhia (a jute leaf stew.) Not forgetting Cairo, the gingerbread man dashes throughout the city before being gulped down near the Pyramids.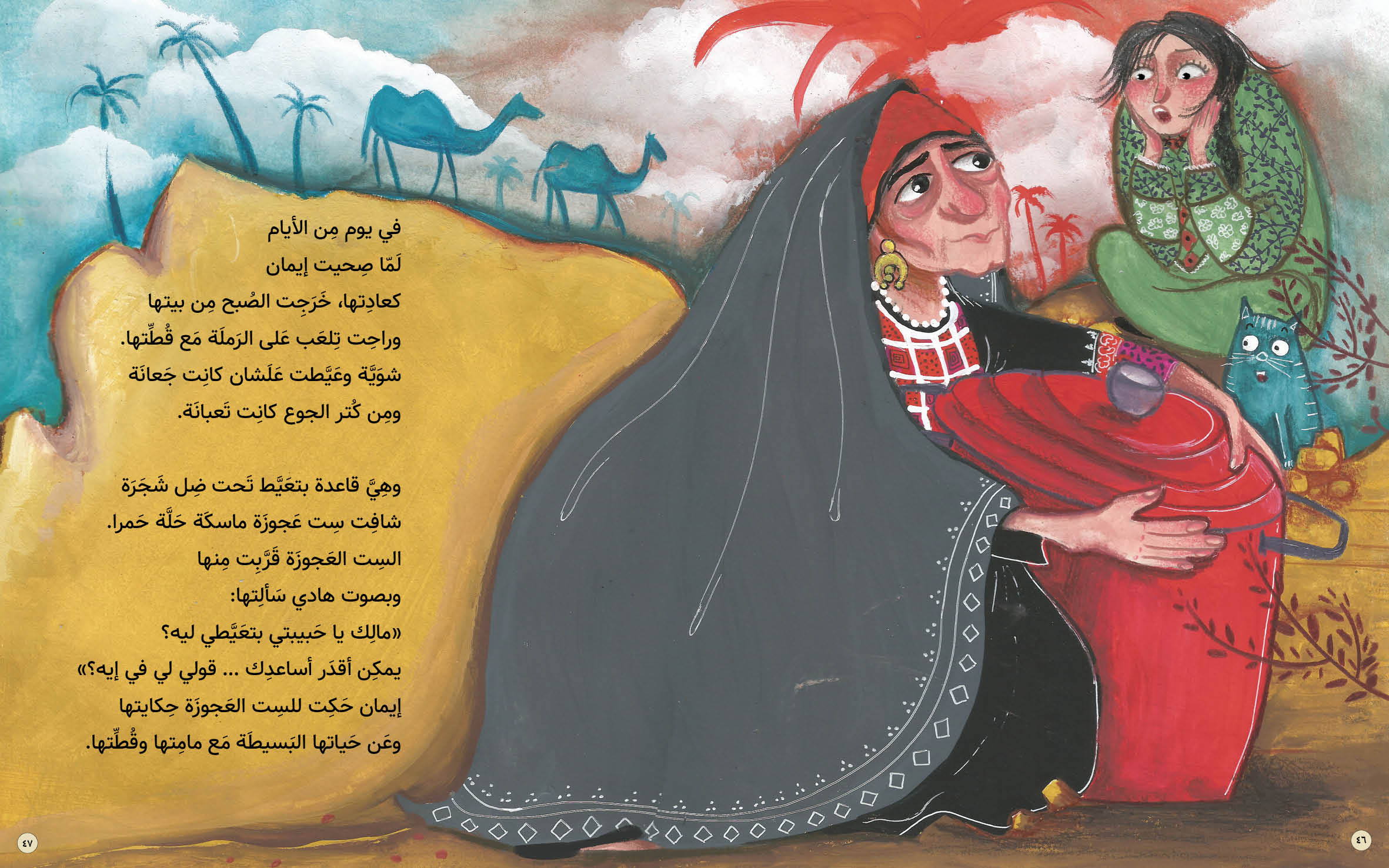 "I didn't start off knowing that I'm going to do different governorates, but I needed to add depth," Shendy said. "So, you're not just listening again to Little Red Riding Hood; you're going to listen to her now in Fayoum with her mom looking like a traditional Fayoum lady. We started with a story from Nuba in the South and finished our journey in the North in Alexandria. Along the way, we visited Sohag, El-Fayoum, Cairo and Benha in El-Qalyubia. And we didn't forget to visit Sinai in the East and El Bahariya Oasis in the West. In each tale, we learn a lesson or something new while enjoying a game. Look in each story for one hidden blue eye, because there are eight that you can spy!"
The stories are also accompanied by drawings inspired by different places in Egypt, with the brush of eight Egyptian female artists, so that the children become subtly acquainted with the various features of the locations. Unique-colored Nubia houses, the Abydos Temple, the sugar cane fields in Sohag, Sinai's Bedouin clothes, Wadi El Rayan waterfalls and the White Desert with its rock formations are among the present illustrations.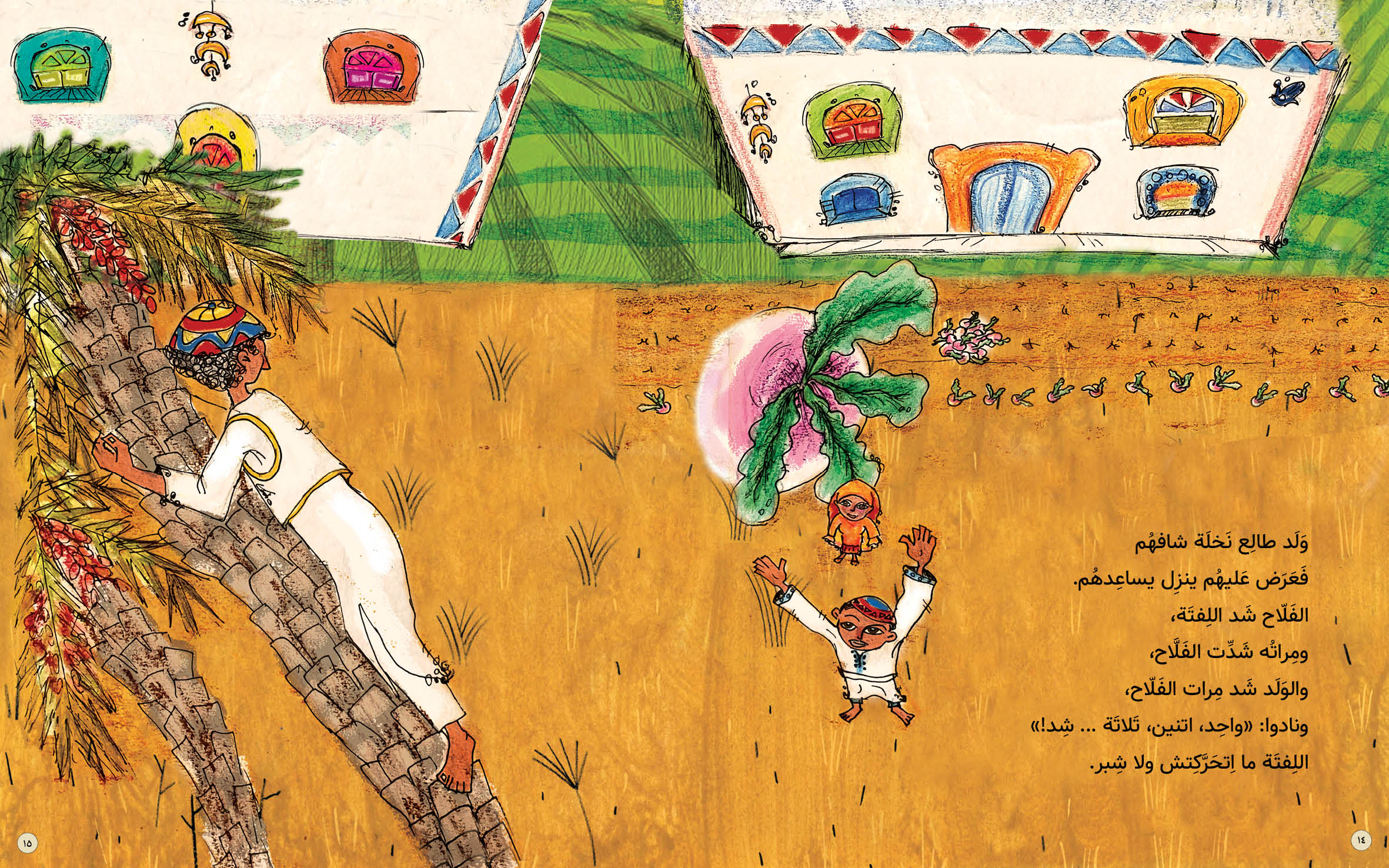 Unprecedented Success
When Shendy published the book, she wasn't sure of the outcome. It was "a gamble," as she describes. She was just testing the waters to see whether others shared the same thoughts of the language of children's books being an issue and a challenge. Not to mention, the book was out for the public in mid-March, at the peak of COVID-19.
"Kan Yama Kan has sold much better than I could have imagined," emphasized Shendy. From March to October, more than 90% of the book's first issue has been sold. In addition, the book has been the number one best-seller in Diwan Bookstores for the past three months, over any other English or Arabic Children's book.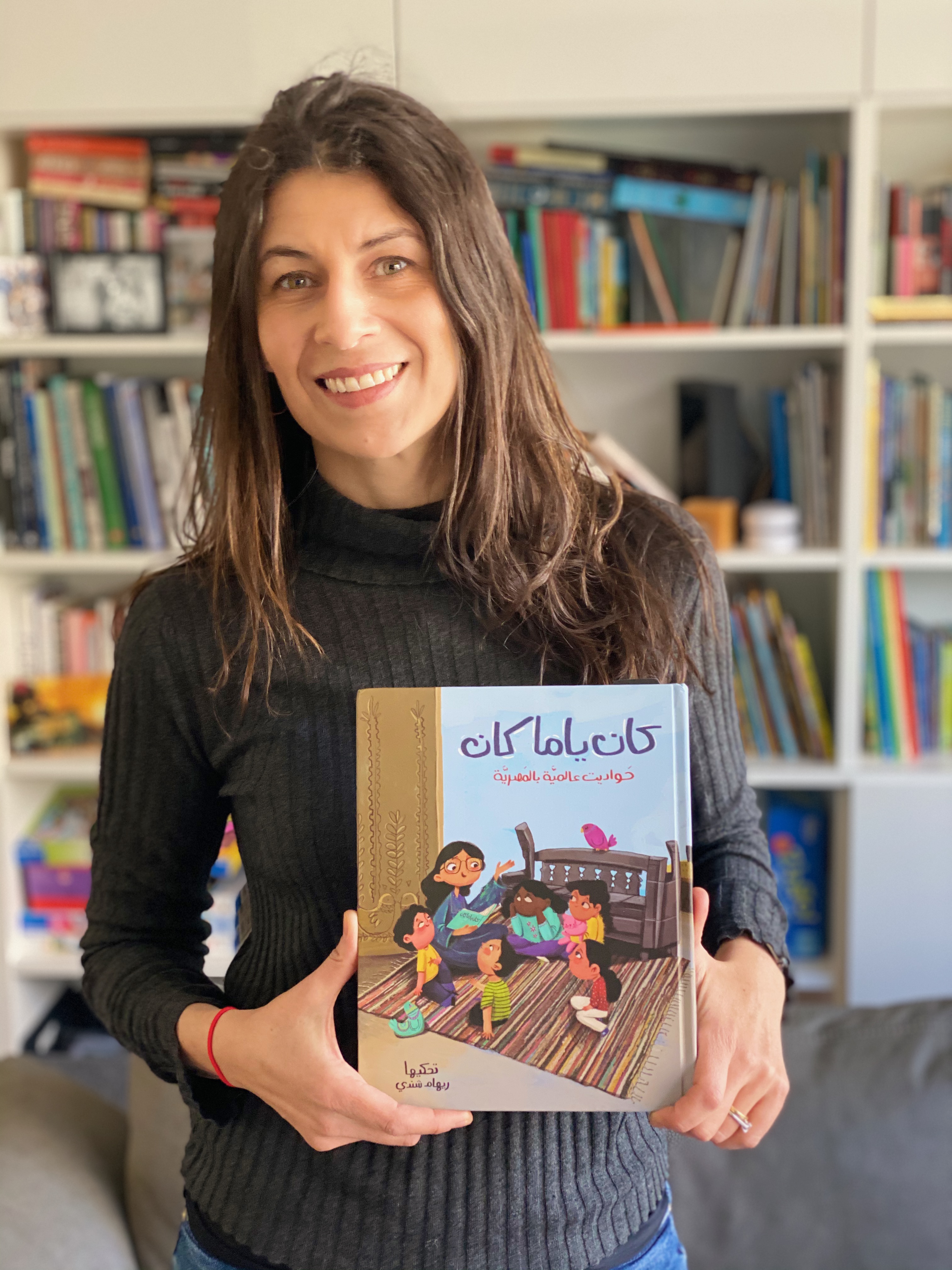 "By industry standards, this is a great success, despite that I have been selling through retail sales. Meaning, I sell to individuals and parents. I have not sold in big deals or bulks to schools, which is more of the industry norm," she adds. "The main point of this data is not to show off a big success, far from that! But to highlight that there is a market, a big one, and there is a demand. I have been selling this book from our sofa in New York and just through Facebook. Can you just imagine if this book was sold by a publisher who has connections and the networks to actually reach a wider audience?"
The Culture of Storytelling
Shendy doesn't recall her family reading to her regularly when she was young, but no one around her had their family reading to them regularly either, so it didn't feel like she was missing much. Yet, she does remember her mom telling her a story about a cat "Bissa" and her grandmother telling her stories about the old monarchy of Egypt and Princess Fawzia being shipped to marry the Shah of Iran and the king marrying his second wife, Nariman, a commoner. She also recalls her dad mentioning his grandmother from Benha telling him scary stories about "Abu Rigl Maslookhah."
"It is clear that we do have a culture of storytelling, but I don't think many do it anymore. Parents are busy, and the world is moving faster and faster," Shendy said. "It is not fair to expect parents to just come up with stories. Yet stories still hold a huge role in children's upbringing. With the increase in literacy rates, reading a book to a child has taken over, and it is equally as good as oral storytelling, if not better."
Twins Ali and Leila are growing differently than their mother. They love getting a book as a present, while Shendy would have felt cheated as a child if she ever got a book instead of a toy for a present. Shendy and her husband developed a habit of reading storybooks to their children almost every day in all literature. Since their father is German, the twins are also exposed to German literature.
"I'm certain that when my kids are older, the most they will remember is that their mom read stories, certainly more than cooking their meals," Shendy jokingly asserts. "I must admit I enjoy it, probably more than them. It's that time of the day when I put my phone down and am fully attentive to them, and we just talk and discuss. I'm dreading the day they will stop wanting to be read to. And it's unfortunate to see the number of parents missing this valuable and quality time that they can spend with their kids and the kind of bond that is formed during this time.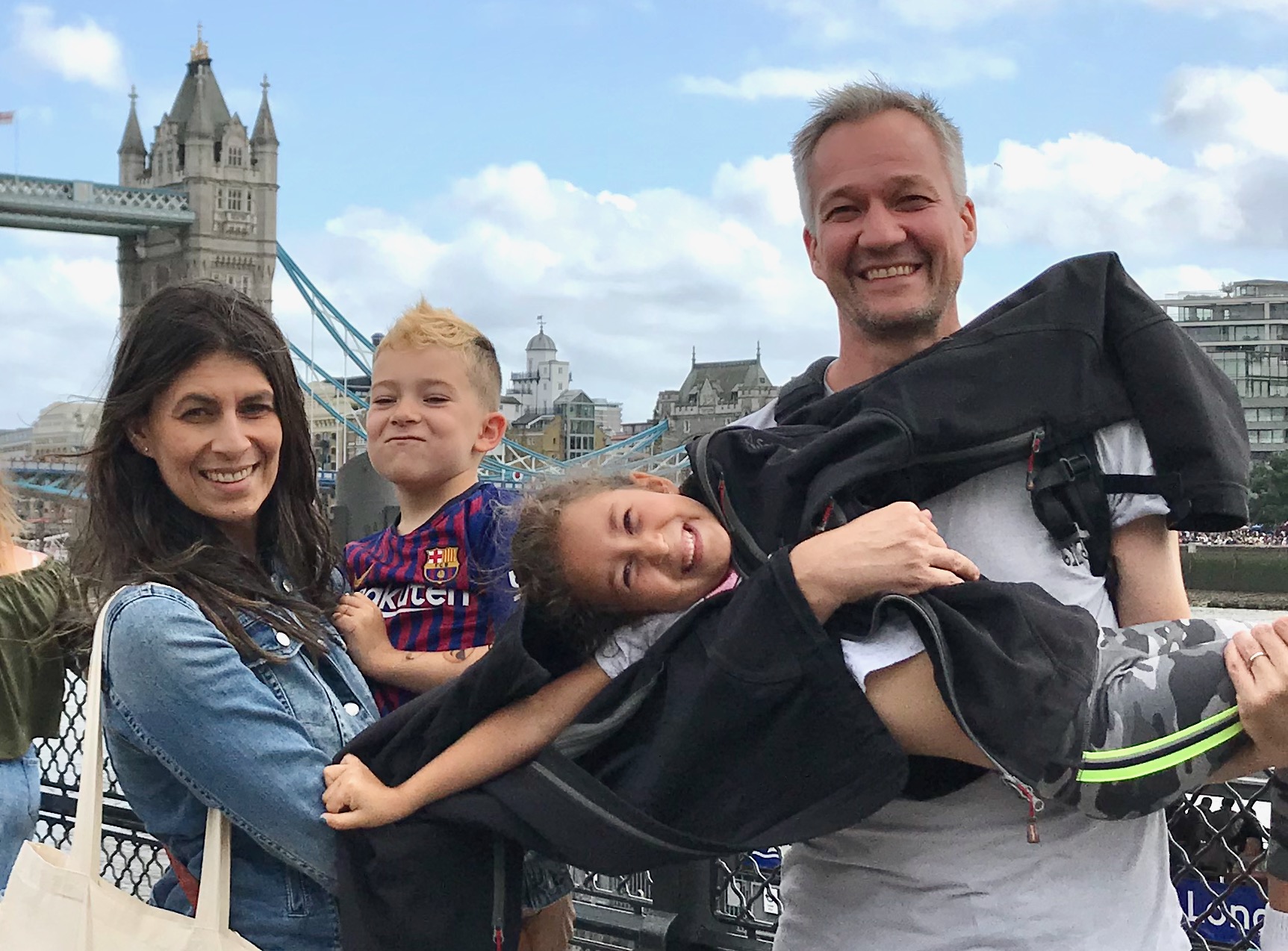 Presently, Shendy is working on two storybooks, each being a single story. This time around, they're of her creation as opposed to folk that exists. She hopes to publish them in early 2021. Additionally, she published an academic paper relating to this topic of Arabic children's literature last year.
"I accept that it is an uphill battle to change entrenched traditional views about our language. The Arab children's book industry, as well as parents, do not link our low reading rates to our language challenge. It is deliberately dismissed despite clear scientific evidence," Shendy notes.
"I believe reading to children builds emergent literary skills that will help our children learn the formal written language later on. I hope the local publishing industry gets on board, but in the meantime, I will continue to work to try to fill this gap," Shendy says.