International Students Make 'Lifelong Memories' During Winter Session at AUC
International Students Make 'Lifelong Memories' During Winter Session at AUC
"I have truly felt welcomed since day one and am very happy with my choice to study here," said Matt Sanderfoot, an actuarial science major from the University of St. Thomas (UST) of his experience at AUC so far.
Sanderfoot, along with several other students from UST and other universities, arrived in Egypt in early January to study at the University during the winter session. Immediately after setting foot on campus, the group marveled at AUC's welcoming atmosphere.
"The main thing that has stuck out to me has been how friendly all of the students are," Sanderfoot said.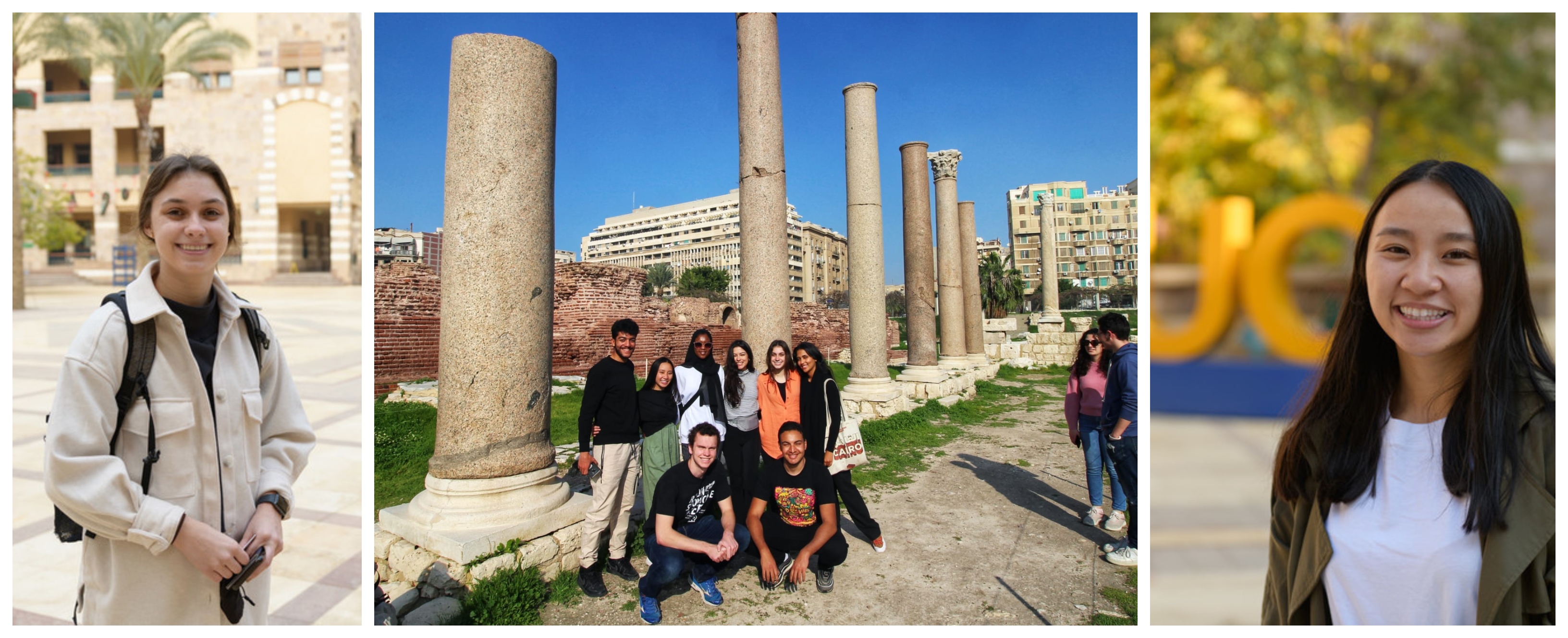 Garrett Smith, a double major in marketing and entrepreneurship from UST, echoed this sentiment, adding that language barrier is not an issue at AUC. "It takes all of us a few days here to realize that it doesn't matter what your background looks like, everyone at AUC is extremely welcoming and open to sharing experiences," he remarked.
Smith continued: "I've already met a lot of cool people who I can happily call friends. They've given me quite an authentic 'Egyptian' experience that I'll carry with me for the rest of my life."
Most students reported that they chose AUC not only because of its academics, but also because of the experience that studying in Egypt has to offer.
"Going to and experiencing a country that is really different from America really interested me," said Deqo Siraj, a social work major minoring in criminal justice and business from UST. "Egypt also has a lot of history that I wanted to learn about."
To encourage that experience, international students are exposed to life inside and outside of AUC's walls during their stay. This year, the Office of International Programs and Services planned free trips for the students to Alexandria, Fayoum, and the Pyramids and Sphinx.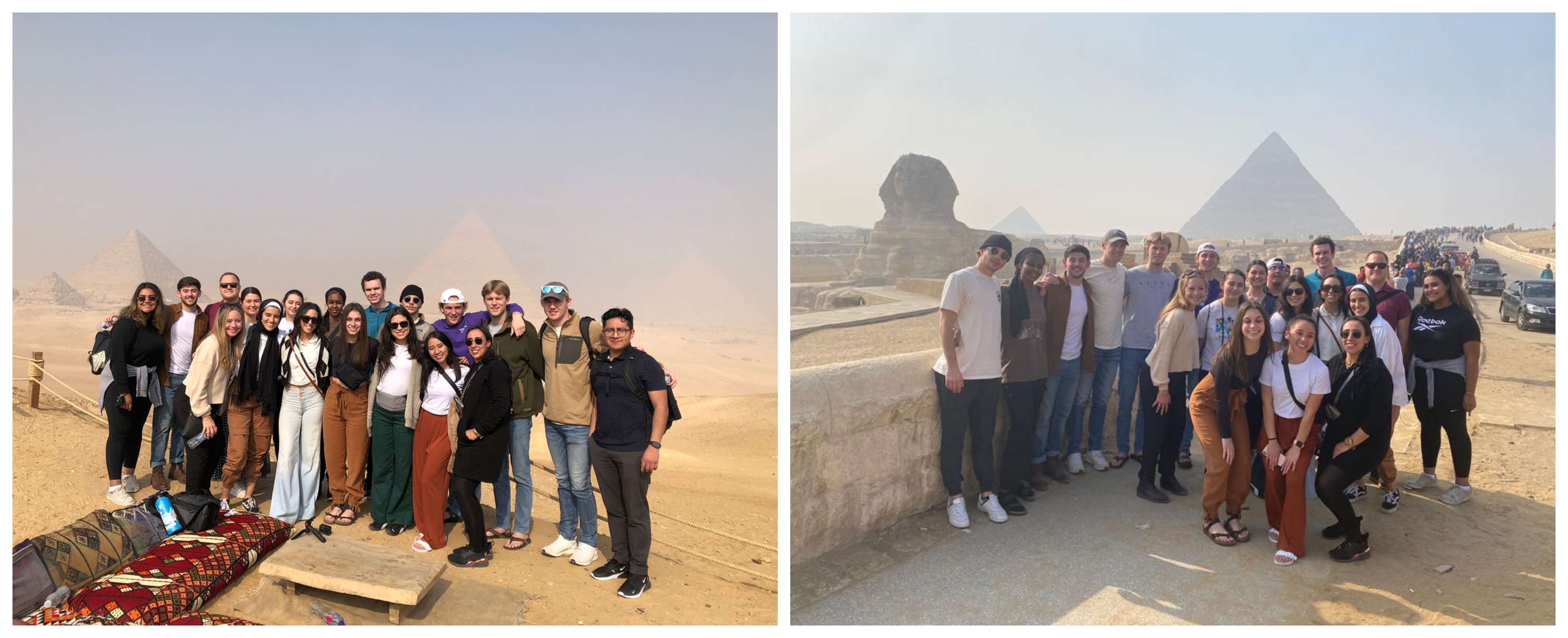 While she had originally intended to study abroad in Taiwan this January, Finance major Anna Nguyen from UST reported that she was happy with her eventual choice to come to Egypt, noting that the trips have been her favorite part so far.
"I absolutely love AUC. It was not what I expected at all, and the campus is beautiful," she said.
Julianna Singer from Austin Community College was looking for an immersive experience. "I picked AUC to be able to formally involve myself with the Egyptian community while studying psychology, and I picked psychology courses in Egypt to better understand the community and culture of Egyptians so that when I become a therapist, I can comfortably help Egyptians in America without only implying a Westernized style of psychology."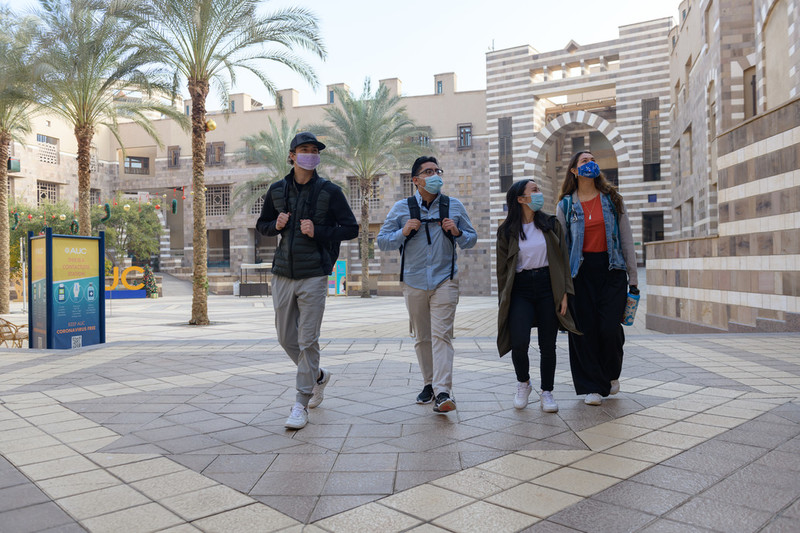 Molly Kimball, a neuroscience pre-med major who has had her sights set on Egypt for a long time, also expressed her satisfaction with AUC's study-abroad experience. "I am so in love with Egypt," she said. "All the memories so far are making it hard to leave in two weeks!"
"The experience outside of the classroom is unforgettable," Smith added. "I wish I had more time."
Singer felt the same way. "I would love to come here for a full year and do everything again. I felt very welcome by Egyptians in my class and in the community. Everyone was eager to have me learn the history and culture with food and class trips. It was overwhelming with excitement each day. I honestly will be sad to leave but pleased to come to Egypt again and explore further into the culture because three weeks is just not enough. I will be communicating with both my main university and community college to share my grand experience."
Sanderfoot also noted: "I wish I was here longer than three weeks, but I'm looking forward to the lifelong memories to come."