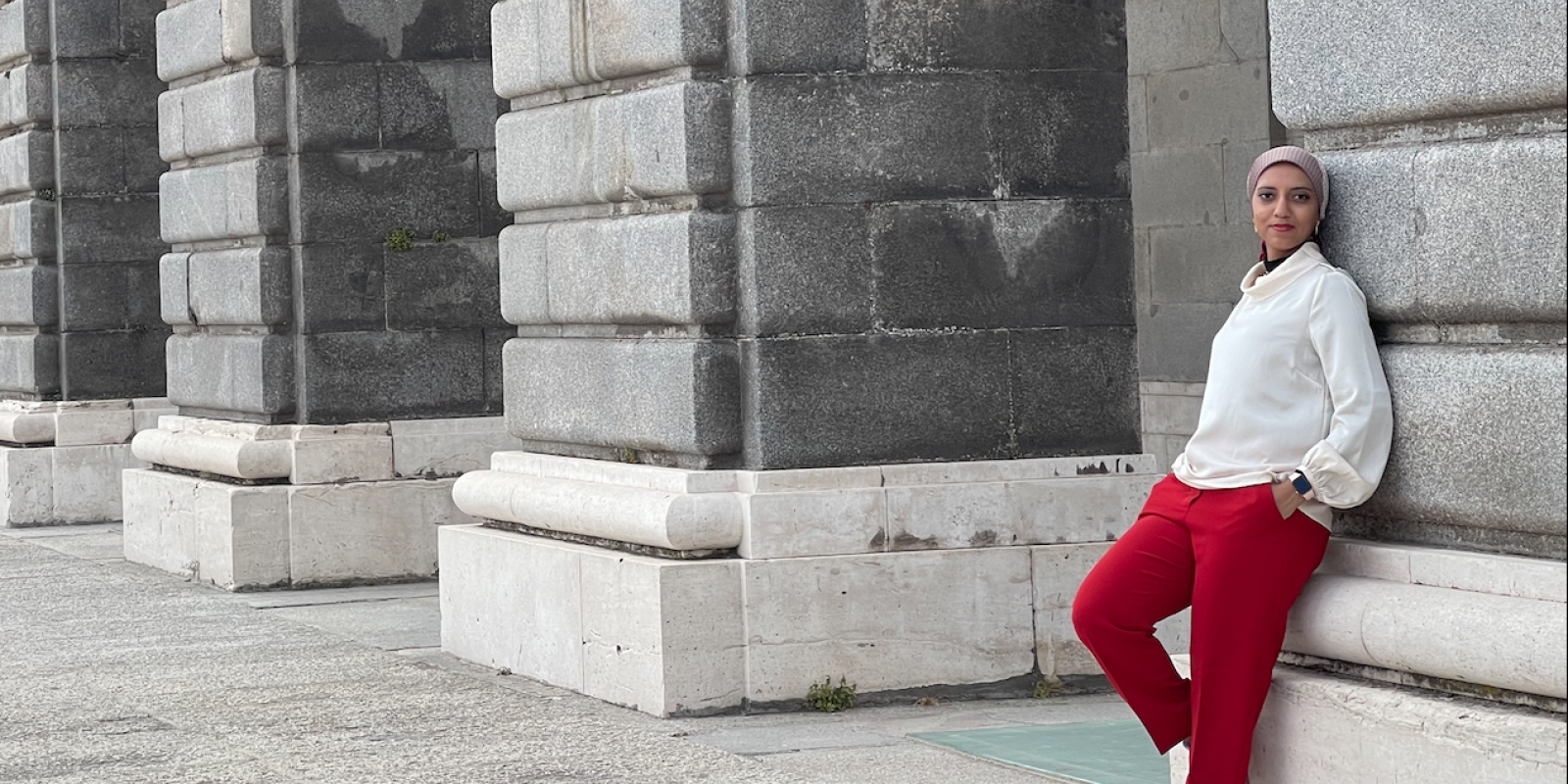 Improving the Lives of the Many Through Education at AUC
Improving the Lives of the Many Through Education at AUC
"Four years ago, I had a dream to study at AUC. After one year, this dream came true, and I started my master's degree at the University," said Lobna Abdalla, Master of Public Policy graduate student and recipient of the Yousef Jameel Public Leadership Program fellowship. "I felt like AUC stands as a crossroad for learning, challenges, ambition, passion, success and distinction. I was correct."
Abdalla aspires to become a professional policy analyst who can convert research papers to policy papers to inform the' strategic decisions of policymakers. "I want to make a change by recommending different effective policies that would help improve life in Egypt. I believe in the policy analyst's vital role, serving as a connection between academic and practical life," she said.
With research being her passion, Abdalla has always wanted to learn more about the various research methods, and that's what she found at AUC. "I learned about different research techniques in qualitative and quantitative methods. Also, I had the chance to study at the Institut Barcelona d'Estudis Internacionals for one semester as an exchange student, and I enrolled in courses about different quantitative methods in research," she reflected.
Abdalla asserted that studying at AUC helps her follow her dreams by enriching her knowledge and widening her scope. Even when she graduates, she's confident that AUC's "quality of education and big network" can help her reach out to the different stakeholders who could be interesting in "improving the lives of the many through creating effective, effective, well-studied policies."
As for her favorite course, it's Research Methods for Public Policy and Administration. "This course changed my vision about research and how to write a good piece of paper. I think that each student at AUC should take the course. It like a cornerstone in anyone's academic life," she said.
Overall, Abdalla considers herself lucky to get the chance to attend many exciting classes at AUC, but she tends to prefer classes in research methods and policies. But most of all, Abdalla is especially thankful for her fellowship.
"The Yousef Jameel Fellowship is not only concerned with selecting good academic calibers, but it also cares about preparing future leaders who can carry on some real on-ground changes through implementing the academic knowledge combined with the hands-on experience and network created during studying," she said. "With the hands-on experience that I am having alongside the academic learning, I believe my studies at AUC can pay off and help me achieve my career goals."
Abdalla has been trying to gain the maximum benefit she can during her stay at AUC. She worked as a research assistant, which "empowered" her in the research field and led her to dream of working at AUC one day. "This dream came true when I had the chance to collaborate on one very promising project at AUC," she said. "I have been working as a researcher in different research agencies since 2014. But none of them managed to capture my heart as AUC did. It is a different story."
And that applies to her personal life outside of the classroom too.
"I have many favorite memories at AUC – it's the place where I got to know a lot of people who became close friends, professors who changed my mind and taught me many things, not only in my academic life but also my personal life," Abdalla asserted. "At AUC, I had the chance to meet the people who believe in me even more than I believe in myself."

She added, "All I said would not have been realized if I did not hear about the Yousef Jameel Public Leadership Program fellowship, and didn't have the chance to meet professors and people who believed in me and decided to help me achieve my dreams. I'm very grateful to this fellowship that believes in the power of youth and helps create leaders who can bring about change in Egyptian society in different fields. Now I can say, I am AUCian and proud!"