"I want to keep the conversation going" — A Personal Note from Nadeen Ashraf, Assault Police Founder
"I want to keep the conversation going" — A Personal Note from Nadeen Ashraf, Assault Police Founder
For philosophy senior Nadeen Ashraf, being a full-time student doesn't mean she won't have time to be at the forefront of a movement that's taken the country by storm.
Ashraf is the founder of the Instagram account @AssaultPolice, which exposes crimes of sexual harassment and aims to prompt authorities to take action against sexual predators. What started as a page to shed light on allegations against one individual has become a platform that gives voices to victims of sexual harassment and a tool for legal and political action.
News@AUC caught up with Ashraf to learn about her personal journey with the page and her hopes for the future.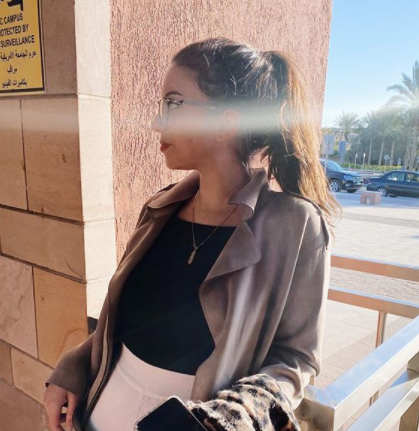 Turning Anger into Action
"Before this all became a movement, I was personally just angry and annoyed that the voices of my friends and classmates weren't being heard, so I decided to take matters into my own hands and create this platform dedicated to exposing these crimes. I wanted everyone to be aware and for some sort of action to take place, but to be honest, I didn't think it would get this big. You can even see it in my early posts, where I tell people to take screenshots and record the content I posted because I didn't think the page would stay up past a day or two. I suddenly just found myself in this role of being the mediator between these girls and women speaking out and the authorities. Even though I wasn't ready for it, I felt like I had to take on this responsibility and do it the best I could to fulfill whatever justice we could get."
The Movement Isn't Getting Any Smaller
"Since it started, I can definitely see things changing. I'm more grateful than anything for the conversations that have been started as a result of this movement: the ones in people's houses, in schools, in friend groups, everywhere. I want us to be able to talk about this openly in society. The root of this movement is destroying the taboo on talking about anything sexual, and I want to keep this conversation going. I am lucky to be working on something I'm passionate about, and I can't wait for the next steps like forming something more official that enables us to financially support survivors of sexual violence, whether with aid, in court, or through therapy. I'm excited for what's to come, and I don't want it to die down anytime soon. I definitely see myself continuing my activism on social media, which is a part of my life that I've always been passionate about but never thought to pursue career-wise. But here we are now. Things just fell into place all of a sudden!"
From One AUCian to Another
"If I could advise fellow AUC students on what they can do to contribute to this movement, I would encourage them to start talking and always try to actively prevent any sort of sexually violent rhetoric from taking place around us and in our community. A lot of our day-to-day conversations include some deeply problematic undertones that contribute over the years to rape culture. Don't laugh at the sexist jokes you feel uncomfortable with just to fit in, don't participate in the social shaming of other students under the guise of 'casual gossip,' and don't doubt yourself when you're experiencing a sexually uncomfortable situation. If you're ever in doubt, trust your instinct, and I also would suggest you contact someone at the student-run Heya Initiative or the Title IX Coordinator Reem El-Moghraby."
Read The New York Times profile on Ashraf, published on October 3.