Gourmet Implements Graphic Design Student Project on Sustainable Packaging
Gourmet Implements Graphic Design Student Project on Sustainable Packaging
As part of their Packaging studio course last fall, graphic design students Amena ElDefrawy, Amanda Ioannou, Hania Gazar, Reem Hasebou, Salma Aly and Noor Sallam worked on envisioning new packaging solutions for the Gourmet brand while considering the environmental aspect and sustainability. The Gourmet team liked the student work, had the most creative group intern with the company last winter and is implementing some of the student designs across its branches.
"Part of our strategy as a design program is to reach out to existing key players in the market and introduce them to our students' work either through direct studio involvement or as jury members on our senior graduation projects," said Bahia Shehab (MA '09), professor of practice of design and founder of the graphic design program. "We see this as a healthy collaboration for our students to be exposed to existing opportunities in the market. This interaction helps students understand their output not only from an academic framework, but also through a practical one."
The students worked on Gourmet's rebranding plan, including brand image, typefaces and visual elements.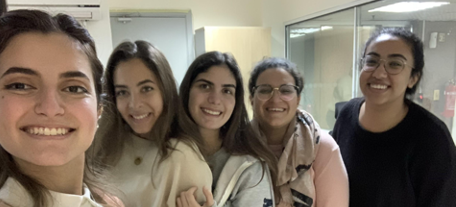 They had multiple tasks in hand, including redesigning the packaging of old products such as the juice bottles and granola boxes, while also coming up with packages for new products, in addition to suggesting retail solutions, and interior and exterior branding,
"The students expressed their satisfaction with their contributions, which also help save the environment," noted Shehab. "We encouraged them to use more sustainable packaging materials, and they were very welcoming to that suggestion. They switched from plastic to cardboard in products where it was feasible and practical to do so."
Each of the six students worked separately on different products, while also working in teams and supporting each other with ideas when needed.
"The super team of talented AUC interns did a fantastic and professional job, and Gourmet Egypt is nothing but proud of the quality of work they presented, " said Dalia Sultan, business development director of Gourmet Egypt. "Their passion for design and their creativity were greatly demonstrated in their work,, where they were able to deliver what's required as per the briefs they were given. .. Their work was actually materialized in our new line of packaging featured in our stores, which was loved and admired, not only by Gourmet Egypt's family, but also by our customers."
El Defrawy worked on reshaping Gourmet's shopping experience by designing sustainable and eco-friendly shopping bags. She redesigned Gourmet's paper, plastic and insulated bags, some of which are now being used in stores.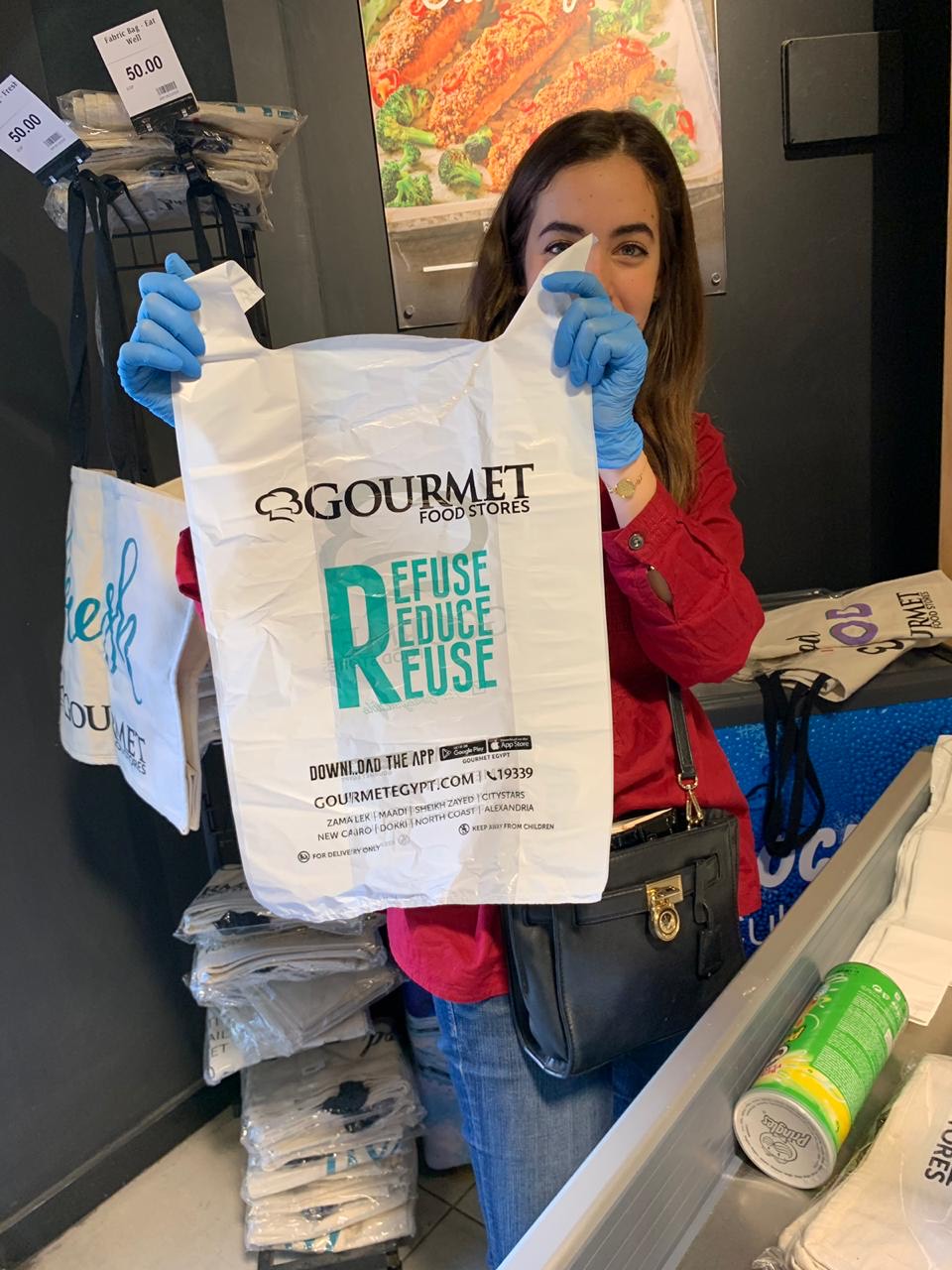 Ioannou worked on the lettering and overall printed design of the rotisserie packages. She also designed the Valentine's Day packages and worked on their lettering "The packages were in all stores on Valentine's Day 2020," Ioannou said.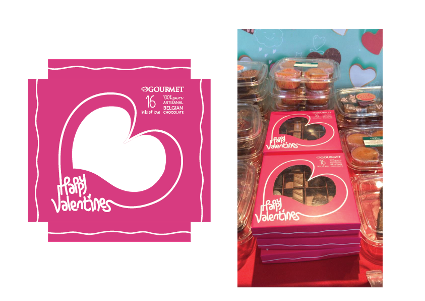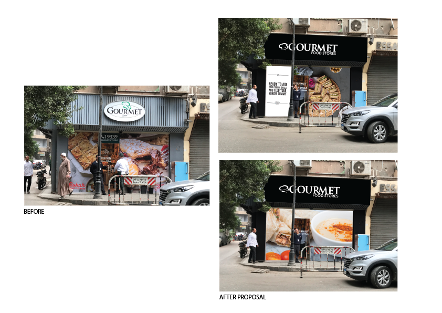 New logo design for the retail shops by Bassna Hassan
El Gazar, who designed Kahk El Eid boxes and Valentine's Day social media posts, also worked on Gourmet's collaboration with Kazyon for a new, healthier line. She designed package stickers, which had to be clear and legible with a simple copywriting.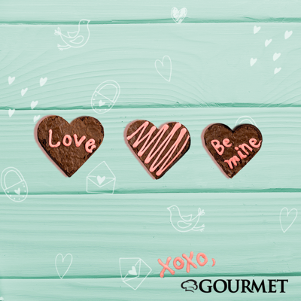 "I chose green since it's easier to understand that this is a cleaner line while still maintaining some orange accents from Kazyon's branding direction," she said.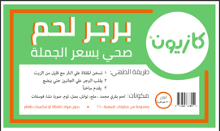 El Gazar also worked on the rebranding of Goumet's No Gluten line. "I went for a neon color to be eye-catchy to anyone with gluten intolerance, who often have difficulty finding products suitable for them."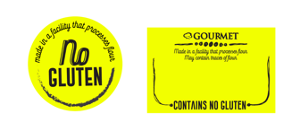 Sallam was asked to design five of Gourmet's existing juice flavors, and the designs have actually been in Gourmet stores as of January 2020.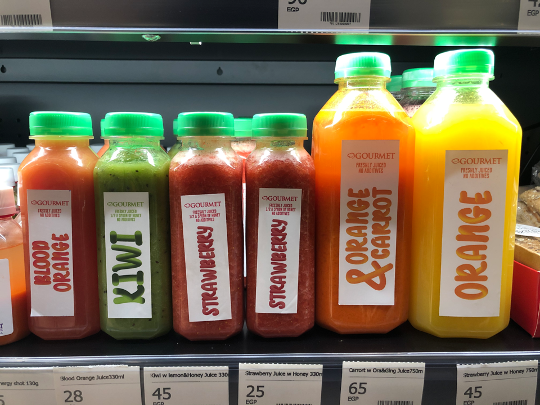 While Sallam was asked to design Gourmet's savory bakery box packages, for which she custom-made the Arabic calligraphy, she also designed their truck to promote their existing mobile application.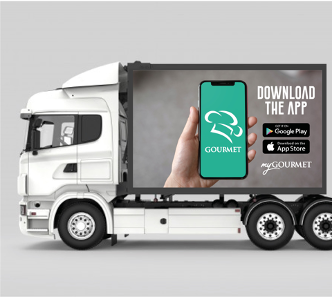 "The first project I was asked to work on was the labeling of a new line of terracotta baked goods for Ramadan," said Reem Hasebou.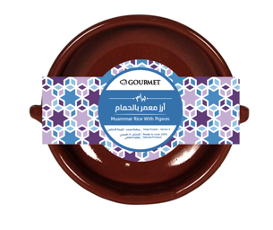 Hasebou also worked on redesigning fava bean packaging for different recipes.She also redesigned stickers for the Gourmet's soups.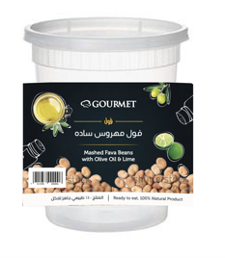 Aly worked in the website department. She photographed, edited, retouched and resized more than 400 images. She also suggested website user interface design solutions and redesigned the food allergy and category icons.
"Overall, I believe that we as a team have proven how design has a major impact on the community, people, and environment," said Aly. "Our goal was not only to be only consumer conscious, but also environmentally conscious. We achieved that by reducing current packaging material and shifting to more sustainable material, while maintaining the brand's identity."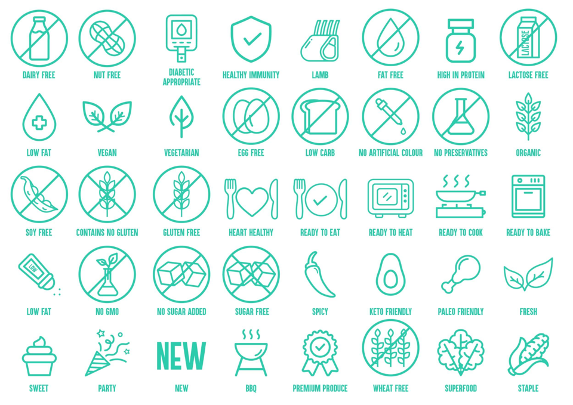 "As an educational institution and a design program in the heart of the Arab world, we see a lot of potential for the creative industry to offer solutions that are at par with the offering of leaders in the global economy," said Shehab. "We can only hope that our students will be going out to the world and creating the change that we all need."