Going Global: AUC Students, Alumni Shine at World Youth Forum
Going Global: AUC Students, Alumni Shine at World Youth Forum
AUC students and alumni were active participants at Egypt's second World Youth Forum, a global platform for young people from around the world to come together, exchange ideas with top policymakers and recommend initiatives for making the world a better place.
Aya Ateya '07, '12, public coordinator of the World Youth Forum, delivered the closing speech, where she spoke about youth successes and challenges, calling on youth from around the world to rise up and feel empowered to make their own decisions.
In addition, Basma Serag '13, '17 was responsible for the Startup Vein, a hub for entrepreneurs and startups. There was 12 international startups, 17 Egyptian startups, 5 incubators and a number of other initiatives in the Startup Vein. "The Startup Vein provided an arena for entrepreneurs pioneers to share their experiences – including challenges and successes – as well as network with World Youth Forum participants that came from different backgrounds," explained Serag.
She also ran "Freedom.e," a space for forum attendees to take part in activities, experience new technologies, interact through games and discover new cultures. "Enjoy, Explore and Experience were the keywords that defined activities that took place in the Freedom.e," Serag stated.
The 10 AUC student participants attended sessions on a range of topics, giving them an international perspective and the opportunity to express their thoughts on how to make change. "The experience itself is one-of-a-kind; it can't be described –– attending panels and talks by the people who actually change the world to a better place, and meeting and having a quick chat with all of the people leading this country and the world," said Mohamed Mahmoud Abd El Sattar, petroleum engineering major, describing how he got the opportunity to meet world leaders and influencers, including the grandson of Nelson Mandela, Zondwa Mandela, and his wife. "That's besides the exposure to different people and cultures coming from all around the globe. We  shared thoughts and experiences on how the future will be like for youth."
For Radwa Elhelw, mechanical engineering major, the diverse topics covered in the sessions were of great benefit. "We attended workshops on sustainability, peace, the seven pillars of Egyptian identity and technology," she said.
The forum provided a chance for participants to mingle with youth from around the world who have similar aims and goals. "I'm honored to [have been there] experiencing this conference ­­–– a huge and amazing event," said Shahenda El Defrawy, integrated marketing communication major. "I interacted with many people from different countries and cultures. Even Egyptians do not know each other's cultures, values and beliefs when they come from different places. I met people from Malaysia, India, Yemen, Bahrain – and a lot more. We also attended sessions about different topics that enriched our perspectives and ways of thinking."
For Anissa Bek, another AUC student, this wasn't her first time to attend an international event, but it was her favorite. "When I first applied to the World Youth Forum," she noted, "I expected it to be just another conference on current affairs and youth that I can attend to further my knowledge, since youth empowerment is related to my career interest. I didn't expect that I'm about to have one of the best cultural experiences of my life."
Bek commended the "amazing performances by great artists and talks by inspirational speakers," as well as the chance to take part in fun activities and, "most importantly, make new friendships."

Not only was the event led by Egypt, Bek noted, the World Youth Forum brought in large delegations from various Arab and non-Arab countries. "It allowed us to act as ambassadors to our individual countries and helped bridge the gap between Arab and Western youth," she reflected. "It was simply us talking."
She added, "The diverse conversations and international dialogue truly enriched my views of the world around me. I'm so grateful for this experience, the people I met, the things I learned and everything the World Youth Forum 2018 offered me. If I go back in time, I'd apply over and over again. 
The 10 AUC student attendees are: Ahmed Ashraf Abdelalim, Shady Wael Mostafa Shendy, Radwa Mohamed Elhelw, Shahenda El Defrawy, Tarneem Wanis, Mohamed Mahmoud Abd El Sattar, Haroun Mohamed Tharwat, Mariam Youssef, Anissa Bek and Khaled Essam Mohamed.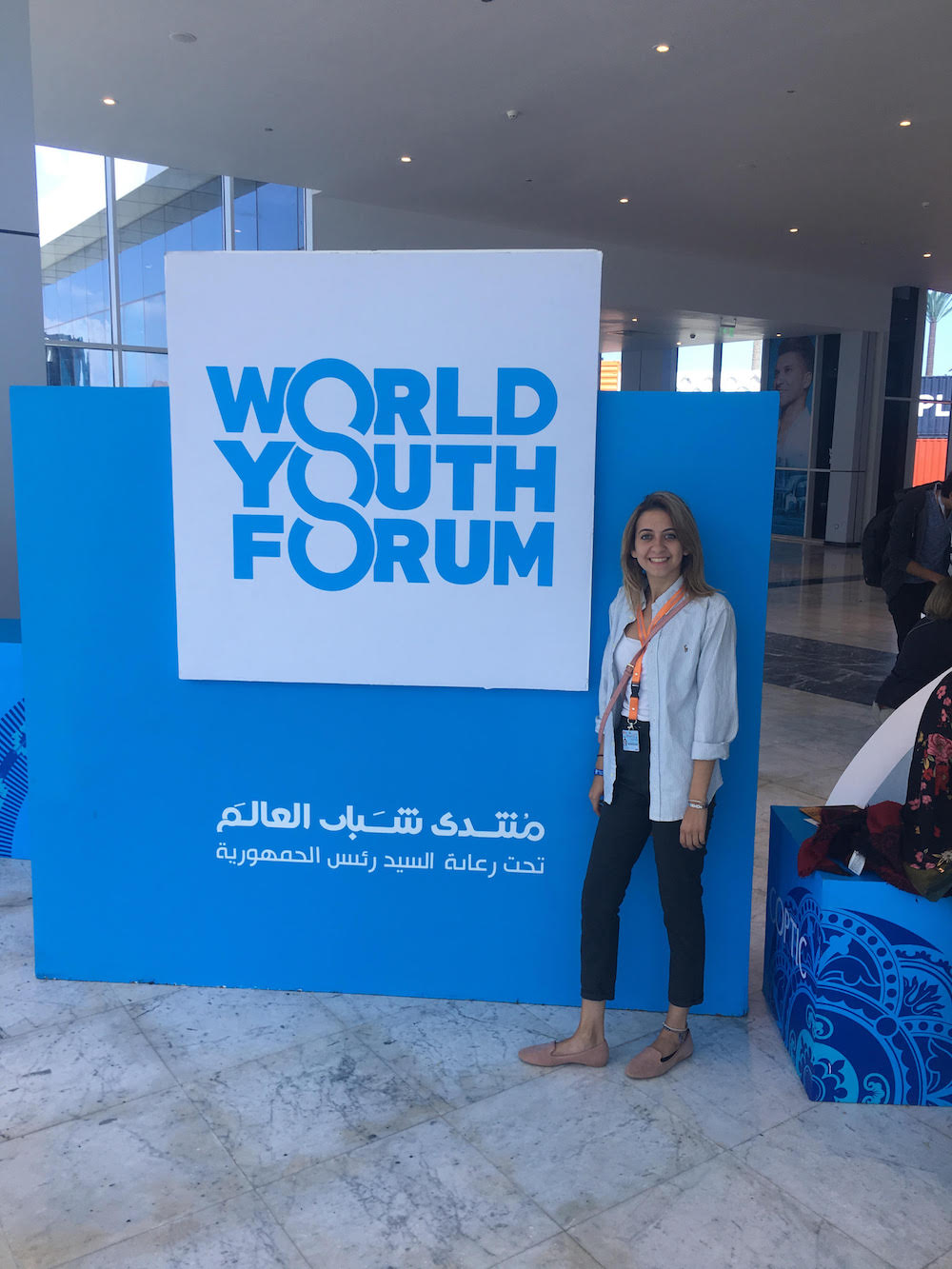 Shahenda El Defrawy, integrated marketing communication major, is one of 10 AUC students who participated in the World Youth Forum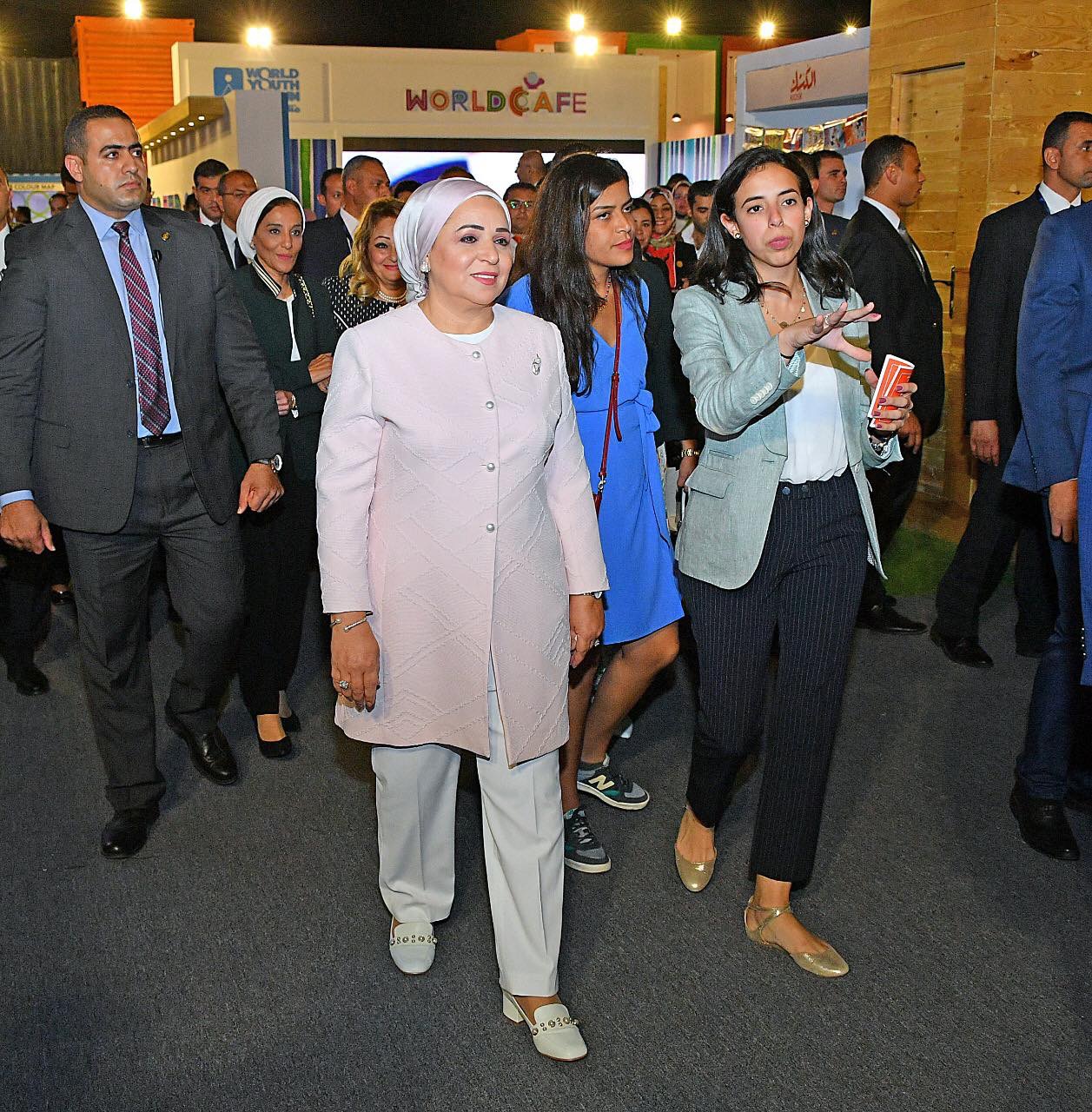 Basma Serag '13, '17 was responsible for managing the startup Vein at the World Youth Forum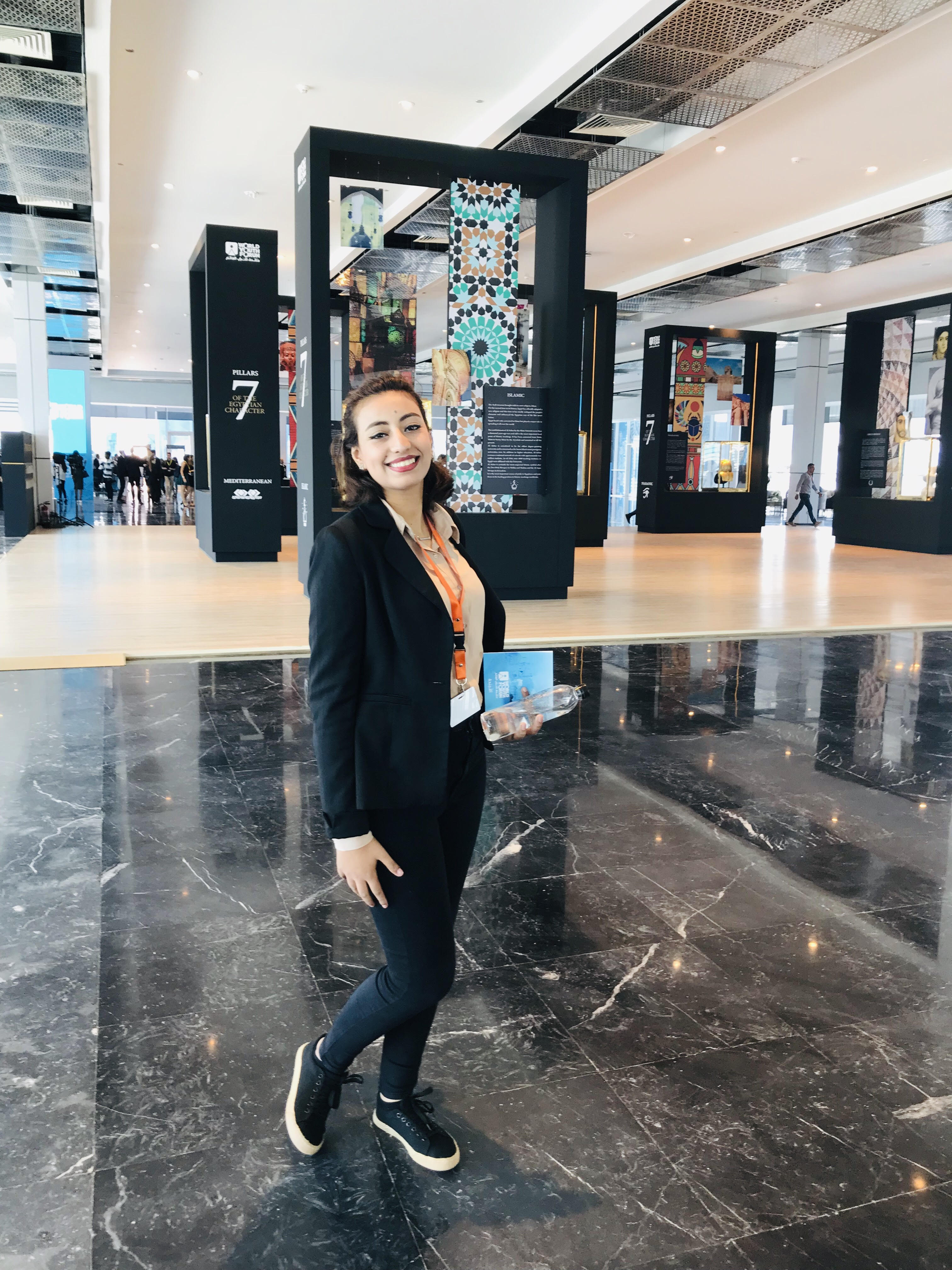 Radwa Mohamed Elhelw, mechanical engineering major, especially enjoyed the diverse workshops at the forum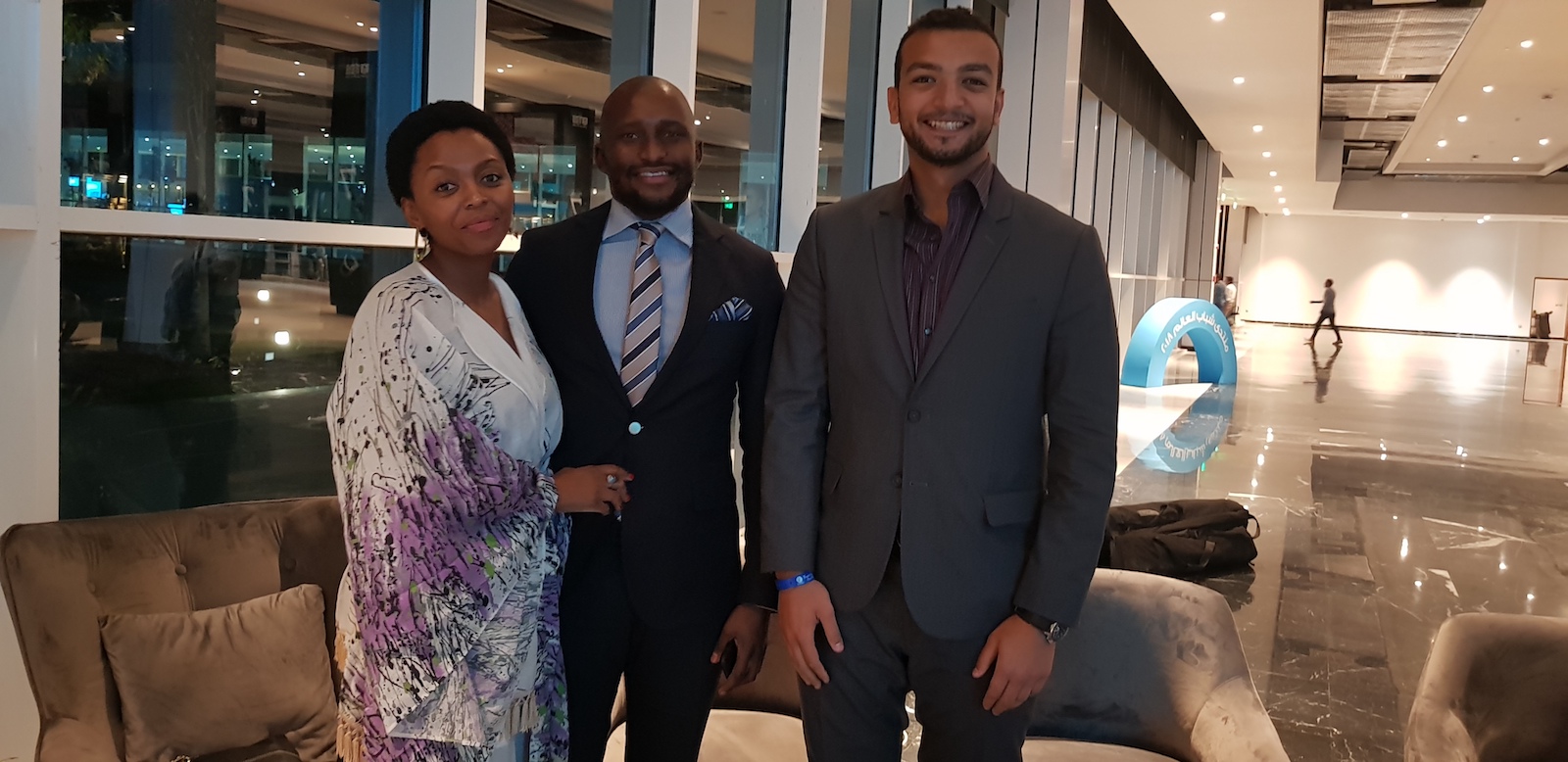 Mohamed Mahmoud Abd El Sattar (right), posing with Nelson Mandela's grandson Zondwa Mandela and his wife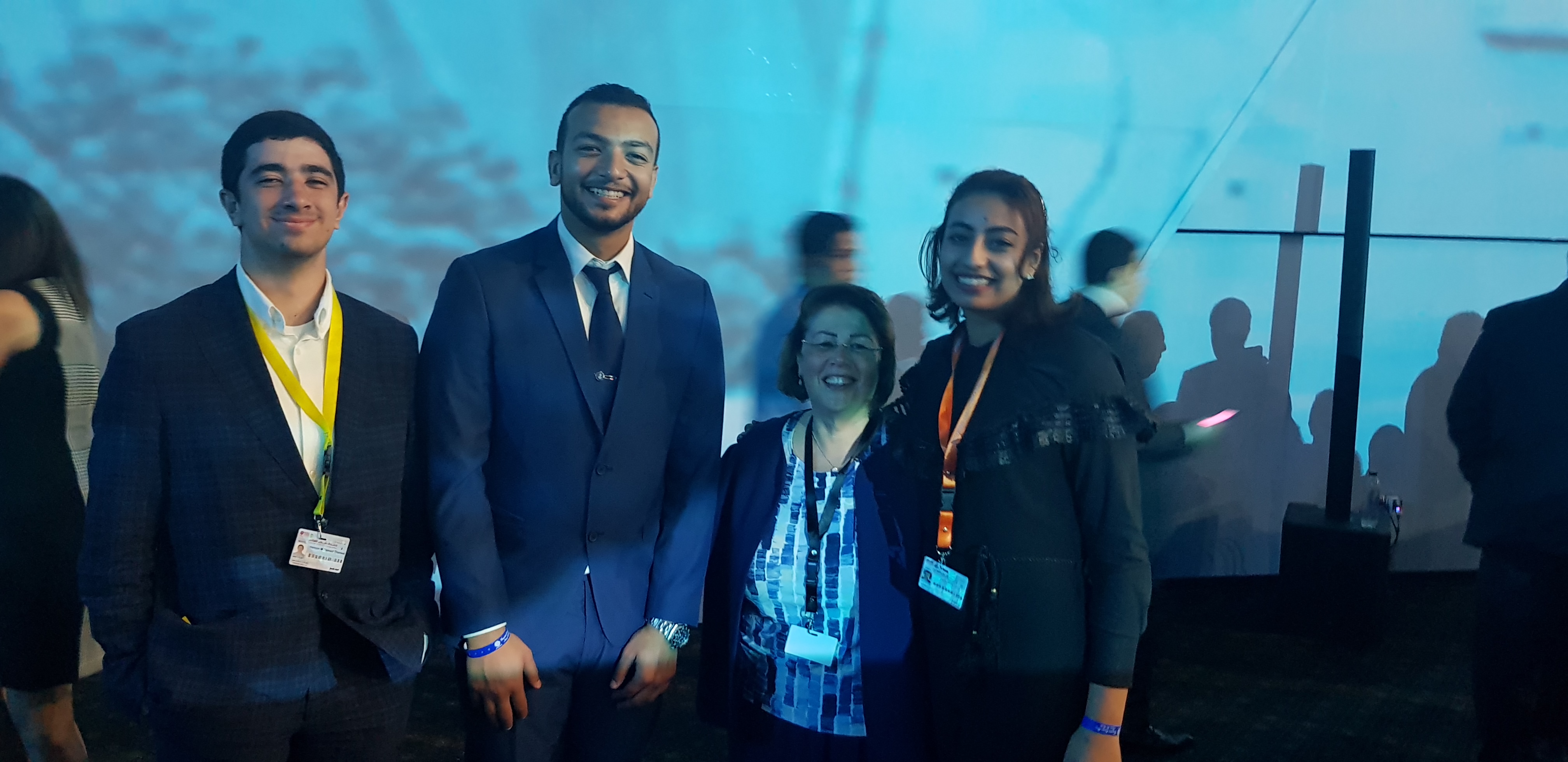 Mohamed Mahmoud Abd El Sattar (center) with AUC's Vice President for Student Life Deena Boraie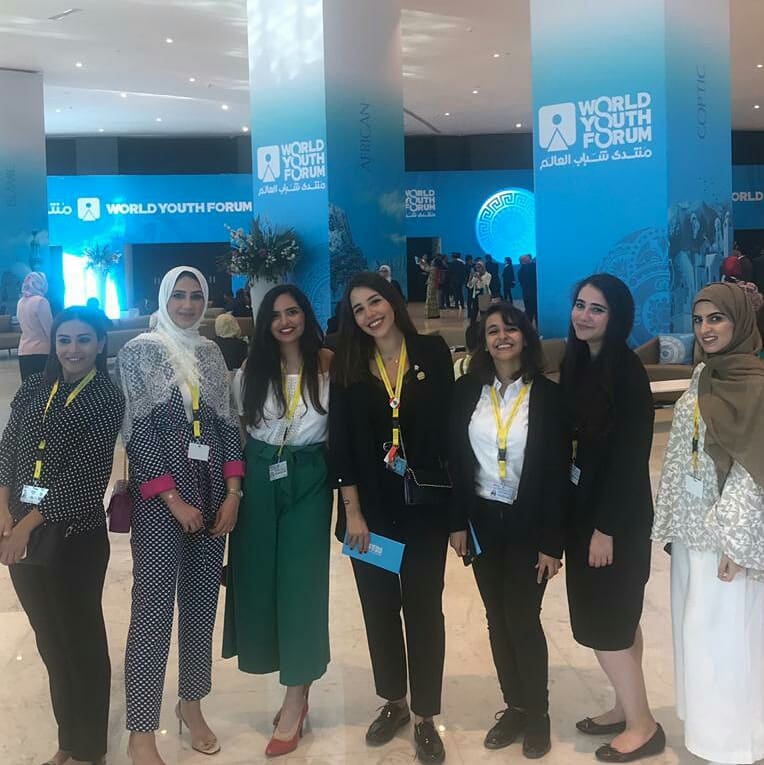 Anissa Bek (center left) with international friends she made at the World Youth Forum