Getting the Ball Rolling: A Q&A with AUC's Athletic Director and Head Football Coach, Robert Reasso
Getting the Ball Rolling: A Q&A with AUC's Athletic Director and Head Football Coach, Robert Reasso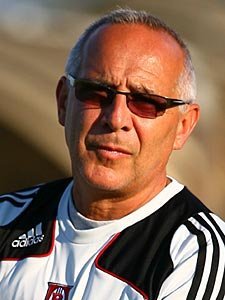 Coaching football isn't just about scoring goals; it's also about setting them.
News@AUC met with Robert Reasso, AUC's new athletic director and football head coach, to learn more about his plans for AUC's Office of Athletics and football team on and off the field, ask about his favorite sports teams, discover why he "gets a kick" out of working at AUC and more.
Q:  When did you get your start working in athletics?
A: I started as a player. I played with Pfeiffer University and then got my Master of Education from Springfield College of Massachusetts. The soccer coach at Springfield was phenomenal, and he really got me interested. I coached some high school football, then started coaching college. I was really fortunate and got a job at Rutgers University. I was there for over two decades coaching soccer. Then I transitioned to working as an athletics director. First, I was a director at the University of Southern Maine, and later, I got recruited back to my alma mater, Pfeiffer. There, I was vice president, athletics director and soccer coach. It was great because they won one game the year before I got there, and three years later, we were undefeated national champions. I had tremendous players.
Q:  What made you decide to take on this new position with AUC?
A:  Originally, I knew about AUC because I recruited here. I had seven players at Rutgers from AUC, so I had to come to Cairo. At that time, roughly where we were standing was still a desert! I coached Aly Mazhar who went to Be Fit Egypt. I also coached some national team players here, so I already had a network in Cairo. When this job was posted, I realized that I wanted another challenge and something different. I decided to apply. Next thing I know, they offered me the job, and here I am!
Q: What is your favorite part about working at AUC?
A: I love Egyptian people; they're so friendly. Also, my staff is tremendous, and I love my footballers. I find Egyptian footballers to be very talented. I wanted to come here because I wanted to work with the best. One of the things you miss as an educator is teaching, and I have the opportunity now to teach again. I love being on the field with the guys, and I love the campus.
Q: What are your goals as the new athletics director, and what changes do you want to see implemented?
A: When I got here, there wasn't one picture on the wall, and there still aren't, so we're putting up photos of student athletes. Also, we are working on branding ourselves. We're looking to build an athletics website and to use social media to get the word out to the community about who we are. Right now, we're invisible to the world because we don't have a website and people don't know how good we are. Second, the president has allowed me to come in and develop an American-style Office of Athletics, and that's what we're doing. We're cutting down on University sports teams and turning them into club teams. For example, rugby and frisbee are going to become club teams so they can play other Egyptian universities' club teams. Our rugby team still has alumni playing, and that doesn't fit into a college athletic environment, so we're trying to work with the Student Union and the Office of Student Life to have them identified as clubs. Finally, we've started a student athletic advisory committee, something that is very big in the United States. We are having two athletes from each team meet monthly to give us an idea of what's going on with the student athletes. It is also service-oriented.
Q: What has surprised you most about living in Egypt?
A: I tell my friends, at any one moment, Egypt is romantic, exotic and chaotic!
Q: What is your favorite football team?
A: Manchester United Football Club. They're the biggest brand in the world. When I talk about brands, I'm talking about Coke and Apple; they're up on that level. I also kind of have a favorite football team in each country.
Q: How did you feel about France's World Cup win this year?
A: I thought the World Cup this year was phenomenal! It was difficult for me because the United States wasn't in it and Italy wasn't in it, which is my parents' country, but it's the World Cup, so of course, I follow it. And I like the French team! I did think that the Egyptian team could have done better. I think that if they had played in that first game, they might have had a chance of going through. I know the country was in mourning afterward, and since I was coming here, I was in mourning with them.
Q: What is one piece of advice you would give to students interested in playing football and joining the football team?
Well, they have to try out. In the United States, you usually have your team picked out before they come because you recruit. Here, I was shocked how many kids tried out -- 120 kids tried out for our team, and I've cut it down since then. They were all great footballers. You have to come to tryouts incredibly fit, ready to put it all on the line and ready to learn a new system and a new style.