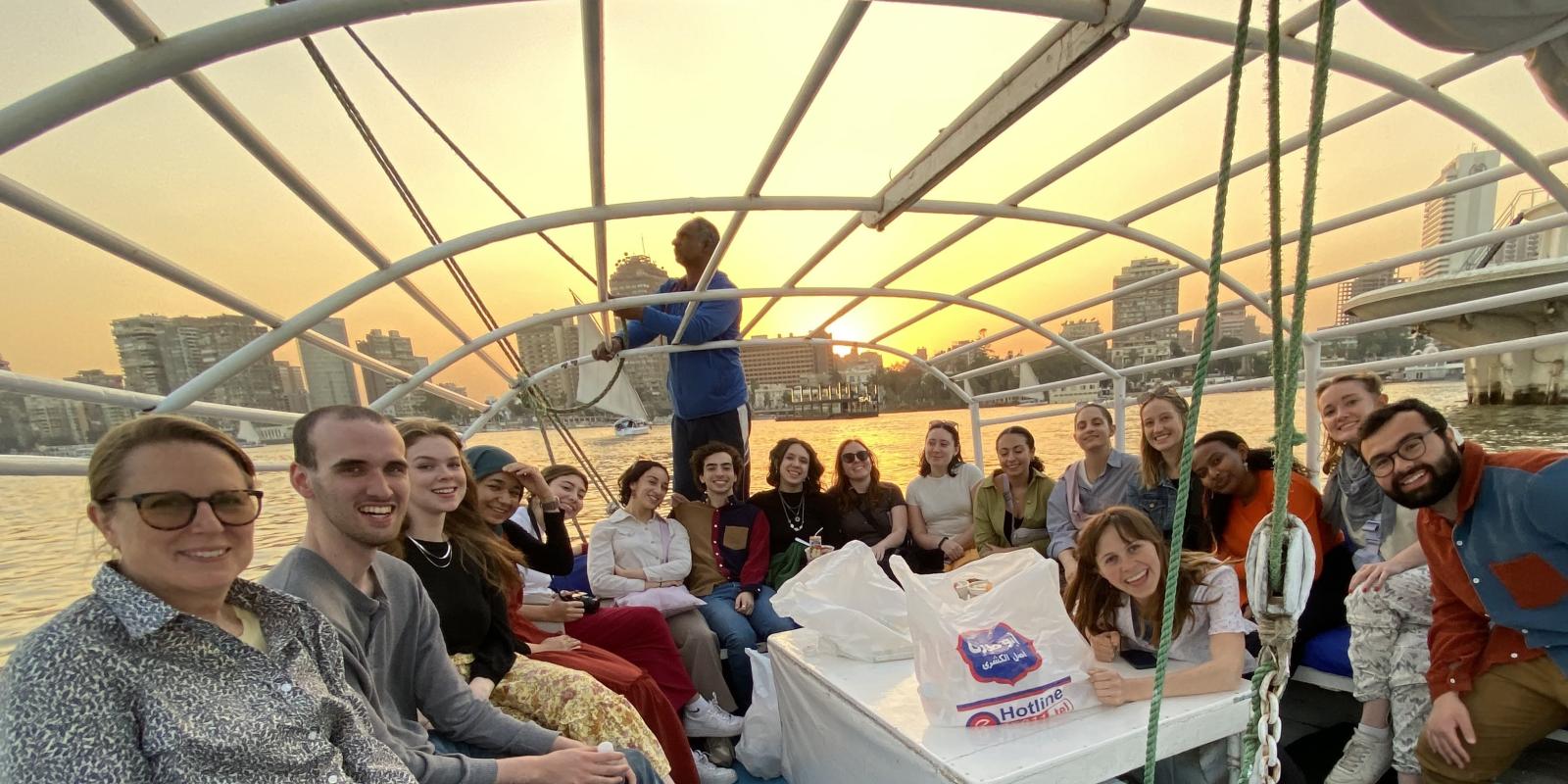 Georgetown Students Investigate Cultural Heritage at AUC, Cairo
Georgetown Students Investigate Cultural Heritage at AUC, Cairo
Students from AUC and Georgetown University collaborated on a joint course last spring exploring Egyptian cultural heritage and the role that organizations and governments play in protecting and preserving history.
"Egypt has such a long history, and it is a country at the forefront of showcasing its history and heritage to its own people and tourists," stated Rochelle Davis (YAB '88, '89, CASA '92), associate professor at Georgetown's Edmund A. Walsh School of Foreign Service. "As a former year-abroad student and Center for Arabic Study Abroad fellow at AUC, I knew the caliber of teaching here, and it seemed like an exciting connection to make with Georgetown students."
Egypt is a natural choice for exploring cultural heritage. The country has seven properties inscribed on UNESCO's world heritage list, from Saint Catherine in the Sinai Peninsula to Abu Simbel in the south near Sudan's border. Additionally, there are 34 sites on the organization's tentative list.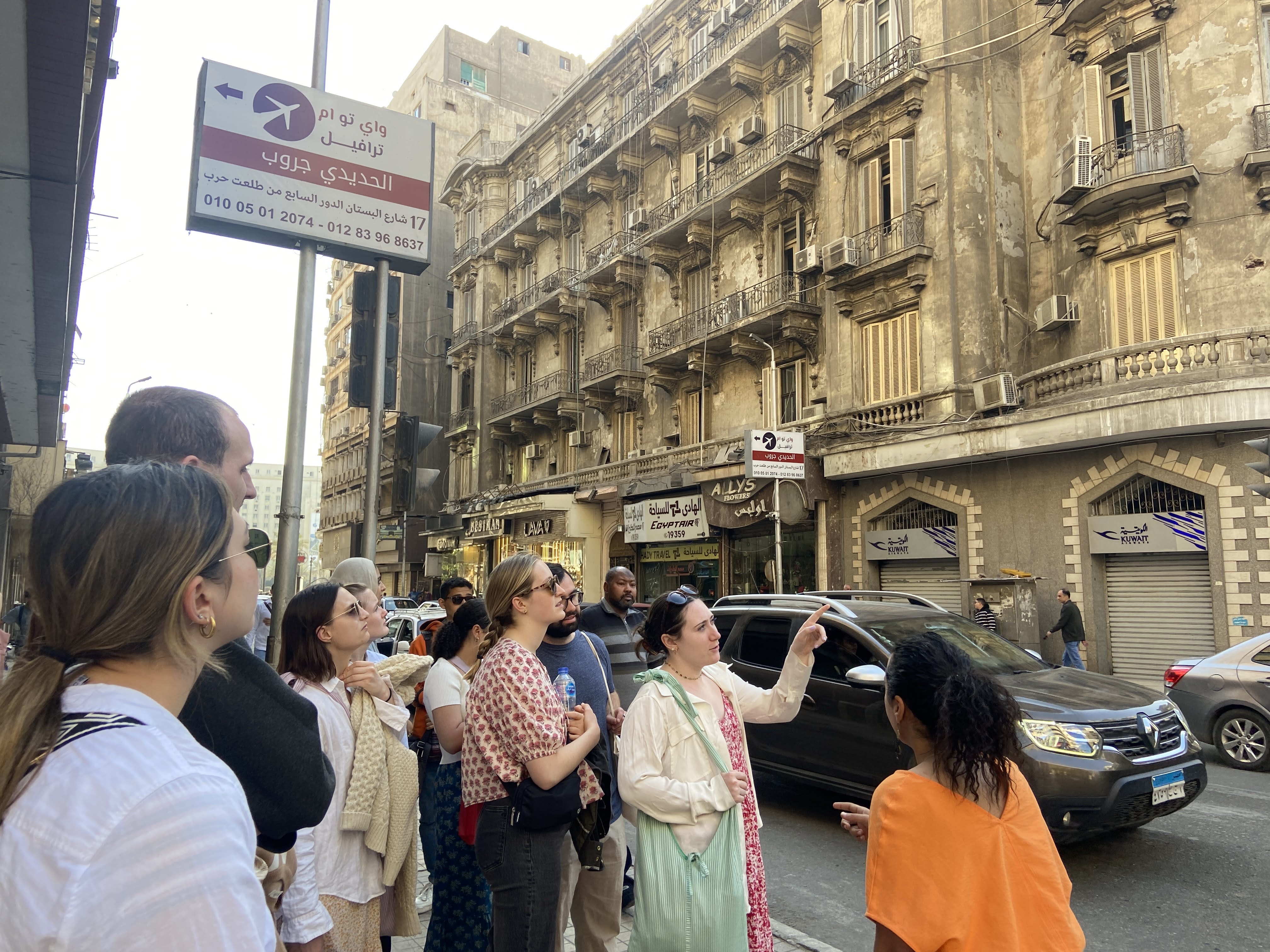 But what constitutes cultural heritage?
Culture and heritage are abstract concepts, which makes the process of defining a specific property as "cultural heritage" difficult. This course aimed to understand who gets to decide what is cultural heritage and what social and political implications these decisions have.
"Cultural heritage doesn't just exist as such — It exists, but has to acquire the label of '"cultural heritage'" — part of what we will investigate is how the cultural heritage categorization goes through processes of codification and adoption," reads the course description. "Global, national, and local agendas and efforts are part of these processes, as are international bodies and law, as well as state and civil society agendas."
By providing an academic framework to this abstract question, the class asked students to address the roles of tourism and museums, changing environments and climate change, political forces, wars, ideologies and how people advocate for or against defining specific places as cultural heritage.
Bahia Shehab (MA '09), professor of practice in AUC's Department of the Arts and course leader, emphasized the courses experiential learning opportunities, such as museum visits, concerts and lectures from Egyptian visionaries — like architect May Al-Ibrahsy and Professor Hoda Elsadda, co-founder of the Women and Memory forum. "We wanted to expose students to culture in Egypt and the Arab world from different perspectives," she said, "in hopes that they would understand how rich and multifaceted Arab culture is."
For the students, "The course provided a platform for comparing cultures on a more comprehensive and relevant level," reflected Nour Hassan '23, a graphic design major. "With the Georgetown students, we were able to delve further into our culture and see it from the perspective of an outsider."
The course culminated in a two-part final project. Georgetown students produced a grant proposal asking for funding to protect a certain cultural heritage project. AUC students then turned the proposal into a visual pitch booklet that aims to entice an external organization to invest in the project.
In addition to a written project, Georgetown students also visited Egypt to see these cultural heritage properties in person. "The trip was fantastic," stated Davis. "Egyptians are legendary for their warmth and generosity and it was so wonderful for my students to experience that."
Photos courtesy of Rochelle Davis