Former U.S. Ambassadors to Egypt Discuss Changing U.S.-Middle East Relations
Former U.S. Ambassadors to Egypt Discuss Changing U.S.-Middle East Relations
"Demonstrations are a manifestation of free speech," said Ambassador Daniel C. Kurtzer, professor of Middle East policy studies at Princeton University's Woodrow Wilson School of Public and International Affairs in a panel discussion with Ambassador Frank Wisner, international affairs advisor at Squire Patton Boggs, at AUC Tahrir Square, moderated by TV anchor Lamees Al Hadidi '87, '90. 
Referring to the student walkout that took place during their panel on December 2 at the New Cairo campus, Kurtzer expressed that protests are always a positive sight to see on university campuses. Wisner agreed, saying that he appreciated the students getting their message across and exercising their right to freedom of expression, but added that he wished they had stayed to listen, ask "tough questions" and engage in dialogue with him and Kurtzer. 
"We would have listened to them, and they could have listened to us," Kurtzer said.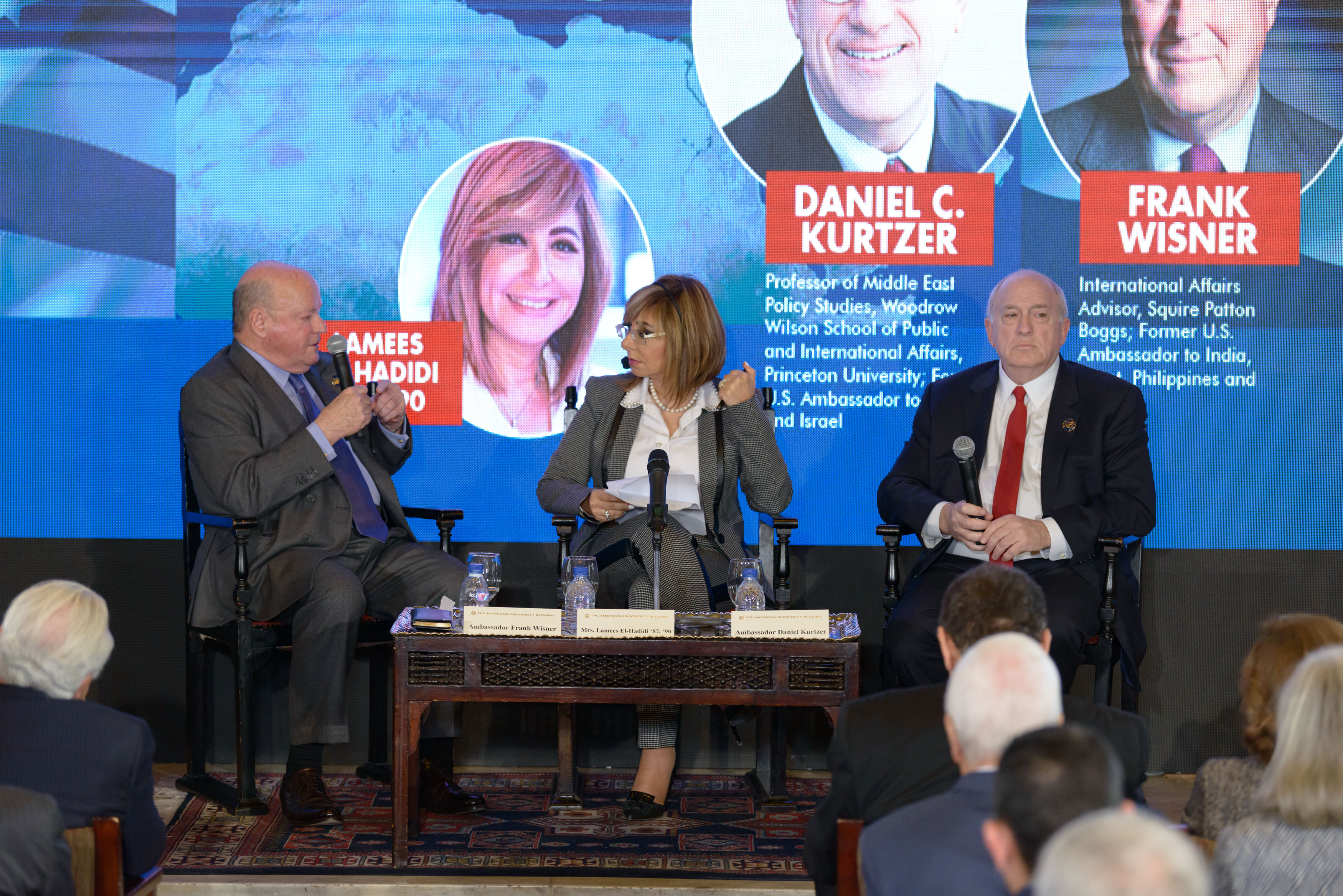 The panel titled, "Perspectives on the United States and its Relations with Egypt and the Middle East," touched on topics such as the impeachment process currently underway in the United States, how U.S. policy in the MENA region has changed under President Donald Trump's administration and the dynamics of the Israeli-Palestinian peace process. It was a full house in Oriental Hall, with current U.S. Ambassador to Egypt Jonathon Cohen and former Egyptian Minister of Foreign Affairs Amre Moussa among those attending. 
The conversation moved on to the bustling scene at the U.S. Capitol, as congressmen and women proceed with Trump's impeachment process. Giving an overview of the Trump presidency so far, Kurtzer expressed that the United States has "never had a president this divisive" with an "unsteady administration that's distancing itself from allies." 
Al Hadidi asked that they explain the steps of impeachment and questioned how this will affect U.S. foreign policy. 
 "I think the [House of Representatives] will complete the impeachment process," Wisner said.
"Foreign policy in the United States will take a backseat," he added. "We've already seen how this administration has pulled back from international engagement in its efforts to put 'America first.'" 
With the impeachment process underway and presidential elections approaching in November 2020, Kurtzer noted that there will be a "definite change in direction and style of policy." 
On that point, Al Hadidi asked what that means for the Middle East. Kurtzer laid out the U.S. government's priorities in the region, which include strengthening ties with the Gulf countries, preserving ties with Egypt and pulling back on military presence in places like Syria and Yemen. 
However, both speakers did not contain their disagreement with the way that attaining these goals is being handled by the current administration, sighting Trump's "unpredictability" when it comes to foreign affairs — for example, his decision to withdraw from the Joint Comprehensive Plan of Action, commonly referred to as the Iran deal, and the Trans-Pacific Partnership instead of working to fix them, among other things.
"You can only solve problems diplomatically and politically," Wisner said. 
They carried these attitudes in conversations about the Israeli-Palestinian peace process, noting that the "one-sided" approach of the United States toward Israel won't progress any negotiations. "Trump moved the American embassy and left the Palestinians with nothing," Kurtzer said. "You can't just cut off an entire party in this situation." 
Kurtzer added that the peace process isn't done, however, and both agreed that there needs to be change both on the ground and in U.S. policy for anything to move forward. 
Asked by Al Hadidi for some input, Amre Moussa agreed that the peace process cannot continue without the United States. "The U.S. still has a lot to do in this region," Moussa added, to which Kurtzer said must start off with first "reversing the damage that [the Trump] administration has done."
The discussion ended with talks on Egypt, what the former ambassadors enjoyed most during their time here and what they hope for the country. 
Starting with the U.S. role in the Ethiopian dam negotiations, Wisner highlighted how the United States is facilitating talks and providing a forum for agreement, but nonetheless maintaining Egypt's strategic autonomy — a key factor in keeping the relations on good terms in the future.
Kurtzer mentioned that U.S.-Egypt relations are not all political and recalled some of the projects he was able to work on while serving here. 
"We gave out microloans to women in Cairo to be able to start small businesses; we had a program where we delivered computers to towns outside of Cairo; and we worked with international organizations on water projects in Luxor," he said. 
For him and Wisner, it was the "people to people" interactions above all that made their times in Egypt rewarding.