Egypt's 57357 Children's Cancer Hospital Recognizes AUC's Anti-Cancer Team
Egypt's 57357 Children's Cancer Hospital Recognizes AUC's Anti-Cancer Team
Egypt's 57357 Children's Cancer Hospital Foundation recognized AUC's Anti Cancer Team (ACT) student club for its "distribution contribution in establishing a Volunteer Day at the hospital and effective role in drawing a smile on the children's faces." The recognition was part of a ceremony to celebrate International Volunteer Day.
ACT has been working with and volunteering at 57357 Hospital for several years, and has brought the young cancer fighters on campus for fun days and events.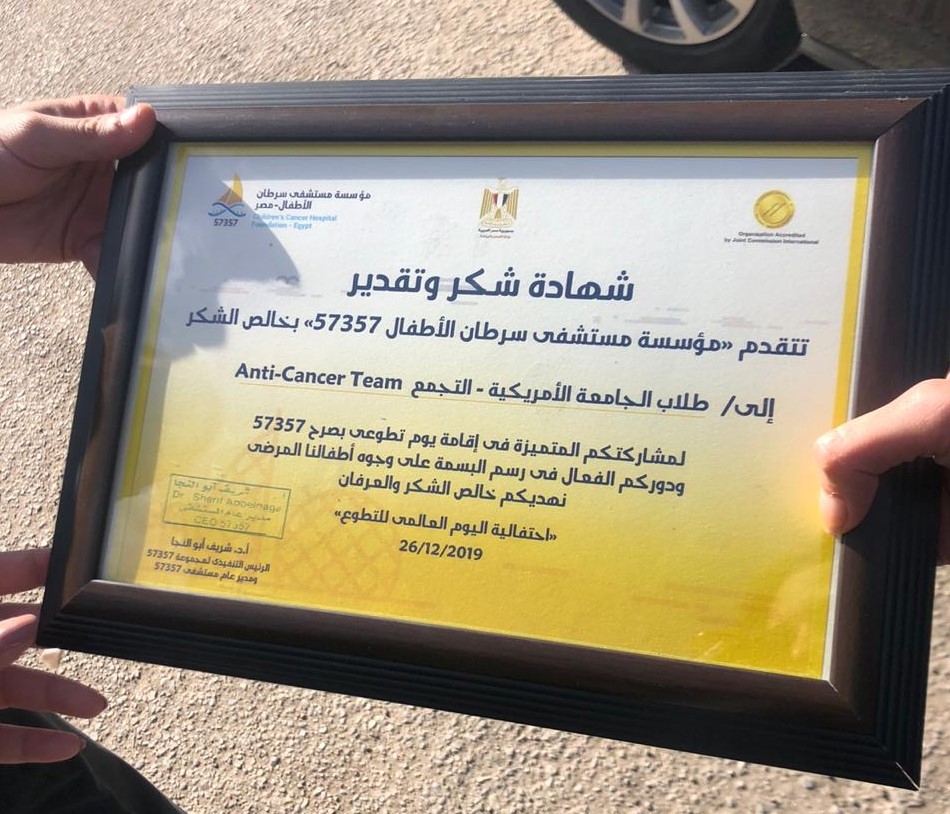 Student Testimonials
"I have been an ACT member since I was a freshman until I became president for a year and a half. This period was full of challenges, achievements, frustrations and excitements. It was a roller coaster of multiple emotions, but I am proud that I am a part of this and that I have contributed to the success of this entity and its growth along with a passionate, dedicated team that puts in so much effort. I could not be happier that ACT has succeeded in achieving its vision. It indeed brought numerous smiles to many people's faces. I will forever be thankful for every second I invested in this entity. This moment of receiving the award was the best proof that we have succeeded and that we did it. I am also proud of each and every person who contributed to our success.
ACT to me is home. It is where I belong, and it is where I would give my all in a heartbeat. This certificate is just the first of many more. To many more achievements and successes!"
Heba Elbarbary
Integrated Marketing Communication Graduating Senior
ACT President
"I've been ACT's operations director for a year, and now I'm vice president. When I first joined ACT, it was for many personal reasons, such as losing many of my loved ones due to cancer. I joined because ever since, I always wanted to contribute to fighting this relentless disease and helping cancer fighters become cancer survivors.
The day we got recognized by 57357 Hospital for our role in drawing a smile on the children's angelic faces was the day I felt the satisfaction that I was always seeking, and it only made me more thirsty and eager to feel it again!
I owe this success and satisfaction to ACT's board and all its members. They are my second family, and they are the real reason behind all of this! I'm thankful to each and every one of them."
Loay Desouky
Construction Engineering Junior
ACT Vice President
"I joined ACT in Fall 2017 as a logistics member and worked my way up through many positions as associate head and head of both operations and HR directories. I have worked in many clubs and occupied multiple positions; however, the closest to my heart is ACT. Since the beginning, I liked the vision of ACT and wanted to be a part of its achievements and success. I worked hard and have been so dedicated to this entity until I became its vice president. I have invested so much time and effort in this club, and I enjoyed every single minute I've spent.
This honor we received is the payback for all the hard work that each and every member put into this club. This recognition is for every member, head and director, who put an effort to draw a smile on the face of a cancer patient. For each and every obstacle, challenge and the hard times we have all been through, we hereby celebrate the honoring of the Anti-Cancer Team at AUC by such an inspiring and successful organization like 57357 Hospital.
This is the jewel to our crown of hard work and dedication to ACT, and this recognition is not for a specific person in ACT. It is for each and every person who has been part of this successful entity. I haven't felt more proud at any point in my life than the moment when we were received our certificate, when the host called our name and hearing the applause and seeing heartwarming smiles.
Hadeer Aly
Accounting Junior
ACT Vice President