Egypt's Ministry of Tourism Wins the World Travel Market's 2019 Global Leaders Award for "Outstanding Contribution to the Industry"
Egypt's Ministry of Tourism Wins the World Travel Market's 2019 Global Leaders Award for "Outstanding Contribution to the Industry"
Egypt's Ministry of Tourism recently won the World Travel Market's 2019 Global Leaders Award for Outstanding Contribution To The Industry at the biggest event of the global travel industry, the World Travel Market, which brings together a total of 5,000 exhibitors from around the globe and gathering more than 30,000 attendees. During the event, Egypt was honored among the very best in the travel industry.
Our very own alumna and Minister of Tourism Rania Al-Mashat '95 was presented the award in appreciation for the ministry's efforts in the past two years to promote tourism and having the biggest impact on the industry, marking the first time Egypt receives the award. When appointed in 2018, Al-Mashat became the first woman to hold the position and the youngest minister in Egypt.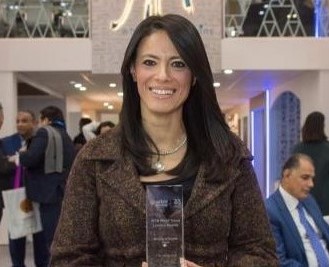 Throughout her career, Al-Mashat has emphasized being driven by a sense of responsibility to give back to her country. "Serving Egypt by contributing to policies that would make the riches of the Nile flow to all its citizens is not only a mission; it's a passion," she said in her chapter of the book, Daughters of the Nile: Egyptian Women Changing Their World (Cambridge Scholars Publishing, 2016). You can read her feature on AUCToday's "Voices of the People" here.
The award reflects another year of robust growth for Egypt's tourism sector, reinforcing its role as a driver of economic growth and job creation. The predominant goal of Egypt's Tourism Reform Program is to have a minimum of one individual from every Egyptian household work directly or indirectly in the tourism sector. The ministry has so far demonstrated that setting policy frameworks is not a theoretical approach but actually executable, as tourism revenues have accelerated, reaching an all-time high in 2018/2019.
Al-Mashat currently serves as a member of the Dean's Strategic Advisory Board in AUC's School of Business.