Doris Cummings Cox: Cairo Chronicle in the 1940s
Doris Cummings Cox: Cairo Chronicle in the 1940s
"An outgoing, amiable, and adventurous young woman" is how Barbara Cox Kozemchak, the daughter of Doris Cummings Cox (1922 – 2012), chose to describe her.
Doris worked as a professional secretary to John Badeau, President of AUC in the 1940s, for three years. "Badeau was a family acquaintance, and mom saw movies of the University and Cairo and was excited to take the position. Her father encouraged her to go, which is remarkable to us, as it meant she would not see her family for three years," said Kozemchak.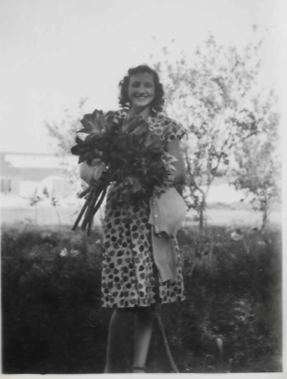 In her letters to her mother, Doris kept a detailed first-hand diary of living in Cairo. She fully embraced her three years in Cairo and on her summer travels to Athens, Cyprus, Beirut, Palestine, and throughout Europe. Doris's time at AUC taught her how to host events both personally and professionally, which became an asset when she got married to an insurance executive. She learned to experiment with different cuisines and became comfortable talking with people of all nationalities."
"Mom loved Egypt immediately, as she repeatedly wrote in her letters home. She wrote about 250 letters to her beloved family, which her mother saved," she said. "She first lived in Maadi with an American family, where she took the train into work each day, but soon moved to a flat in Cairo with American friends who worked at the American Legation — now the American Embassy."
Doris particularly loved her job at AUC and enjoyed coordinating and hosting teas for AUC faculty, students, and dignitaries. Despite having the opportunity to meet and date many American and British military officers and war correspondents, Doris remained an ardent supporter of Arabic interests throughout the rest of her life.
Doris's letters included a commentary on the geopolitical events of the day, starting with watching from the AUC rooftop King Farouk's procession to Parliament, where he stopped, looked up, and said, "Welcome to Cairo, Doris!"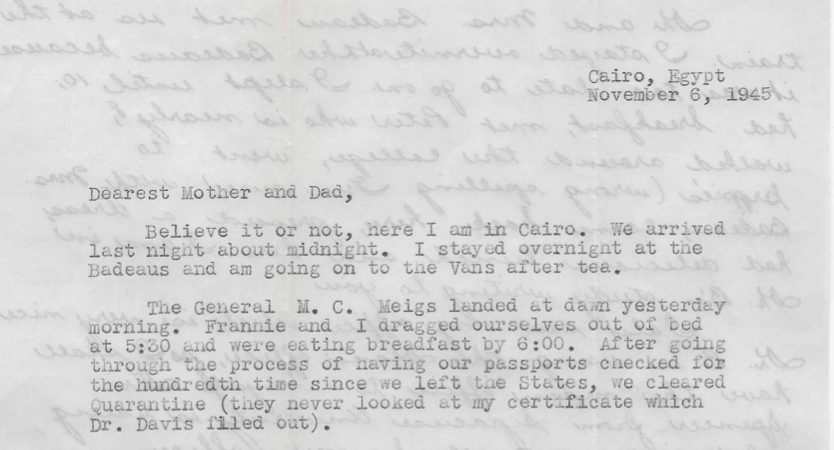 "Mom wrote of the unrest [in Cairo] due to the British occupation, student unrest, and police clashes, and waking up to an explosion in the apartment across the street, an attempt to assassinate an opposition leader," said Kozemchak. "In all of her accounts, she reassured her family that she never felt unsafe and was always treated with respect by local Egyptians. Her most interesting accounts tell of Israel's creation and the pro-Arabic response by Badeau as representative of AUC."
Her letters were filled with stories of her midnight rides to see the Pyramids, tea in Groppi, and trips to find copper treasures at the Mosky —four of her copper plates still sit on Kozemchak's living room mantle. Dinners and late-night dancing at Shepherd's Hotel, tennis and swimming at the Gezira Club, and hosting dinner parties and bridge get-togethers in her apartment were also among her favorite activities in Cairo.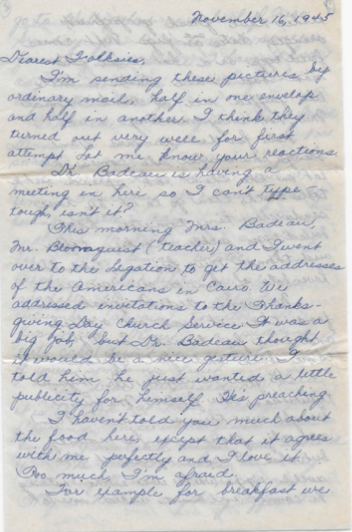 "Mom's wonderful three-year experience in Cairo was a defining point in her life," affirmed Kozemchak. "It allowed her to experience daily the rich culture of Cairo. She learned to navigate the city and environs and travel abroad with confidence. She loved living with American girls, who became lifelong friends, and thrived on the colorful social life, which allowed her to experience the local nightlife and see Egypt's archeological wonders. She developed a lifelong love of travel and eventually traveled the world with my father, including a trip back to Cairo in her sixties."