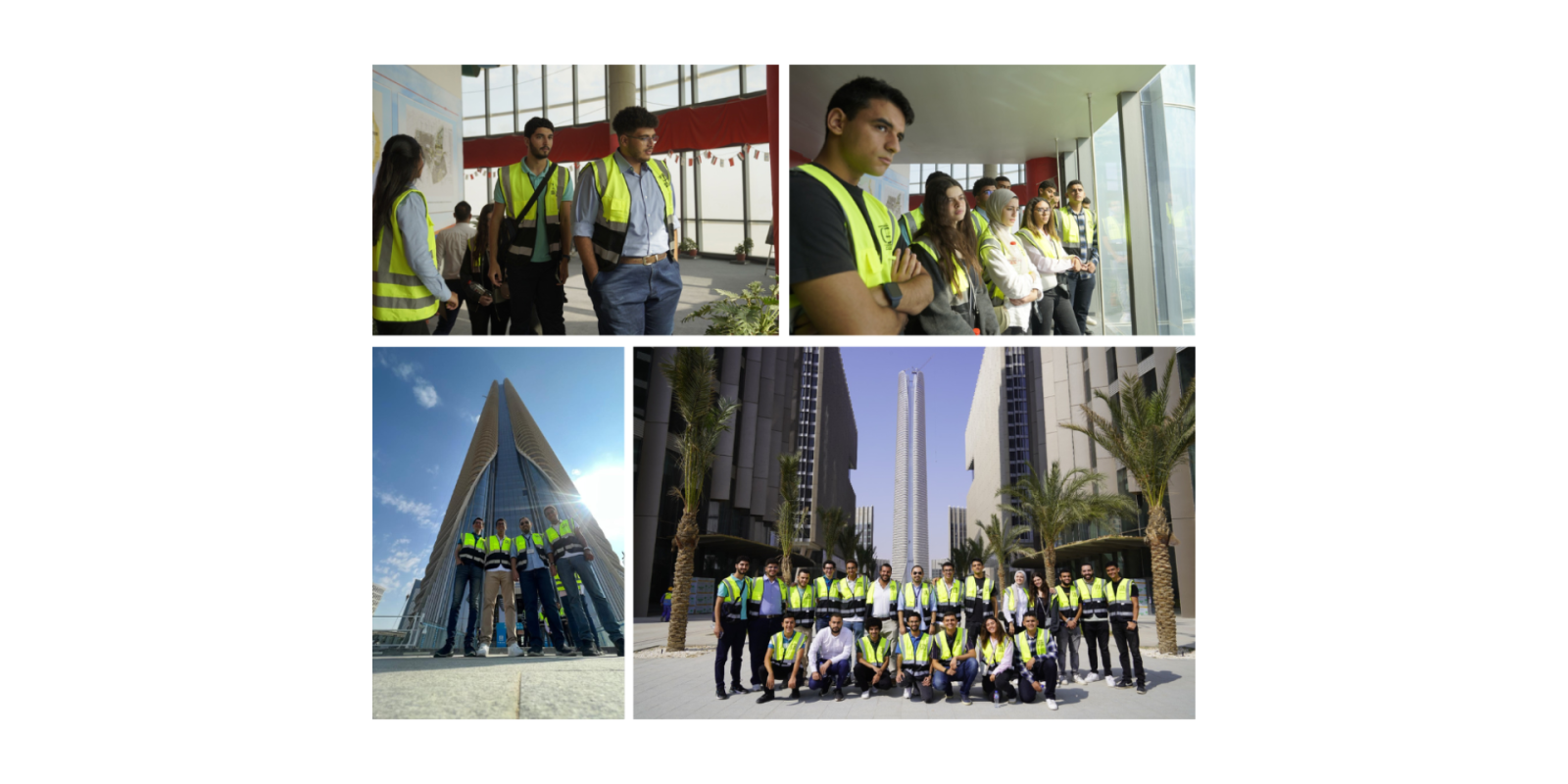 Glimpsing Future Careers from the Top Floor
Glimpsing Future Careers from the Top Floor
As part of AUC's ongoing commitment to experiential learning, construction engineering undergraduates visited Egypt's New Administrative Capital to explore hands-on the advanced construction methods and state-of-the-art electromechanical systems being employed. Students ascended to the top floor of the Iconic Tower, the tallest in Africa, where they were able to witness the advanced construction systems that comprise it in action.
"Seeing such a mega structure, the Iconic Tower, in real life and listening to industry leaders delve into how such buildings are constructed is a real privilege," says Mohamed Elnakeb, construction engineering graduating senior and president of the student-led Construction Engineering Association (CEA). "We also viewed the mechanical systems inside the tower. This experience is an added value for us as students since we actually see things firsthand and understand how it all works in real life."
The initiative is a collaboration between CEA, the Department of Construction Engineering, Career Center and American Society of Civil Engineers AUC Student Chapter.
At the Central Business District, students were granted a unique opportunity to study the technological advancements of the area and gain insights that extend far beyond the confines of traditional classrooms. Additionally, the students visited the highrise twin towers, interconnected by a sophisticated truss bridge at the top. "This provided a rare opportunity for them to examine the intricate structural elements and construction methodologies that underpin these towering edifices," says Ibrahim Abotaleb, associate professor in the Department of Construction Engineering.
This immersive trip served as a cornerstone of the Career Center's job-shadowing efforts, facilitating meaningful interactions between aspiring engineers and industry professionals."The Career Center organizes job-shadowing visits in diverse industries to help students visualize their career in action," says Mary Henry, experiential learning officer at AUC's Career Center. The job-shadowing program allows students to spend a day with a professional working in their career of interest, giving them the opportunity to experience what the job is like and get their questions answered by professionals in the field."
Engaging directly with engineers and representatives of the China State Construction Engineering Corporation, the driving force behind the construction efforts in the New Administrative Capital, the students gained valuable insights into the collaborative efforts and meticulous planning involved in such ambitious projects.
"AUC made history during this visit, becoming the second University to explore the Iconic Tower and the very first to venture into the twin towers, which marks a significant milestone in its commitment to fostering hands-on learning experiences for its students," says Aboutaleb. "Such initiatives not only enhance academic knowledge but also provide students with a glimpse into their future careers, bridging the gap between education and real-world applications."