Coloring Cairo: Winning AUC Student Design to 'Color' Egypt's First Beautified Water Tower
Coloring Cairo: Winning AUC Student Design to 'Color' Egypt's First Beautified Water Tower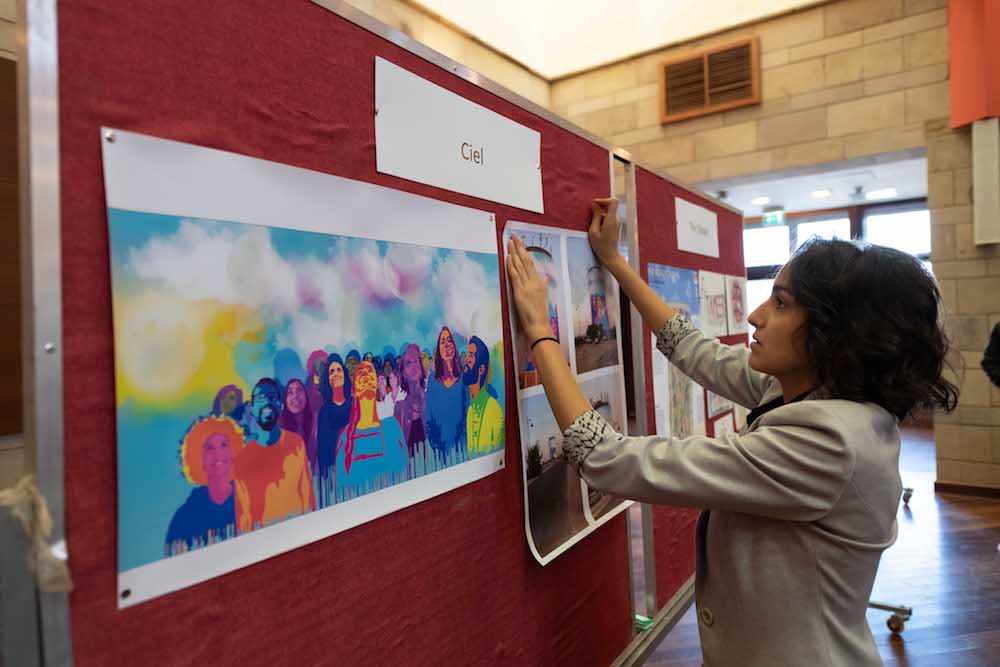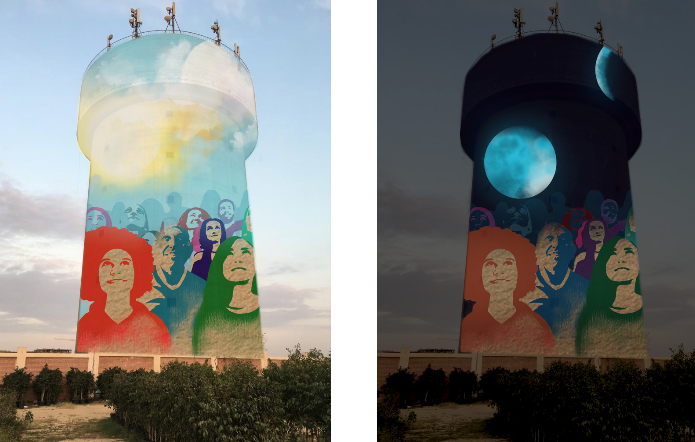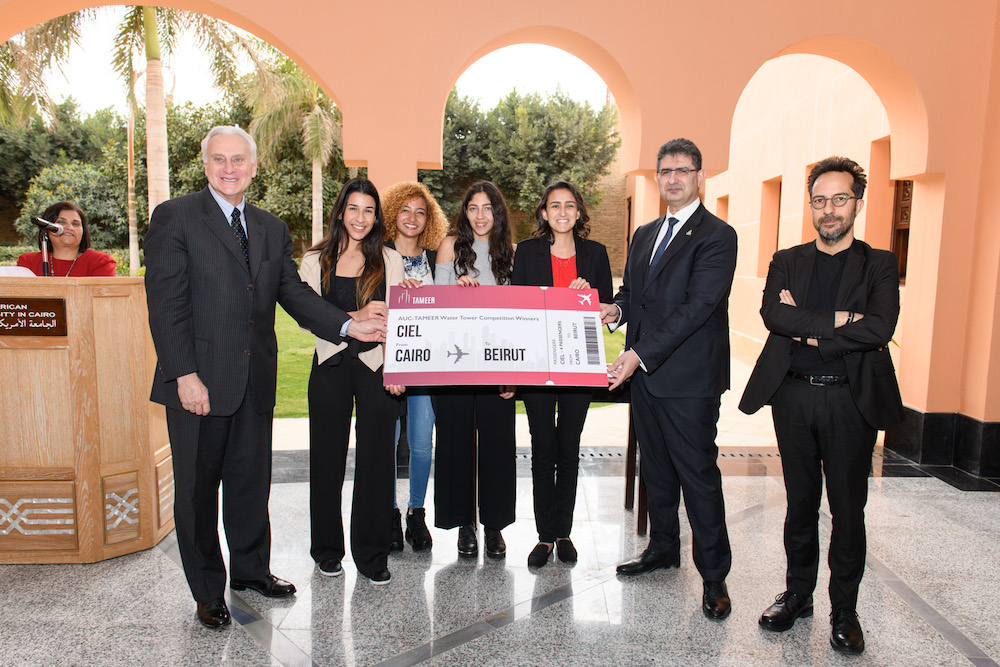 A Cloudy Dream
Last week, graphic design students on the team Ciel, Ghenwa Yehia ElMougy, Farah Habib, Nehal Ezz and Mariam Ismail, won the AUC-TAMEER water tower beautification competition with their blended composition of the sky. Their submission fuses the shades of the firmament at different times of day and incorporates hazy lines and vivid colors. At the bottom of the design, a crowd of people look up at in awe at the heavens above them.
"We wanted to have the chance to show Egypt different, but familiar faces — the type of faces you feel like you could meet while walking down the street, inspired by the sight of the sky at different times of day," the team explained.
Their creative interpretation of the sky will soon decorate Egypt's first beautified water tower, situated on the south side of AUC's New Cairo campus. Currently a bulky bare concrete structure, soon it will be transforming into a towering artistic landmark, contrasting the real and imagined sky against the sandy background of New Cairo.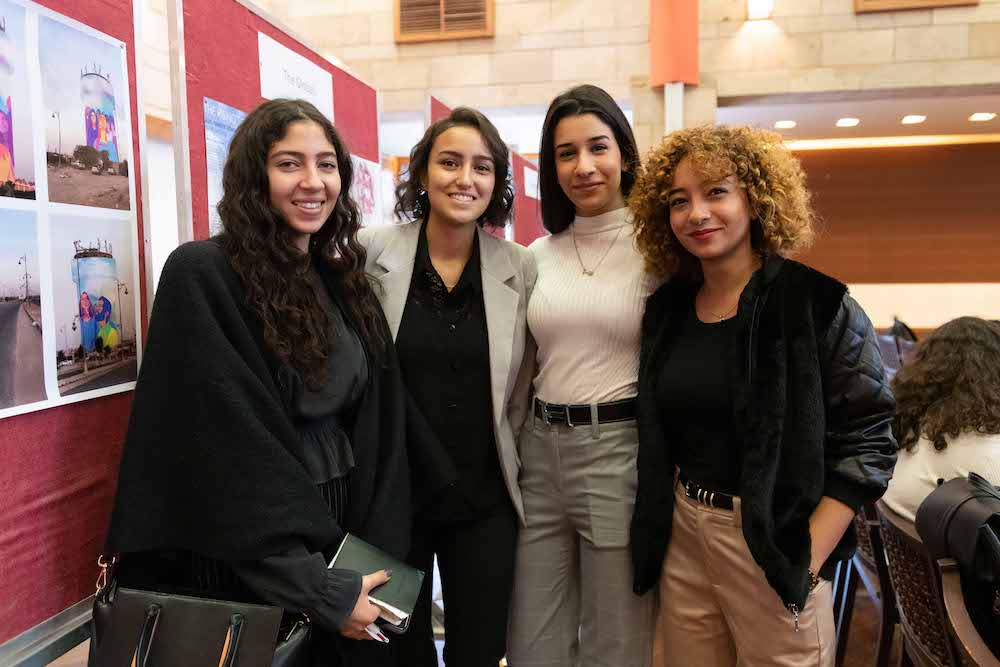 An Integrated Neighborhood
The announcement of the winning team selected by TAMEER out of three finalists came at AUC's Watson House gardens, amidst friendly chatter and a sense of anticipation coming from the contestants. With flowers in full bloom and a clear blue sky above, it was a fitting setting for the launch of the naturally inspired design project.
According to AUC President Francis J. Ricciardone, the initiative is an attempt to positively impact New Cairo by further integrating the University with the neighborhood.
"We started talking about how AUC and our New Cairo campus can be what AUC was on the old Cairo campus," he explained. "We were integrated. An engine of richness and of life. … This campus is still new, and it isn't fully developed. And we want to be that vibrant center of life here."
The announcement of the competition winners kicked off the beginning of production — the process of turning Ciel's water tower design from a cloudy dream to an emerging reality.
The project will take place over the next couple of months and will tentatively be finished and inaugurated in September 2019. If the project goes well, the promoters of the competition hope it can be replicated in other parts of Cairo and Egypt.
"This is something we want to do right, really right, so it's enduring and so it will get a lot of attention from the neighbors," Ricciardone added.
The real estate development company TAMEER has been AUC's partner in the competition and will take over funding and management of the design production from this point forward. Ciel will have a say on the final shop-drawings to ensure the final artwork embodies the idea and spirit of their original design.
"Once [the student design] is executed, people should no longer see a water tower," said Antoine El Khoury, managing director of TAMEER. "They should see a piece of art."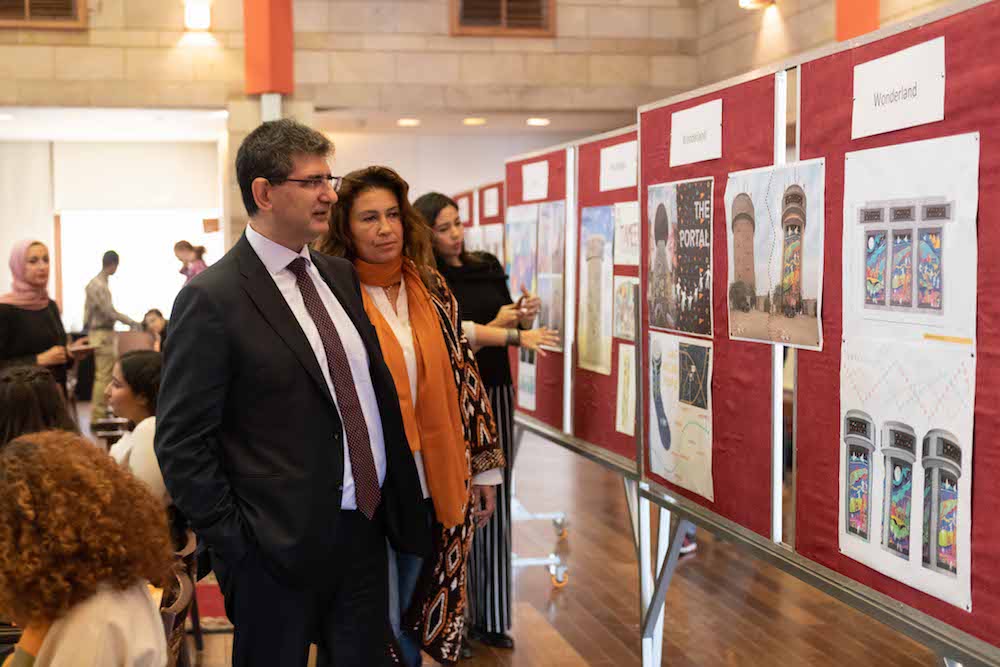 Beyond Complications
Besides beautifying the New Cairo skyline, the decorated structure will serve as a landmark for New Cairo as it continues to develop. According to El Khoury, initiatives like this are important for promoting the desert city and building a community.
"When we work together in this way, we become friends. We become a community, and we overcome fences." El Khoury stated.
AUC and TAMEER's investment in this project is a testament to their dedication in giving back to the local community. According to Nagla Samir, associate professor of practice in the Department of the Arts, art is the perfect way to do this.
"Art is perceivable beyond complications. It's very flexible in content, and it's so inviting by its very nature. Art has always been playing this role. By giving a message without clearly setting boundaries, it creates open space," Samir explained.
"Their [Ciel's] work draws from the context by including real portraits of the 'humans of New Cairo,' creating a subliminal sense of place and visual recognizability without being literal and direct," added Magda Mostafa, associate professor and associate chair of the Department of Architecture, describing how Ciel's design will relate to the New Cairo community.
A Creative Challenge
For students, this challenge wasn't just a competition; it was a comprehensive business experience simulating real-world conditions and constraints. When formulating a viable design, they had to consider everything from engineering footprints and mathematical calculations to weather conditions and brand identity. Their submissions not only had to be creative and practical, but they also had to fit within budgetary and regulatory constraints and communicate something meaningful to the community.
For many of the participants, the competition was a cross-disciplinary experience and a form of experiential learning, combining architecture, design, business and engineering, among other disciplines.
"The competition is a successful example of collaboration between industry and academia," said Soha Hassan, assistant director for experimental learning at AUC's Career Center. "It provided our students with a valuable learning experience that links what they learn in the classroom to real life."
While AUC offered the students mentored workshops led by faculty mentors on subjects such as urban design and project management, the workshops just provided guidance. The results were all student-based and included impressive and imaginative submissions incorporating everything from 3D-overlays and colorful patterns to shocking shades and asymmetrical structures.
"We sometimes stayed up almost all night working on it," the Ciel teammates confessed.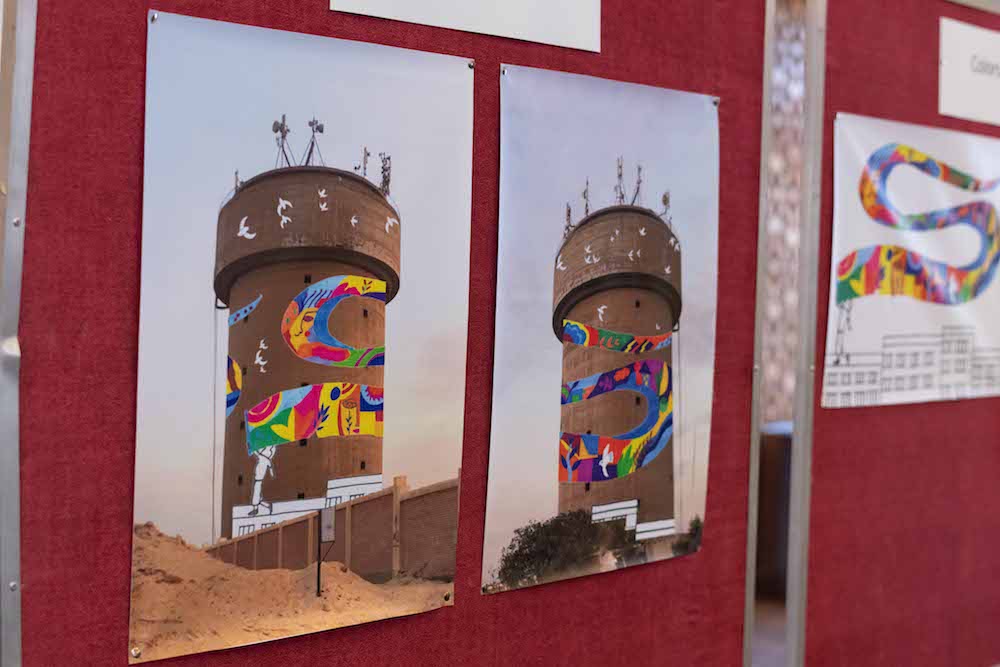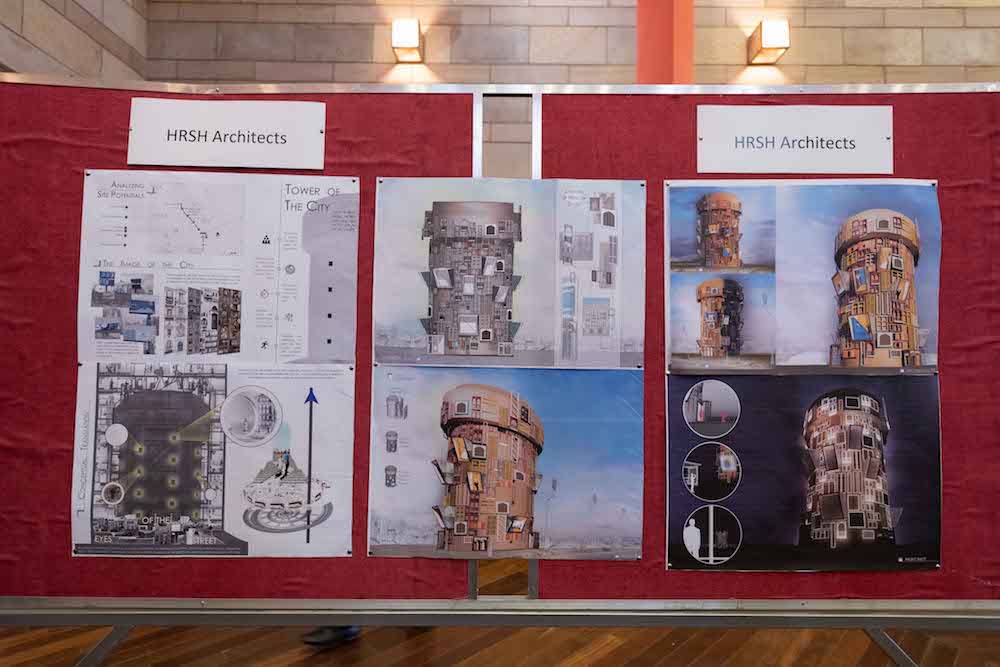 Final Contenders
At the first exhibition, 25 students in seven groups submitted designs, with the teams Colors of Life, HRSH Architects and Ciel chosen as finalists.
The students' submissions were awash with color and creativity, submitted to the scrutiny of the judging panel which included AUC's Magda Mostafa and Nagla Samir; Arch. Bachir Moujaes, architect, urban designer and head of design at Solidere; Engineer Mahmoud Hussein, vice president of New Cairo Municipality for Development; and Mona Hussein '83, designer and owner of Mahally furniture store. Non-voting jury members included John Hoey, associate professor of practice in the Department of the Arts; Engineer Ghada Oteifa, construction engineer and project management professional; and Engineer Sally Hussein, director of the Beautification Division of the New Cairo Municipality.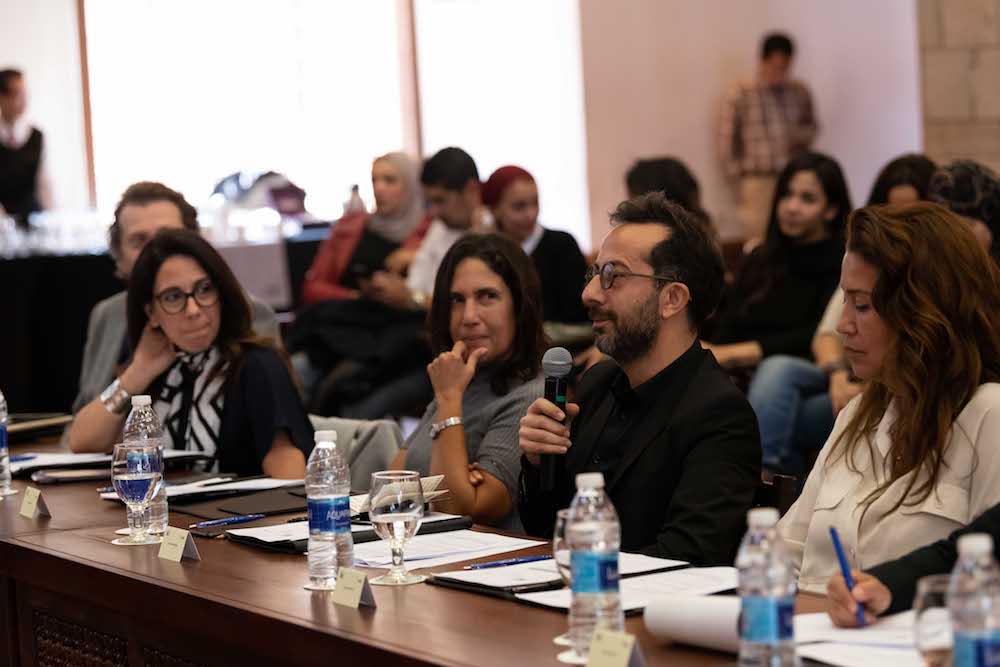 The judges weren't just looking for appealing designs; they were also searching for realistic submissions.
In the end, Ciel's design was chosen for its feasibility, creativity, durability and ability to convey the shared values of AUC and TAMEER. "We avoided the abstract so we could reach a wider audience," the team explained.
"I believe the winning project presents an example of tackling and successfully balancing one of the most difficult challenges in creative work — being powerful and meaningful while remaining simple," said Mostafa.
El Khoury acknowledged the students, saying, "This project is your baby, your dream, and it would have never happened without the passion, the determination, the commitment and hard work of each one of you. We promised to offer you a real-life business experience and we delivered. Today, TAMEER's promise is to turn your dream into reality."
As their prize, the Ciel team members will take part in an educational trip to Beirut, fully funded by TAMEER and in collaboration with Solidere, the urban development company responsible for the regeneration of Beirut's central district after the war. The trip will include a presentation on urban planning and the cultural, economic and social aspects of the company and a field tour of Beirut central district guided by Solidere's architects.
The two other finalists, Colors of Life (Best Story) and HRSH Architects (Best Architectural Design), have received from TAMEER a cash award in recognition of their commitment and creativity.
All three finalist teams will be offered a job shadowing experience with TAMEER in the department of their choice.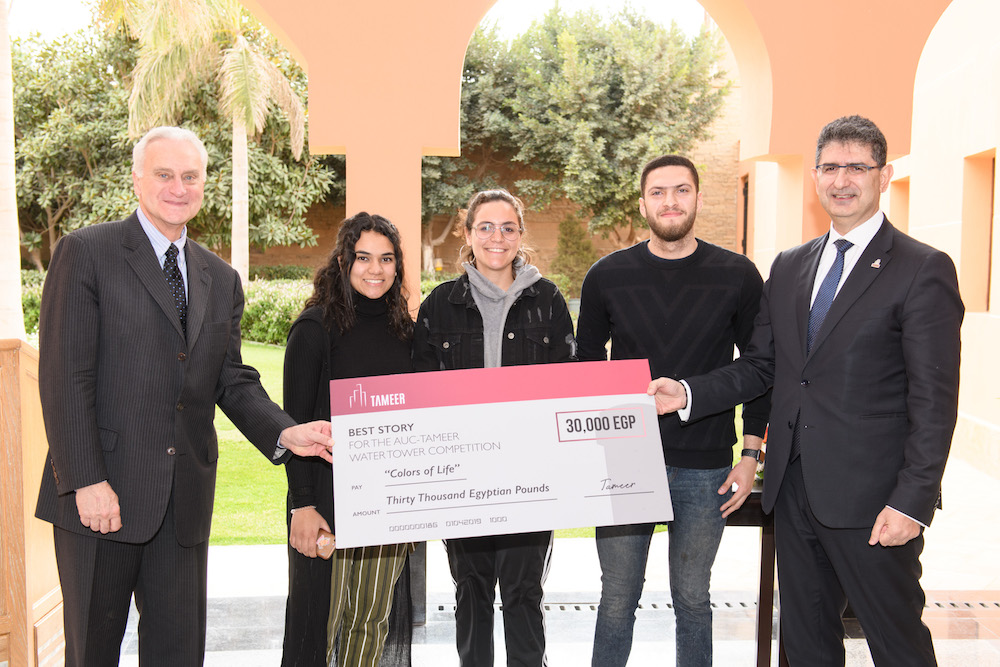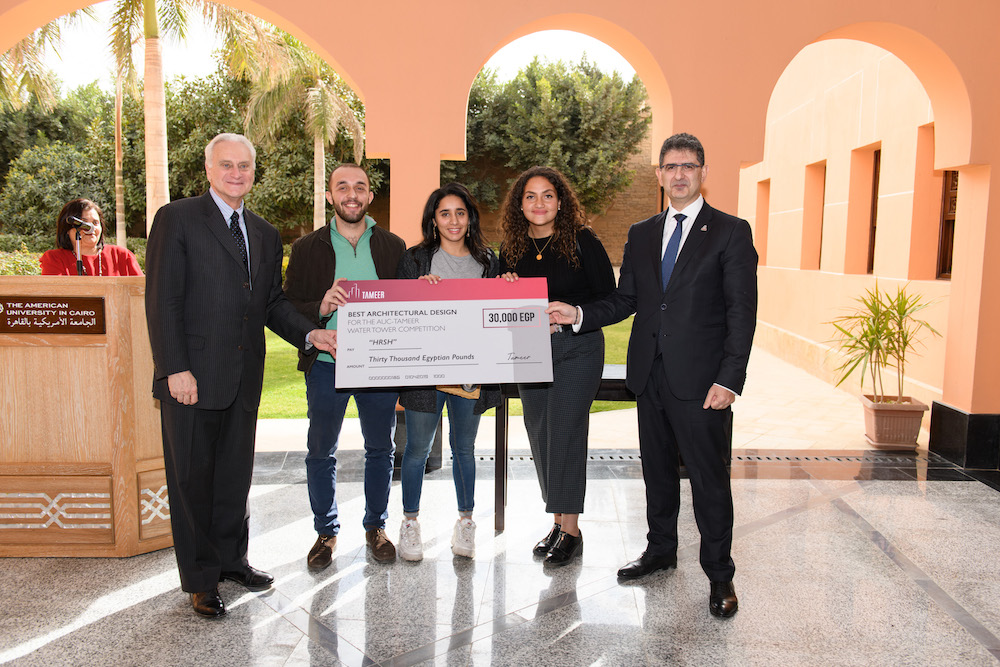 To the Canvas of Reality
The finalists were humbled and excited about their win. "I have no words," said Farah Habib, one of the winners.
"When we first started the competition, we didn't really think we had a shot. We just said, 'let's try it out,'" team member Mariam Ismail continued. "There were a lot of moments where we said 'Oh, let's give up; we're not going to win."
"We are all design students, so we got some background in architecture through this — and we learned a lot," Nehal Ezz affirmed.
According to El Khoury, all the student participants have received more than just work experience and prizes from this project.
"It's not only about awards. I think that you have all understood that behind business there are people with values. It's not only about creating something, but it's also about initiating a dynamic and inspiring other people, and we are very curious to learn what will come next and how your work will inspire others," Khoury said to the three finalists.
AUCians will now have the opportunity to witness the fruits of Ciel's labors, watching their artwork transform from the stuff of dreams to the canvas of reality.