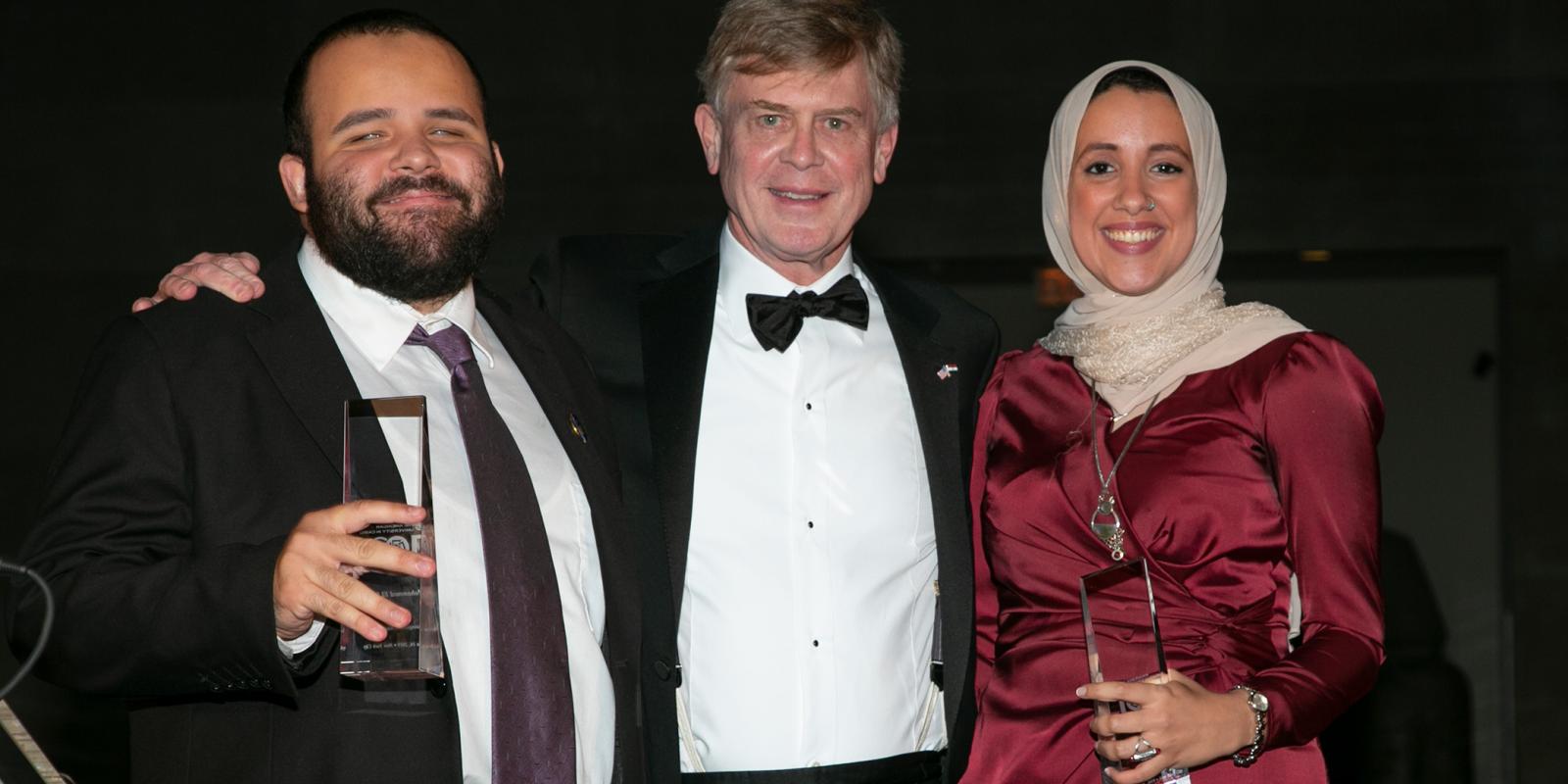 Centennial Benefit Dinner Exceeds $1 Million Target for Student Scholarships
Centennial Benefit Dinner Exceeds $1 Million Target for Student Scholarships
At its eighth annual Benefit Dinner, AUC raised more than $1.15 million for student scholarships — exceeding the University's $1 million target for Centennial Scholarships, which help top students attend AUC. This is part of AUC's $100 million Centennial Campaign, which has now reached 80 percent.
The Benefit Dinner was held at The Metropolitan Museum of Art — one of the world's largest art museums, housing over two million works of art in collections that span over 5,000 years — in celebration of the University's centennial. More than 250 guests attended the event. The Benefit Dinner was held in The Temple of Dendur in The Sackler Wing.
"Egypt remains a vibrant, bubbling fountainhead of creativity and the arts, whether from 5,000 years ago, 2,000 years ago, today or tomorrow," said AUC President Francis J. Ricciardone.
Richard Bartlett, chairman of AUC's Board of Trustees opened the Dinner, joking, "One hundred years is a long time in the life of a University — but let's face it, it's a drop in the bucket when you're sitting next to a 2,000-year old pharaonic temple ... so tonight lets revel in the fact that AUC is 100 years young."
Reflecting on how AUC's first Board meeting took place in New York City as well, Bartlett remarked, "AUC's American roots are critical to the cross-cultural impact that the University produces. We strive to bring the world to Egypt and Egypt to the world. ... At a time when the value of exposing cultures to each other has become suspect for some, AUC remains steadfastly committed to that goal — as it has been for 100 years."
Egypt's Minister of Social Solidarity Ghada Wali also spoke at the event, discussing AUC's growth and significance within the region. "In 100 years, some institutions grow and mature while other institutions fade and lose direction and relevance. One hundred years ago, AUC had been received warmly by Egyptians, and it has grown steadily to become the most important international University in Egypt and among the most important in the region," she affirmed.
Wali reflected on how the University will play an important role in facing Egypt's future challenges. "So while AUC should honor and celebrate its accomplishments, it should consider the first centennial as just a foundation — a solid base to move forward and upward in the next 100 years," she said.
At the dinner, AUC presented the Global Impact Award to two-time Pulitzer Prize winner Nicholas D. Kristof (ALU '84), op-ed columnist at The New York Times, and the Distinguished Alumni Award to both Mohammad El Shafie '17, Harvard Law School Candidate for JD '20, and Radwa Hamed '17, 2019 Knight-Hennessy Scholar at Stanford University.
"I have such warm memories of my time in Egypt; I got so much out of it," Kristof opened during his speech. "And I think sometimes there is a mis-impression that the great beneficiaries of AUC are always Egyptian. Obviously many are, but if you think about Americans and Westerners who are engaged in the Arab world as diplomats or as journalists, the overwhelming number ... have passed through AUC and have truly learned so much from there."
Kristof came to AUC in 1984 to study Arabic, continuing on to establish himself as a world-renowned journalist, working as a foreign correspondent for The New York Times. With a lifelong focus on human rights and social justice issues in his reporting, he won two Pulitzer Prizes for his reporting in China and Darfur and has also won many humanitarian awards, including the Anne Frank Award and the Dayton Literary Peace Prize. He is additionally the co-writer of four best-selling books, most recently A Path Appears and Half the Sky. Throughout his prolific career, he traveled to more than 160 countries.
In his speech, Kristof asserted his belief that education has the power to transform societies and help people from different countries and regions worldwide overcome their differences. "There are fissures within the countries and between the Arab world and the United States. ... One of the lessons is the need to have institutions that can create bridges across these gulfs, and I can't think of a better institution to provide that bridge than AUC. ... [The education toolbox] doesn't work overnight, but over time, it really is so powerful in transforming societies, building that human capital and changing not just those individuals who get that education, but the entire nation. And that is the business that AUC has been in for 100 years, and it's why I'm so proud of my connection to AUC."
Mohammed El Shafie '17 is a philosophy graduate and recipient of the HSBC Bank Egypt Public School Scholarship during his time at AUC. He was also a recipient of the Dr. Ahmed and Ann M El-Mokadem Study Abroad Scholarship, participating in an exchange program with the University of Michigan. As an AUC student, El Shafie founded the reading society MensCiceronis, bringing together participants from AUC, Oxford and several American universities, to talk about classics of Western and Judeo-Islamic political philosophy.
Accepting his award, Shafie asked, "What is it that makes AUC so very special?" He posited that it is the University's unique education, using the analogy of a curious child. "Her's [AUC's] was the way of the child. A child's path begins with innocent wonder and ends with wisdom. I hope, that when another 100 years have passed, no matter how many acres are added to her campus and no matter how many titles are added to her honor and glory, that she will maintain the wisdom of the child."
Radwa Hamed '17, computer engineering and electronics and communications engineering double major, was recently chosen to receive a fully funded fellowship to pursue her graduate studies at Stanford University as members of the 2019-Knight-Hennessy Scholars program. She also won first place at the NYU Abu Dhabi International Hackathon for Social Good in the Arab World for developing the application, Hiat, a job portal platform and digital wallet that allows refugees to access job opportunities and additionally manage their salaries and finances. Hamed also worked as a data structure engineer at Affectiva, the global leader in artificial emotional intelligence.
"My alma mater, my journey with you has given me lifetime friendships. It taught me to stand up whenever I witnessed injustice and open my eyes to a world of wonders and innovation," Hamed said.
Entertainment at the event included a musical performance by Egyptian singer Dalia Farid '12.
The Master of Ceremonies was Salima Ikram (YAB '86), distinguished University professor of Egyptology at AUC.