Broadcasting Beyond Borders: AUC Revives Voice of America Egypt Radio Programs Highlighting Local Heritage, Culture
Broadcasting Beyond Borders: AUC Revives Voice of America Egypt Radio Programs Highlighting Local Heritage, Culture
Inside AUC's Rare Books and Special Collections Library lies several thousand reel-to-reel audio tapes packed with Arabic-language programming from the the Egypt branch of the Voice of America (VOA) radio network, an abundant source of Egyptian history and culture.
There's just one problem: the tapes are currently inaccessible.
A grant from the U.S. Embassy in Cairo, coupled with a year's worth of hard work from the library's staff, is aiming to change that. Through a yearlong digitization project, the library will soon unlock worldwide access to these programs.
In order to do this, a team from the library is facilitating the conversion of the reels into audio files to be stored in the Rare Books and Special Collections Digital Library, an arm of AUC's Library and Learning Technologies (LLT).
Digitizing around 180 reels per month, the conversion is ongoing, and soon a staff member will be hired to apply descriptions — or "metadata" in archival terms — to the recordings to make them findable. The project is scheduled for completion in February 2023.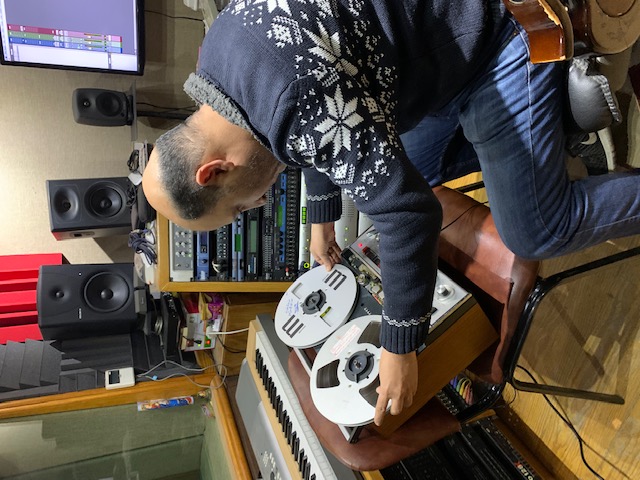 "This is a challenging project, as the analog is in old format, thus requiring particular equipment and expertise," explained Irina Schmid, an instructor and digital collections archivist at AUC.
Fathered by Robert Sherwood, an American playwright and speechwriter for former United States President Franklin Roosevelt, VOA first aired in Asia and Europe during World War II as "America's first official international broadcasting service" — according to the program's website. Since then, the network's programs have been broadcast in more than 40 languages in dozens of countries.
According to Schmid, only a few organizations in the world have a Voice of America collection, making this project particularly unique.
Once released, the tapes will not only induce nostalgia in older generations of Egyptians, but they will also expose younger generations and listeners from all over the world to the country's legacy.
"The VOA project is a good example of how the library collaborates — with donors, funders like the U.S. Embassy and across AUC — to achieve our mission of preserving and making Egyptian heritage accessible to a wide audience," said Steve Urgola, university archivist and interim dean of RBSCL.

"This is groundbreaking and AUC LLT is honored to have external support in making cultural materials open and free to all in the world," said Heba Sayed, Planning, Assessment and Business Development director of LLT.
Walaa Temraz, Research Services and Promotional Design officer, added: "The RBSCL Digital Library has been an important research resource, not only for the AUC community but also worldwide."
Over the course of more than 1,000 hours, listeners will be able to travel back in time to hear major events unfold and meet key public figures — like author Naguib Mahfouz, activist Nawal El Saadawi and actor Adel Imam – all of whom have helped shape Egyptian society.
Furthermore, the tapes, which date back to the 1970s and continue to the 2010s, will serve as a vital resource for Arabic-language learners.
"We think digital collections are created to preserve rare or fragile materials, provide access to unique or valuable resources, and increase exposure for all collections. But this is just the tip of the iceberg," said Schmid. "There are so many possibilities for using digital collections — including education, promotion materials, storytelling and more."
This is not RBSCL's first digitization rodeo.
The library has digitized and holds countless hours of old audio and video recordings, including an oral history project documenting the lives of residents relocated from their homes on the West Bank of the Nile near Luxor and old footage from AUC and Cairo used in promotional videos.
"The RBSCL is rich with materials and subject fields," said Temraz. "This project will be a great addition to its resources."
"LLT continues to develop as a global digital library curating and sharing cultural knowledge of Egypt through the AUC Digital Library," Sayed said, adding, "VOA is another unique achievement in sharing Egyptian culture from analog format to digital masters to be added to this global library for the benefit of the Egyptians and others abroad."
Schmid, Urgola and Temraz also hope that this project will further promote RBSCL as a central hub for the history of both Egypt and AUC.
Urgola remarked: "Our aim is to open collections to connect the AUC community and beyond with those before us who shaped Egypt, AUC and our world."