Board of Trustees Approves New Tenures
Board of Trustees Approves New Tenures
At its recent meeting, AUC's Board of Trustees approved the tenure of Assistant Professors Rania Samir, management; Nesrin Badawi political science; and Diaa Noureldin, economics.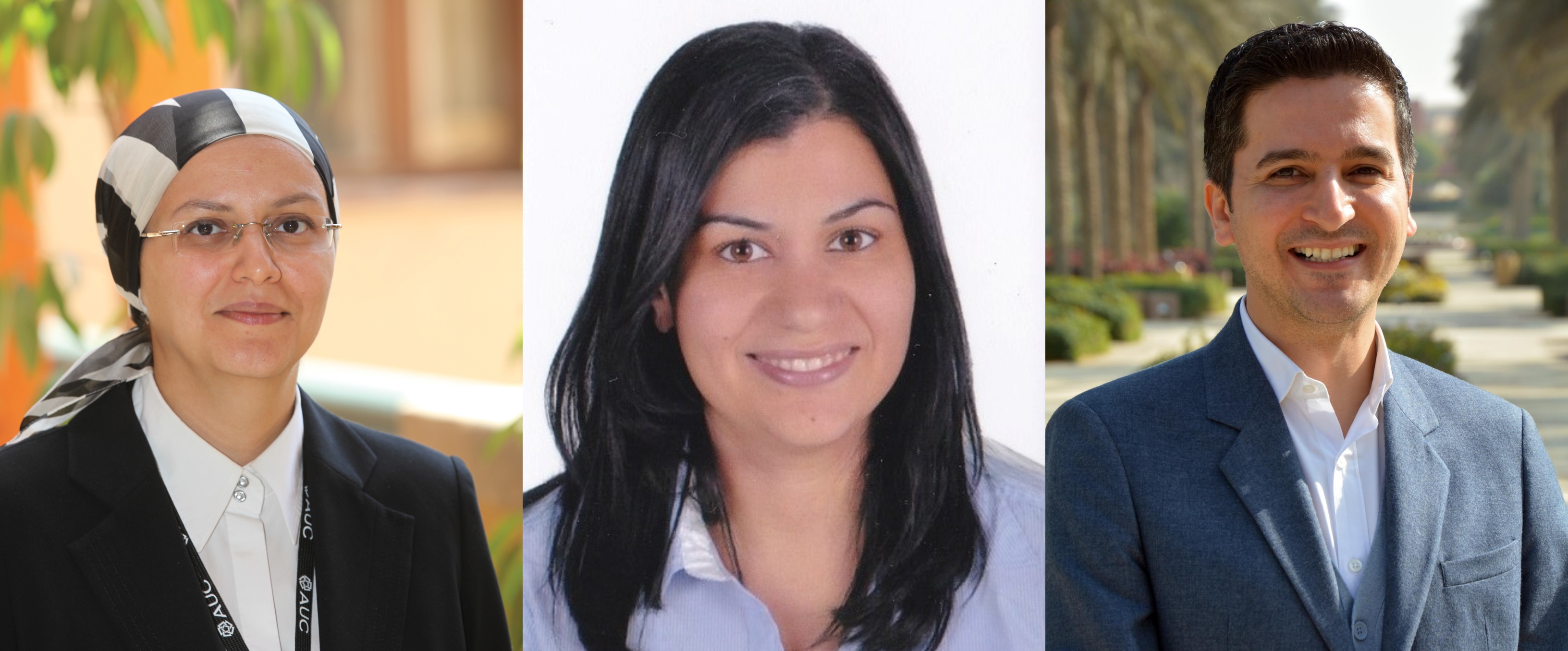 "Professors Rania, Diaa and Nisreen are all prime examples of AUC's commitment to excellence, and it is a privilege to count them among our most dedicated faculty members. I am delighted to know that they will be educating AUC students for years to come while carrying out impactful and pioneering research. AUC continues to be fully committed to tenuring excellent faculty," said

Provost Ehab Abdel Rahman.
Samir has taught at AUC for 12 years, with the first four years being an adjunct faculty member.
"It is a great achievement that I have been working hard for during the past eight years," Samir said. "It will give me the drive to excel more in the different facets of work — teaching, research and service work."
Teaching in the Department of Management, her research interests include internet marketing, social media and innovation adoption. She has published a book on the Adoption of Web-based Marketing in the travel industry with Lambert Academic Publishing in 2011.
"AUC is a competitive environment that requires continuous self enhancement," she added.
For Badawi, who teaches public and international law, tenure is a part of doing something she cherishes.
"With tenure becoming a scarce commodity, particularly for mother academics, I feel extremely privileged and rewarded for a career that has been my passion for the past decade," she said.
She has been teaching at AUC since 2010, and going into the next phase of her career, she intends to focus on examining the scope of judicial discretion and its impact on public life in Egypt. Her research interests include Islamic jurisprudence, international humanitarian law and the relationship between international law and Islamic law. She has experience working with UNHCR in refugee law and has offered consultancy work to several organizations on humanitarian law and Islamic law.
"I am extremely grateful to the tremendous support I have received from my department and my colleagues at AUC," she said. "I know I couldn't have gotten there without their help and support. I am also indebted to my husband and my family without whom this wouldn't have been possible and to my children who have shown great patience for the past years."
Noureldin, who teaches economics, has taught at AUC for 13 years. His research interests include econometrics, time series analysis, forecasting, quantitative finance and macroeconomics. He currently serves as advisor to the Egyptian Center for Economic Studies and as a research associate and thematic co-leader at the Economic Research Forum, a regional think tank focusing on the Middle East, in the theme of macroeconomics of natural resources, structural transformation and growth.