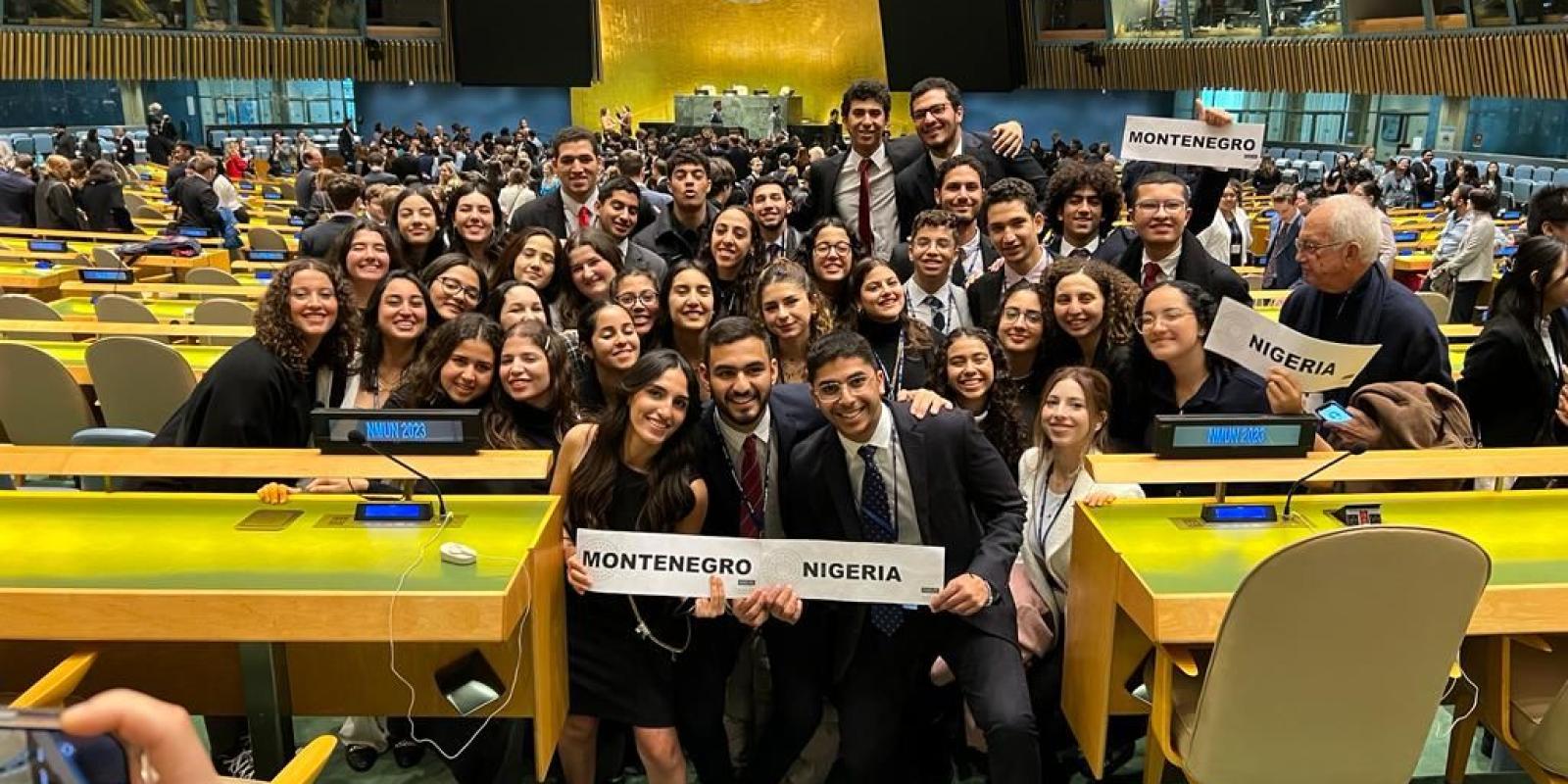 AUC's Cairo International Model United Nations Sweeps New York Conference with Highest Number of Awards
AUC's Cairo International Model United Nations Sweeps New York Conference with Highest Number of Awards
Debate your hearts out! AUC's Cairo International Model United Nations (CIMUN) swept the National Model United Nations in New York last month. Representing Nigeria and Montenegro, the 37-person team took home an impressive 14 awards, making AUC the most-awarded university at the conference.
Within those achievements, the team won two Outstanding Delegation Awards — the highest award a university can achieve— for their group representation of Nigeria and Montenegro. In addition, the AUC delegates won 12 individual awards across multiple councils, including the Human Rights Council, General Assembly, UN Environment Assembly, UN Economic Commission for Africa, International Atomic Energy Agency, Commission on the Status of Women, and Commission Crime Prevention and Criminal Justice.
"The amazing team of delegates we had this year led AUC to become the university with the highest number of awards at the NMUN conference this year, as well as the only university to receive not just one but two Outstanding Delegation Awards. I believe this team raised the bar for many years to come," said Ali Hussein, economics major and CIMUN organization committee head.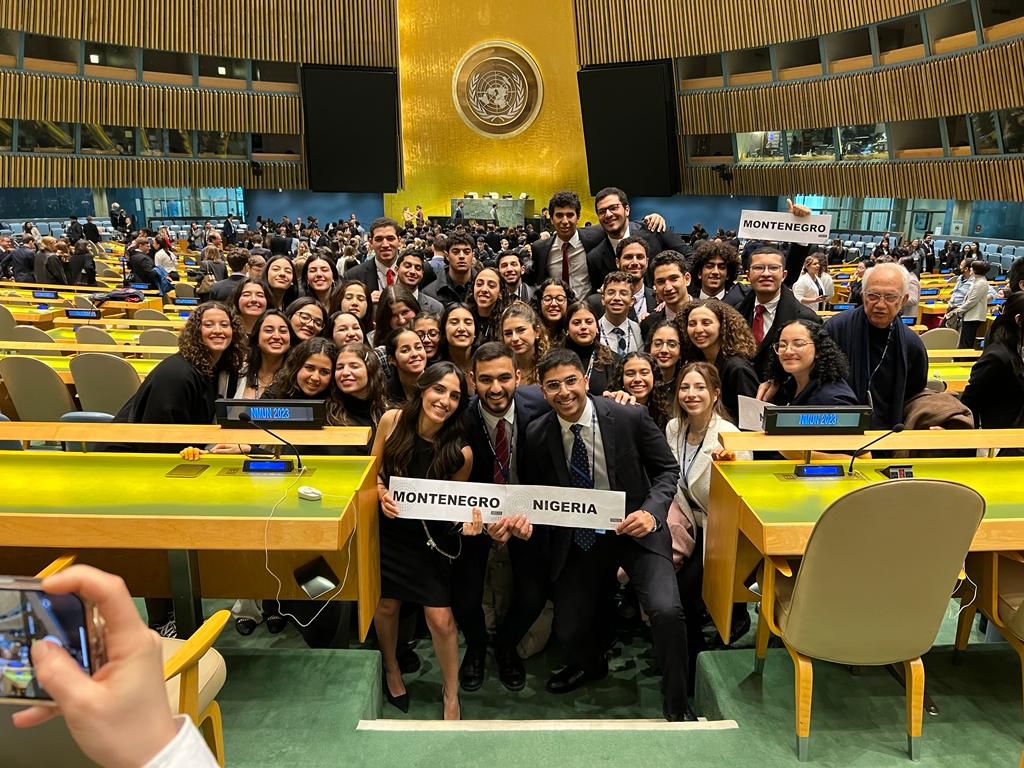 Getting ready for this conference took more than six months of practice and a rigorous selection process that included interviews as well as mock conferences and position paper writing. The preparation phase comprised general training sessions for the delegation overall as well as more specific training and strategies for the different councils, in addition to researching foreign policy and identifying key international agreements to support the team's stance. There were also simulations to fully prepare the team for all aspects of the conference as well as a comprehensive process for writing the position papers, "which is a very important aspect of the NMUN conference and yielded many awards for us," explained Hussein. "This year, the majority of our delegates were freshmen and had never experienced a conference of this scale before. This made the preparation process longer and more challenging, which made the victory at the end even more rewarding. That was what was most special about the CIMUN victory this year."

Farid Hani, economics major with a minor in international relations and CIMUN undergraduate academic adviser, echoed similar sentiments. "Working with each and every one of our delegates in training, selection and writing position papers builds a personal connection, and we were eager to see them shine in action. Indeed, they passed our expectations and demonstrated great leadership, presentation, research, analytical and diplomacy skills," he said, adding:
"This year marks the 35th CIMUN team, and it was our target to truly make an impact and prepare the next generation of leaders to partake in this rigorous and prestigious conference. What really made a difference despite our delegation's young age was their spirit, dedication and eagerness to learn. To me, seeing their hard work come into play and their development over the months of training was the true victory."
Walid Kazziha, political science professor and CIMUN's faculty adviser, commended the hard work put in by all those involved. "My sincere thanks goes to all colleagues and staff members who helped prepare CIMUN for its great success," he said. "Above all, we owe our students and their High Board a word of gratitude and true recognition for the relentless efforts they have made to maintain the high standards we always demand of them."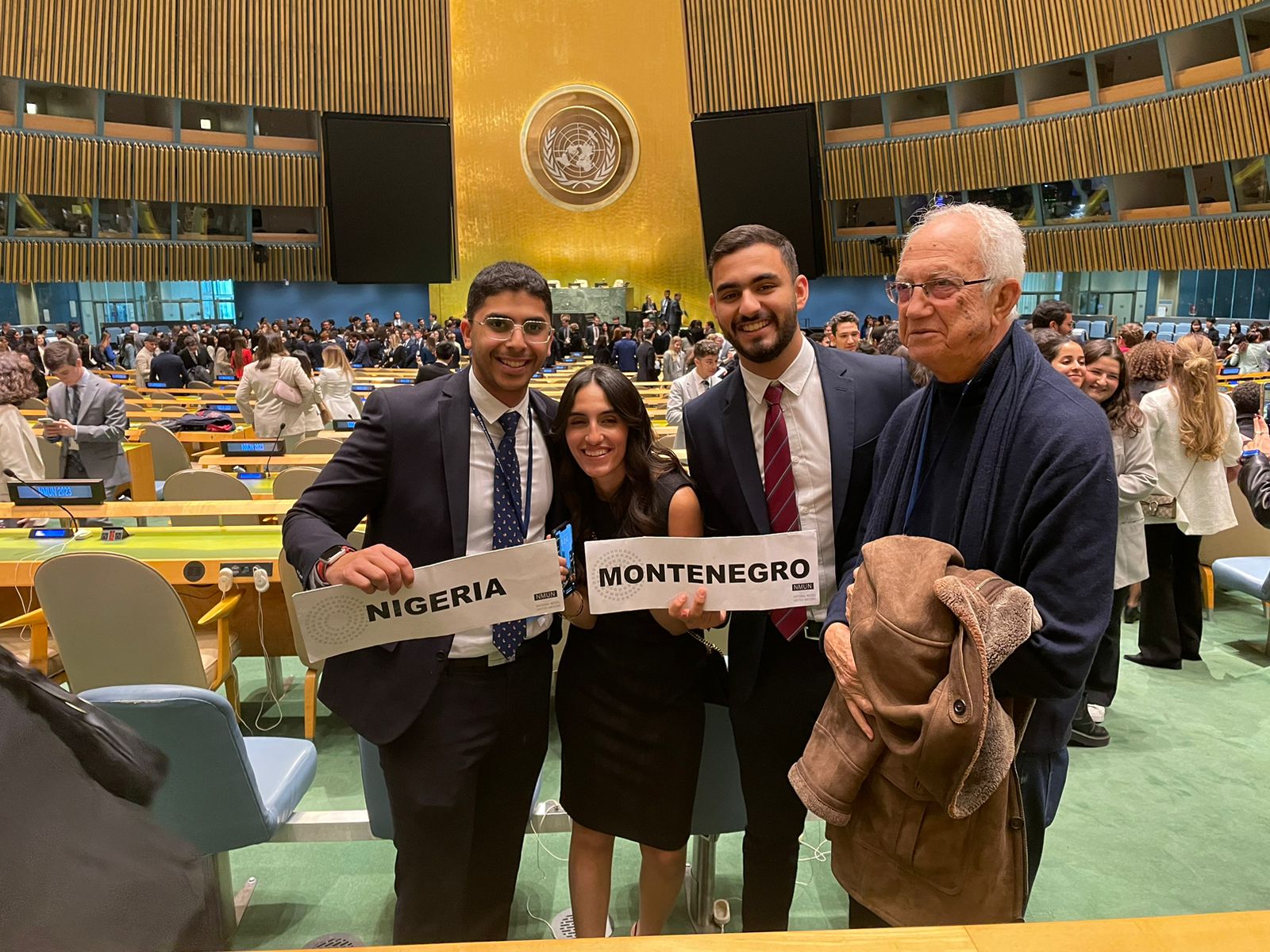 For participating students, the conference taught them valuable lessons both personally and professionally. "Attending the NMUN conference this year as head delegate has taught me a lot of new skills and lessons," reflected Hussein. "The key lesson I learned was how to properly strategize and plan ahead with my fellow High-Board members in order to reach the best outcome possible, which we thankfully succeeded in doing. Other important skills that were reinforced, thanks to this experience, included discipline, leadership and diplomacy. I am now assured that if I put my mind to something, plan accordingly, trust the process –– and most importantly my team –– I will reach the goal that I had set out from the beginning."
As Lara Radwan, economics major and CIMUN secretary-general put it, "Year by year, our goals for NMUN increase, and this year, we were able to win the highest amount of awards amongst all competing universities. With the competition becoming stronger and the MUN scene growing day by day, we had to prepare our team to become the top competing university in this year's conference. The process has definitely been challenging, but the amount of knowledge we gained en route and the experience of getting to meet participants from all over the world is indescribable!"