AUC's Sherif Kamel Publishes Debut Book, Covering Leadership and Innovation at School of Business and Beyond
AUC's Sherif Kamel Publishes Debut Book, Covering Leadership and Innovation at School of Business and Beyond
Dean of AUC's School of Business Sherif Kamel '88, '90, '13 recently published his debut book, Leading Change in Challenging Times: Lessons of Disruption and Innovation from Egypt – Thoughts, Observations, and Reflections.
The book reflects the experiences and sentiments of Kamel, who grew inspired by Egypt's history and attached to its cultural heritage and resilient people. Its underlying theme is the profound belief that Egypt remains uniquely positioned as the land of unparalleled opportunity, and that it can become an intellectual, cultural, economic and geopolitical powerhouse within a dynamic and changing world.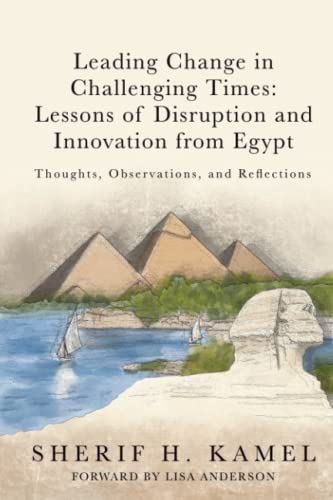 News@AUC caught up with Kamel to learn more.
Give us a summary of your book
The book is a collection of my personal thoughts, observations, reflections and beliefs on a number of subjects that are very dear to my heart.
It touches on Egypt—its history, the potential of its youth and the economy—and, on the organizational level, the importance of thought leadership, the governance model and how agile, adaptive and iterative the organization needs to be to be able to navigate the challenges we face every day. It also covers the culture within organizations and how entrepreneurial and innovative they should be. Finally, the book covers the institutional history of AUC's School of Business.
The book is in a hybrid format: part memoir, part institutional history and part inspirational business leadership advice. It mainly focuses on a period of five years between 2009 and 2014—while I was serving as Dean of AUC's School of Business.
This book is for a diverse audience, including students, scholars, learners, administrators, deans–especially of business schools, entrepreneurs, CEOs mentors, policymakers and the like.
Why the title, Leading Change in Challenging Times: Lessons of Disruption and Innovation from Egypt?
We live in challenging times—whether economically, socially or politically—and that affects individuals, organizations, businesses and society at large.
The title also points to the changes that have been happening within the realm of organizational development and digital transformation, not just over the past few years, but over the past 40 years.
What prompted you to write this book?
I've had experiences in government, civil society, the corporate world and academia. They all relate to one element, and that is human capital development, something I believe to be the most important asset in every society, and surely, Egypt.
So, I thought of sharing my experiences and insights, not only around accomplishments but also including failures, for there is a lot to learn from our various endeavors including and ups and downs. I firmly believe that sharing one's experience is a huge privilege—it's an honor, not an obligation, so that we all learn from each other and build on each other's journeys
The initial idea was to cover the School of Business, but then I realized that the school doesn't stand alone. It's part of a larger ecosystem and affects people inside and outside of our community. So I thought to look at the entire ecosystem of the school both on and off campus: how it develops, how it impacts itself and how it progresses while facing challenges and opportunities.
I also wanted to document the institutional memory of the School of Business. The legacy of the school extends 75 years. Since we launched our first programs in economics back in 1947, we have had quite an impact on higher education and the community, both in Egypt, and in the region we serve most, which is the Middle East and North Africa.
Finally, I wanted to showcase the school to those that may not know much about it. My aim has always been to increase its global footprint, and that can only be done by telling the story of the school, its impact and its ongoing work on and off campus, including its portfolio of community development and services..
What is the book's intended message?
The book aims to convey a number of messages.
1. For the society: Human capital is Egypt's most important asset and the potential game-changer for society.
2. For the individual: Learning and development come in different shapes and forms and––more importantly––it is a lifelong journey and never a destination.
3. For the organization: Sustained organizational success requires thought leadership, a vision, strategic planning, efficient execution, an institutionalized corporate culture, proper governance, an empowered team and a dynamic and adaptive enabling environment for innovation and discovery.
4. For the future: The growing power and reach of digital transformation and the innovative capacities of entrepreneurial mindsets and offerings of tech-enabled startups will continue to transform lives and livelihoods creating opportunities for socioeconomic development and growth.
Describe your process for writing this book.
Writing this book was an interesting journey. I began collecting my thoughts to write something about the school back in 2014. I originally planned to finish this project in just two or three years, but after seven and a half years, the book was finally published.
The time it took was worth it, and overall the journey was extremely enjoyable, especially pinpointing the messages I wanted to get across, building on the history of the School of Business and looking forward at what to expect in the future of business and management education during a disruptive period.
Did you discover anything in particular that surprised you while writing this book?
When you spend time accumulating experiences and journeys, things tend to pop up and you begin to think about them differently. Something I noticed was that my diverse experience across different sectors have never been focused on anything other than inspiration, collaboration, hard work, shared experiences, human capital development and relationships—that, to me, is the only way impact can be realized. It was nice to identify a thread linking the experiences of my career.
Can you summarize for us some important lessons you learned by leading AUC's School of Business?
I think that would require another book!
First, I want to highlight the importance of building and supporting a strong team. Part of doing this is creating a team that will challenge you. I myself am lucky to have such a team here at AUC.
Second, in an ever-changing and transforming world, it is very important to remain relevant and competitive. I don't see myself as the dean of a business school, I see myself as the CEO of an intellectual enterprise. In this regard, you must always push for quality, for more diversity, for more innovation, competitiveness and agility. Don't be afraid to take risks—even if you don't reach your target, you will learn something new.
Next, I've learned the necessity of practicing what you preach. For years, the School of Business has been promoting entrepreneurship and innovation in Egypt. We must practice this by remaining entrepreneurial in leading the school and consistently raising the bar for ourselves.
Does the book touch on AUC's role in developing Egypt? If so, could you elaborate?
Yes, the entire book expands on the role of the School of Business in educating the next generation of business leaders, policymakers, entrepreneurs and change agents—whether in government, civil society or the private sector. For close to 103 years, AUC has been an integral, impactful player in Egypt's higher education ecosystem through leadership, research, community development and services.
The book's summary calls Egypt the "land of unparalleled opportunities"—could you briefly explain this statement?
Egypt has a long history of cultural heritage. It's a growing population with ample resources and opportunities across different sectors, most of it remaining untapped.
In terms of people, we are capable of accomplishing much more than where we are today. The tourism, agriculture, industry and ICT sectors––to mention a few––have high potential as well, and for these sectors to reach their true potential, there must be an integrated development strategy that includes investing in Egypt's human capital in education and lifelong learning with universities and higher education institutions with an invaluable role to play.
I dream and aspire that in the next few years, Egypt will start realizing some of these untapped opportunities.
What feedback have you received from readers so far?
I am delighted to say that people have so far found the book exciting. Readers have said that it has a personal tone of someone telling their story, which invites people to share and understand my journey. Readers have felt like they are a part of a conversation rather than reading lines of advice. This was exactly my intention.
Anything else you'd like to add?
I'd like to end by stating that each journey has its unique added value. And I believe that each person, from all walks of life, can and should contribute something. All they need is an opportunity, an opening.
It's up to those who are in these leading or enabling positions to provide that opportunity to others and help them grow and succeed. Doing so will bring a healthy mix of perspectives, and in turn more inclusion and diversity to organizations, both of which will strengthen them.
This book is just one more attempt to highlight a unique journey that represents a business school in an emerging economy that has served society for many years. The narrative shows how things went, including the rights and the wrongs. We need to build on what has happened and take it to the next level. This book is for another 75 years of impacting society, introducing innovative offerings and engaging with different constituents for a better future to all.
Get your copy of Leading Change in Challenging Times here.
Want to learn more? Attend a virtual book talk on Leading Change in Challenging Times on Thursday, March 31 at 5 pm.