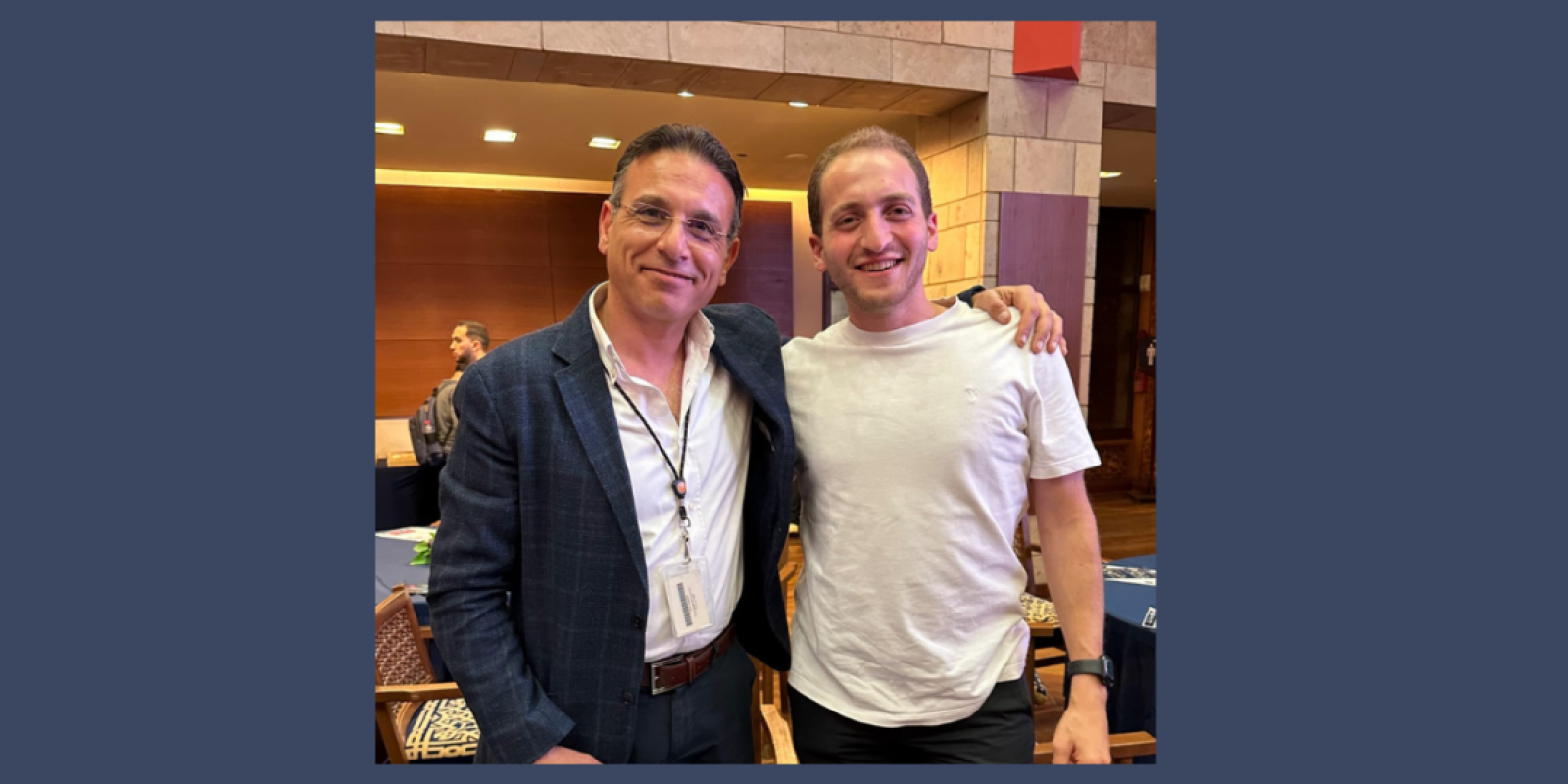 AUC's Life Mentorship Program Creates Lasting Connections
AUC's Life Mentorship Program Creates Lasting Connections
Whether seeking guidance about careers, academics, creativity, entrepreneurship or life in general, students in all stages of their AUC journey — as well as alumni — can find help in the form of a mentor under the University's Life Mentorship Program (LMP).
Launched in 2017, the program connects AUC students with faculty and alumni mentors, forging powerful relationships that last well beyond University. Michael Hanna '20 joined LMP initially as a work-study video editor and director, but shortly thereafter began to be mentored by Hakim Meshreki (MBA '05), assistant professor and CEMS Master in International Management academic director. Hanna is now an electrical engineer in Orlando, Florida.
"My first impression of Dr. Hakim was how accessible and relatable he is," Hanna recalled. "I felt like he was an older sibling, a really smart one."
After undergoing a revamp following the coronavirus pandemic, the LMP was relaunched last November by May Ramy, senior director for cocurricular programs at AUC. It now operates under five clusters: entrepreneurship, civic engagement, arts and culture, athletics and well-being. In addition to one-on-one matches, the LMP is also offering group mentoring sessions as an introduction to the program.
"The program complements everything that happens inside of the classroom," Younes explained. "It aims to build well-rounded mindsets and skill sets that will help students jump-start their careers. Moreover, it is a lifelong relationship — people always remember a mentor who has helped them realize their potential and overcome challenges."
Though Hanna studied electronics and communications engineering at AUC, working with Meshreki, who teaches in AUC's School of Business, taught him the importance of making connections and being relatable in conversation. "I ended up taking Dr. Hakim's Introduction to Business course, and later on, he recommended me as a teaching assistant to different professors."
This interdisciplinarity is a key component of the program, Ramy explained. "The LMP engages AUC learners from different disciplines in quality mentoring relationships and development experiences that create meaningful and sustainable connections and enable them to lead an intentional and professional life," she said.
Making a Mentor
Intelligence, empathy, experience — according to Meshreki, these are three characteristics that are essential in being a good mentor. Having been with the program since 2018 and mentoring students on his own before joining, Meshreki sees mentorship as an invaluable practice.
"We're living in an era of instability, so talking to others and building relationships with more experienced people will open up ideas and opportunities," he said. "Having a mentor can help students discover their full potential and steer them toward better avenues for personal growth."
Hanna reflected on what made Meshreki an ideal mentor. "He's young at heart and knows how to immediately connect with students," he said. "Dr. Hakim consistently provided helpful, relevant information, continually exercised critical thinking, was willing to be proven wrong and loved being challenged."
Hanna is grateful for the program's impact on his career trajectory. He's also still in touch with Meshreki, who is taking on new mentees with the program's relaunch. Since November, nearly 300 mentors and mentees have signed up for the program. "This is a network, and the benefits of a network are huge." Meshreki said.
___